If you want a fun and effective way to water your lawn, you have landed on the right page.
This post will discuss the three best traveling sprinklers. These sprinklers make it easy for you to cover your entire lawn without much of a hassle.
This post will also tell you everything you need to know about traveling sprinklers.
---
How We've Selected the Best Traveling Sprinklers
We shortlisted all the traveling sprinklers based on their value for money and overall quality. Then we looked at customer reviews to determine which satisfied gardeners the most. Next, we looked at features like materials, hose compatibility, and stability. Finally, we were left with three traveling sprinklers that we will now review.
---
Top 3 Best Traveling Sprinklers
1. Orbit 58322 Traveling Sprinkler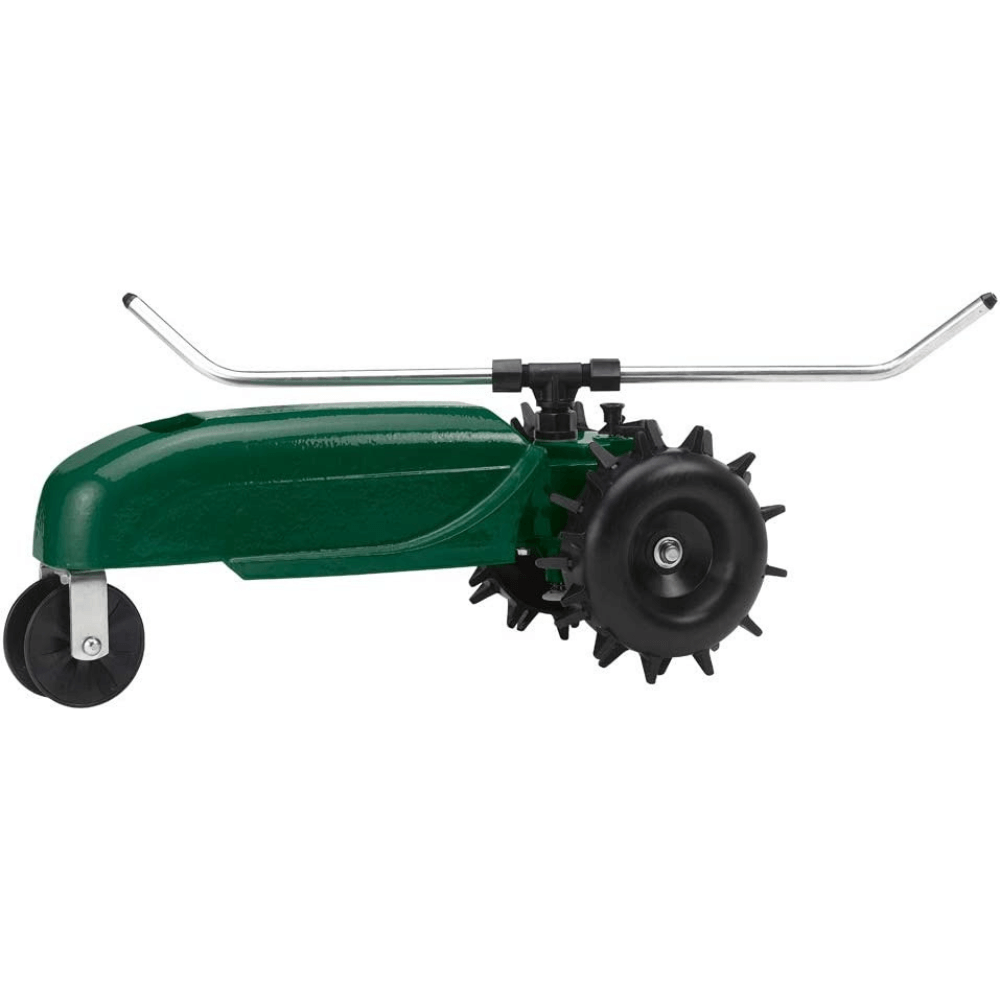 Check Price on Amazon
The Orbit Traveling Sprinkler offers easy and efficient lawn watering. Whether your lawn is large or small, it is suitable for all. It has a very attractive price tag and offers tremendous value for money. In addition, it comes with all the features you would want from a traveling sprinkler, such as automatic shut-off and adjustable diameter spray.
It is a self-propelled sprinkler, so you do not have to worry about controlling it. All you're required to do is to create a hose path, and it will follow along.
To get started, you need to position the sprinkler on top of the hose, and it will follow the hose pattern. It features adjustable coverage, which gives you control over the water distribution regardless of how large or small your lawn is.
The automatic shut-off feature lets you stop the sprinkler at any time. All you need to do is to use a ramp stop at any location along the length of the hose, and the sprinkler will stop once its shut-off plunger comes in contact with the ramp stop.
We also love the fact that this sprinkler comes with three-piston speed control. If you want to water your garden quickly, use the highest speed setting. If you take your time to ensure complete coverage, put it at the lowest speed.
The Orbit-traveling sprinkler is ideal for all lawns, regardless of size and shape. The adjustable diameter spray coverage lets the water reach the far end of the garden if it is a large-sized one. The self-propelled feature comes in handy if you have an oddly shaped lawn. Create a pattern with your hose that allows the sprinkler to reach all nooks and corners.
While it is an affordable sprinkler, do not let its price fool you. It is built with premium weatherproof materials, which are helpful, especially if you live in humid areas.
The sprinkler comes complete with a Hose-Y adapter, which lets you attach two hoses to the sprinkler. The greatest benefit of attaching two hoses to the sprinkler is that if the pressure from one hose is insufficient to propel the sprinkler, two hoses can be connected to provide greater water flow.
The Orbit is one of the best traveling sprinklers for small lawns and offers excellent value for money. However, this sprinkler does not fare well with large hose fittings because these fittings sometimes kick the sprinkler off the track. So, always use this sprinkler with medium and small hose fittings.
What We Like
Suitable for all lawn sizes- up to 200 square feet.
Good value for money.
Self-propelled.
Automatic shut-off feature.
It comes with a hose Y adapter.
Perfect for an oddly shaped lawn.
It comes with three position speed control and a neutral position for stationary watering.
What You Should Know
Large hose fittings can make it sway off the track.
---
2. Nelson Rain-Train Traveling Sprinkler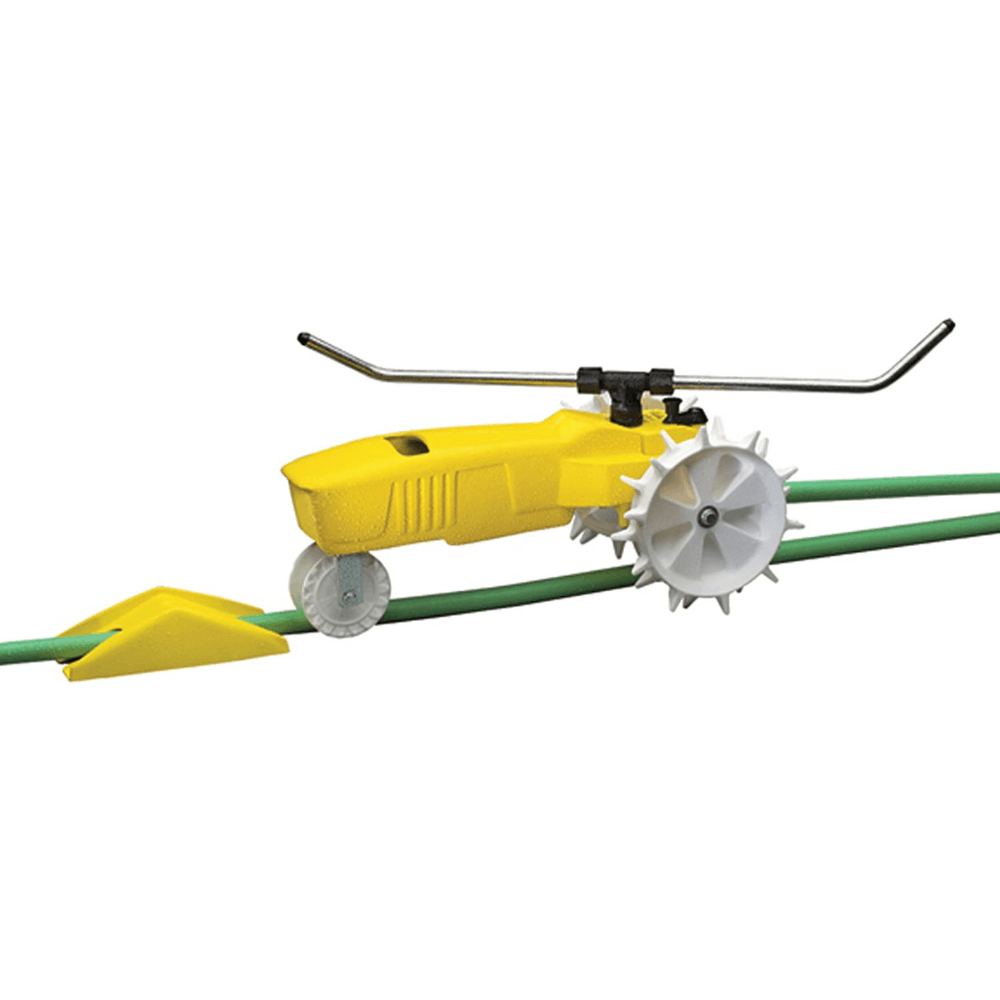 Best for Lawns up to 13,500 Square Feet
Check Price on Amazon
The Nelson Rain Train is arguably the best-traveling lawn sprinkler. It is self-propelled and comes with an adjustable spray arm. This sprinkler is made with durable materials, which ensures its longevity and resistance to harsh weather conditions. It has an impressive travel distance of up to 200 feet and can cover up to 13,500 square feet, which makes it ideal for large lawns. It also comes with an adjustable speed, giving you more control over the watering process. The Rain Train is also compatible with most standard garden hoses in North America, so it is easy to set up and use.
The Nelson sprinkler makes watering large lawns easy and fast, but it is also great for small and medium-sized lawns thanks to its adjustable diameter. If you have a small lawn, set the diameter to the lowest to ensure the maximum effectiveness of the sprinkler. Its cast iron body makes it suitable for all weather conditions while ensuring it lasts several years.
The impressive coverage area of the Rain Train ensures that every part of your large lawn gets the love that it deserves. The adjustable speed lets you control how fast or slow you want the sprinkler to work. It is more precise at a lower speed but will take longer to cover the whole garden. At higher speed, it will be faster but not that precise.
We love that its adjustable spray arms can give you more control over the diameter. The more upwards directed the spray arms are, the more area they will cover. The more they are positioned toward the ground, the smaller will be the coverage area. This comes in handy when there are parts of the lawn that you want to avoid getting wet such as lawn furniture.
The sprinkler's cast iron body is great for durability; it also means that it is a heavy sprinkler. At around 17 pounds, it might be a hassle to lift it.
What We Like
Easy to set up and use.
Large coverage area; up to 13,500 square feet.
Adjustable spray pattern, as well as stationary watering.
Durable construction.
Automatic shut off.
Compatible with most standard garden hoses.
What You Should Know
Considerably heavier than other sprinklers.
---
3. Watex WX044 Traveling Sprinkler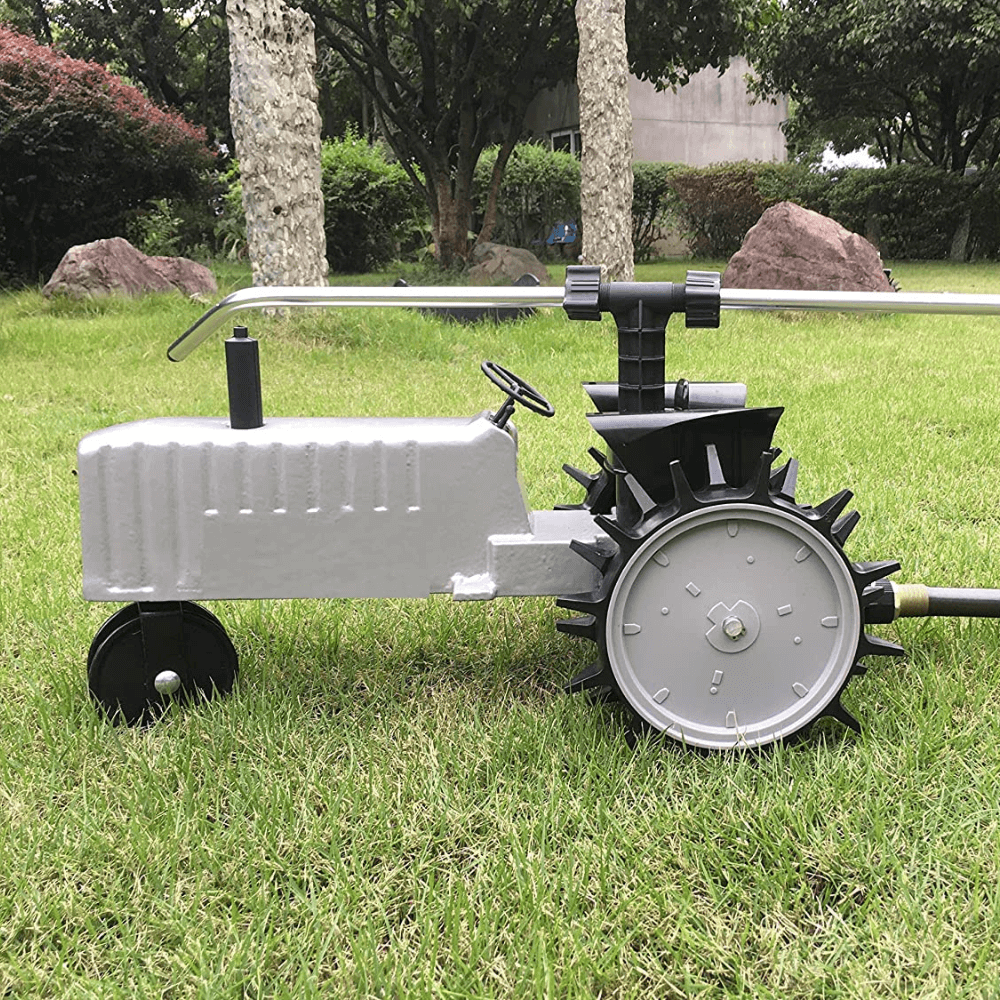 Best for Lawns up to 11,900 Square Feet
Check Price on Amazon
If you have a large and extra-large lawn, consider the Watex Wx044 Traveling Sprinkler. This sprinkler is designed explicitly for extensive gardens and has superior build quality compared to other traveling sprinklers.
It is a tractor sprinkler which is quite apparent from its overall design, as it even has a show-off tractor steering wheel. This sprinkler has been ranked number one by Ezvid Wiki.
This self-propelled sprinkler makes it easy and efficient to water extra-large lawns. It is made with a heavy-duty cast iron body and can travel up to 2000 feet while watering a total area of 11,900 square feet.
Its durable construction makes it suitable for rough use and also gives it weather resistance. When you buy this sprinkler, one thing is for sure: you do not have to buy another one for several years.
It is self-propelled, which means you do not have to worry about its path. Just set up your garden hose so the sprinkler reaches your whole lawn.
The sprinkler also comes with an automatic shut-off feature, which is great for water consumption. It also means you can set the auto shut-off and do other tasks without worrying about turning it off. It also comes with two-speed gear control. You can set it up to a higher speed if you want to finish the watering quickly. However, if you want to ensure your lawn is watered more thoroughly, set it up to a lower speed, and you are good to go.
The Watex sprinkler is excellent for large and extra-large lawns. However, you can still use it for medium and small lawns. Given your lawn length, all you need to do is to adjust its spray diameter, and you are good to go. However, this sprinkler costs around 150 dollars, which is too much to spend on a sprinkler for a small or medium lawn. We want to point out that around 17 pounds, this sprinkler may be challenging to lift.
What We Like
The extensive coverage area makes it ideal for large and extra-large lawns.
Even a water distribution system ensures that every part of your lawn receives the right amount of water.
Efficient water distribution saves you money on your water bill.
Easy to use and set up.
Made out of die-cast iron, which gives it durability.
What You Should Know
At around 17 pounds, it is pretty heavy.
The price is worth it for a larger lawn. If you have a small lawn, check out Orbit or Nelson.
---
How Traveling Sprinklers Work
Traveling sprinklers are fun to work with. They make gardening more accessible and enjoyable. They work by moving across the lawn or garden and distributing water evenly. They move along a predefined path which is why they are also known as tractor sprinklers.
The best thing about traveling sprinklers is that they are self-propelled. They are propelled by using the force of water from the hose to move a set of wheels or gears. As the sprinkler move, its spray arms rotate, covering a large area with its rotary spray.
The water supply of the sprinkler is controlled by the hose which is attached to it. Once the sprinkler is turned on, it moves along a predefined path. In most traveling sprinklers, this path is defined by the placement of your garden hose; the sprinkler follows the length of the hose.
---
Factors to Consider When Choosing the Best Traveling Sprinkler
Size/ Area of the garden to be irrigated:
Before buying a traveling garden sprinkler, ensure it suits your garden's size. If you buy a traveling sprinkler suitable for a small garden and use it in a large garden, it will be ineffective and may not cover all the areas of your lawn. However, if you buy a traveling sprinkler for a large garden to use in a small one, you will end up paying more than what was necessary.
Now you might be wondering what area of the garden is considered small, medium, and large. While this is a subjective thing, and there is no definite answer, here are some guidelines.
Small garden: Generally considered up to 100 square meters or 1,000 square feet. This could include a small backyard, courtyard, or balcony garden.
Medium garden: Can range from 100 to 500 square meters or 1,000 to 5,000 square feet. This could include a larger backyard or front yard garden.
Large garden: Generally considered more than 500 square meters or 5,000 square feet. This could include a large estate or farm with significant land dedicated to gardening or landscaping.
It's a good idea to check how much area your sprinkler covers and then choose according to your needs. If you really like a sprinkler and the manufacturer has not mentioned the area it covers, look for customer reviews.
Compatibility of a garden hose:
A garden hose provides your sprinkler with water and gives it the path to follow. Besides, the traveling sprinkler utilizes the water pressure from your hose to propel itself. So, your garden hose must be a perfect match for your traveling sprinkler.
The good news is that most traveling sprinklers are compatible with standard North American garden hoses. However, some small sprinklers do not do well with large fittings. In most cases, a heavier and larger fitting will cause them to sway off the path. So, look for customer reviews to check if the sprinkler can handle the type of garden hose you have.
Automatic shut-off feature:
An automatic shut-off feature is essential for water conservation. It is designed to stop the sprinkler's movement and water flow once it reaches the end of its path and coverage area. Most sprinklers achieve this through a mechanical mechanism that detects the end of the hose or sprinkler's path and disengages the sprinkler's drive system.
Although most people do not consider an Automatic shut-off feature necessary, you should look for this feature in all the sprinklers. It conserves water and prevents damage to the sprinkler by ensuring it does not operate outside its intended range.
Speed gears:
If you want to adjust the speed at which your traveling sprinkler will travel, you should go for the ones with speed gears. The speed gears work by controlling the water flow to the sprinkler's wheels. More water reaches the wheel at high gears, making the sprinkler move fast. Similarly, at low gears, less water reaches the wheels of the sprinkler, which slows it down.
By altering the speed of the sprinkler, you get more control over the overall watering process. Speed control is helpful, especially if you have a lawn with varying slopes and obstacles, and by changing the speed of your sprinkler, you can ensure that it waters the entire lawn evenly.
The ability to alter the speed of your sprinkler also lets you conserve water. For example, you can slow the sprinkler down when watering tight and small areas so that it does not waste water.
Adjustable sprinkler arms:
Adjustable spray arms let the user manually position the spray arms to target specific lawn areas. They also enable the user to adjust the overall diameter of the spray. By changing the overall spray diameter of the water spray, you can effectively water unusually small or large areas of your lawn. It reduces water waste and ensures that every plant receives the appropriate amount of water.
Material
Regarding the material used in Traveling sprinklers, you have three options: Metal, plastic, Plastic, and metal. Each has its pros and cons.
Plastic:
Traveling sprinklers made of plastic are affordable, lightweight, and easy to maneuver. These traveling sprinklers are rust-proof and may require less maintenance than metal ones. However, these sprinklers are not weatherproof and less durable than others.
Metal:
Metal traveling sprinklers are the most durable and resistant to weather conditions such as UV light. These sprinklers are also the most stable and less likely to tip over. However, they are heavier and can rust if not maintained properly.
Plastic and metal combination:
Traveling sprinklers made of plastic and metal offer the best of both worlds. They combine metal and plastic components such as plastic bodies and spray arms. As a result, they are easier to carry than metal sprinklers and are more affordable. However, these may require some maintenance and are more expensive than all plastic ones.
---
Frequently Asked Questions
Are traveling sprinklers worth it?
When considering the cost and maintenance of a traveling sprinkler system, its worth can depend on individual needs and preferences. Still, it is generally a good investment for those with large lawns or gardens that require frequent watering.
What is a traveling sprinkler?
A traveling sprinkler, or a tractor sprinkler, is a self-propelled irrigation system that slowly moves across a lawn or garden while spraying water from the arms on top.
How fast does a traveling sprinkler travel?
According to various manufacturers, traveling sprinklers typically travel at a speed of 30 to 60 feet per hour, with some models capable of reaching speeds up to 200 feet per hour.
---
What Option of Best Traveling Sprinkler is Best for You?
The best traveling sprinkler will depend on your specific needs and preferences.
Ensure you take your time and consider each option - from how well it irrigates your lawn to how efficiently it uses water to cost and durability factors - to determine which product is most suitable for you and your needs. Research each brand to make an educated decision, and read reviews so that other people's experiences also inform your choice. It is also smart to weigh quality versus price while finding the right traveling sprinkler just for you.
In the end, no matter which sprinkler you decide on, they will all serve you faithfully when used properly- don't forget to show them some love with regular maintenance!
---
Items reviewed:
1. Orbit 58322 Traveling Sprinkler
2. Nelson Rain-Train Traveling Sprinkler
---