In today's fast-paced world, we're all looking for that touch of convenience with a sprinkle of fun. And guess what? We've stumbled upon a gem we absolutely adore, and we're pretty sure you'll be thanking us for introducing it to you!
Hey there, modern-day dynamos! Allow us to introduce you to the HAVA R01 Compact Countertop Dishwasher.
This isn't just another kitchen gadget; it's the trendy, efficient companion your kitchen has been yearning for. Perfectly tailored for households of 2-3 members, it's set to revolutionize your dishwashing game.
But with a sea of appliances out there, why are we so smitten with this one? Read on, and you'll soon see why!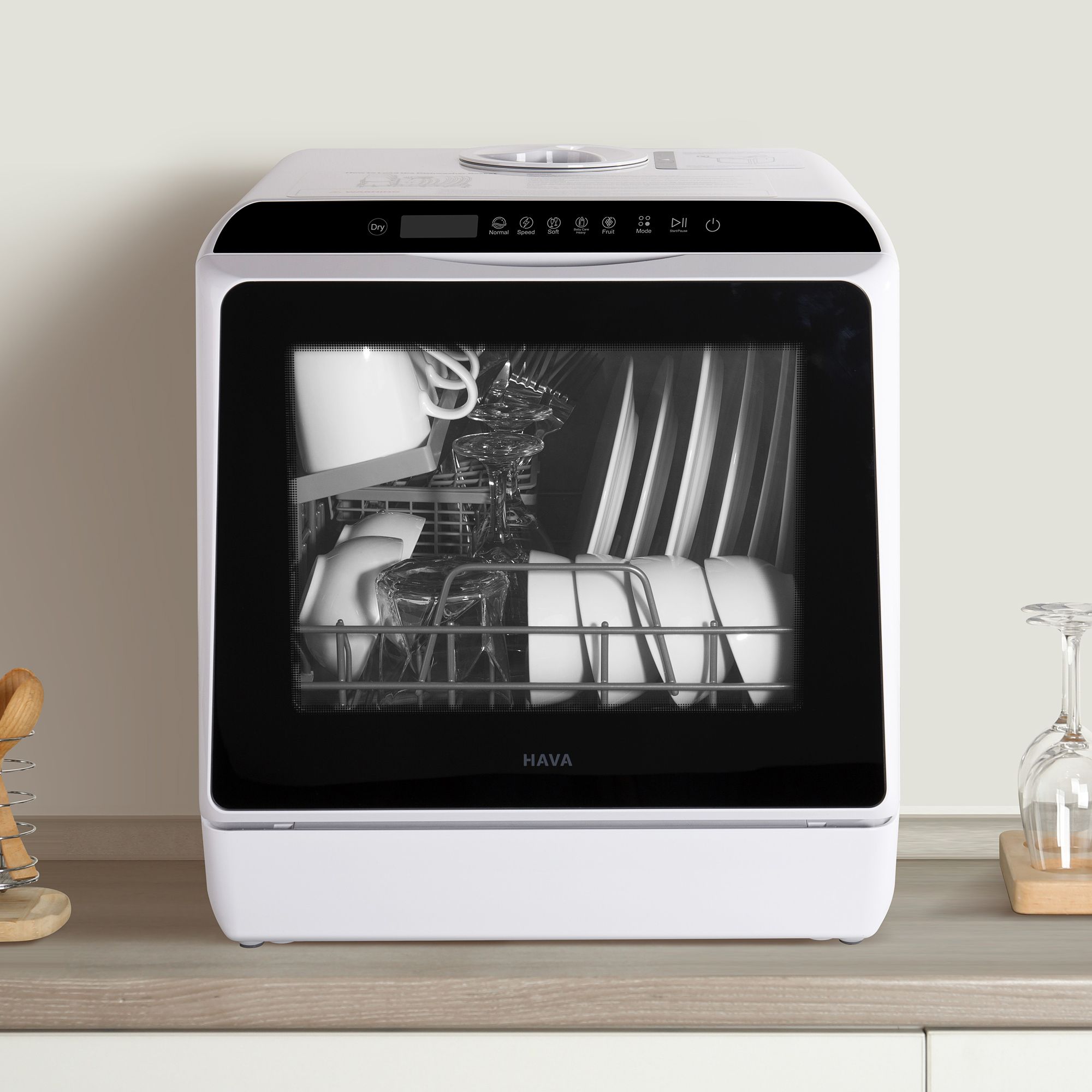 Table of Contents
---
Real-Life Benefits
Beyond the techy stuff, here's where the HAVA R01 truly shines, making many wonder how they ever managed without such a convenience in their homes.
Optimal Cleaning in a Compact Design: Despite its compact size, the HAVA R01 doesn't compromise on cleaning power. It's a fantastic choice for those living in smaller spaces like apartments or RVs, ensuring that limited space doesn't mean limited cleanliness.
Ergonomic Countertop Positioning: Traditional dishwashers often require users to bend down, which can be challenging for some individuals. The countertop positioning of the HAVA R01 is a thoughtful design choice, making it particularly accommodating for those who may have difficulty bending. It's a testament to HAVA's commitment to user comfort and accessibility.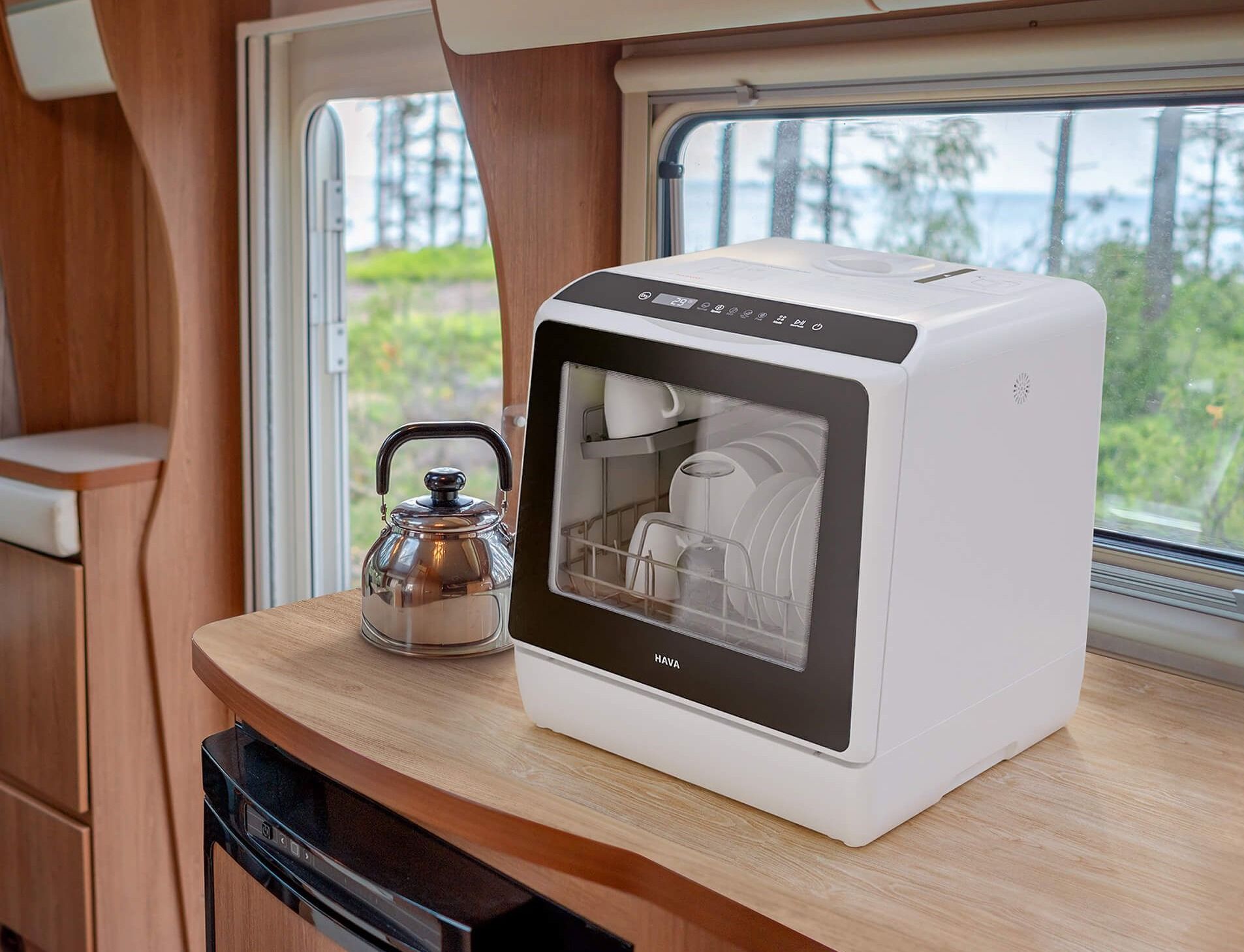 ---
Thoughtful Details, Rich Benefits
The HAVA R01 is packed with features that enhance the user experience:
Water Efficiency: Its 5 L built-in water tank ensures about 75% less water consumption compared to hand washing.
Quiet Operation: The reinforced glass door ensures noise levels are kept to a mere 60 dB.
Versatility in Detergent Use: Whether you prefer liquid, powder, tablet, or gel, this dishwasher works perfectly with any type of washing detergent.
Easy Loading and Unloading: Thanks to the precisely-built rolling tracks under the dish rack.
Smooth Operations: The triple filtering system prevents clogging, ensuring smooth operations at all times.
Multiple Washing Programs: Choose from 5 different washing programs and a separate dry mode to suit your needs.
Effective Cleaning: The dual spray arms and 360° rinsing ensure every dish comes out sparkling clean.
Drying and Ventilation: The PTC hot air drying and ventilation features ensure your dirty dishes not only get clean but also become dry and ready to use.
---
Wash Cycles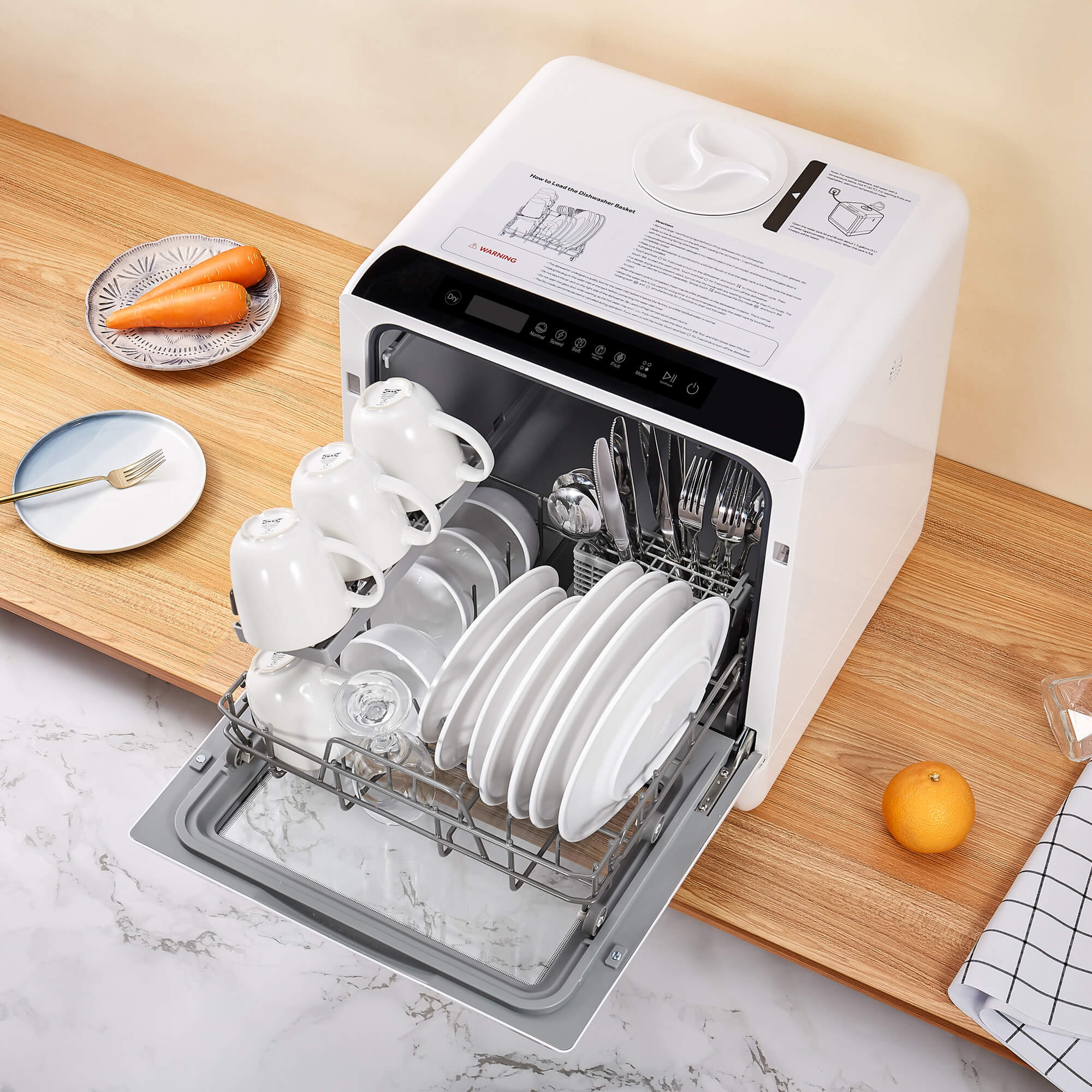 The HAVA R01 offers a variety of wash cycles tailored to your needs:
Normal: For standard cleaning of normally soiled loads.
Speed: A quicker wash for lightly soiled items.
Soft: Ideal for slightly dirty dishes.
Baby Care/Heavy: Perfect for baby bottles, oily tableware, or pet products.
Fruit: Designed for washing hard-surfaced fruits.
Each cycle has been optimized for temperature, detergent amount, wash time, and drying time, ensuring your dishes are spotless every time.
---
Packaging
HAVA ensures you have everything you need. When you unbox the HAVA R01, here's what you'll find:
Dishwasher with a 55" power cable
Inlet hose (61")
Drain hose (61")
Fruit basket
Cutlery basket
Dish rack
Pitcher
User manual
---
Shipping and Warranty
Fast & Free Delivery: Thankfully, HAVA offers complimentary shipping across the 48 contiguous states in the US and to all EU nations, ensuring your product reaches you within 5 business days. For US customers, orders are shipped via trusted carriers like UPS or FedEx. European residents can expect their deliveries via DHL, with DPD handling remote EU areas. For our Canadian customers, there's a nominal shipping fee of $208 CAD.
Peace of Mind with Warranty: Every purchase of the HAVA R01 comes with a 12-month warranty. Additionally, HAVA offers lifetime technical support, ensuring that you always have assistance when you need it.
---
Key Features and Technical Data
Compact Design: Measuring 16.86" x 16.75" x 18.05" (L/W/H), it's the perfect size for smaller living spaces like apartments, RVs, or even dorm rooms.
Hassle-Free Installation: Say goodbye to complicated plumbing. With the HAVA dishwasher, installation is straightforward and hassle-free.
Economical: With a water consumption of just 5-L per cycle, it's not only environmentally friendly but also pocket-friendly.
Power and Efficiency: Operating at 950 W and available in both US (110-120 V/60 Hz) and EU (220-240 V/50 Hz) versions, it's designed to deliver optimal cleaning power.
Generous Capacity: Don't be fooled by its compact size. This dishwasher can comfortably accommodate 4 cups, 8 plates, 4 bowls, and 7 sets of flatware.
---
Reviews and Feedback
And we're not the only ones feeling grateful for this nifty appliance. Here's what some real users had to say:
Jacob (9/7/2023): "For those with limited space, this dishwasher is a great fit. After the first wash, I was amazed at the results – it felt cleaner than handwashing. While larger pots still need a manual wash, it's a time-saver. Just run a couple of cycles, and you're good to go!"
Anton B. (9/7/2023): "I'd rate it 4 out of 5. The inside feels a bit compact compared to its exterior. However, with some smart stacking, it can handle a day's dishes for two people. But you'll have to choose between plates and larger items like pots. The faucet connection is straightforward, and I've had no issues with leaks. Overall, a wider model would get a full 5 stars from me."
Rita G. (9/3/2023): "This little dishwasher is powerful! It managed to restore the shine to my favorite tea mug that was stained over time. It's a great fit for couples. We load it throughout the day and run it in the evening. Occasionally, we hand wash larger items, but most of our dishes are cleaned in this unit. The performance and build quality have truly impressed me."
Please note that the reviews on this page have been edited for readability and clarity while maintaining the essence of the original content.
---
Frequently Asked Questions
What size of plates can the HAVA R01 accommodate?
The HAVA R01 can fit plates up to 10.24 inches in diameter when placed vertically. If tilted, it can handle plates up to 11 inches.
How does the HAVA R01 drain dirty water?
The dishwasher comes with a drain hose that you can connect to direct the wastewater either into a sink or a container.
Is it possible to place the dishwasher beneath the sink?
You can position the HAVA R01 wherever it's convenient for you. However, ensure the distance between the sink and the drain hose doesn't exceed 24 inches for effective drainage.
---
Conclusion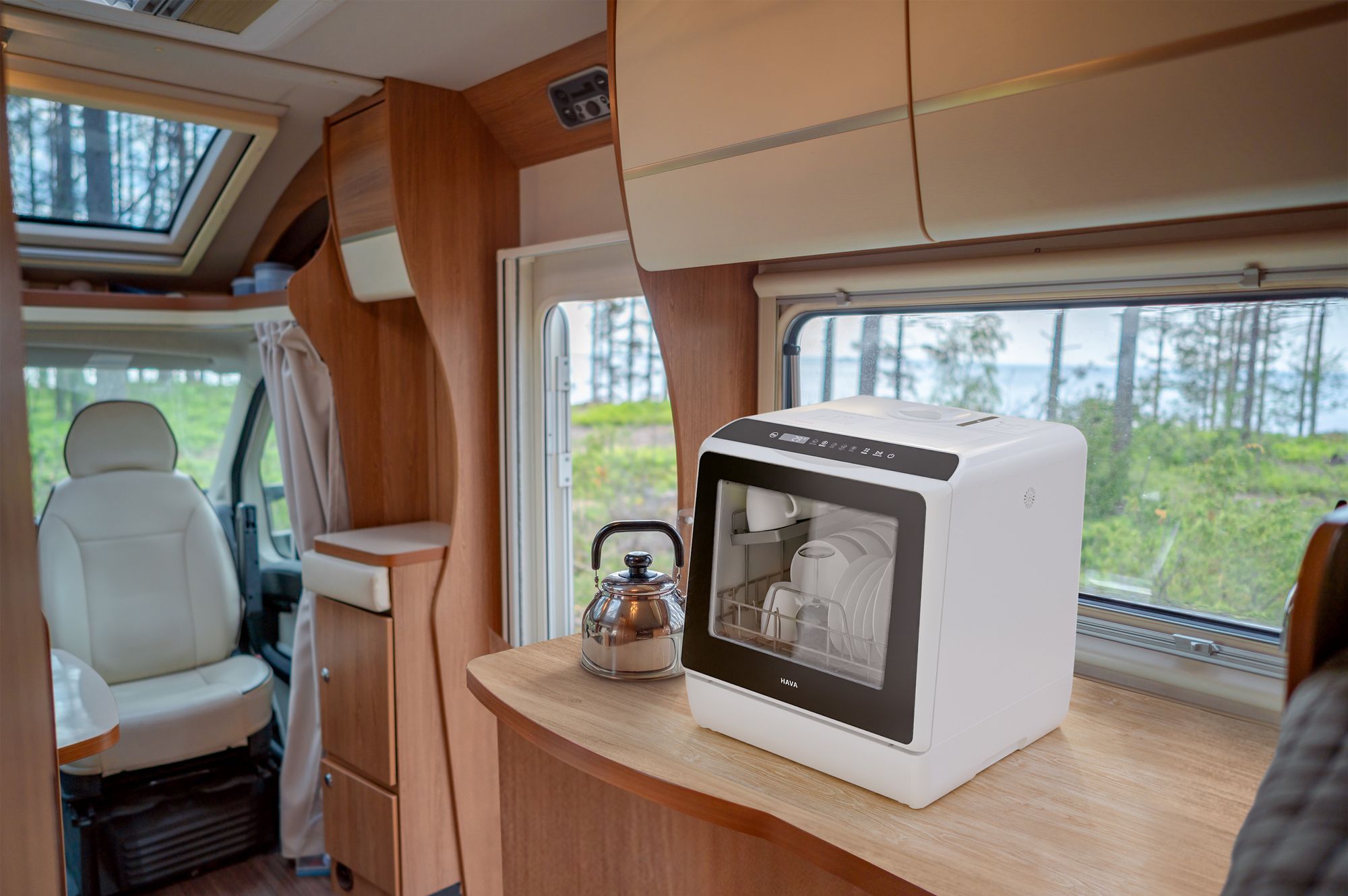 We're genuinely thankful to have discovered the HAVA R01 Compact Countertop Dishwasher. It's not just any dishwasher; it's a testament to how thoughtful design and innovative features can elevate everyday chores.
Whether you're nestled in a cozy apartment, traveling in an RV, or just seeking a more ergonomic dishwashing solution, the HAVA R01 emerges as the ideal choice.
Reviews and FAQs sourced from: HAVA official website
---
Further Reading
Get to know HAVA on their home website.
---