Ready to dive into the sizzling world of air fryers with a twist?
Welcome to the ultimate guide on air fryer rotisseries!
Here, we'll unravel the magic behind the crispy goodness of air frying and the succulent spin of rotisserie. Ever wondered if you could combine the two without burning a hole in your pocket? Well, you're in for a treat!
Air frying isn't just a cooking method; it's a lifestyle change towards healthier, tastier meals. And when you add rotisserie into the mix? Culinary perfection!
But wait, can one truly replace the other? Let's embark on this flavorful journey and uncover the secrets of these kitchen wonders. Onward, fellow foodies!
🤝 As an Amazon Associate, we earn from qualifying purchases made through our links, at ZERO additional cost to you.
5 Best Air Fryers with Rotisserie
---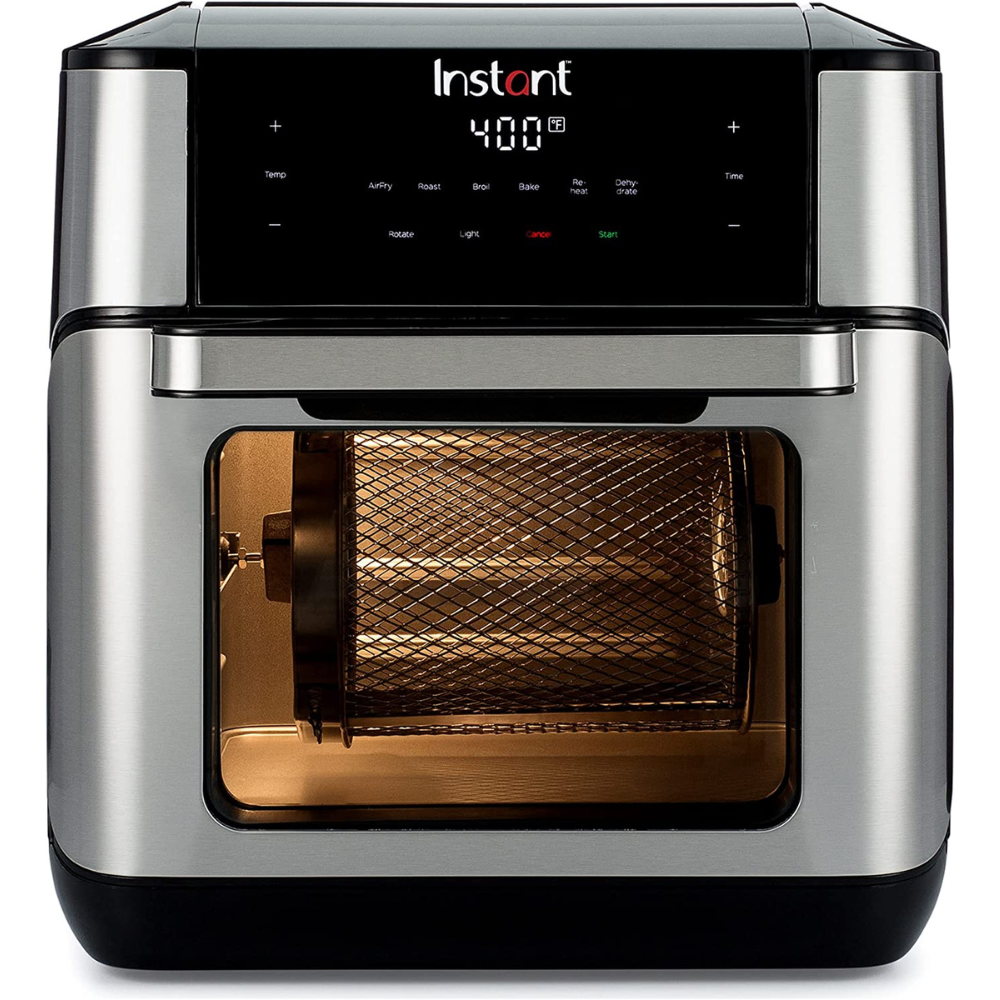 Instant Vortex Plus Air Fryer
Combines a range of features, a mid-range price point, and the reliability of a known brand, making it an all-around top pick for most users.
Check Price on Amazon
What We Love:
Mid-Range Excellence: Premium features at an affordable mid-range price of around $150.
Versatile Cooking: Suitable for air frying, broiling, baking, dehydrating, reheating, and rotisserie.
Optimal Size: Perfect for small families, accommodating large-sized chickens.
Advanced Technology: EvenCrisp technology ensures a perfect brown finish.
User-Friendly Interface: Large LCD with six customizable programs for easy operation.
Comprehensive Accessories: Comes with a nonstick drip pan, cooking trays, rotisserie basket, spit, forks, and a lift tool.
What to Keep in Mind:
Messy Operation: Known to produce more crumbs, potentially due to the EvenCrisp technology.
Why It Might Be Right for You:
Dive into a culinary adventure with the Instant Vortex Plus Air Fryer. Perfect for those family gatherings where a roasted chicken or baked treats are on the menu. Its EvenCrisp technology ensures every bite is perfectly browned. With its user-friendly interface and comprehensive accessories, every meal becomes a gourmet experience. Whether you're preparing a festive feast or a simple snack, the Instant Vortex ensures perfection, making every occasion memorable.
Customer Review (source: Amazon)
This machine is a game-changer for me, especially on busy workdays. It's my quick and easy solution, and I foresee it becoming my reheating champion. No more waiting for the oven to heat up, and it's faster too. There was a slight odor the first couple of times I used it, but that's it. I'm thrilled with it and would definitely repurchase.
---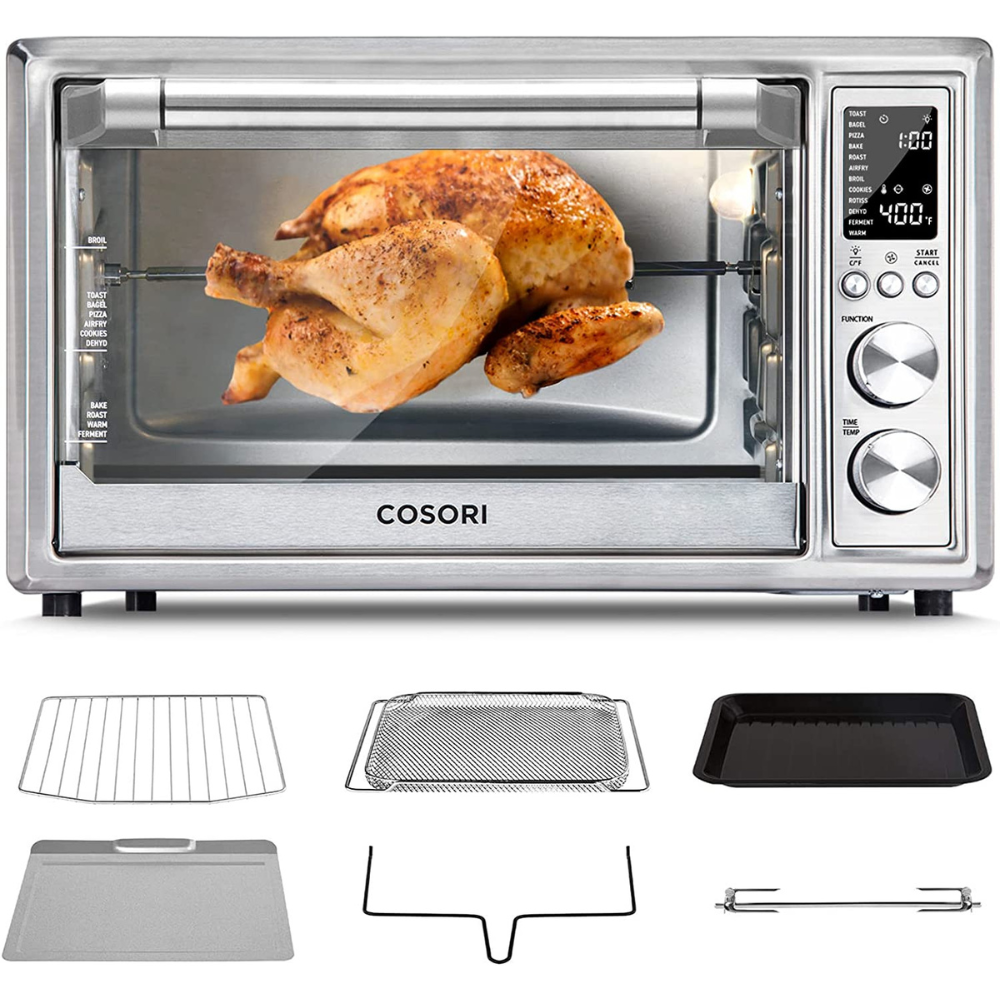 A high-end air fryer that offers a wide range of features, a large capacity, and versatility, making it a top pick for those seeking premium quality.
Check Price on Amazon
What We Love:
Premium Quality: High-end air fryer oven offering great value for its price.
Versatility: Suitable for roasting, air frying, baking, toasting, and more.
Comprehensive Accessories: Includes rotisserie fork set, handle, wire rack, food tray, crumb tray, and fry basket.
Durable Material: Made of stainless steel for long-lasting use.
Large Capacity: 30L capacity suitable for large families and hosting parties.
What to Keep in Mind:
Price Point: Premium price, so consider if you'll utilize all its functions.
Space Consumption: Takes up significant counter space.
Why It Might Be Right for You:
Elevate your cooking game with the COSORI Air Fryer. Ideal for those Sunday brunches where variety is key. From crispy air-fried delights to succulent rotisserie dishes, this appliance promises a seamless blend of functionality and elegance. Its durable stainless steel build and large capacity make it a standout, ensuring that every dish is cooked to perfection, reflecting your culinary prowess.
Customer Review (source: Amazon)
I've owned several air fryers and toaster ovens, but this combination oven tops them all. It's user-friendly, efficient, and saves me money compared to my wall oven. While I'm still adjusting to its unique cooking style, I love that I can use my regular baking and casserole dishes. Just a tip: food might brown faster due to its proximity to the cooking elements, but a simple foil cover does the trick. I've stuck to my regular oven's cooking times and temperatures, making notes along the way. Plus, the customer service is top-notch, and the energy savings are undeniable. All in all, it's a fantastic purchase.
---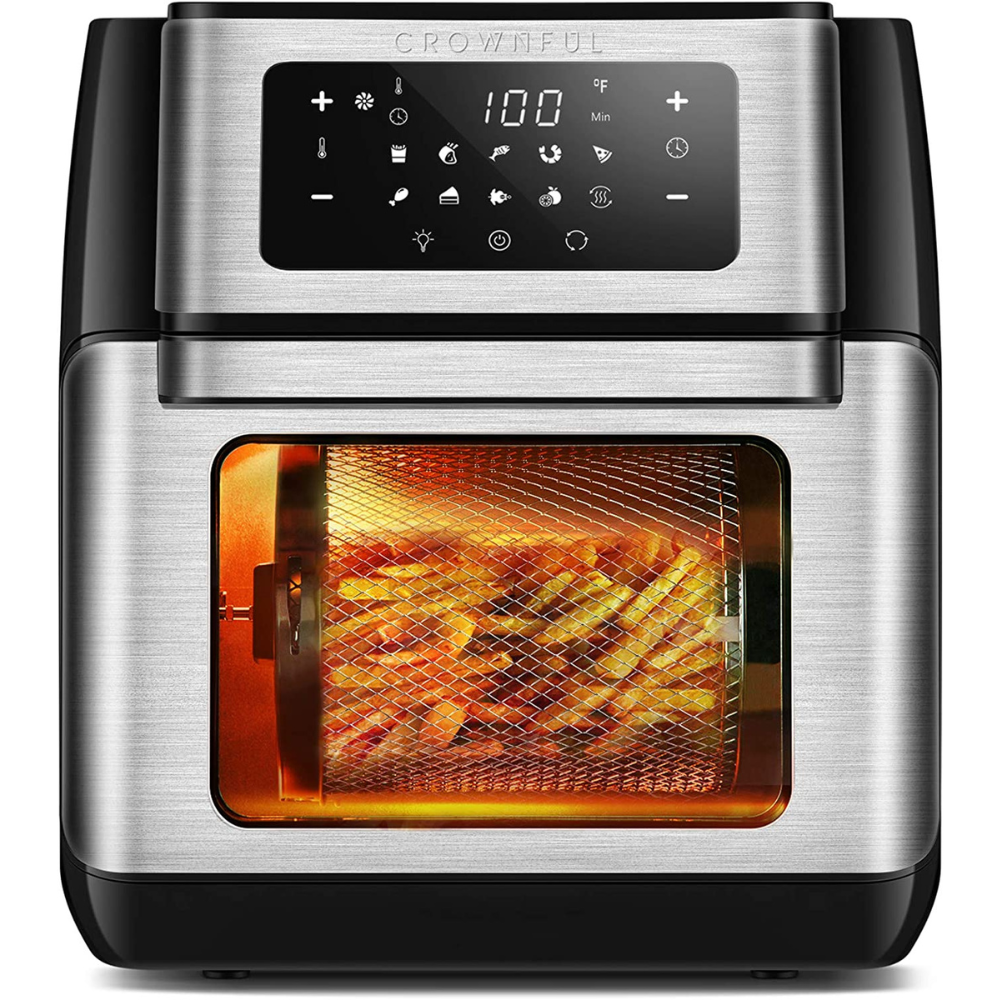 The most affordable option that still provides a balance of features and capacity.
Check Price on Amazon
What We Love:
Great Value: Offers premium features at an affordable price of around $130.
Versatile Cooking: Capable of roasting, reheating, dehydrating, baking, and air frying.
Intuitive Control Panel: Digital controls for temperature and cooking presets.
Compact Size: Ideal for limited counter spaces, fitting medium-sized chickens.
Comprehensive Accessories: Includes rotating basket, handles, rotisserie forks, skewers, drip tray, and mesh racks.
What to Keep in Mind:
Missing Manual: Does not come with a user manual, though information is available online.
Why It Might Be Right for You:
The CROWNFUL Air Fryer is your trusty sidekick for those busy evenings. When time is of the essence, and you crave a quick, delicious meal, this air fryer delivers. Its digital control panel ensures precision, turning every meal into a delightful experience. With its compact size and intuitive controls, you can whip up meals that are not only quick but also packed with flavor, ensuring satisfaction with every bite.
Customer Review (source: Amazon)
I'm absolutely thrilled with this air fryer! Its wi-fi connectivity is a game-changer, allowing me to download recipes complete with videos and get notifications on my phone when my food is ready. From chicken-crust pizza to shrimp and brownies, everything I've tried has been a hit. I'm eagerly looking forward to trying the rotisserie feature and making kabobs. It's made cooking so effortless and fun!
---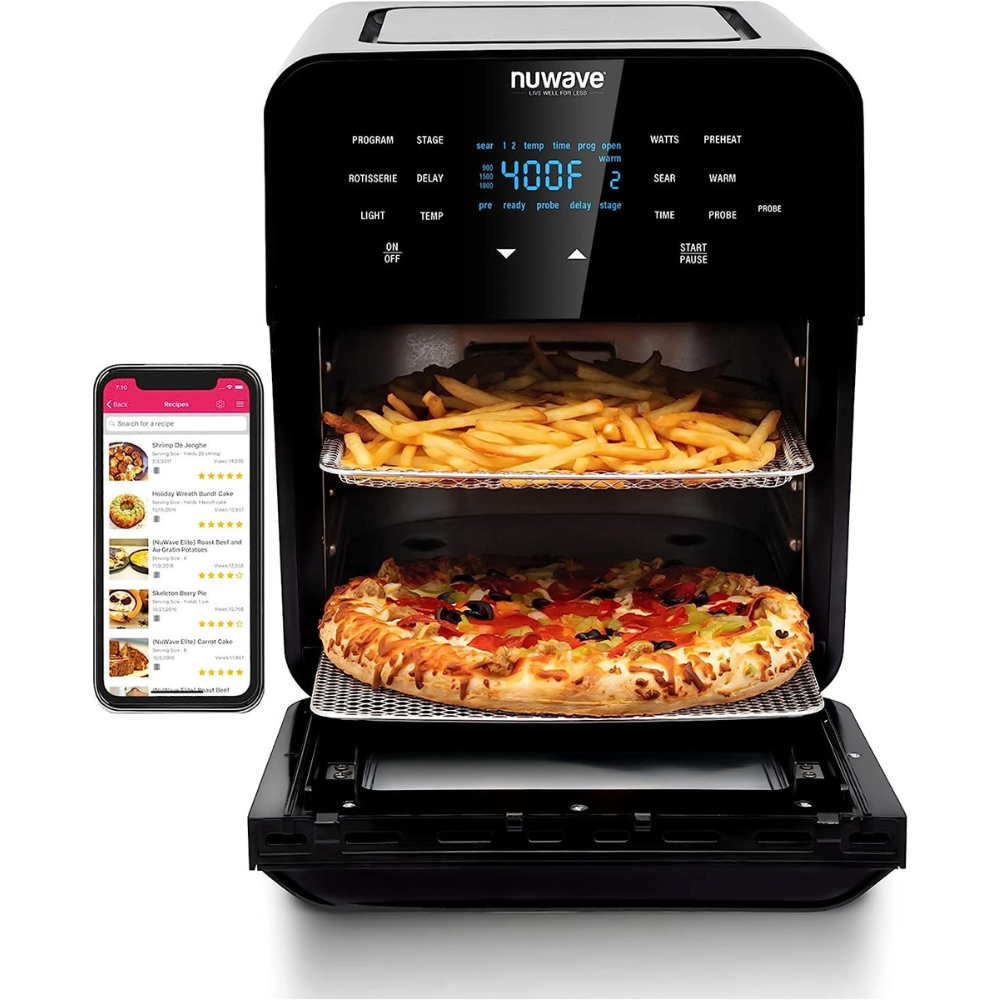 Emphasizes healthy frying using super-heated air, eliminating the need for added fats and oils.
Check Price on Amazon
Nuwave Air Fryer: 15.5 Quarts
What We Love:
Healthy Cooking: Uses super-heated air for guilt-free frying without added fats.
On-the-Fly Adjustments: Easily change temperature and time during cooking.
Precision Control: Set temperatures from 50°F to 425°F in 5°F increments.
Safety First: Cooking pauses when the door is opened and resumes when closed.
Powerful Circulation: Top-mounted 5-inch convection fan for even cooking.
Versatile Rotisserie: Self-basting rotation for flavorful chicken and perfect fries.
Smart Thermometer: Monitors and stops cooking at the desired internal temperature.
What to Keep in Mind:
Continuous Heating: Heater remains on throughout the cooking process.
Why It Might Be Right for You:
Step into a world of guilt-free indulgence with the Nuwave Air Fryer. For those who prioritize health without compromising on taste, this is your go-to appliance. Whether you're craving crispy fries or a juicy roast, the Nuwave promises perfection with its powerful convection fan and precision controls. The added benefit of its smart thermometer ensures your meals are cooked just right, making healthy eating a delightful journey.
Customer Review (source: Amazon)
I use this air fryer for just about everything - from toasting bread to making burgers, pork chops, and chicken. Just remember to use the grated racks for even cooking and avoid wrapping food in aluminum foil. Despite a minor hiccup with the door hinge due to my carelessness, it still works perfectly. I'm genuinely in love with it!
---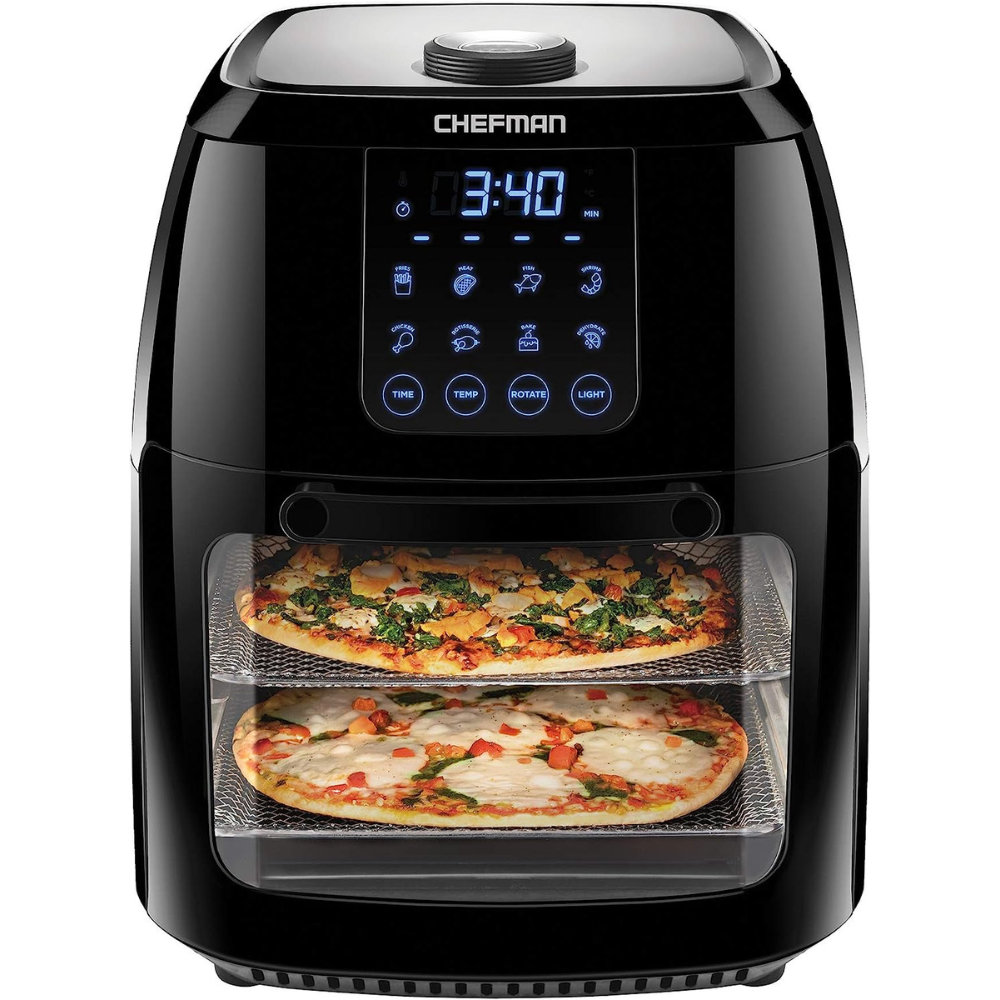 Offers a range of features in a smaller design, making it suitable for those with limited counter space and not needing a larger capacity.
Check Price on Amazon
What We Love:
All-in-One Appliance: Functions as an air fryer, rotisserie oven, and dehydrator.
Healthier Cooking: Achieves crispy results with at least 98% less oil.
User-Friendly Interface: Capacitive touch screen with a temperature range of 90-400 degrees and 8 preset options.
Handy Accessories: Includes 2 air flow racks, rotisserie spit and forks, rotating basket, retrieval tool, and drip tray.
Family-Oriented Design: Spacious 6.3-quart capacity suitable for family meals.
What to Keep in Mind:
Material: Made of plastic which might not be as durable as stainless steel.
Why It Might Be Right for You:
Embrace the magic of efficient cooking with the Chefman Air Fryer. Those cozy winter evenings when a warm meal is all you crave become even more special. From air frying to roasting, this appliance ensures gourmet results in a sleek, compact design. Its capacitive touch screen and range of presets make it a breeze to use, ensuring that every dish, whether a quick snack or a family dinner, is a culinary masterpiece.
Customer Review (source: Amazon)
I snagged this air fryer on sale and it's been a game-changer in my kitchen. From dehydrating banana slices to perfectly cooking shrimp, chicken, and pork chops, it's been fantastic. The clear window and light are great touches, and cleaning is a breeze. A few minor issues include tiny print and pictures on the options, and the plastic shell means I need to steady it when closing the door. But even with these, I'd buy it again in a heartbeat. It's been a month and I'm still thrilled with its performance!
---
How We Chose Our Top Picks
Expertise and Research Methodology:
Our goal is to provide you with expert insights into these air fryers with rotisserie, even if we don't have personal experiences with each product. We've conducted extensive research and considered user feedback, including customer reviews from Amazon, to evaluate their performance, durability, and ease of use. Additionally, we've compared these air fryers against their competitors to help you find the perfect match for your culinary needs.
Budget Consideration:
We believe a budget up to $200 is perfect for an air fryer with rotisserie. Any air fryer with a rotisserie priced above $200 does not justify the additional price. So, we selected all rotisserie air fryer ovens that fall within this price range.
Customer Reviews and Heat Distribution:
The next thing we did was to divide this budget range into five. We then shortlisted rotisserie air fryers based on customer reviews. All the rotisserie air fryers left claimed to distribute heat evenly. However, we delved deep into customer reviews to discern which ones truly excelled at even heat distribution. We then selected only the best ones in this aspect.
Functionality Assessment:
Our next filter was based on functionalities. In the higher range, we selected ovens that boasted the most functionalities. For the lower-end ovens, we sought out those that offered one or more premium functionalities, ensuring that even budget-friendly options provided value.
Warranty and Trustworthiness:
The final step was to select products based on warranty coverage. All manufacturers provided at least a 1-year warranty. However, we meticulously checked customer reviews for manufacturers who were not only easy to reach but also fulfilled warranties without any hassle. Their Amazon ratings further informed our decisions, as we wanted to ensure that the brands we recommended were trusted by the larger community.
---
Difference Between Air fryer and Rotisserie
Air fryers and rotisseries are different because of their heating element. Cooking in a rotisserie involves putting meat or vegetables on a stick. Rotisserie ovens rely on convection to cook the food. The food revolves, so one side of the food does not stay above a heat source for long. As a result, you get juicy meat with a crispy outer crust that has made rotisserie chicken famous.
Air fryers also rely on convection, but they work differently. The air fryer oven blows hot air once the food is in it. However, the heating elements in an air fryer are internal, and it is hard to replicate a rotisserie-like texture. Yet, since the food is in a confined compartment, air fryers take less time to cook food.
Air fryers are also more suited to cook vegetables as compared to rotisseries. Air frying french fries are now the most favorite way of making them.
So, rotisseries deliver the best-textured meat, while air fryers save energy and take less time to cook food. It is ideal to have both in your kitchen. However, we know it takes up your precious counter space and might come with a high price tag. The solution to this problem is to get your hands on rotisserie air fryers.
---
How To Buy The Best Air Fryer With Rotisserie
Choosing the best air fryer with rotisserie may be a little tricky. There are many different options and functions. The best rotisserie air fryer for you may not be the best for someone else. So, before we get into our product recommendations, let us tell you how to choose the best air fryers.
Budget
While buying an air fryer with a rotisserie will save some money, it may be considered an investment. So, the first thing that you need to do is to set a budget aside. You might be able to get a budget-friendly air fryer with rotisserie, but you should expect to pay more for special features.
Heat distribution
An air fryer that does not distribute heat evenly is not good. We love our air-fried food for its even texture. It is easy to assume that whatever air fryer you buy can distribute heat evenly.
However, you might be surprised that many low-quality air fryers do not do this. Before buying, look for the manufacturer's warranty that distributes heat evenly.
Functionalities
We know that if you're reading this article, the function you would be looking for is rotisserie. However, you also need to look for other features you might need. Air fryers have several features.
If you have a low budget, we suggest sticking to the basics. Many air fryers that are cheaper may come with several high-end features. Usually, those air fryers are not good at doing the basics. When the budget is limited, we suggest finding an appliance that nails the basics correctly. If you want some specific functions, expect to pay a little extra for them.
Warranty
Buying an appliance such as an Air fryer with rotisserie is a substantial investment. You would want to ensure that your investment is protected. You never know when something may go wrong with an electronic appliance. So, ensure that you have a warranty.
We also recommend being realistic with the warranty expectations. Generally, you would get a one-year warranty. In our opinion, one year is more than enough. If something is wrong with the manufacturing, it shows up within this time. Having said this, you might get lucky and find an appliance with extensive warranty coverage.
---
Frequently Asked Questions
Can I put aluminum foil in an air fryer?
Yes, it is safe to put aluminum foil in the air fryer. If you're using it to keep the basket clean: the best way to use aluminum foil is to fold it into a small square and place it underneath whatever you're frying.
Is steak in an air fryer good?
Yes, steak in an air fryer can be good. However, you have to be careful not to overcook the steak, or it will become dry and tough. Try cooking the steak using a lower temperature for a longer time to avoid overcooking.
Can you put a glass dish in an air fryer?
Yes! You can put a glass dish in an air fryer if it is oven-safe. Just be sure to follow the manufacturer's instructions for using your specific air fryer. Glass dishes usually work best if placed on the air fryer's top rack.
What is the difference between a regular air fry and using an air fryer toaster oven?
A regular air fry primarily focuses on circulating hot air around the food to achieve a crispy exterior, similar to deep frying but with significantly less oil. An air fryer toaster oven, on the other hand, combines the functionality of both an air fryer and a toaster oven. This means you can air fry, toast, bake, and even broil in one appliance, offering more versatility in cooking methods.
How does the cooking experience change when using an air fryer rotisserie basket?
An air fryer rotisserie basket enhances the cooking experience by allowing for even cooking and browning on all sides of the food. It rotates the food, ensuring consistent heat distribution. This is especially beneficial for foods like whole chickens or roasts, ensuring they are cooked evenly and remain juicy inside.
Are all air fryer accessories universally compatible?
Not all accessories are universally compatible. While some might fit across different models, it's essential to ensure that accessories, like the air fryer rotisserie basket, are suitable for your specific air fryer toaster oven model to ensure optimal performance and safety.
---
Which Air Fryer with Rotisserie is Best For You?
Do you love fried food but hate the unhealthy consequences?
Well, we have great news for you! An air fryer helps you make all of your delicious fried foods without any of the guilt.
Imagine being able to cook delicious, crispy chicken or fish right in your kitchen – without having to use any oil at all. It's possible with the best air fryer with rotisserie on the market today.
We hope our article has helped you find your new favorite air fryer with a rotisserie so you can start cooking your favorite foods at home!
---
Items Reviewed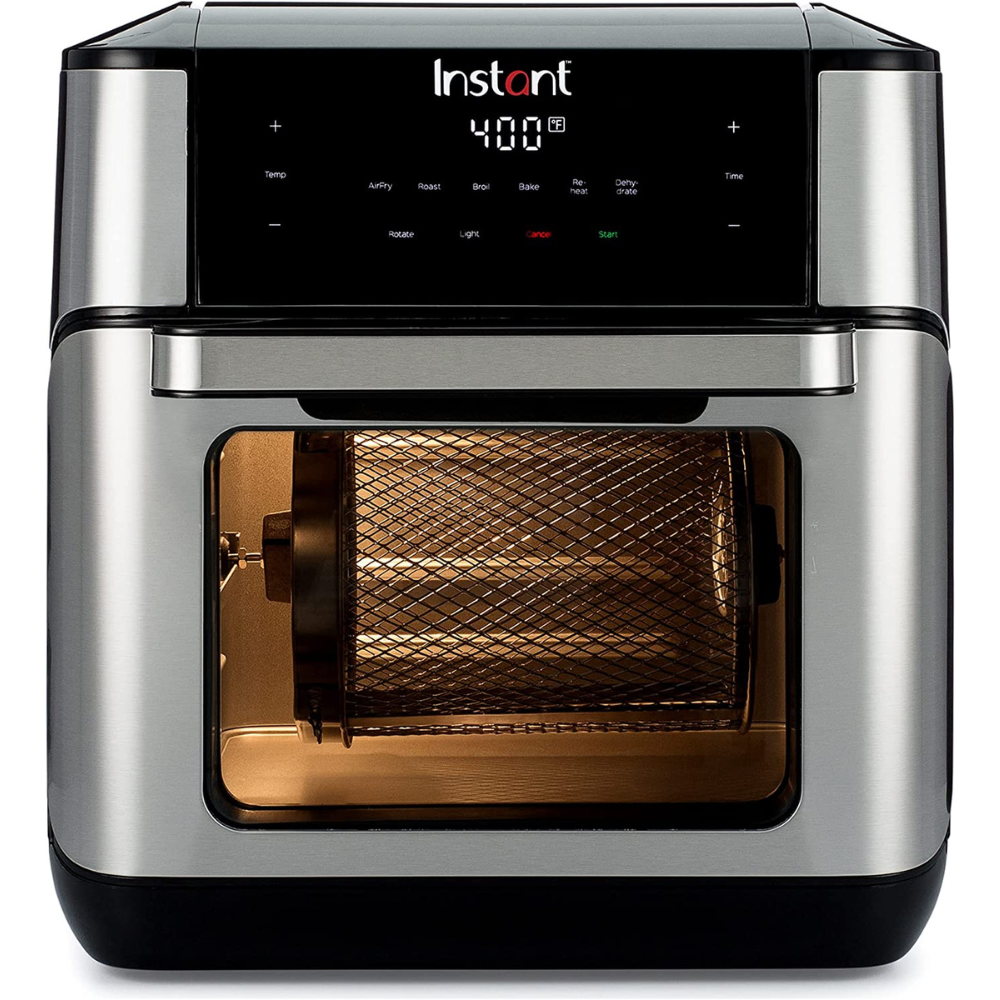 Best Overall: Instant Vortex Plus Air Fryer
Combines a range of features, a mid-range price point, and the reliability of a known brand, making it an all-around top pick for most users.
Check Price on Amazon
Further Reading
Please note that the reviews on this page have been edited for readability and clarity while maintaining the essence of the original content.
---