Ever found yourself staring at a pile of fresh produce, dreaming of the perfect smoothie, only to be let down by your underperforming blender? Worry no more!
We've scoured the market to find the top five blenders under $50 that won't just meet your expectations—they'll blend them to perfection. Whether you're a culinary pro or just stepping into the world of blending, a cheap blender can be your ticket to delicious, healthy meals. Say goodbye to chunky smoothies and hello to a world of culinary possibilities, all without emptying your wallet!
🤝As an Amazon Associate, we earn from qualifying purchases made through our links, at ZERO additional cost to you.
---
5 Best Blenders Under $50
---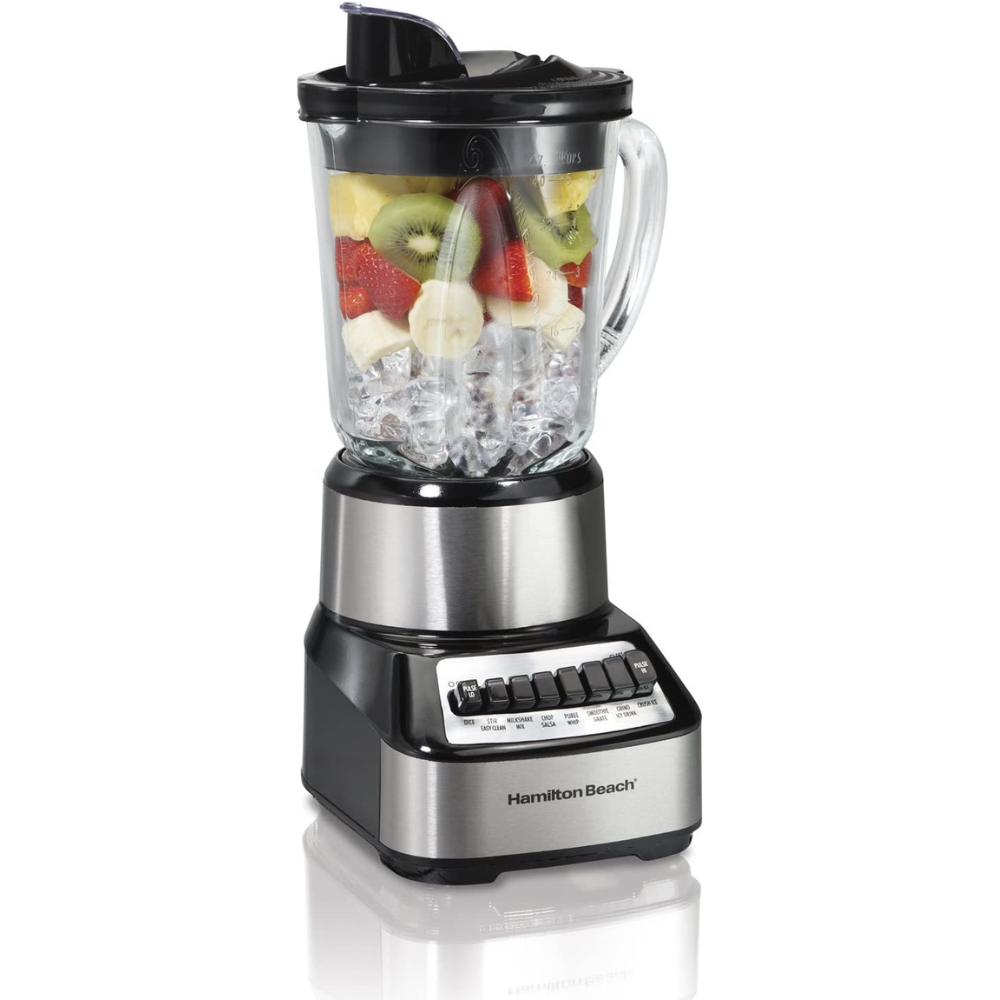 Hamilton Beach Wave Crusher Blender
With its patented Wave-Action system, 14 blending functions, and a 3-year warranty, this blender is the most versatile and reliable. It's perfect for those who want a machine that can do it all.
Check Price on Amazon
What We Love:
High Power: 700 peak watts for robust blending.
Smooth Results: Patented Wave-Action system.
Ice-Crushing: Features patented Ice Sabre Blades.
Versatile: 14 different blending functions.
No-Mess Serving: Easy-pour spout design.
Warranty: Comes with a 3-year warranty.
What to Keep in Mind:
Cord Storage: Base has storage, but it may not be convenient for all.
Glass Jar: 5 cup/40-ounce may be too large for some users.
Why It Might Be Right for You:
This blender is a dream for the versatile chef. Whether you're blending a chunky salsa for taco night or a smooth puree for a gourmet soup, the Hamilton Beach Wave Crusher meets all your culinary needs. Its range of functions makes it ideal for those who love experimenting in the kitchen and need a reliable, all-in-one appliance.
Customer Review (source: Amazon)
I'm thrilled with this blender—it's a real workhorse! From soups and smoothies to sauces and pestos, it does it all. Plus, the glass container is a big win over plastic.
---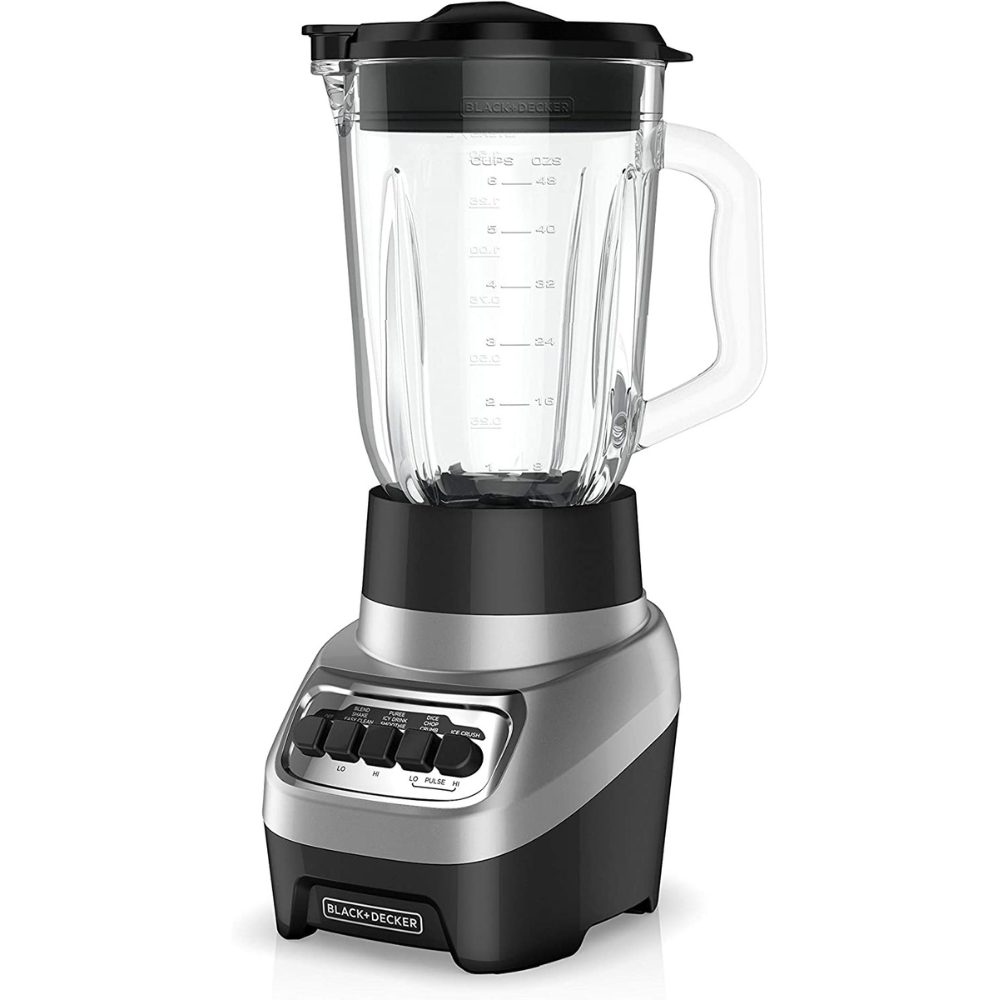 BLACK+DECKER PowerCrush Multi-Function Blender
This blender offers the best combination of power, versatility, and convenience. With 700W peak power, Quiet Blending Technology, and dishwasher-safe parts, it's a well-rounded option that doesn't compromise on any feature.
Check Price on Amazon
What We Love:
Powerhouse: 700W motor for versatile blending.
Quiet Operation: Features Quiet Blending Technology.
Easy Cleanup: Dishwasher-safe parts and Easy-Clean button.
Multiple Speeds: Four speed options for various tasks.
Durable Jar: 6-cup PerfectPour Glass Jar.
Warranty: Comes with a 2-year warranty.
What to Keep in Mind:
Motor Base: Not dishwasher-safe.
Power Usage: 350W for continuous use, may not be as powerful as peak performance suggests.
Why It Might Be Right for You:
If you're a culinary enthusiast who values both power and subtlety in your kitchen gadgets, the BLACK+DECKER PowerCrush is your perfect match. Its quiet operation means you can blend early in the morning or late at night without disturbance, making it ideal for households with varied schedules or small living spaces.
Customer Review (source: Amazon)
This blender is straightforward and does the job, especially for smoothies. It's easy to clean and has a heavy-duty glass jar. Just know it's a bit heavy, so it might not be the best choice for everyone.
---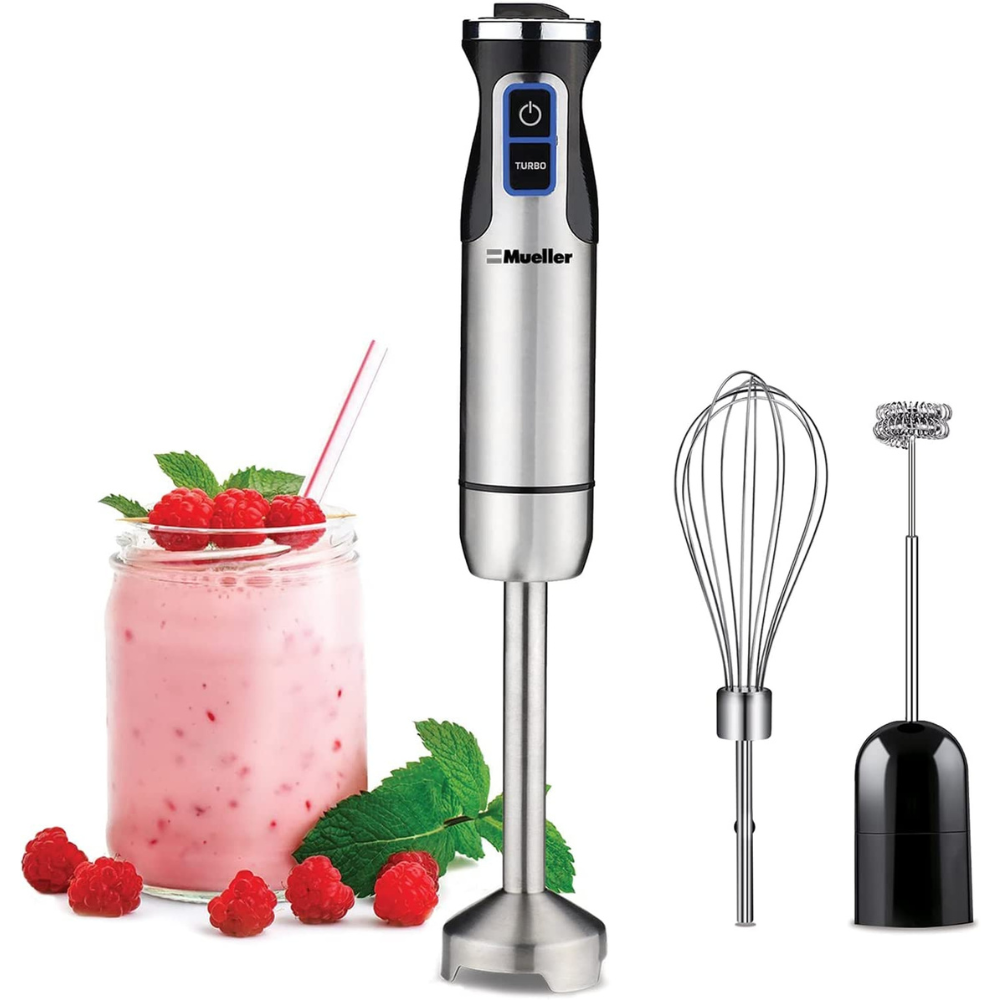 Mueller Immersion Multi-Purpose Hand Blender
This hand blender offers impressive features like a 500-watt motor and versatile attachments. It's an excellent choice for those who want quality without spending a lot.
Check Price on Amazon
What We Love:
Affordable: Easy on the wallet.
User-Friendly: Simple to operate and clean.
Versatile Attachments: Comes with a frother and whisk.
Powerful: 500-watt motor for various kitchen tasks.
Durable: Built with a full copper motor.
Quality Assured: 1-year warranty included.
What to Keep in Mind:
Overheating: Can get hot with prolonged use.
Trigger Fatigue: Holding the trigger can be tiring.
Why It Might Be Right for You:
This hand blender is a boon for the home chef who delights in precision and ease. Whether you're whipping up a quick smoothie, emulsifying a vinaigrette, or blending a soup directly in the pot, the Mueller Immersion Blender offers convenience without clutter. It's especially suited for those with limited kitchen space who still desire the functionality of a full-sized blender.
Customer Review (source: Amazon)
This hand blender is a game-changer for making smoothies without the cleaning hassle of my big Ninja blender. Don't underestimate its power—it can chop ice like a pro! It's durable, easy to clean, and a great value for the price.
---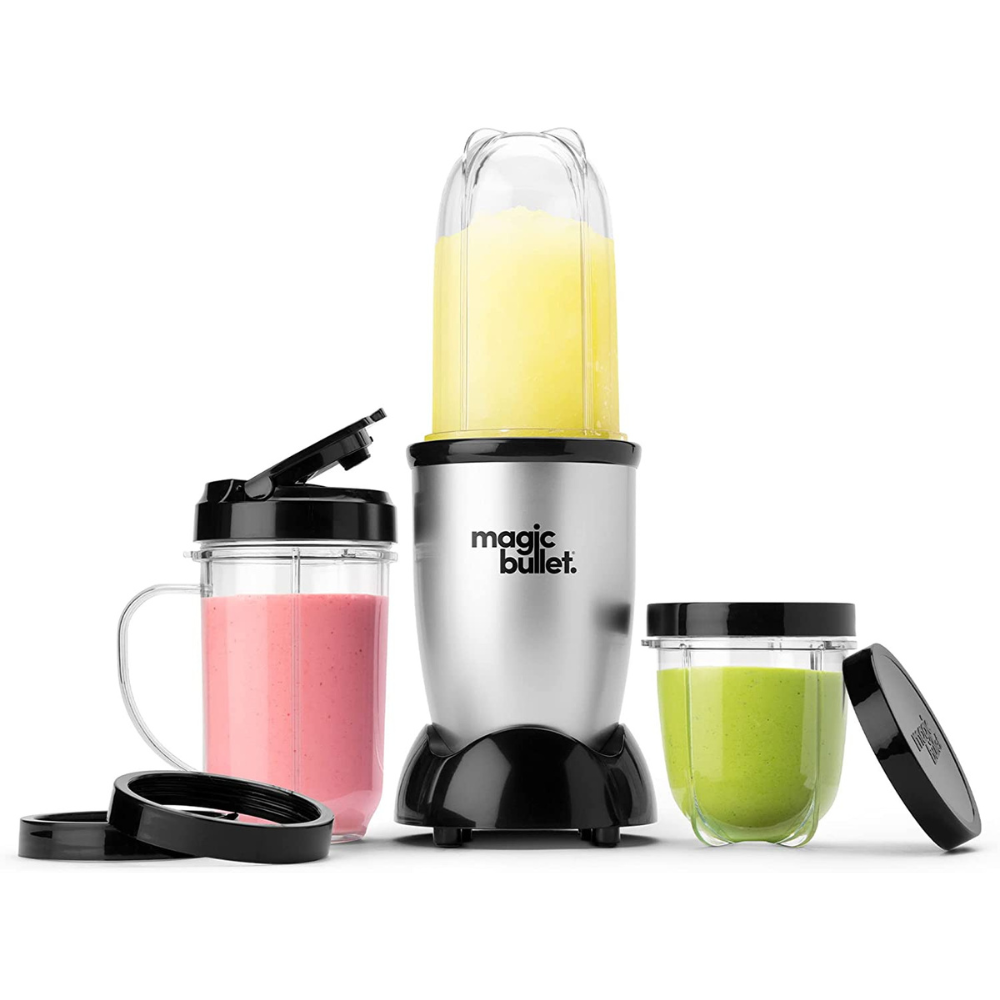 Magic Bullet Blender
Its small footprint and one-touch operation make it ideal for small kitchens or for those who are always on the go. The inclusion of 3 cups and to-go lids adds to its convenience.
Check Price on Amazon
What We Love:
Quick Action: Blends in no time.
Easy Cleanup: Takes less than 2 minutes.
Portable: Small footprint for small spaces.
Versatile: Comes with 3 cups and to-go lids.
One-Touch Operation: No complicated settings.
High-Impact Cups: Durable plastic construction.
What to Keep in Mind:
Limited Power: 250-watt motor may struggle with tougher ingredients.
Single Speed: Only one blending mode available.
Why It Might Be Right for You:
For those always on-the-move, the Magic Bullet Blender is your go-to kitchen companion. Its compact size and quick operation are perfect for small apartments, dorm rooms, or for bringing along on trips. Whether you're making a post-gym protein shake or a quick breakfast smoothie, this blender offers the ultimate in convenience and portability.
Customer Review (source: Amazon)
I got this blender for my mom who has arthritis, and it's been a lifesaver. She can easily start it with a simple push, no twisting required. The different sizes with lids are a bonus for her to use and store various items.
---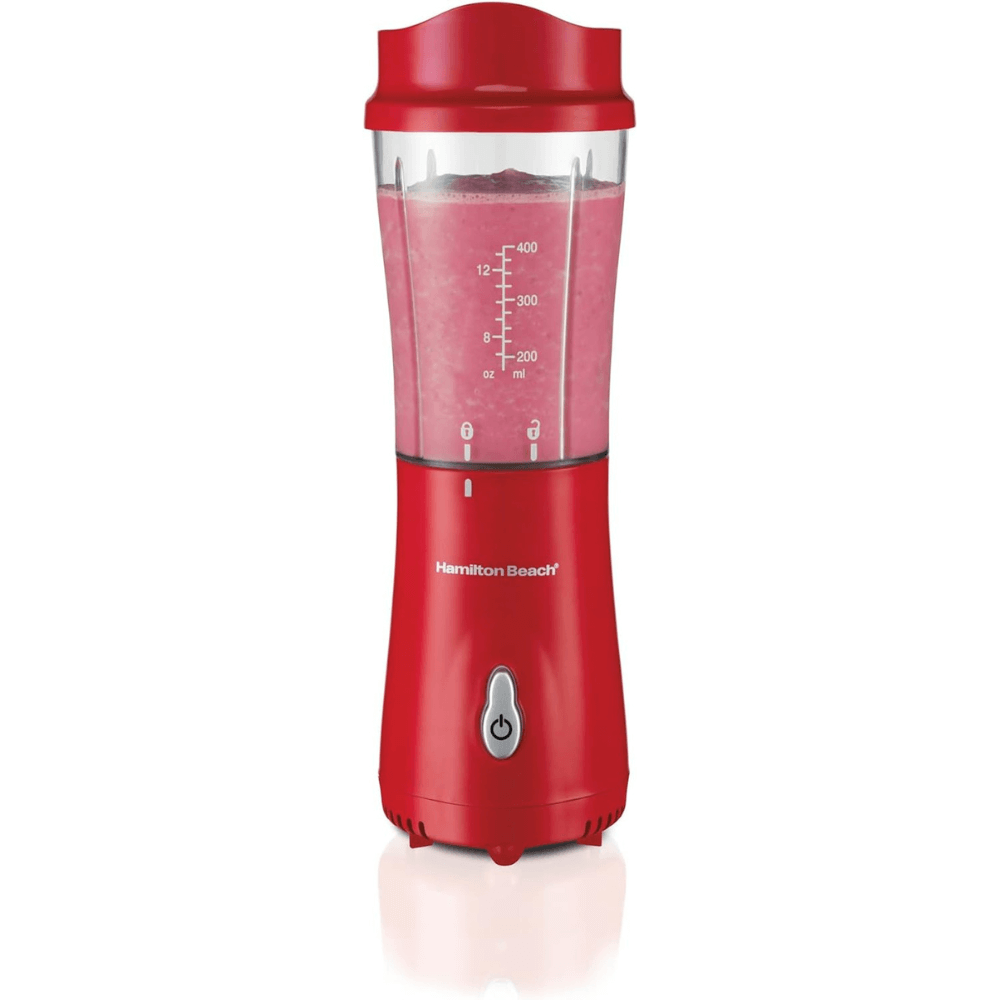 Hamilton Beach Portable Blender
With its BPA-free plastic travel bottle and powerful motor, this blender is perfect for those who need quick, single servings while on the move. It's also under $40, making it accessible for those new to a healthy lifestyle.
Check Price on Amazon
What We Love:
Blend and go with a 14 oz. BPA-free travel jar.
Powerful stainless steel blades for smooth results.
Easy one-touch blending operation.
What to Keep in Mind:
Limited to single servings.
Not designed for heavy-duty tasks.
Why It Might Be Right for You:
This blender is tailor-made for the health-conscious individual with a busy lifestyle. If your mornings are a rush or you need a quick energy boost after a workout, the Hamilton Beach personal blender allows you to blend a single serving in no time. It's the ideal choice for those who prioritize health, convenience, and speed in their daily routine.
Customer Review (source: Amazon)
I use this blender every morning for my coffee and protein mix, and it works like a charm—fast and efficient. Just a heads-up, avoid the dishwasher as it can warp the cap. I've even bought replacements because the value is unbeatable. Highly recommended for quick mixes!
---
How We Chose the Best Options
To arrive at our top picks, we considered several factors that contribute to a blender's overall performance and value:
Power: The wattage of the motor was a key consideration, especially for tasks like crushing ice and blending hard ingredients.
Versatility: We looked at the range of tasks each blender could handle, from making smoothies to grinding coffee beans, and the various attachments that come with it.
Ease of Use: User-friendly features like one-touch operation and easy cleanup were highly valued.
Durability: The material of the blender jar, the quality of the blades, and any warranties were considered as indicators of longevity.
User Reviews: Customer feedback and reviews were scrutinized to gauge real-world performance and reliability.
Price: While not the sole determinant, affordability was considered to ensure we recommend options that offer good value for the price.
By taking into account these factors, we aim to give you a well-rounded view of what each blender has to offer, so you can make an informed decision tailored to your specific needs.
---
Things to Consider Before Buying the Best Blender Under $50
The choice of budget-friendly blenders in the market is a difficult task for you, particularly if you are new to the world of blenders. To make an educated decision and select a suitable blender, there are a few things to consider. While evaluating these aspects may be challenging, they'll provide you with the data required to select the best blender under $50. Here are a few of these attributes;
Power
Another aspect to consider when looking for a budget blender is power. Even though you're seeking a low-cost blender does not mean you have to just settle for a piece of garbage. Before you purchase a blender, it is advisable to test its performance.
If you intend to use your blender occasionally, a blender of around 200 watts might be all you need.
If you mix sauces and dressings, then an appliance with at least 300 watts is ideal. Select an appliance that has 600 to 800 watts to crush ice and nuts.
Size
This is, without a doubt, one of the primary factors to consider when purchasing the right blender. The dimensions of your kitchen and the way you live are two elements that will influence the amount of blender you ought to buy.
If you have enough space in your kitchen or large storage cabinets to store the blender, then average-size blenders such as Black + Decker or Hamilton Beach Wave's blender will be ideal for your needs.
If you have family members and loved ones who love shakes and smoothies, you should purchase the largest one.
However, If you've got an in-between kitchen space and often travel, small and portable blenders such as the Oster Personal Blender will work for you.
Speed
Be realistic when you are looking for a budget blender. You've probably noticed that low-cost blenders may not have the best features and only a few speed settings. If you consider it, it is true that having a blender with a couple of speed settings isn't bad.
It will simplify your life because you can access the necessary settings. A blender with up to 16 controls is bound to be difficult because it'll take some time to understand how to operate it properly.
The majority of blenders that are cheaply sold on the market come with only three buttons: stop low, high, and stop. However, some models have just one button.
Material and Dishwasher safe
No matter what kind of blender you're looking to purchase, it is essential that you pay to focus on the material that its container is made of. Blender jars could be made of glass or plastic. Be very cautious when you choose.
Plastic blender jars are lightweight, convenient, and sturdy. But, they're not the best option to process hard ingredients since they are susceptible to scratches.
Glass jars, on the other hand, are impervious to scratches. Furthermore, they're clearer and can ward off the odors of food. The main issue with glass containers is that they're not sturdy and can break into pieces of varying sizes in the event of improper handling.
Cup Capacity
If you are planning to use your blender to make small portions and shakes, then a blender with smaller jars like the Magic Bullet is ideal for you. However, suppose you intend to use it to create numerous cups of delicious shakes and smoothies often.
In that case, blenders with larger jars, like Black + Decker or Hamilton, are an ideal choice.
Noise
Before purchasing a blender, it is advisable to check it out to determine whether it makes a sound. It is not a good idea to purchase a blender that could wake sleepy family members using it during the night or on a Saturday morning.
Two things that affect the volume of noise that the blender can make are its wattage and the speed setting. So, blenders that have large watts are more likely to produce a loud noise.
The purchase of a noisy blender for those on an extremely tight budget is a difficult task for you since the majority of models of noiseless blenders are quite expensive.
You don't need to fret if you have an unsettling blender since there are a few simple actions you can take to cut down on the noise of your blender. For instance, take it away from the wall and then put it on an old dish towel over the top to muffle the noise.
Power cord
Check that the power cord for the blender you're buying is long enough to ensure you can use it in your favorite place in the kitchen.
Blades
Because the blades are among the most vital components of the blender, it's crucial to examine them prior to making a purchase. Fortunately, the blades of the blenders featured here are of excellent quality. In general, high-quality blades last, are sharp and durable, and can easily cut through ingredients.
Cleaning
Blenders are generally easy to clean. But because all blenders aren't created equal, some will be a bit challenging to scrub. If the model you're buying comes with blades that can be removed, examine it to determine whether it's easy to take off and put back together. Be aware that if you do not assemble your blender properly after washing, it will likely leak when used.
Extra features
Some blenders come with extra cups and lids, while others have multiple functions that allow you to blend different foods simply by pressing a button. A basic model should be sufficient if you only need a blender for occasional use.
Price
All of the blenders featured in the review are less than $50. However, you can buy a countertop blender for up to $500 or more.
Warranty
A blender that is warranty-protected is a wise choice since you'll be covered in the event that it fails or breaks down. Luckily, most blenders that we have reviewed are covered by warranty.
---
Frequently Asked Questions
Can these blenders handle frozen fruit?
Absolutely, most of our top picks have powerful motors and stainless steel blades that can easily crush frozen fruits for smoothies.
What makes stainless steel blades so important in a blender?
Stainless steel blades are durable and sharp, ensuring that your blender can handle a variety of tasks, from chopping to pureeing, without getting dull quickly.
Are these blenders suitable for making smoothies?
Yes, these are excellent choices if you're looking for a smoothie blender. They can blend fruits, vegetables, and even ice to give you a smooth and delicious drink.
What are personal blenders, and how do they differ from regular ones?
Personal blenders are designed for single servings and are generally more compact. They often come with a blending jar that doubles as a to-go cup, making them a convenient choice for those on the move.
Can I take these blenders on the go?
Some of our top picks can be used as a portable blender that come with travel-friendly features like lightweight blending jars and lids, making them perfect for those who are always on the go.
Can I take these blenders on the go?
Some of our top picks can be used as a portable blender that come with travel-friendly features like lightweight blending jars and lids, making them perfect for those who are always on the go.
Can these blenders make frozen margaritas?
Yes, some of our selected blenders are powerful enough to crush ice and make delicious frozen margaritas. Just make sure to read the specifications to ensure they meet your needs for frozen beverages.
---
Final Thoughts
When buying the best blender under $50, remember that it's crucial to know what you'll use it for. Be aware that certain blenders can produce excellent juices and smoothies, but they're not as good in the area of ice.
If you're planning to create ice cream or freeze yogurt, pay focus to the blade as well as the strength of its motor. Consider the container size, attachments, and the frequency you plan to use the machine.
Blenders of high quality don't have to cost enormous money. Many blenders for less than $50 can help you make smoothies, juices, hot soups, dips, spreads, and dips and grind, puree, cut, mix, and chop. The control panel must be clearly labeled with distinct knobs or switches that are specific to every function. Also, try to find an appliance that has a pulse function.
Last but not least, you must consider the convenience of cleanup and the warranty. Check that the parts that make up your blender are dishwasher safe. Concerning warranties - the longer, the better, of course!
We hope this has helped you in your search for blenders!
---
Items reviewed: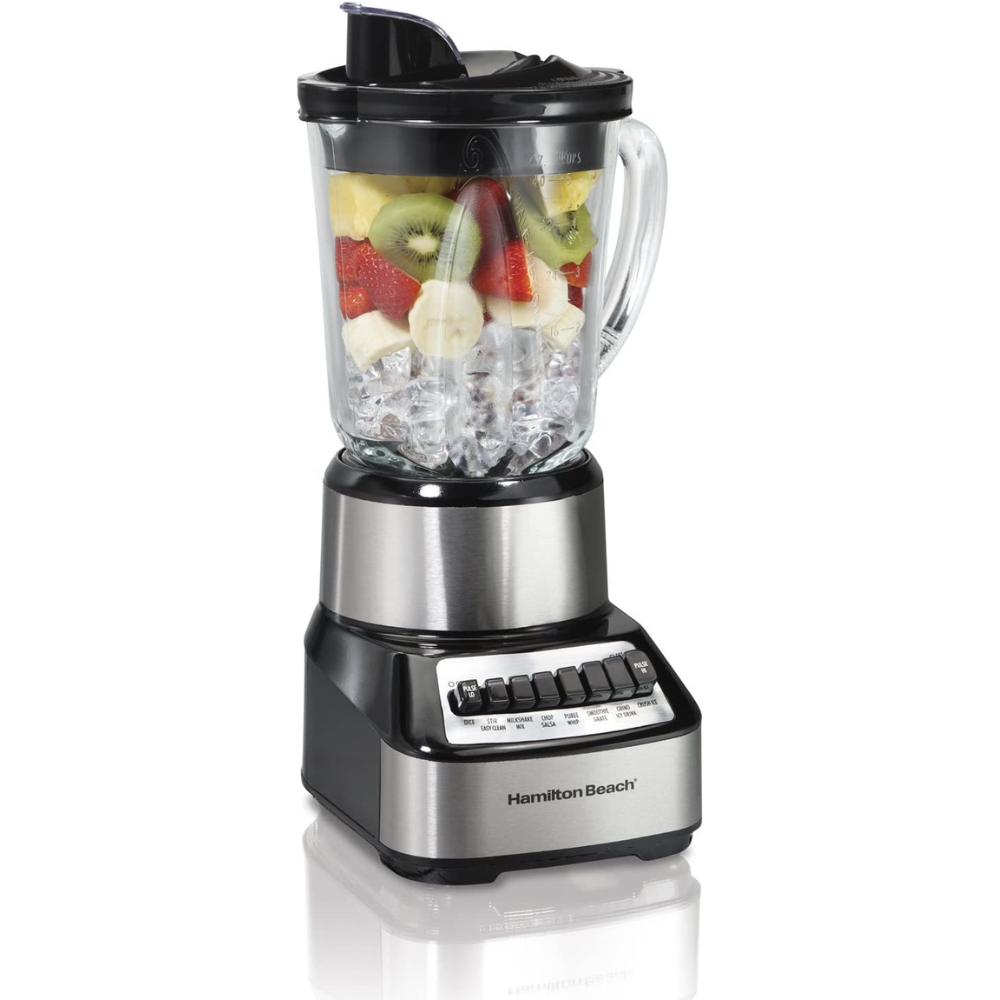 Best Overall: Hamilton Beach Wave Crusher Blender
With its patented Wave-Action system, 14 blending functions, and a 3-year warranty, this blender is the most versatile and reliable. It's perfect for those who want a machine that can do it all.
Check Price on Amazon
Please note that the reviews on this page have been edited for readability and clarity while maintaining the essence of the original content.
Further Reading
For some delicious and creative ways to put your new blender to use, check out the article "30 Recipes to Make Using a Blender" by Taste of Home.
---