Lunchtime should be a highlight, not a hassle. That's why we're slicing through the clutter to serve you the crème de la crème of meal prep lunch boxes. Whether you're a culinary connoisseur or a health enthusiast, the perfect lunch box can transform your midday meal into a delightful escape from the daily grind. In this guide, we're not just reviewing; we're curating a list of the finest, most efficient meal prep lunch boxes that promise to keep your gastronomic delights fresh and your taste buds happy. So, if you're ready to elevate your lunch experience, let's embark on a flavorful journey to discover your next lunchtime companion.
🤝As an Amazon Associate, we earn from qualifying purchases made through our links, at ZERO additional cost to you.
8 Best Meal Prep Lunch Boxes
---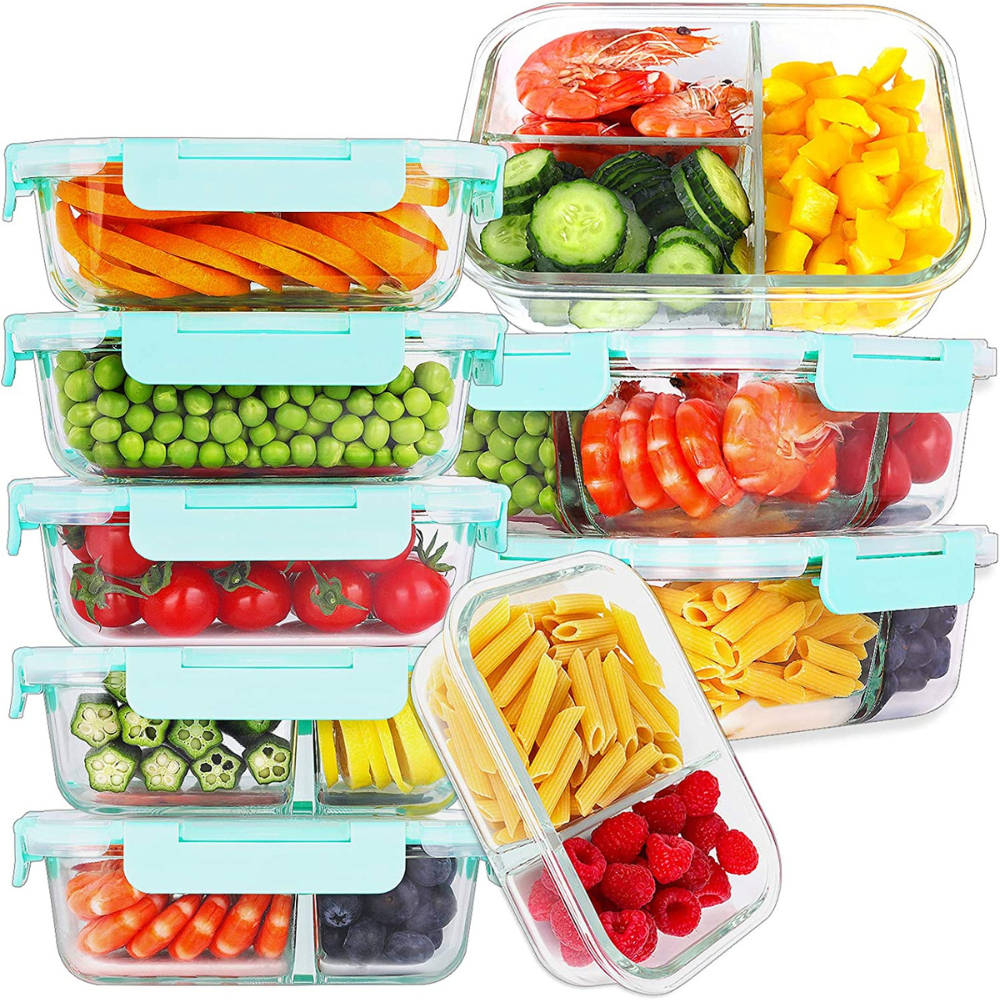 Bayco: 9 Pack Glass Meal Prep Containers
The Bayco set offers a versatile selection of sizes and shapes, robust borosilicate glass construction, and a leakproof design, making it the most comprehensive and reliable option for most meal-prep enthusiasts.
Check Price on Amazon
What We Love:
Versatile Sizes & Shapes: Square, rectangular, and round options for every meal.
High-Quality Material: Made of durable, stain, and odor-resistant borosilicate glass.
Multifunctional Use: Safe for microwave, oven (without lids), freezer, and dishwasher.
Leakproof Security: Rubber-sealed lids with locking tabs ensure a tight seal.
Eco-Friendly & Safe: BPA-free materials for health-conscious storage.
Colorful Choices: Personalize your meal prep with various color options.
What to Keep in Mind:
Lid Care: Avoid microwaving or oven use with lids to maintain their shape.
Hand Wash Recommended: To extend the life of the lids, hand washing is advised.
Why It Might Be Right for You:
In the rhythm of your day-to-day, where convenience meets health, the Bayco Glass Meal Prep Containers are your kitchen allies. Picture a fridge and cabinets organized with neatly stacked, clear containers, each meal visible and ready to go. For the environmentally aware, the reusable nature of these containers aligns with a sustainable lifestyle. And when life gets hectic, knowing that your meal is just a microwave away without the worry of leaks or spills can be a game-changer. These containers are not just about storing food; they're about giving you one less thing to worry about in your busy life.
Customer Review (source: Amazon)
I've been on the hunt for quality meal prep containers that aren't the typical flimsy, single-use plastic kind, and I struck gold with these. They come in single, double, and triple compartment styles, all in glass with snap-on lids. After a few weeks of use, I'm thrilled with their quality and leak-proof design. Plus, the teal color is true to the pictures. For anyone looking to upgrade their meal prep game, these containers are a fantastic choice and feel like they'll last ages!
---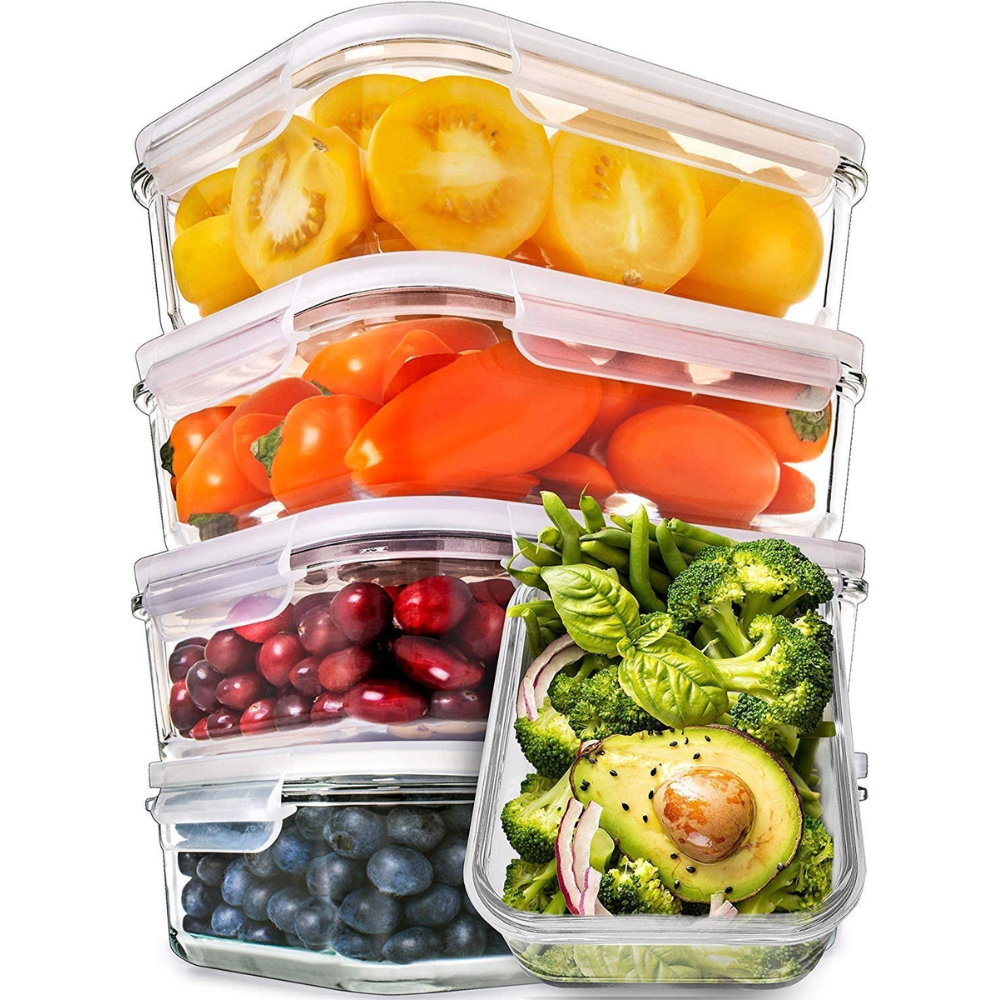 PrepNaturals: Glass Meal Prep Containers
With their strong borosilicate glass, vented lids for easy cooling, and a design that's both oven and freezer safe, these containers are the editor's pick for their balance of convenience, durability, and food safety.
Check Price on Amazon
What We Love:
Robust Construction: Made with borosilicate glass, known for its superior durability.
Convenient Size: Each container holds a generous 30 ounces in a single compartment.
Versatile Lids: Vented lids suitable for microwave, oven, freezer, and dishwasher.
Efficient Design: Stackable for space-saving storage in the kitchen.
What to Keep in Mind:
Temperature Limits: While oven-safe, it's important to adhere to the 840°F temperature limit.
Adult Use: Not intended for use by children under 12 years old.
Why It Might Be Right for You:
Imagine a kitchen where every meal is an opportunity for creativity and health. PrepNaturals Glass Meal Prep Containers bring this vision to life with their simplicity and strength. Whether you're batch-cooking for the week or packing a lunch for work, these containers are your steadfast companions. They're not just about storing food; they're about preserving the taste and nutrition of your home-cooked meals. With the ability to withstand high temperatures, they're ready for anything from a freezer stash to a hot oven bake. For those who value practicality without compromising on style, these glass containers are a testament to a well-organized, health-forward lifestyle.
Customer Review (source: Amazon)
I took the plunge and bought these containers despite mixed reviews about leaking, and I'm here to set the record straight with my own experience. The compartments are solid, but there's a tiny gap where liquids can mix between them if the container is jostled. However, no leaks happen outside the container. I found a workaround by sealing the edges with food-grade silicone, and now they're perfect. The lids fit snugly once you get the hang of the flaps, and the removable seal makes for easy cleaning. These containers are strong and a breeze to clean, making meal prep hassle-free.
---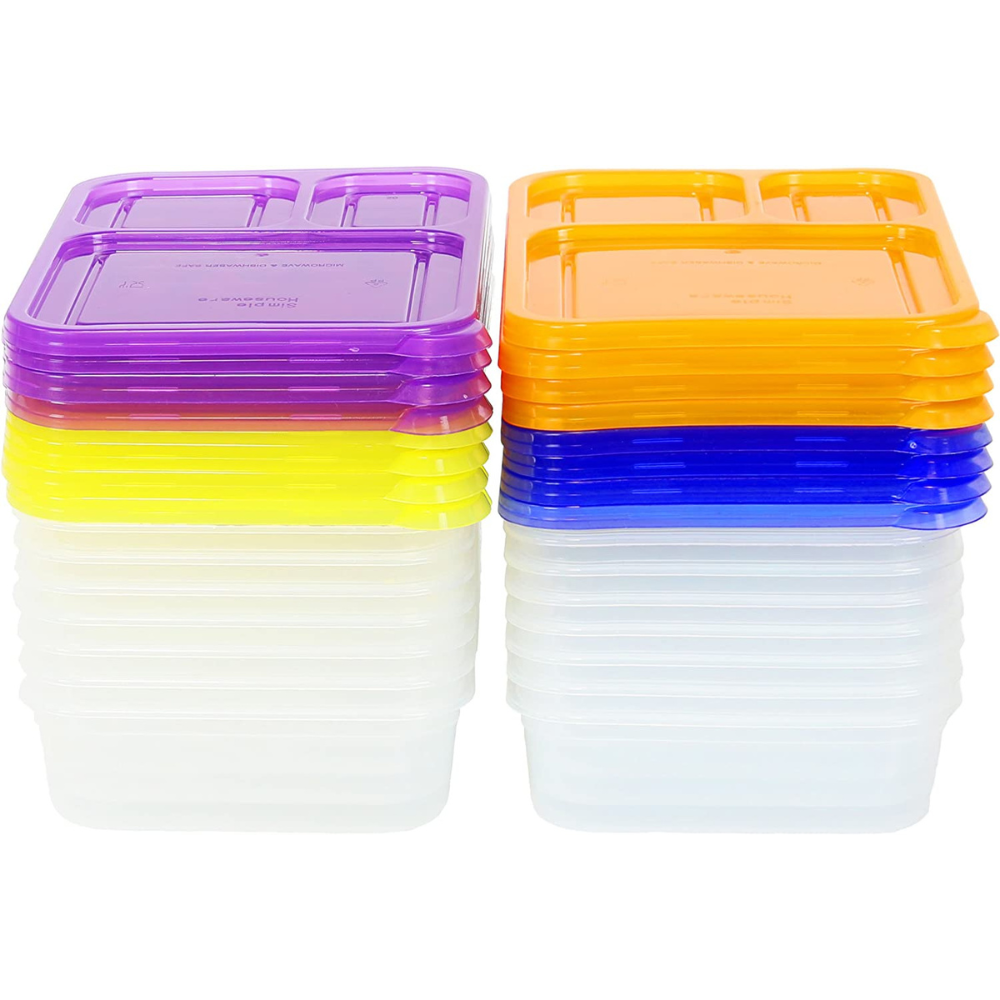 Simple Houseware Bento Lunch Meal Prep Container
The generous 36-ounce capacity and three leakproof compartments make these containers ideal for those who prefer larger meals or have bigger appetites.
Check Price on Amazon
What We Love:
High Capacity: Each container holds 36 ounces, ideal for larger meals.
Leakproof Compartments: Keeps different foods like soups and solids neatly separated.
Versatile Use: Suitable for microwaves, freezers, and the top rack of dishwashers.
What to Keep in Mind:
Size Consideration: Larger size requires more storage space.
Durability: May not withstand long-term use without potential for cracks.
Why It Might Be Right for You:
For those with a bustling household or a penchant for hosting, the Simple Houseware Bento Lunch Meal Prep Container set ensures you're well-equipped to handle any culinary challenge. These containers are not just about portioning; they're about accommodating hearty meals that bring comfort after a long day. Whether it's a vegetable burger or a full roast chicken dinner, these containers hold your meals securely, ready to reheat at a moment's notice. They're a practical choice for those who value efficiency and simplicity in their meal prep routine. And when life takes you on the road, they're ready to travel with you, making sure that no matter where you are, a homemade meal is just a container away.
Customer Review (source: Amazon)
I've found a great way to simplify lunch prep with these containers. I assign a color to each of my kids, prep their lunches in advance, and they just grab their color from the fridge. It's a clever system to avoid mix-ups—no more broccoli for the carrot lover! The lids are pretty good at preventing leaks, but there's a bit of a learning curve for the little ones to snap them back on. They're dishwasher safe, though the lids can warp slightly on the bottom shelf. They're still functional, just not perfectly flat when not in use.
---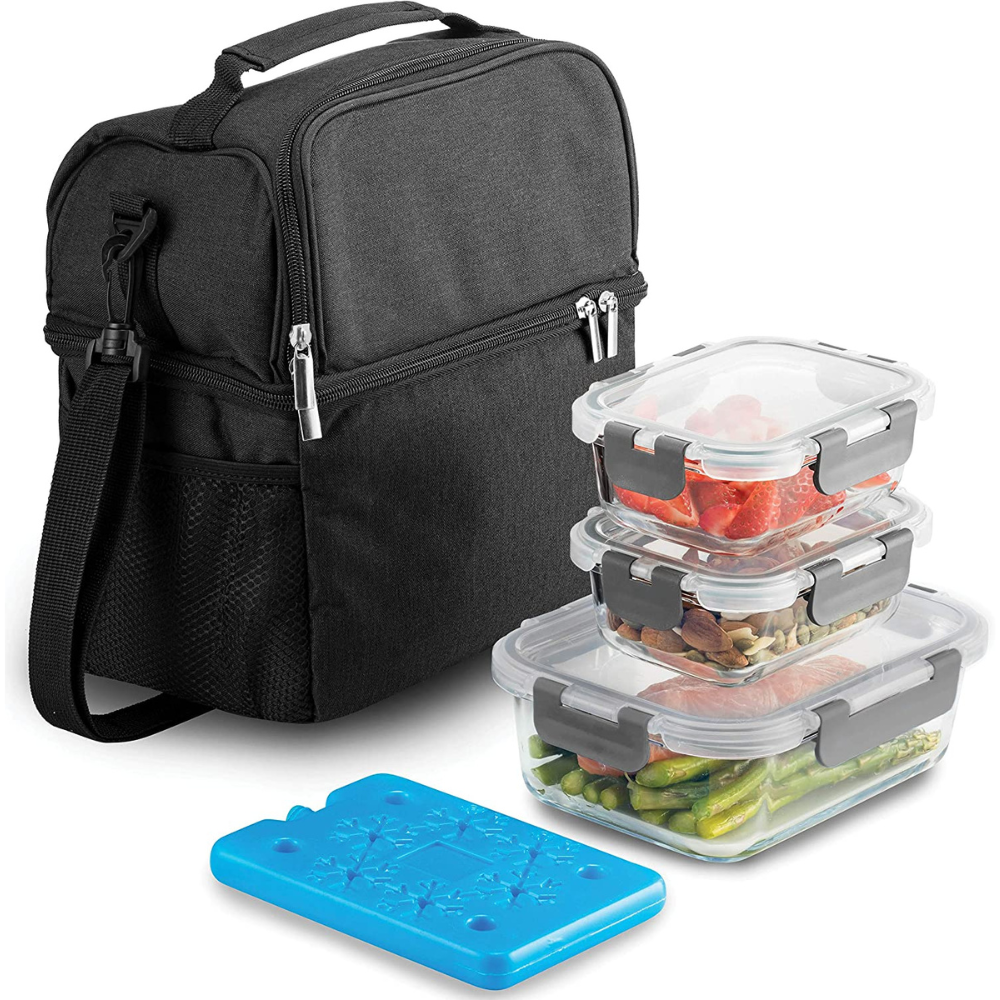 FineDine Insulted Lunch Box Set: 8-Piece
The FineDine set stands out for its insulated design, complete with a bag, ice pack, and glass containers, ensuring your food stays at the right temperature until mealtime.
Check Price on Amazon
What We Love:
Complete Set: Comes with an insulated bag, ice pack, and three glass containers with locking lids.
Insulated Design: Keeps food fresh and cold, ideal for perishable items.
Convenience: Features both a shoulder strap and handgrip for easy carrying.
What to Keep in Mind:
Cleaning Care: While containers are dishwasher safe, the bag requires hand washing.
Why It Might Be Right for You:
The FineDine Insulated Lunch Box Set is a mobile culinary station for the health-conscious commuter. With its dual-compartment design, you can separate cold drinks from warm meals, ensuring your food stays at its intended temperature. The convenience of this set supports a dynamic lifestyle; whether you're heading to the office or embarking on a weekend adventure, your meals remain intact and delicious. This isn't just a lunch box; it's a statement of your dedication to eating well, no matter where your day takes you. With the FineDine set, you're not just packing a meal; you're preparing for the day ahead with confidence and style.
Customer Review (source: Amazon)
I'm pretty rough with my stuff, but this bag holds up well even when I toss it around after a long day. The included containers are solid and don't leak, and there's more space inside than I thought, perfect for all the snacks I take to work. I'd buy another in a heartbeat if this one ever gives out.
---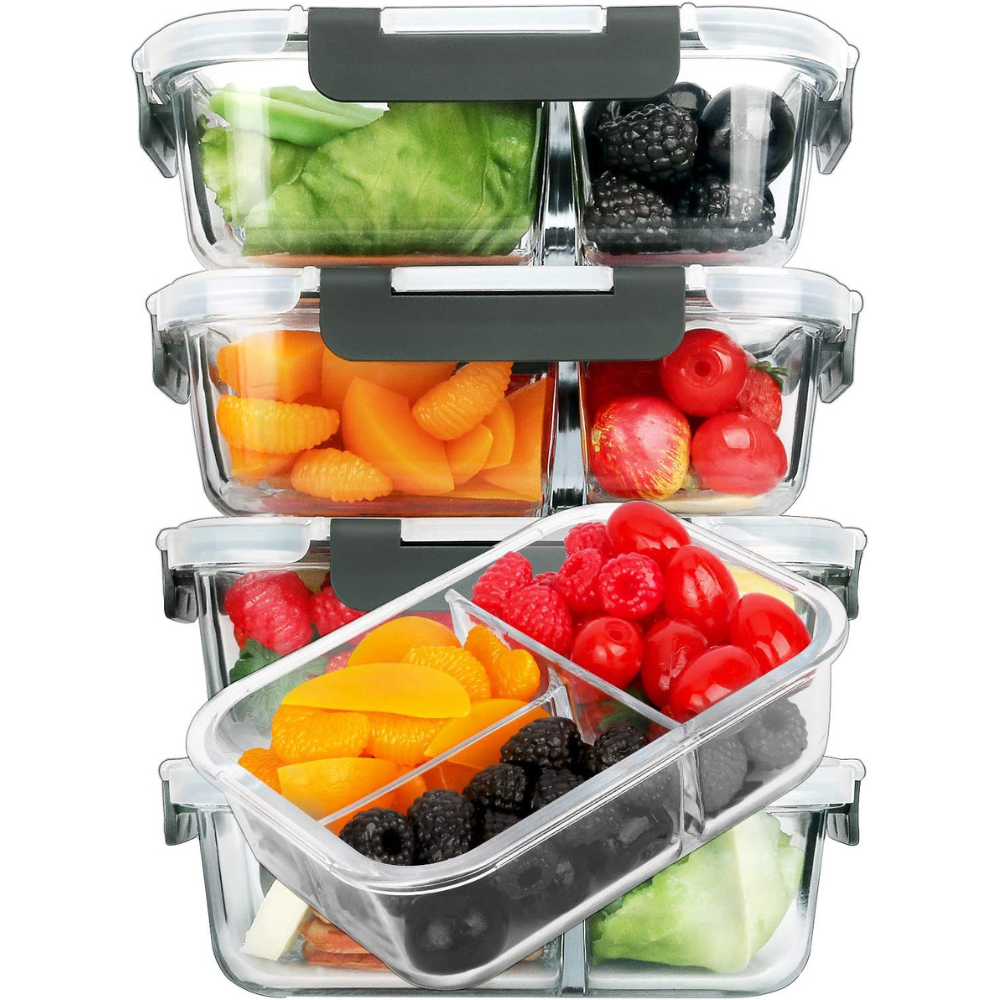 M MCIRCO: Glass Meal Prep Containers
The high-quality borosilicate glass and smart-locking lids offer a durable and secure meal prep option, ensuring longevity and spill resistance.
Check Price on Amazon
What We Love:
Enhanced Capacity: Slightly larger size accommodates more food, perfect for bigger portions.
Quality Material: Crafted from strong borosilicate glass, resistant to breakage.
Portion Control: Three compartments for balanced meal portions and diet management.
Convenience: Dishwasher and microwave safe for ease of use.
Secure Sealing: Airtight smart-locking lids with silicone seals to keep meals fresh longer.
What to Keep in Mind:
Care for Lids: Remove lids before using in the microwave, oven, or dishwasher to maintain their integrity.
Why It Might Be Right for You:
For those who take meal prep seriously, the M MCIRCO Glass Meal Prep Containers are a step towards culinary discipline. With three compartments, these containers encourage a balanced diet, neatly organizing your proteins, carbs, and veggies. They're not just containers; they're a commitment to a healthier lifestyle, portion control, and convenience. Whether you're a fitness enthusiast or a busy parent, these containers work with you to keep your nutrition on track. And when the week's over, cleaning is a breeze, setting you up for success again and again.
Customer Review (source: Amazon)
I've just upgraded my meal prep game with the M MCIRCO Glass Meal Prep Containers, and they're a total win. The glass is high-quality, which means no more plastic taste in my reheated meals, and the three compartments keep everything perfectly separated. They're the ideal solution for anyone serious about their meal prep, and with a 5-pack, I'm all set for the week. These containers are a solid choice for both meal prep newbies and pros.
---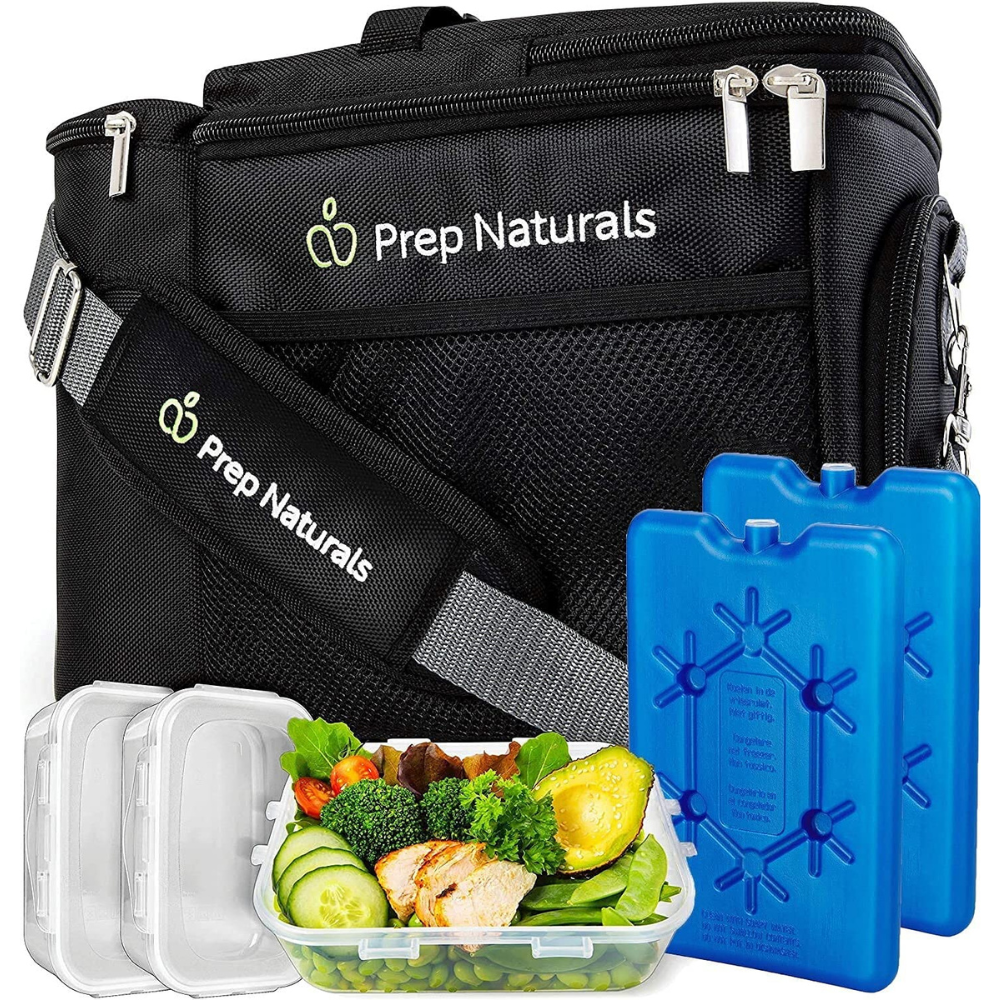 PrepNaturals Insulated Lunch Box
This option includes bonus containers and ice packs, and the bag's waterproof design adds a level of convenience for those on the go.
Check Price on Amazon
What We Love:
All-In-One Convenience: Comes with three large BPA-free containers and two ice packs.
Waterproof Design: Ensures your meals stay dry, no matter the weather.
Comfortable Carry: Padded, detachable, and adjustable shoulder strap for ease of transport.
What to Keep in Mind:
Maintenance: The bag's exterior is easy to clean with a wet cloth, but care should be taken to maintain its waterproof quality.
Why It Might Be Right for You:
The PrepNaturals Insulated Lunch Box is a testament to thoughtful design, blending functionality with ease. For the meal prepper who values freshness and convenience, this bag is a game-changer. It's not just about carrying your food; it's about transporting your nutrition goals with you throughout the day. The waterproof feature and bonus ice packs speak to a lifestyle on the go, where being prepared is as important as being flexible. Whether you're navigating a busy workday or juggling classes, this lunch box is a silent partner in your quest for a healthy, balanced diet, ready to adapt to your day as seamlessly as you do.
Customer Review (source: Amazon)
I'm really impressed with this meal prep bag! It's got ample space and the included ice blocks keep my food chilled for hours. The containers are surprisingly sturdy and seal tightly, perfect for heating in my Hot Logic Mini. The shaker cup is a nice bonus, too. My only gripe is the top pouch could be bigger for snacks, but I've found a workaround using the shaker cup space. The adjustable strap is a great touch for easy carrying.
---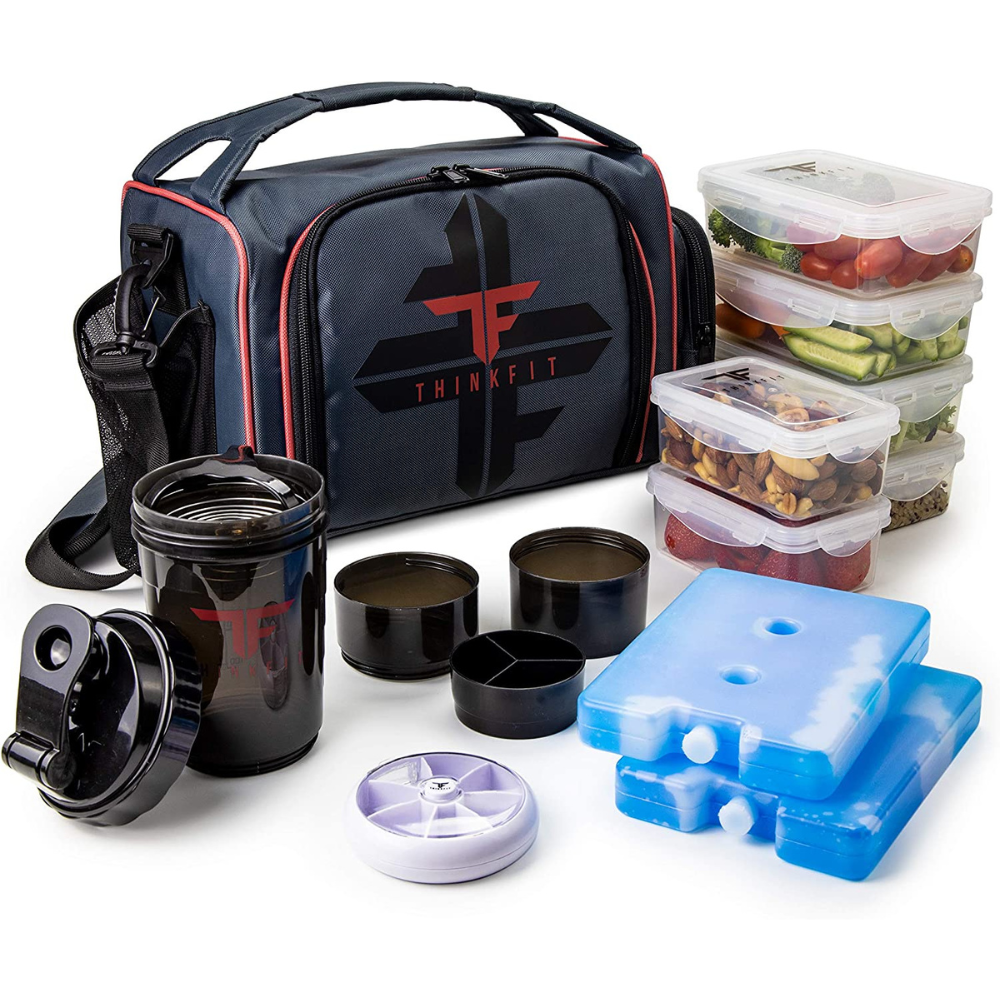 ThinkFit Insulated Meal Prep Bag
With a complete set of containers, a pill dispenser, and a shaker cup, this lunch bag is perfect for those who want everything organized and accessible in one place.
Check Price on Amazon
What We Love:
Comprehensive Set: Includes six meal prep containers, a pill dispenser, shaker cup, and two ice packs.
Portion Control: BPA-free containers with snap-lock lids to maintain freshness and encourage healthy portion sizes.
Double Insulation: Keeps meals at the desired temperature, whether hot or cold.
What to Keep in Mind:
Size and Weight: While spacious, when fully packed, it may become heavy to carry.
Why It Might Be Right for You:
The ThinkFit Insulated Lunch Bag is more than just a meal carrier; it's a portable nutrition system for the health-savvy individual. With its comprehensive set of containers and accessories, it's designed for those who track their meals and supplements with precision. The double insulation ensures that whether you're enjoying a warm soup or a cool salad, your meal is just as you intended. This lunch bag is for the dedicated, the planners, the doers who require their nutrition to be as mobile and reliable as they are. It's for those who don't leave their health goals to chance, ensuring every meal is a step towards their wellness.
Customer Review (source: Amazon)
I've had this lunch box for 60 days now and it's top-notch. The bag is sturdy, with a comfortable shoulder pad, adjustable strap, and convenient pockets for my phone and essentials. It comes with six durable meal prep containers that don't leak or warp, perfect for my long shifts. The shaker cup and pill dispenser are handy, though the cup could be sturdier. It keeps my food cold throughout my 12-hour days, and it's easy to clean without retaining food smells. Definitely a complete meal prep system that lives up to its promise. Highly recommend!
---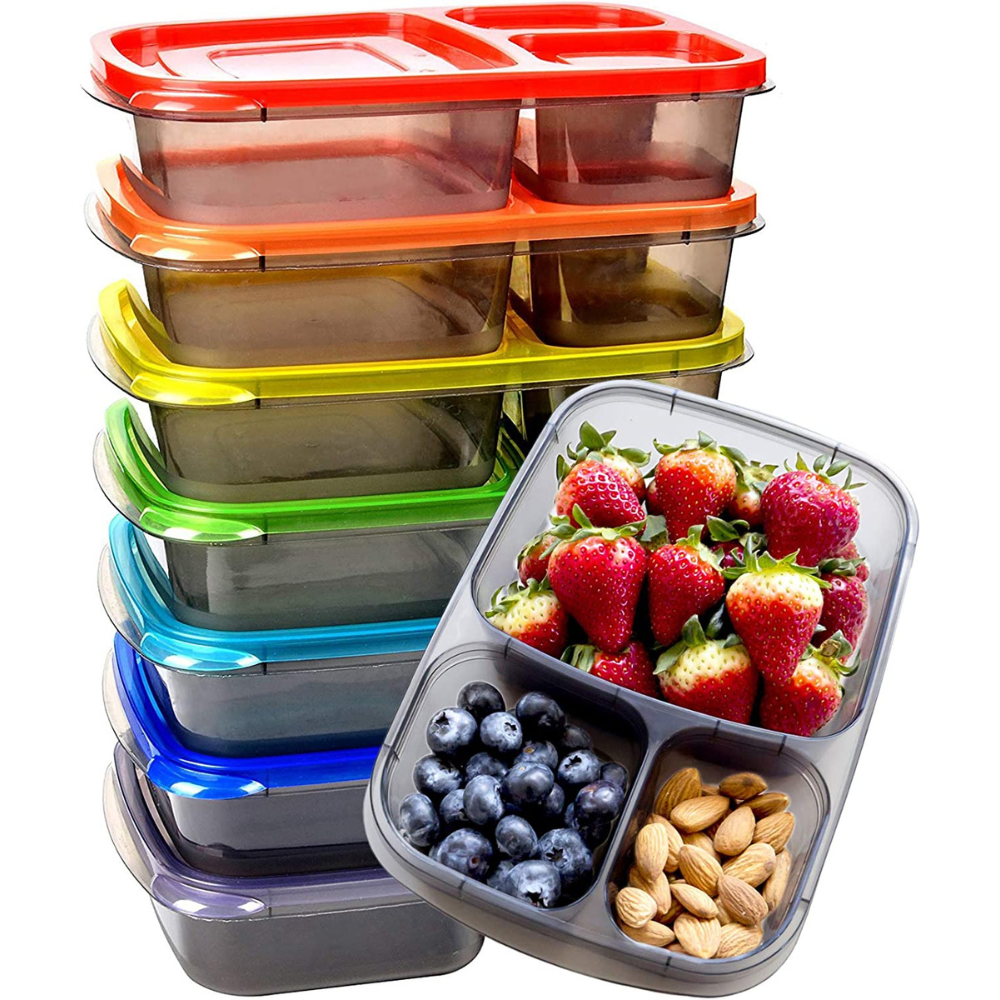 Youngever: 7 Pack Bento Lunch Box
The Youngever set offers a budget-friendly option with vibrant colors, tight-fitting lids, and a sturdy design suitable for both adults and kids.
Check Price on Amazon
What We Love:
Color-Coded Convenience: Vibrant rainbow lids make organization easy and fun.
Practical Compartments: Three sections to keep different food items separate and intact.
Durable and Portable: Sturdy plastic construction that's microwavable and ideal for on-the-go meals.
Kid-Friendly: Secure lids ensure no spills, yet easy enough for adult handling.
What to Keep in Mind:
Not for Young Children: Recommended for use by those over 12 years of age due to tight lid design.
Why It Might Be Right for You:
In the hustle of daily life, the Youngever Bento Lunch Box is your ally for maintaining a balanced diet with a splash of color. These containers are a nod to those who find joy in neatly organized, visually appealing meal prep. The compartments encourage a variety of nutrients in one meal, supporting your health goals. They're not just containers; they're a statement of your commitment to a vibrant, healthy lifestyle. Whether you're a busy professional with back-to-back meetings or a parent crafting fun and nutritious lunches, these bento boxes fit seamlessly into your life, ensuring that when hunger strikes, you're ready with a meal that's as delightful to look at as it is to eat.
Customer Review (source: Amazon)
I've been using these containers for my daughter's school lunches daily and they're holding up great, even in the dishwasher's bottom rack. No wear and tear after a month, and they keep ranch dressing perfectly contained without spills. Really happy with this purchase!
---
How We Chose Our Top Picks
Our expertise in selecting the top meal prep lunch boxes stems from a methodical approach that includes analyzing product specifications, scrutinizing customer reviews on Amazon, and comparing features with competing brands. We delve into the materials and design of each box, assess their practicality through customer experiences, and consult with culinary experts to understand the nuances of food storage and preservation.
By integrating this extensive research with professional insights, we ensure that our recommendations are not only based on thorough knowledge but also tailored to meet your meal prep needs effectively. Our aim is to guide you to the best choice with confidence and clarity.
---
Buyer's Guide: Best Meal Prep Lunch Boxes and Meal Bags
Choosing the best food prep box and meal prep bag to meet your needs is daunting. Here is a list of items you must consider when looking for the most efficient bag for meal preparation.
Meal Prep Containers: Glass vs. Plastic
The top food containers for meal preparation are made of either plastic or glass. Glass is an anti-stain surface that isn't prone to absorbing odors or flavors and can be utilized to cook food in microwaves.
Borosilicate glass is solid; however, keep in mind that even laboratory-grade glass isn't completely shatterproof. Plastic containers are strong and light; however, they aren't suitable for use in the microwave and are prone to retain odors, flavors, and eventually stains. In any event, it's a good idea to think about the use of material that is dishwasher safe to make cleanup easy.
The lids on your containers must have an airtight seal that stops leaks so that you can keep your food inside and in a clean lunchbox. Snap-on lids made of rubber are the best choice for those who like traveling with hearty or soupy dishes.
Bag Insulation
Ensuring that your meals are well-insulated is the primary goal of a food preparation bag. Whether it's a warm or cold food item, it needs to be able to keep the correct temperature from the time of storage until the time of consumption.
A good meal prep bag must keep food fresh for a minimum of four hours. Keep in mind that the quality of insulation doesn't just depend entirely on the bag you choose; it also depends on the container.
Food items should be stored in bags with proper insulation and preferably with EPA foam or a PEVA liner. Some bags will preserve food items using nylon, but we do not recommend them. Although the nylon layer helps to protect the food, however, it isn't able to hold it for prolonged periods.
Similarly, if your meal containers are made of robust materials and come with an airtight design, an additional layer of insulation will be included in your food.
Meal Prep Bag Dimensions
Before you decide on the right meal prep bag, It is crucial to be aware of what you require, particularly in terms of dimension and size.
If you plan on carrying your meal preparation bag on a trip, then it might not be a good idea to carry the largest food prep bag that can double as a travel bag.
Although most meal prep bags are easy and small, some variations are specifically designed for different kinds of people, like fitness enthusiasts or even travelers.
These bags are ideal for storing several boxes that can be used to store food items for the duration of a day.
It is also important to consider the size of the containers into account. While some containers come with the ability to control portions, others don't. Suppose you're always aware of your health and are following a diet.
Meal Prep Bag Weight
It's also crucial for prospective buyers to consider how heavy the meal preparation bag is. Because these bags are made for use on the go, We don't believe it's a good idea to opt for one that is heavy, considering that you'll likely transport other items besides the food items.
In addition, the bag is likely to become significantly heavier once it's been filled with food and food, so it is important to reduce the weight to the minimum.
Meal Prep Bag Straps and Handles
The straps and handles included in the package are an additional crucial consideration to think about before placing a purchase. What is the best way to carry the bag? Do you want a shoulder strap to carry it over your shoulder? On your back?
Do you prefer carrying it around in your hands? The straps and handles have to be included, and they should be strong enough to ensure they won't break easily.
Meal Prep Bag's Extra Features
Other aspects to consider when choosing the best meal prep bags to meet your requirements.
The first thing to consider is that you should consider the design and ensure that it's designed with ease of use and the comfort of users in mind. In reality, the compartments of certain bags aren't easy to get to, so you should avoid bags that are difficult to access.
It is also important to determine if the bag has several pockets since they can be useful for storing essentials. Be sure to check the quality of the zippers, as many bags have poor-quality zippers that could begin to cause issues right from the first day.
Some bags, like the brand ThinkFit, may come with an ice pack, shaker, and containers, so you can buy a package without having to buy the extra products separately.
Meal Prep Bag Materials
The materials used to construct your food prep bag could influence other aspects, one of which being portability and durability.
For instance, even though plastic bags for meal preparation is a great option for mobility because plastic bags are usually folded, their durability could be questioned. It is important to be sure that the material you use to create the bag for your meals is ideal for your needs and requirements.
---
Frequently Asked Questions
What are the benefits of meal prepping with specialized meal containers?
Meal prepping with dedicated meal containers can save time, ensure portion control, and keep your food fresh until you're ready to eat. It also simplifies the process of organizing your meals for the week.
How do I choose the right lunch bags for my needs?
Consider the insulation quality if you need to keep food warm, the size for carrying multiple meal containers, and the durability for everyday use. Look for lunch bags with compartments that suit your meal and snack needs.
Can insulated lunch bags really keep food warm for hours?
Yes, high-quality insulated lunch bags are designed to maintain the temperature of your food, whether it's keeping it warm or cold, for several hours, making them ideal for work or school lunches.
What should I look for in a meal bag for the best food storage?
A good meal bag should have ample space, sturdy construction, and compartments for organization. It should also be easy to clean and maintain.
How do I ensure my meal container is suitable for my lifestyle?
Choose a meal container that is microwave-safe for easy reheating, freezer-safe for long-term storage, and dishwasher-safe for convenience. Also, consider the size and number of compartments based on your typical meal size and components.
---
What Option of Our Meal Prep Lunch Boxes Is Best For You?
Deciding on the best meal prep lunch box for your daily grind doesn't have to be a puzzle. We've done the legwork to bring you top-notch options that stand out in the crowded marketplace. Whether you're on the lookout for an eco-friendly choice or the most value for your dollar, our findings aim to guide you to the perfect selection for your lifestyle.
---

Items reviewed: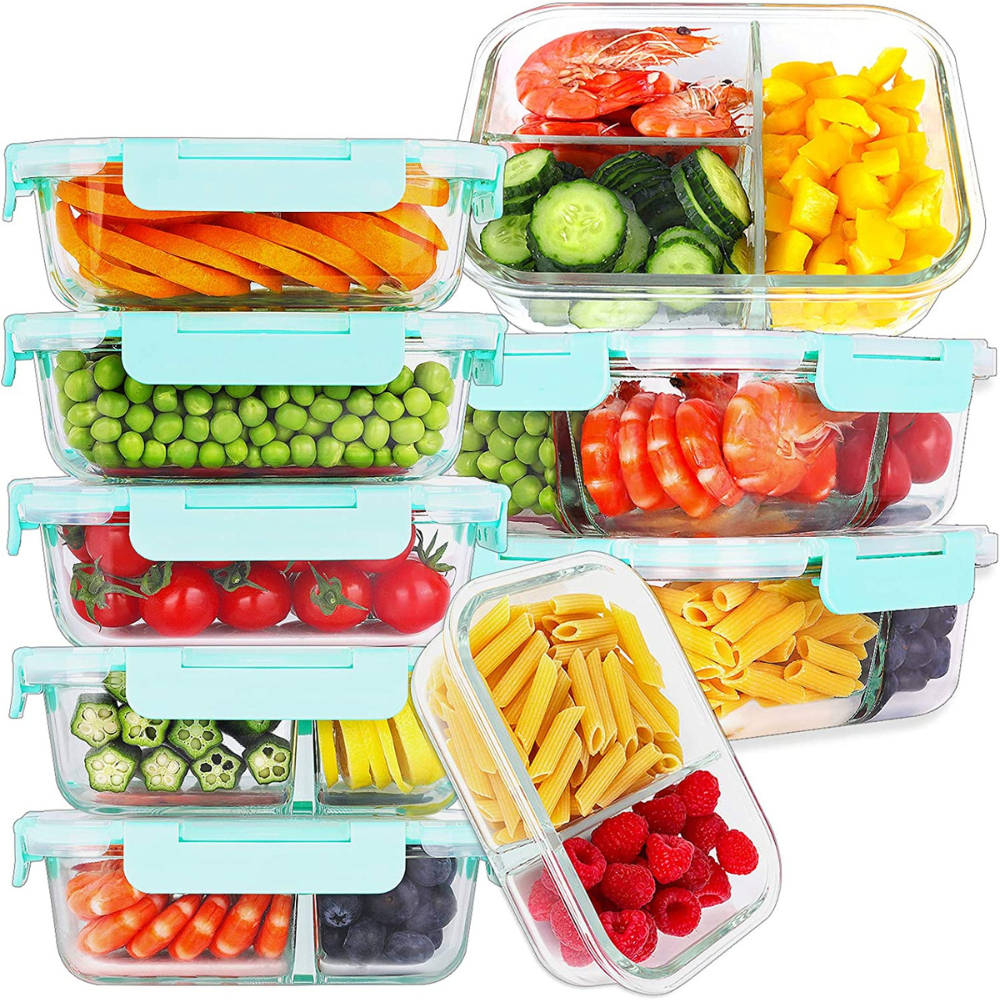 Best Overall: Bayco
The Bayco set offers a versatile selection of sizes and shapes, robust borosilicate glass construction, and a leakproof design, making it the most comprehensive and reliable option for most meal-prep enthusiasts.
Check Price on Amazon
Please note that the reviews on this page have been edited for readability and clarity while maintaining the essence of the original content.
Further Reading
For a variety of budget-friendly meal prep ideas that are both delicious and easy on your wallet, check out Budget Bytes' meal prep section.
For those interested in complementing their meal prep routine with the ideal carry-along, our curated selection of the best meal prep bags awaits you at CasaCatalog's Best Meal Prep Bags.
---