For coffee lovers, the right storage is key to preserving the aroma and flavor of your favorite beans and grounds. In this guide, we've handpicked the best coffee storage solutions, from stylish canisters to innovative vacuum-sealed containers. Whether you're a casual drinker or a serious aficionado, our selections cater to every need, ensuring your coffee stays fresh and delicious. Let's explore these top picks to find the perfect storage solution for your coffee ritual.
🤝As an Amazon Associate, we earn from qualifying purchases made through our links, at ZERO additional cost to you.
---
7 Best Coffee Storages
---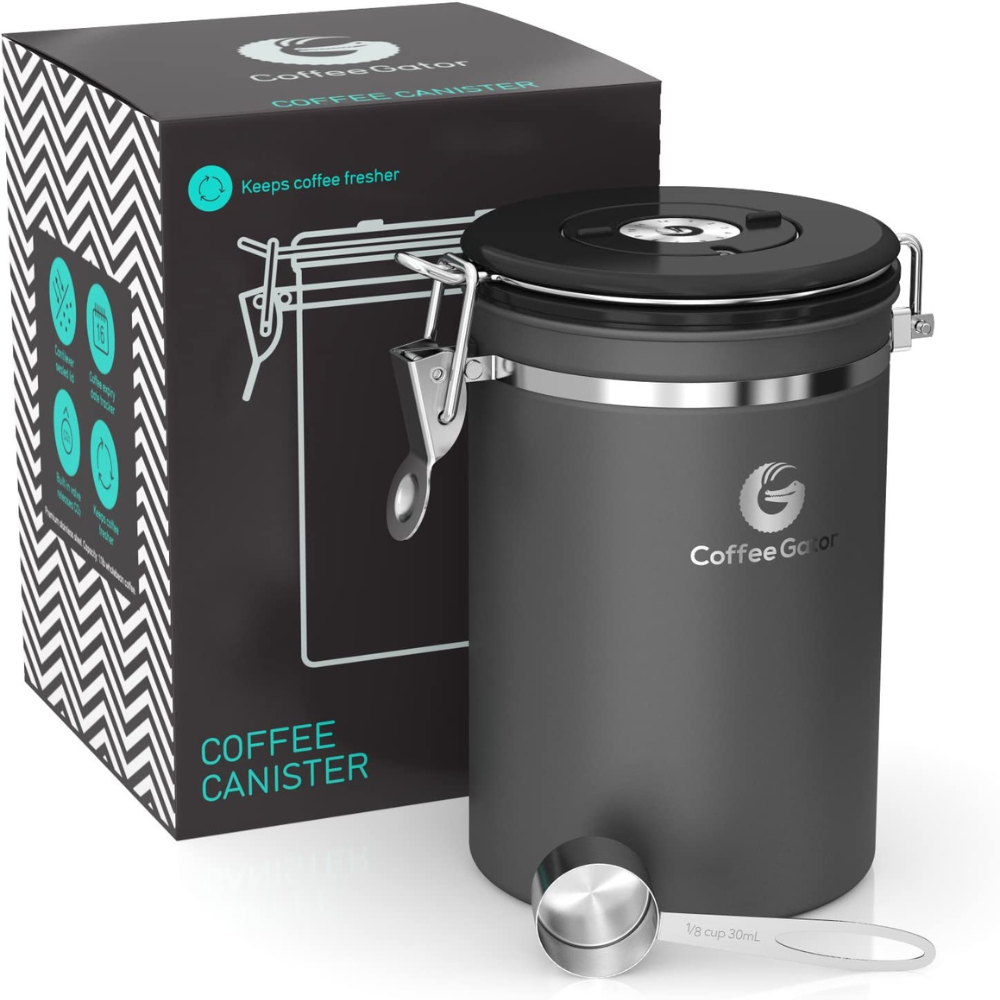 Offers a perfect blend of quality, design, and functionality. Its premium stainless steel construction, airtight seal, and innovative freshness valves make it ideal for preserving the flavor and aroma of coffee. The variety in sizes caters to different needs, and its commitment to quality with a 100% satisfaction promise stands out.
Check Latest Price
What We Love
100% Satisfaction Promise: Ensures confidence in quality.
Premium Stainless Steel: Durable, stylish, and fresh-keeping.
Airtight Seal: Locks in flavor and aroma.
Sleek Design: Enhances any countertop.
Variety of Sizes: Suits different storage needs.
What to Keep in Mind
Price Point: Considered higher, but the quality and features justify the investment for serious coffee lovers.
Why It Might Be Right for You
If you're seeking the pinnacle of coffee storage, the Coffee Gator is your match. Ideal for those who don't compromise on quality, its premium build and innovative features ensure your coffee stays as fresh as the day it was roasted. Perfect for the discerning coffee aficionado who values both aesthetics and functionality.
Customer Review (source: Amazon)
I recently got the 22oz silver coffee canister, and it's significantly improved the taste of my coffee! The CO2 release feature is surprisingly effective. Setting it up was a breeze – just open, clean, and it's ready for use. I don't really use the date tracker, but it's a handy feature. For the measuring spoon, I found a neat trick to store it by sliding the handle into a space on the side. My canister doesn't have a magnetic spot for the spoon, but that's not a big deal. I've been using it for store-bought ground coffee, and it's impressive how it enhanced the flavor of my coffee, even with grounds that were previously opened and stored in the fridge.
---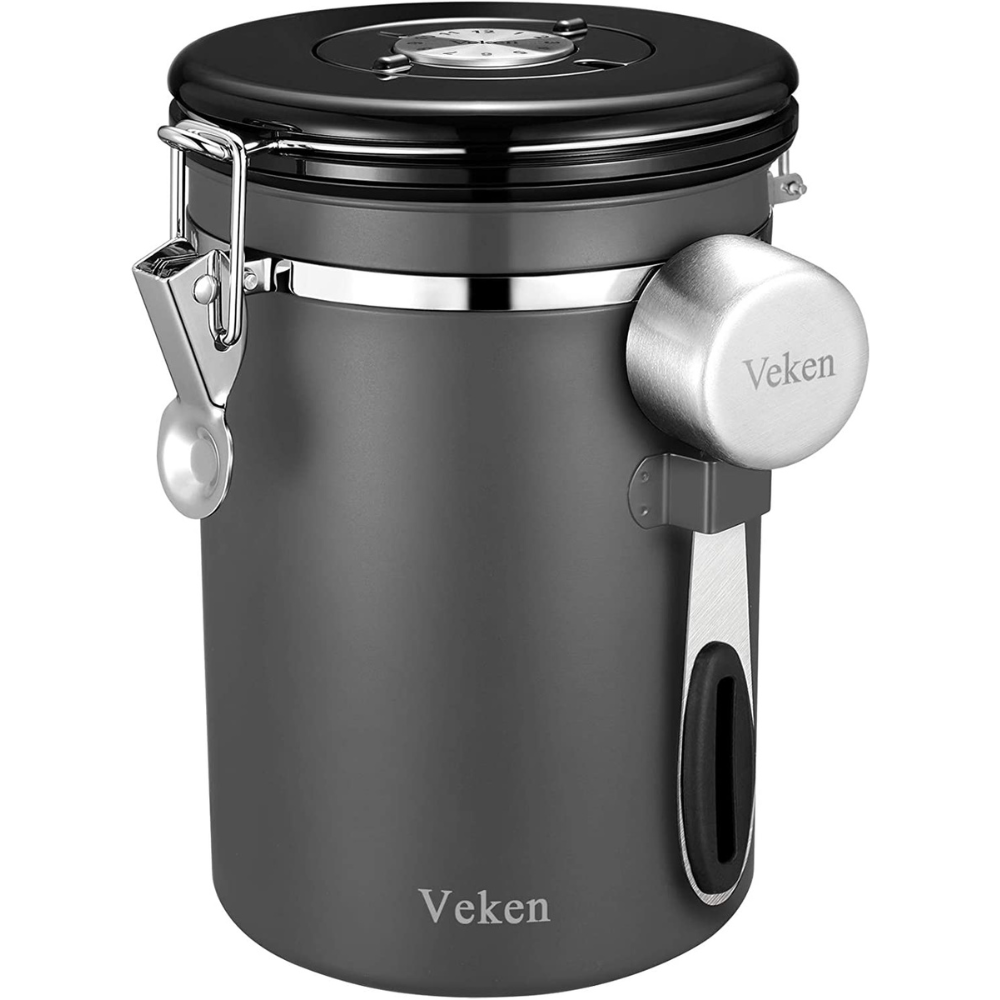 Combines functionality with sleek design. The canisters are made of high-quality stainless steel and feature a date tracker, airtight seal, and a silicone seal for freshness. The range of sizes and the inclusion of a free scoop make it a practical choice for coffee enthusiasts.
Check Latest Price
What We Love
High-Quality Stainless Steel: Ensures durability.
One-Way CO2 Valve: Preserves freshness effectively.
Date Tracker: Helps manage storage and expiry dates.
Versatile Sizes: Meets various storage requirements.
Elegant Design: Adds a touch of class to kitchens.
What to Keep in Mind
Maintenance: Regular cleaning required to maintain the silicone seal's effectiveness.
Why It Might Be Right for You
The Veken Coffee Canister is for the organized coffee enthusiast who loves a blend of style and practicality. With its date tracker and airtight design, it's perfect if you're meticulous about your coffee's freshness and enjoy a sleek addition to your kitchen.
Customer Review (source: Amazon)
I'm really pleased with my 22oz grey coffee canister. It looks great on my countertop and is quite spacious, fitting my usual coffee purchase with room to spare. The wide opening makes scooping easy, and the attached scoop is super handy. The freshness filter in the lid keeps the coffee fresh, and it even includes spare filters. Just a heads-up: keeping the filter dry when washing can be tricky. Overall, a great buy!
---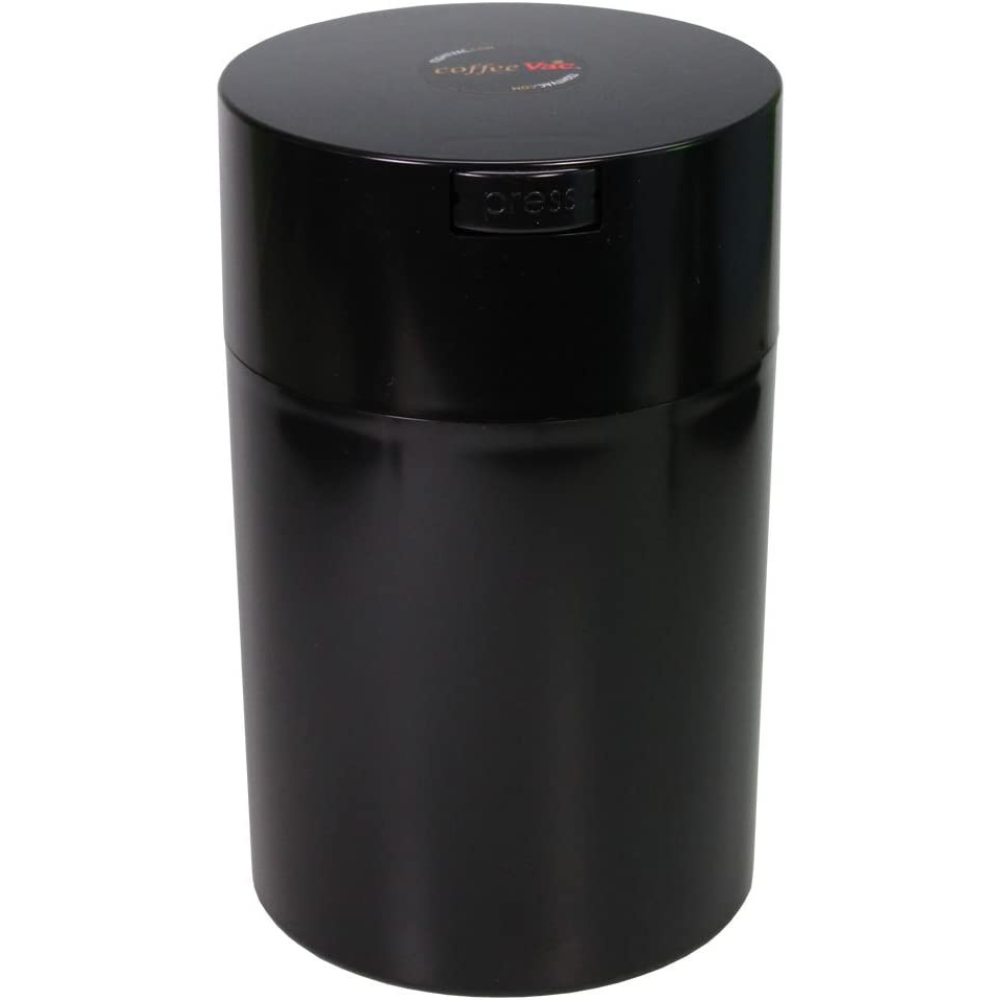 Coffeevac 1 lb - The Ultimate Vacuum Sealed Coffee Container
Offers a unique vacuum seal technology that is particularly effective for preserving the freshness of coffee. Its simple one-button operation and the ability to keep coffee fresh for up to two weeks make it a top choice for vacuum-sealed storage.
Check Latest Price
What We Love
Top Airtight Solution: Recognized as the best airtight container for coffee, ensuring maximum freshness.
Color Variety: Available in multiple colors to match any kitchen décor.
Value for Money: Offers excellent quality at a reasonable price.
High-Quality Materials: Made from food-grade, recyclable materials, ensuring safety and sustainability.
NSF-Tested and Certified: Guarantees quality and safety for food storage.
What to Keep in Mind
Size Limitation: The one-pound size might be small for those who buy coffee in bulk.
Why It Might Be Right for You
If you're all about locking in freshness, the Coffeevac's unique vacuum seal technology is ideal. It's especially suited for those who buy coffee in smaller quantities and want to savor every bean over time.
Customer Review (source: Amazon)
I'm thrilled with this vacuum coffee container! It preserves the freshness of my ground coffee far better than any other container I've tried, and I believe it would work just as well for whole beans. Plus, the price is quite reasonable for the freshness it brings to my coffee.
---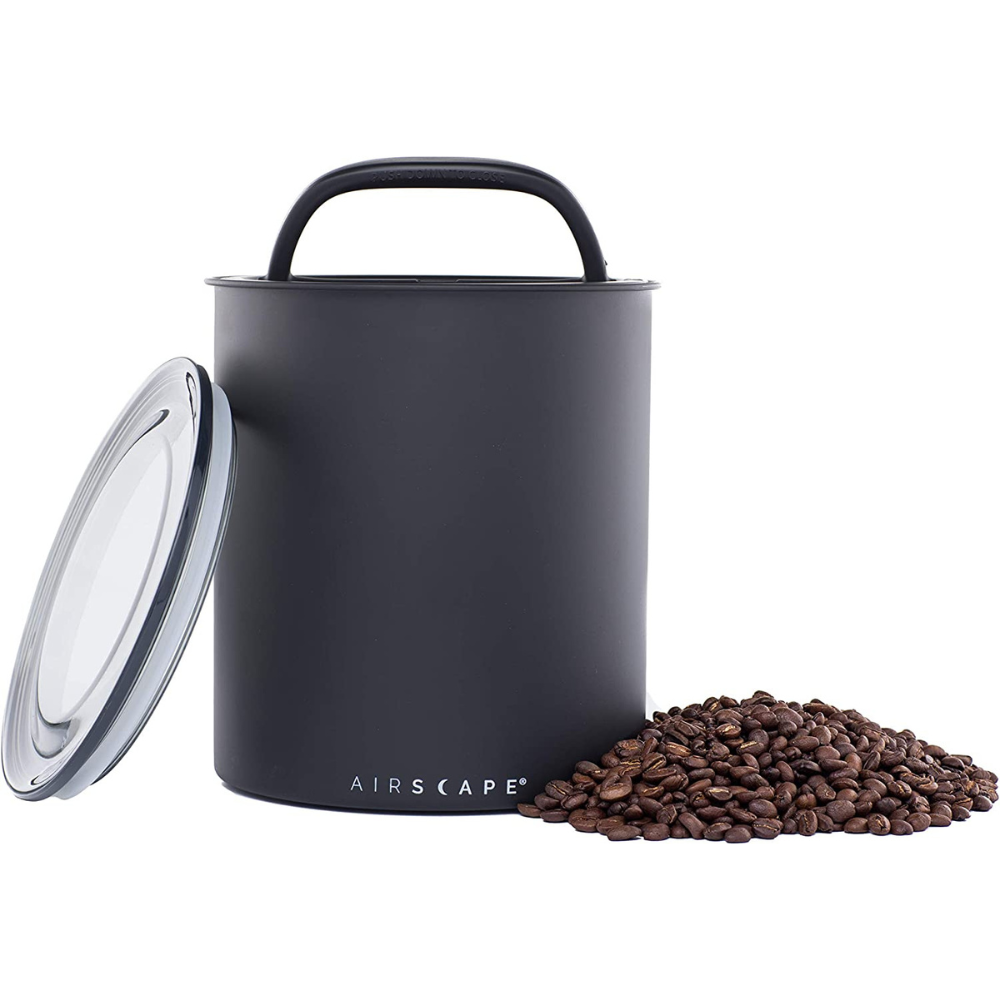 Airscape Kilo Coffee Storage Canister
Its higher price point is justified by its large capacity, innovative and patented design, and the ability to store a wide range of perishable goods. The Airscape Kilo is a versatile and durable option for those willing to invest in quality.
Check Latest Price
What We Love
Versatile Storage: Ideal for storing a wide range of perishable goods including coffee, tea, flour, sugar, and more.
Quality Material: Constructed with galvanized steel and a BPA-free matte finish paint, ensuring food safety.
Large Capacity: The Kilo canister holds up to 2.2 pounds of beans, perfect for bulk storage needs.
What to Keep in Mind
Size Consideration: Its large size, while perfect for bulk storage, may require considerable countertop or pantry space.
Why It Might Be Right for You
If you're willing to invest in top-tier coffee storage, the Airscape Kilo is your luxury pick. Its large capacity and advanced preservation technology make it ideal for serious coffee enthusiasts or those who buy in bulk but refuse to sacrifice freshness.
Customer Review (source: Amazon)
This vacuum container is the best I've found after trying many others. I initially bought a small one for ground coffee and now use the larger size for fresh beans. It's easy to use, effectively vacuums out the air, and comes in various sizes. I highly recommend it over other options.
---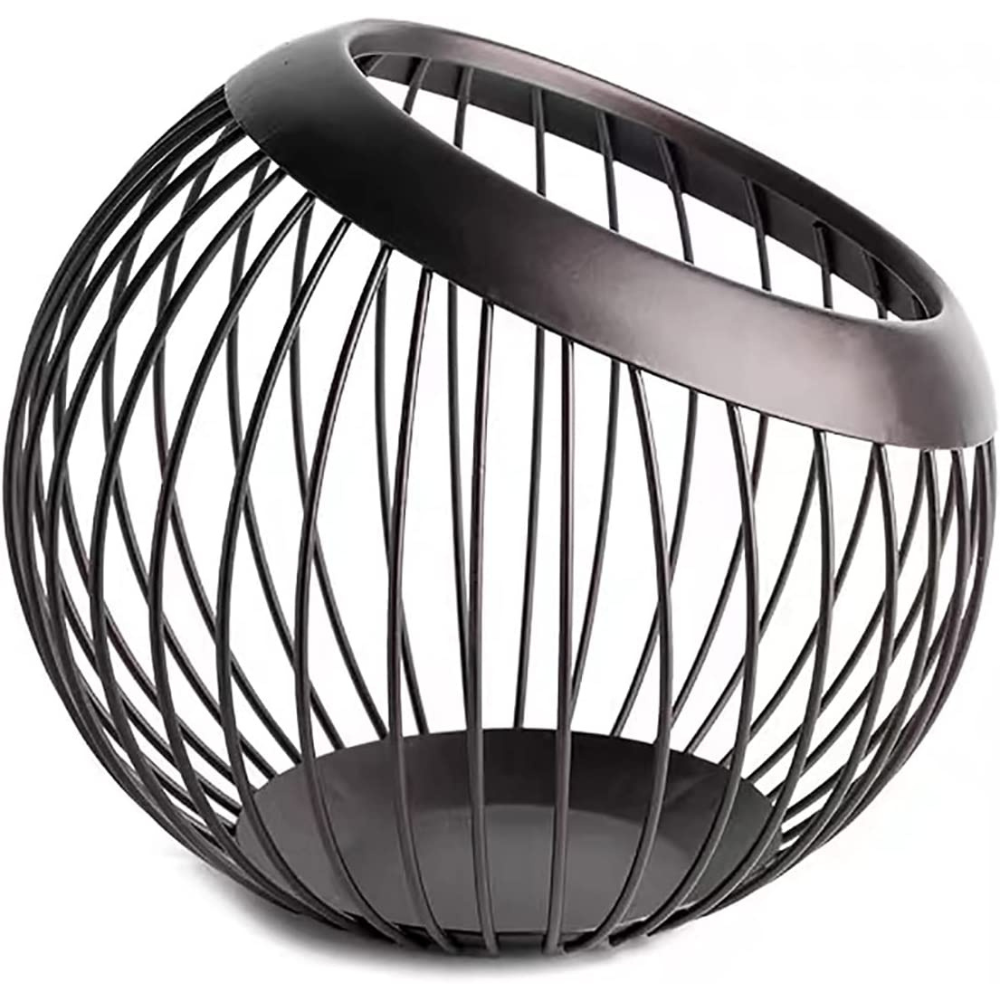 Charmount Coffee Pod Holder
It is designed to accommodate all types of pods, offering a large capacity with a small footprint. Its elegant bronze finish and durable metal construction make it a stylish and practical choice for Nespresso users.
Check Latest Price
What We Love
Elegant Design: The bronze-finished k-cup holder adds a touch of elegance to any decor, perfect for home, office, or kitchen.
Durable Construction: Made of metal, ensuring long-lasting use and durability.
Versatile Use: Ideal not only for coffee pods but also for storing creamer, fruits, and snacks, offering endless organizational possibilities.
Space-Efficient: Large capacity to store a significant number of coffee pods without occupying much counter space.
What to Keep in Mind
Size and Capacity: While it has a large capacity, its dimensions (8" in diameter and 7.5" in height) should be considered for space planning.
Why It Might Be Right for You
This holder is a dream for Nespresso pod collectors. If you love having a variety of flavors at your fingertips, displayed elegantly, the Charmount Coffee Pod Holder is your go-to. It's as much a statement piece as it is a functional organizer for your coffee pods.
Customer Review (source: Amazon)
I really like this holder for its practicality and style. It easily fits over 40 Nespresso Vertuo capsules, including a mix of smaller espresso ones. It's great for either searching for a specific capsule or just grabbing one at random for a surprise. Unlike my previous twirly holder that made capsules fly everywhere, this one stays put on a shelf or in a cupboard without any spills. The quality is excellent with no sharp edges or poor welds, and the bronze color and style blend well with any decor.
---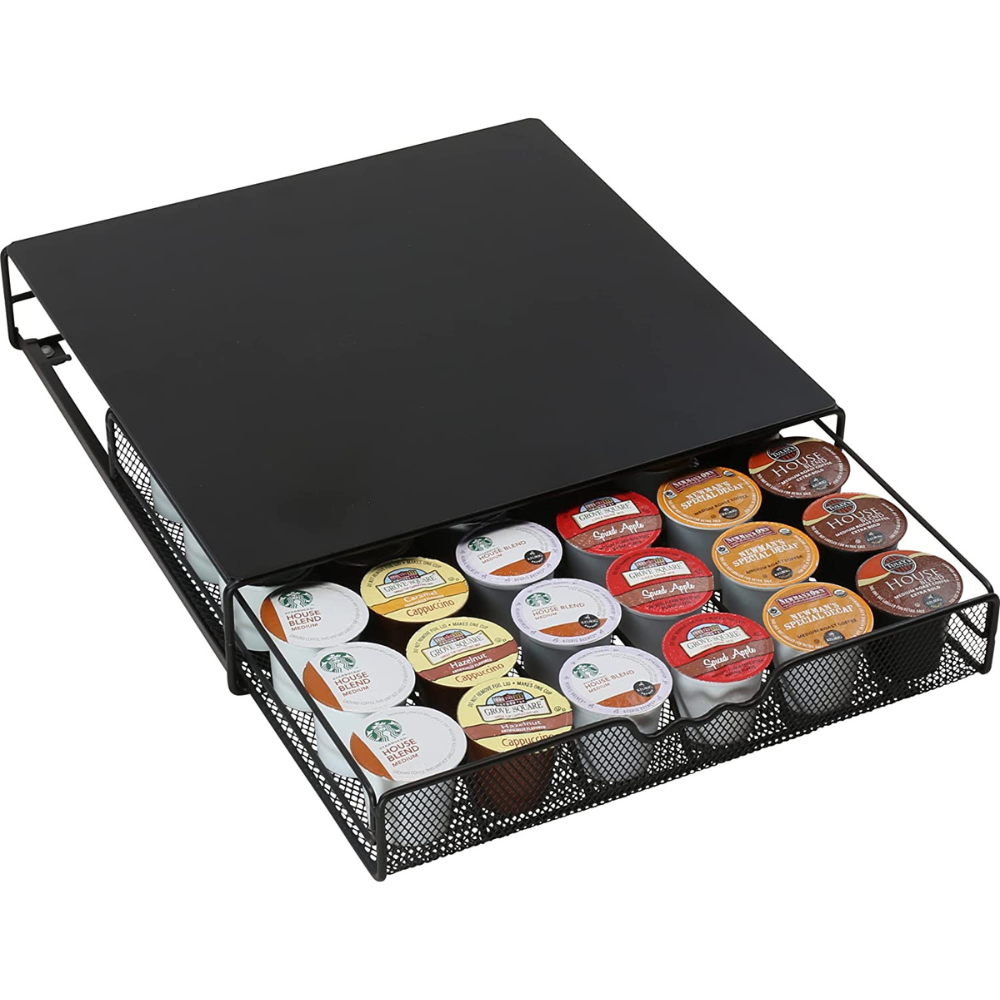 DecoBros K-cup Storage Drawer Holder
Ideal for those who prefer a drawer-style storage solution. It holds up to 36 K-cups and features a space-saving design with a sturdy build, making it a great choice for organizing coffee pods in a compact and accessible way.
Check Latest Price
What We Love
Efficient Organization: Perfect for neatly organizing and storing your favorite K-Cup coffee pods.
Convenient Built-in Handle: Allows for easy access with a smooth sliding mechanism.
Sleek Aesthetic: Enhances kitchen decor while keeping coffee pods secure.
Space-Saving Design: Compact yet capable of holding a significant number of pods.
What to Keep in Mind
Capacity: Holds up to 36 Keurig cups, ideal for households with multiple coffee drinkers.
Why It Might Be Right for You
For those who love a clean, organized kitchen, the DecoBros K-cup Storage Drawer is a perfect choice. It keeps your K-Cups neatly tucked away yet easily accessible, making it great for busy households or offices where convenience and tidiness are key.
Customer Review (source: Amazon)
I'm thrilled with this coffee pod holder! It's a significant upgrade from another brand I tried, where the drawer was rough and hard to use. This one opens and closes smoothly, and I love the dip instead of a knob for pulling the drawer. It stores pods neatly, has the perfect size for my countertop, and is easy to move around. I'm very satisfied with this product and glad I made the switch!
---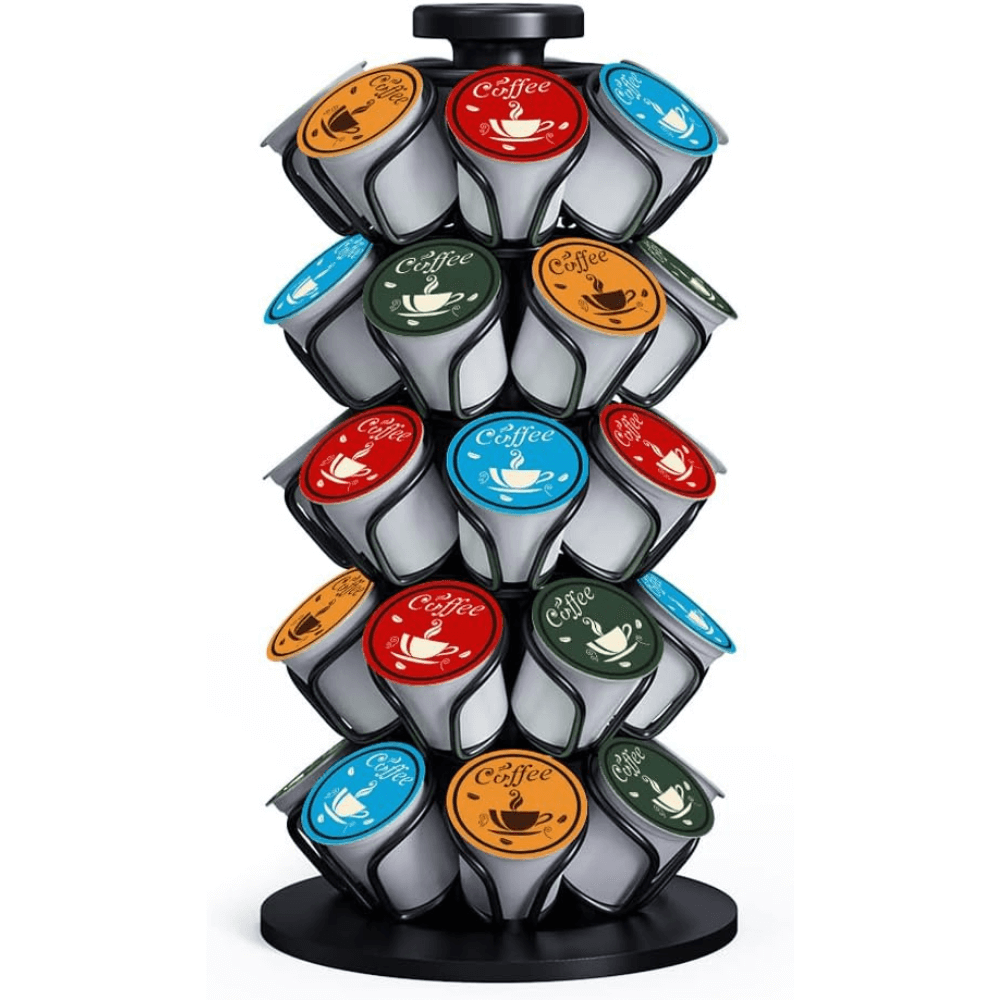 EVERIE Coffee Pod Holder Carousel
This carousel stands out for its specific functionality and design tailored to K-Cup storage. It holds up to 35 pods, making it an excellent choice for Keurig users. The wobble-free stand, stylish design, and user-friendly spinning knob make it not just a storage solution but a stylish addition to any kitchen. Its compact size and efficient design are perfect for those who prefer a carousel format for easy access and display of their K-Cups.
Check Latest Price
What We Love
Large Capacity: Holds up to 35 pods, suitable for K-Cups and other compatible coffee pods.
Stable Design: Features a wobble-free stand with a weighted base for smooth operation.
Stylish Look: Patented spiral holders offer a sleek and elegant appearance.
User-Friendly: Easy-to-use spinning knob and comfortable design for effortless access.
What to Keep in Mind
Space Consideration: Compact, but ensure it fits your kitchen space and pod usage needs.
Why It Might Be Right for You
This carousel is a stylish solution for K-Cup enthusiasts who love to display their collection. Its smooth rotation and stable design make choosing your daily coffee a delightful experience, perfect for those who appreciate both form and function in their coffee accessories.
Customer Review (source: Amazon)
I absolutely love this! It's classy and doesn't take up much space at all. Perfect for my needs!
---
How We Chose Our Top Picks
In selecting our top coffee storage solutions, we focused on providing expert insights. Our approach combined thorough research with real user feedback, including Amazon customer reviews. This blend of analysis and real-world experiences ensures we recommend products that excel in performance, durability, and ease of use. We also compared these options against their competitors, highlighting their unique features and value, to help you make the best choice for your coffee storage needs.
---
What to Look for in a Coffee Canister
Material Matters
When selecting a coffee canister, the material is a crucial factor. Each type - be it glass, stainless steel, or plastic - offers unique benefits and drawbacks.
Stainless Steel: Ideal for its durability and light-blocking properties. It's a long-lasting option that withstands frequent washing but tends to be pricier.
Plastic: A budget-friendly choice, especially in darker shades that block UV rays. While less durable over time, it's resilient against breakage from accidental drops.
Glass: Offers visibility of contents but is fragile and less effective in UV protection. Ideal for those who prefer visual appeal and can store it away from light when not in use.
Airtight Seals: A Must-Have
The key to preserving coffee's freshness is an airtight seal. This feature is essential in extending the shelf life of your beans, available in various styles and price ranges.
The Seal's Significance
A good seal distinguishes a specialized coffee canister from ordinary storage solutions. Opt for containers with one-way valves that release CO2 but prevent oxygen entry, crucial for maintaining the quality of freshly roasted beans.
Vacuum Sealing: The Premium Choice
For the ultimate preservation, consider canisters with an integrated vacuum pump. These remove air, mimicking vacuum-sealed food storage, but come with a higher price tag.
Sets and Styles
Many canisters are part of sets or have matching designs, allowing for a cohesive look in your kitchen. Different sizes in a set cater to various storage needs and space considerations.
Capacity Considerations
Assess your coffee consumption to determine the ideal canister size. Joe Behm, President of Behmor, notes that coffee starts losing flavor a week after roasting. Aim for a size that matches your biweekly or weekly consumption to maintain freshness. If you enjoy variety, consider multiple smaller canisters.
Compatibility Check
Ensure the canister fits the quantity of your preferred coffee brand. Capacities vary, and the price often correlates with size. A larger canister may cost more but offers more storage.
---
Frequently Asked Questions
What makes coffee storage containers effective?
The best coffee storage containers, like coffee canisters and coffee containers, are designed to keep coffee beans fresh. They typically feature airtight seals and are made from materials like stainless steel or high-quality plastic, which protect the beans from air, light, and moisture.
How do I choose the right coffee container?
When selecting a coffee container, consider the material (stainless steel or plastic), size, and features like a CO2 valve or vacuum seal. The Fellow Atmos Vacuum Canister is a popular choice for its airtight seal and quality construction.
What's the best way to store coffee beans?
To keep coffee beans fresh, store them in an airtight coffee storage container in a cool, dark place. Avoid exposure to direct sunlight, heat, and moisture.
Can I use coffee canisters for different types of coffee?
Yes, coffee canisters are versatile and can be used for various types of coffee. However, ensure the canister size suits the amount of coffee you typically buy.
How much coffee should I store in a container?
The amount of coffee to store depends on your consumption rate. It's best to store only as much coffee as you'll use within a few weeks to maintain freshness.
Are there specific coffee containers for different coffee forms?
Yes, some coffee containers are better suited for whole beans, while others are designed for ground coffee. Choose a container based on your preferred form of coffee.
Why are the best coffee canisters important for coffee lovers?
The best coffee canisters protect the flavor and aroma of coffee, ensuring that each cup tastes as fresh as possible. They are essential for anyone serious about their coffee experience.
---
Items Reviewed: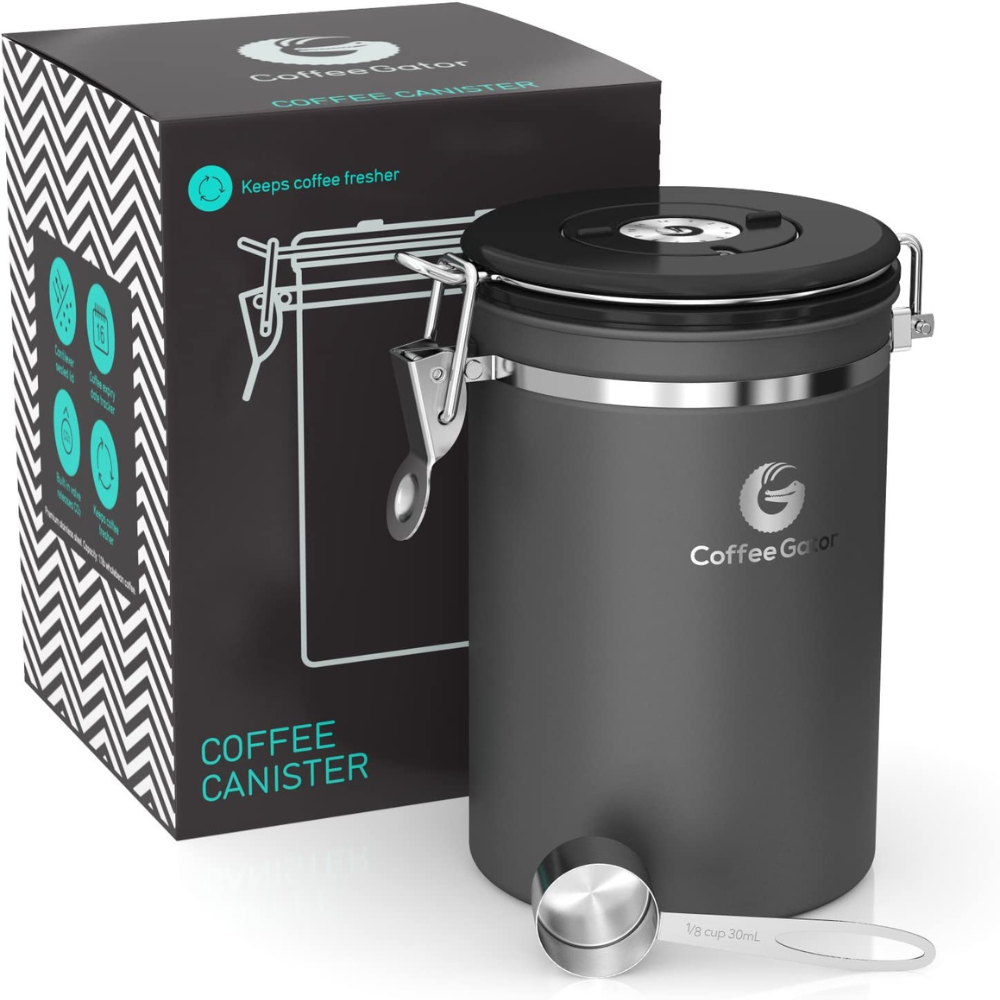 Best Overall: Coffee Gator
Offers a perfect blend of quality, design, and functionality. Its premium stainless steel construction, airtight seal, and innovative freshness valves make it ideal for preserving the flavor and aroma of coffee. The variety in sizes caters to different needs, and its commitment to quality with a 100% satisfaction promise stands out.
Check Latest Price
Please note that the reviews on this page have been edited for readability and clarity while maintaining the essence of the original content.
Further Reading
Are you looking for organic coffee to fill up your storage container? Check out Marty Mentions article on the best organic coffee you can find online.
Interested in coffee pop containers? While we didn't review any, OXO makes a good coffee pop container. You can view it on Amazon.
Unlock the secrets of coffee storage and discover the fascinating science behind keeping your beans fresh and flavorful in our article: "The Science of Coffee Storage: Maintaining Freshness and Flavorful Beans."
---