Cold brew coffee is becoming a big trend, with many coffee connoisseurs indulging in the smooth taste of this drink. You can bring the cold-brew taste to your home by making it yourself or purchase it from the store. If you decide to make it at home, you'll need to pick the right ground coffee; you can also buy cold brew concentrate to make cold brew.
Cold brew coffee is a refreshing, slightly sweet drink that can be made by brewing coffee grounds in cold water for several hours. The longer the coffee stays in the water, the more intense the flavor becomes. This brew is a great way to enjoy a cup of java when you've been craving something different or maybe if you're feeling under the weather and need a pick me up.
With these five best coffee grounds to buy for your next cold brew, you'll no longer have to settle for supermarket blends!
🤝As an Amazon Associate, we earn from qualifying purchases made through our links, at ZERO additional cost to you.
5 Best Cold Brew Coffee Grounds
---
Bizzy Organic Cold Brew Coffee
Handcrafted with 100% Arabica beans sourced from renowned regions, ensuring both quality and sustainability with its organic certification.
Check Price on Amazon
What We Love:
Specially roasted for cold brewing.
100% Arabica from Nicaragua, Peru, and Guatemala.
Ethically tested for purity.
In-house roasting for consistency.
Dedicated R&D for perfect cold brew.
Diverse flavor range.
Organic and ethically sourced.
What to Keep in Mind:
Tailored for cold brew.
Flavor choice might need experimentation.
Why It Might Be Right for You:
Imagine a world where every sip of your coffee reminds you of its origin. With beans sourced from renowned regions like Nicaragua and Peru, this is for the purists. If you value organic, ethically sourced coffee and are on a quest for the perfect cold brew, your search might just end here.
Customer Review (source: Amazon)
I tried this coffee and, true to its name, it's smooth and sweet. The grind is just right for cold brew, and thanks to its micro-sifting, I didn't have to deal with that annoying silt. Plus, it gives a great caffeine kick! Highly recommend.
---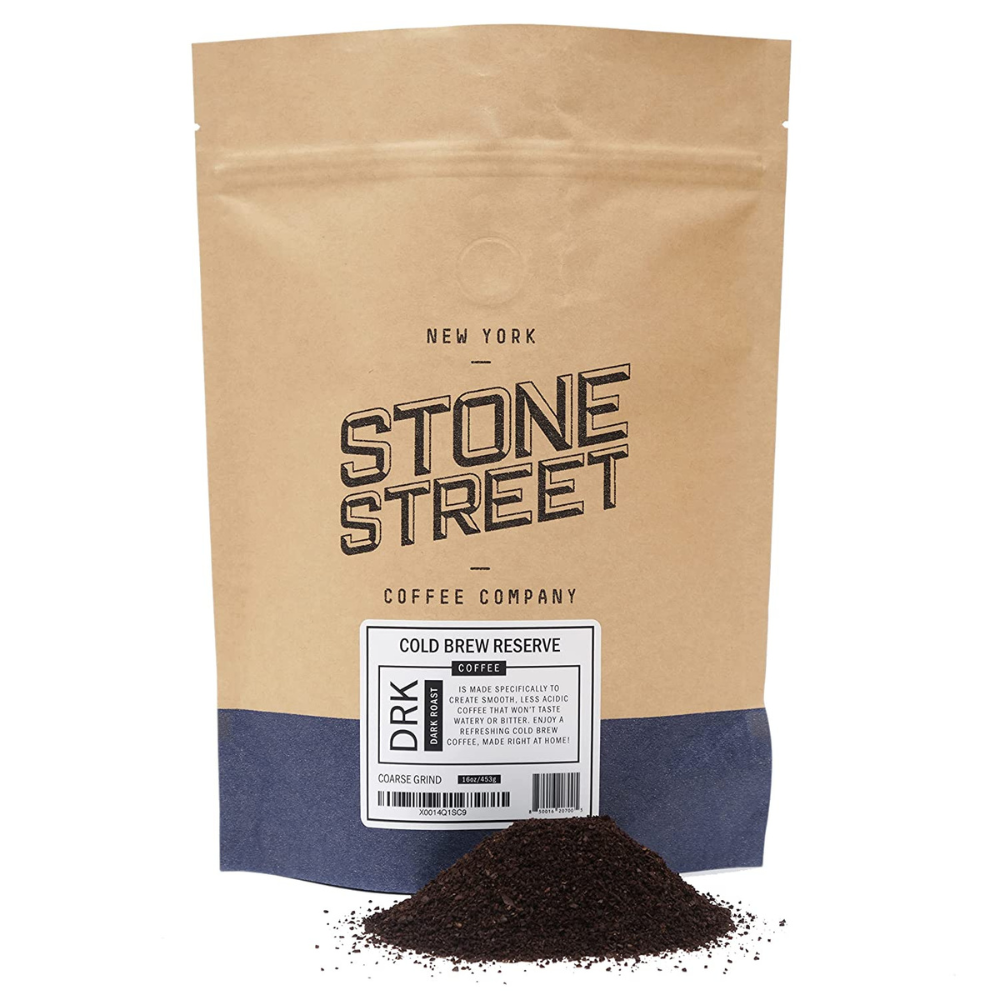 Stone Street Cold Brew Coffee
Handcrafted in Brooklyn, this coffee offers a rich blend of flavors and is backed by a brand that has mastered the roasting process over the years.
Check Price on Amazon
What We Love:
Specially brewed for cold brewing.
Low-acidity for smooth drinking.
Balanced flavor profile.
Ethical sourcing from top coffee farms.
Resealable 3-layer kraft bag with one-way valve.
Colombian Supremo beans for rich flavors.
Handcrafted coffees from a specialty Brooklyn roaster.
What to Keep in Mind:
Specifically tailored for cold brew.
Requires optimal coarse ground size for best extraction.
Strength can be adjusted based on preference.
Why It Might Be Right for You:
Think of an artisanal coffee experience right in your kitchen. Handcrafted in Brooklyn, this coffee is for those who appreciate the art of roasting. If you're someone who cherishes the nuances in flavors and the stories behind the beans, Stone Street will resonate with your coffee-loving soul.
Customer Review (source: Amazon)
I'm a cold brew fanatic, having tried 67 different kinds, and Stone Street Cold Brew Coffee tops the list. It's the most delicious, with a rich, pure flavor, free from any artificial aftertastes. I'm all about the dark roast, and while this one isn't too intense, if you're not a fan, just add a touch of milk or cream. Trust me, give this a shot, and you'll love it. Always open to more cold brew suggestions!
---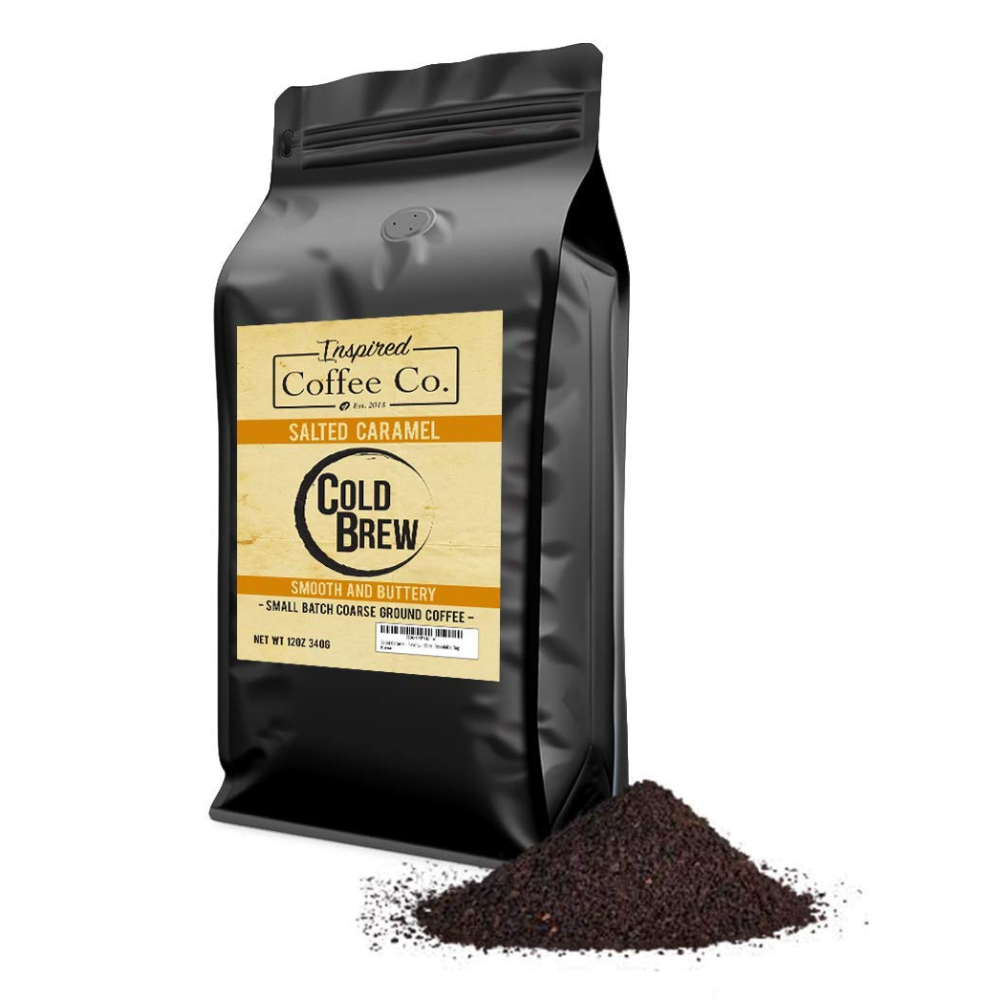 Inspired Coffee Co: Flavored Cold Brew Coffee Grounds- Salted Caramel
Offers a unique twist on classic cold brew with its salted caramel flavor, combined with high-quality Arabica coffee and organic vanilla.
Check Price on Amazon
What We Love:
Revolutionary cold brew flavor with a twist of salted caramel.
High-quality Arabica coffee combined with organic vanilla and sea salt.
Made in the USA from 100% natural ingredients.
No additives for a pure coffee experience.
A delightful aroma that fills any space.
Wide variety of flavors to choose from, including seasonal specials.
What to Keep in Mind:
Requires a 3-to-1 ratio of water to grounds for optimal flavor.
Best flavor extraction requires steeping for 12-24 hours.
While the salted caramel is popular, there are other flavors that might suit different palates.
Why It Might Be Right for You:
Picture yourself on a lazy Sunday morning, craving something different from your usual brew. The rich blend of Arabica coffee with hints of organic vanilla and sea salt offers a delightful twist. If you're someone who loves experimenting with flavors and enjoys a touch of sweetness without additives, this salted caramel delight will become your new favorite.
Customer Review (source: Amazon)
The moment I opened the bag, the salted caramel aroma was irresistible. I was skeptical, thinking it might just smell good without the taste to match, but I was wrong. The flavor is as rich as the scent, and it's impressive how it has no added sugars or sweeteners. I'm already excited to try other flavors from this brand!
---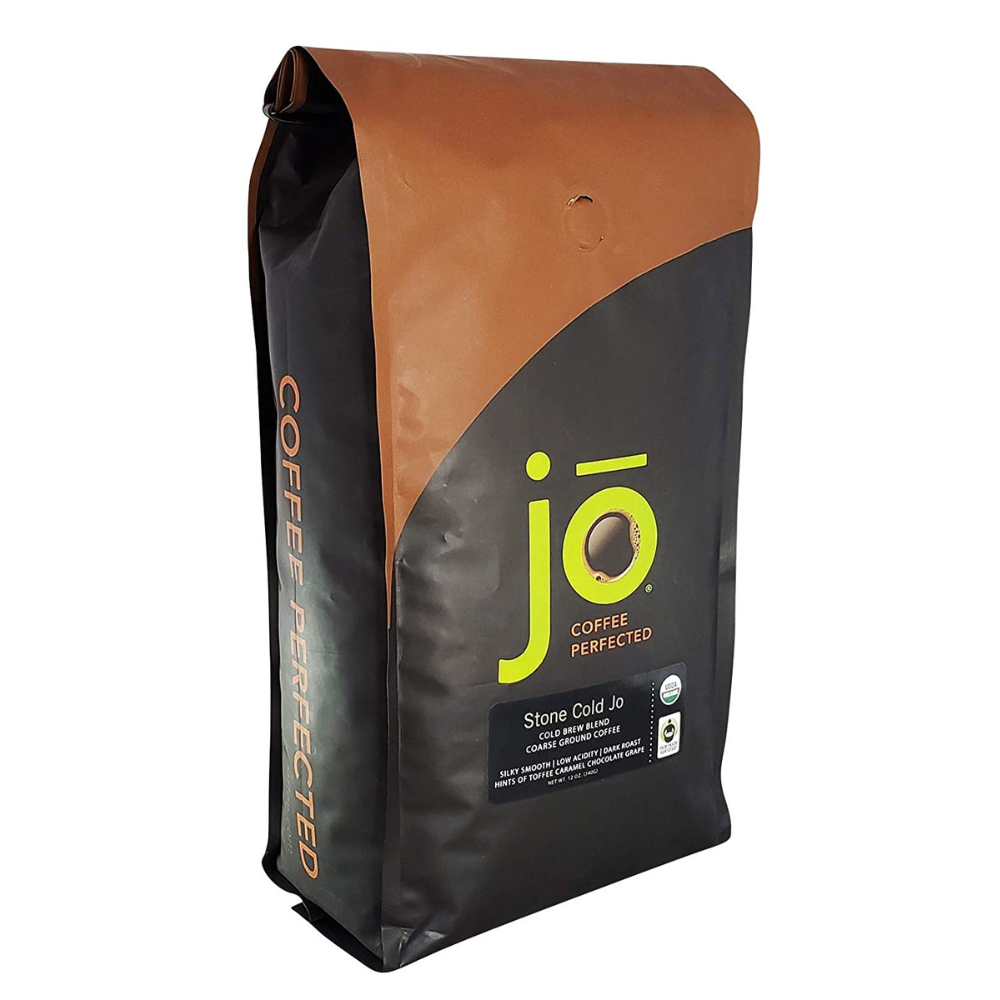 With its low acidity and rich flavor profile, it's perfect for those who prefer a smooth, creamy cup of coffee without the bitterness.
Check Price on Amazon
What We Love:
Low-acidity for a smooth, creamy cup.
Handcrafted and artisan-roasted in a micro-roastery.
USDA Certified Organic, Fair Trade, and Kosher.
Rich dark roast flavor.
Subtle notes of caramel, chocolate, grape, and toffee.
Durable steel housings and BPA-free plastics.
What to Keep in Mind:
Specifically tailored for cold brew.
Requires the right brewing method to capture all flavor notes.
Why It Might Be Right for You:
Dream of a coffee that's smooth, flavorful, and doesn't need any additives? This is for the minimalist coffee lover. If you've always wanted to enjoy black coffee without the bitterness, and value organic certifications, Stone Cold Jo will be your morning companion.
Customer Review (source: Amazon)
Stone Cold Jo has completely changed my coffee game. I used to rely on sugary creams to enjoy my brew, but this coffee? It's so smooth and flavorful that I savor it black. A friend introduced me to it, and I've been hooked ever since. There's this refreshing, almost nutty taste to it that I can't quite pinpoint, but it's simply delicious. No more additives for me; this coffee stands on its own!
---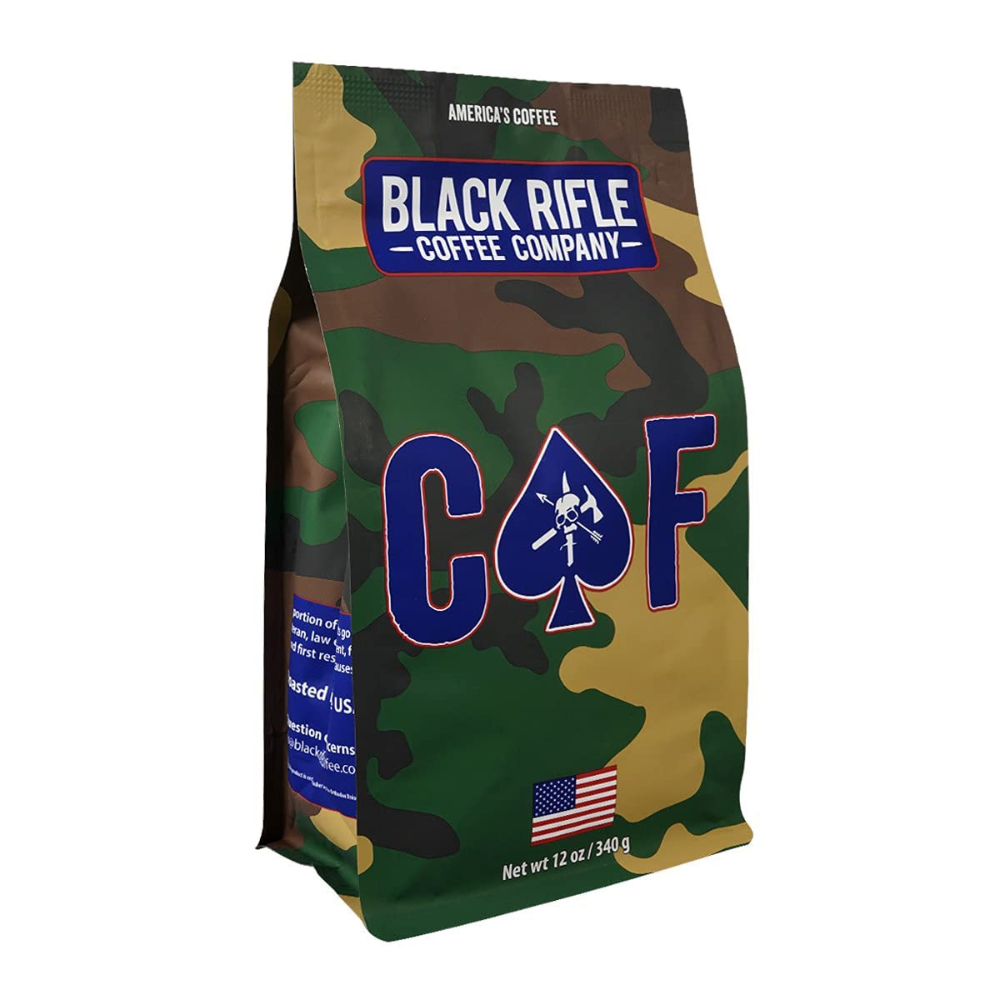 Black Rifle Coffee Company
Known for its bold, dark flavor that's versatile enough for espressos or milk-based drinks, combined with unique military-themed packaging.
Check Price on Amazon
What We Love:
Bold, dark flavor with a lot of body.
Versatile coffee suitable for espresso and milk-based drinks.
Available in both whole bean and pre-ground options.
Wide variety of roasts and flavors to choose from.
Convenient resealable bags with a freshness-preserving plastic inner.
Strong support for veterans and first responders.
What to Keep in Mind:.
While Just Black is a favorite, there are other flavors that might appeal to different palates.
Why It Might Be Right for You:
Picture a morning that demands a robust kickstart. Black Rifle Coffee isn't just about flavor; it's an embodiment of boldness and vigor. If you're someone who gravitates towards the richer, darker side of coffee and cherishes brands with a commitment to supporting veterans, this brew is tailored for you.
Customer Review (source: Amazon)
Black Rifle never disappoints! Whether I'm brewing it cold or hot, the Silencer Smooth has that rich coffee flavor I crave. It's simply delicious!
---
How We Chose Our Top Picks
Selecting the best cold brew coffee grounds isn't just about taste; it's about understanding the art and science behind the brewing process, the quality of beans, and the nuances that differentiate one blend from another.
Expertise and Research: Our team is composed of coffee enthusiasts and experts who have spent years understanding the intricacies of coffee brewing. We aim to provide you with insights into these cold brew coffee grounds, even if we haven't personally brewed with each one.
User Feedback and Reviews: A coffee blend might sound perfect on paper, but the real test is in the cup. We've scoured user feedback from various platforms, including detailed customer reviews from online retailers like Amazon. This helps us gauge the actual performance, flavor profile, and user satisfaction of each blend.
Comparative Analysis: We don't just sip and decide. We compare each coffee ground against its competitors, assessing their aroma, flavor depth, and brewing compatibility. This ensures that our recommendations truly resonate with the cold brew experience you're seeking.
Continuous Updates: The world of coffee is vast and ever-evolving. New blends, roasting techniques, and flavors emerge regularly. We keep our finger on the pulse, ensuring our list remains updated with the latest and most flavorful cold brew coffee grounds.
In essence, our recommendations come from a deep love for coffee, combined with rigorous research, expert insights, and real-world tasting. We're here to guide you to the perfect cold brew experience, ensuring every cup is a delightful journey.
---
Cold Brewing: Immersion vs. Cold Drip
There are two main methods to make cold brew coffee: either by immersion or cold drip. The immersion method is generally preferred by home brewers due to its ease of use.
Ground beans are incubated under cool water to soak for twelve to 24 hours prior to being filtered out. The slow drip method is a slow process where ice water is drizzled onto beans before being poured into the carafe below.
The primary benefit of this technique is its speed; however, it can take three to five hours to produce one cup of cold coffee. However, the special equipment needs an investment.
From a taste perspective from a flavor perspective, the immersion method results in a full-bodied, concentrated beverage, while the drip method produces moderately diluted medium-bodied beverages. Brewing technique is an important aspect to consider when selecting the beans to make cold brew.
---
Temperature and Taste
Hot coffee is made between 91 and 96 degree Celsius (195 - 200 - 205 F), while cold brew is made from 2 to 21 Celsius (35 70 F).
This absence of heat in the process of brewing makes cold brew distinct and valuable properties, but it also means it needs two times as much ground and can take a lot more time to brew time when compared to hot methods.
A lot of acidic and solubilized substances that account for the light and floral notes in coffee are extracted at certain temperatures. Because of this, cold brew has a lower amount of acidity and is easy to digest, but it can also possess a more subtle flavor.
Making the right choice of beans is the most effective way to ensure that the cup is delicious and smooth.
When you are deciding on the top coffee beans for cold brew, there are a few aspects to be considered.
---
The Grind Size Matters
If you are buying beans pre-ground to make a cold brew or grinding them yourself, be aware of the importance of grinding.
The coarser grind of the coffee is preferred for a cold beverage. The finer grinds can produce bitter or sharp flavor due to being extracted too much.
If you're using a slow drip technique, the size of the grinding is crucial. A coarser grind will be quicker to start drips, whereas the finer grind may get too dense and limit your flow. Make sure you make use of a high-quality coffee grinder to make cold coffee.
---
Roasted Dark Or Light
Deciding between a darker roast or a light roast coffee is mostly an individual choice. Your best option is to test. Don't think that the roast you prefer for hot coffee is the same for cold coffee.
Experts differ on the subject. Some recommend moderate to light roasts that are more acidic because that cold brewing removes most of the acidity in the beans.
Others recommend dark roasts since cold brew is known to be a taste of deeper, richer flavors like nuts, chocolate, and earthiness.
The bright acidity characteristic of lighter roasts can make it difficult for you to remove from cold brewing and may result in a sour taste.
No matter which roast you pick, bear in mind that lighter roasts require a longer time to extract due to the fact that the cellular structures of beans are less affected by roasting.
---
Milk Or No Milk?
It's again an individual preference. Many experts advise drinking black coffee from cold brew because the flavors are so delicate that it's unprofessional to further diminish it with dairy.
If you usually add some cream or milk to your cup of coffee, you should consider trying the cold brew with no milk or cream first. You might be amazed.
If you're not sure what to do, Try mixing three parts of cold brew and one portion of milk. You can also try your hand at one of our tasty cold recipe recipes for cold brew.
---
Single-Origin Or Blend?
The debate over light or dark roasts appears to be dividing experts; the majority agree that beans from one origin are the most suitable choice for cold coffee. Find out more about single-origin beans in this article.
The cold-brewing process allows the consumer to taste the more subtle flavors of a coffee and enjoy the single-origin product.
While blends can be useful for espresso and regular coffee when the barista must keep a balance between sweetness, acidity, as well as bitterness, however, the lack of acidity and bitterness in cold brew makes this process ineffective.
We're going to present to you a complete selection of the top options for cold brew. But here are a few of the most excellent coffee beans in the world to test (hot as well as cold).
---
Frequently Asked Questions
Can I use warm water to brew cold brew?
Yes, you can use warm water to brew cold brew, but cold water is recommended. Some coffee aficionados believe that using warm water helps to extract more flavor from the beans.
If you use warm water, the key is to make sure that the water is not too hot, or it will overheat the beans and produce a bitter flavor. If you decide to use "warm" water, aim for room temperature water.
Is fine ground coffee okay for cold brew?
Yes, fine ground coffee is okay for cold brew, but it is not ideal. The grind size will affect the extraction time and yield, so you may need to experiment a little to find the right grind size for your specific brewing method.
What's the difference between iced coffee and cold brew coffee?
While both are served cold, iced coffee is brewed hot and then cooled down, whereas cold brew coffee is brewed with cold water over an extended period, typically 12-24 hours.
Are there specific cold brew coffee beans I should use?
Yes, some beans are specifically labeled as "coffee for cold brew." These beans are often coarsely ground and optimized for the cold brewing process.
How do I ensure a delicious cold brew coffee flavor?
The key lies in using high-quality dark roast coffee beans and allowing them to steep for the right amount of time. The longer the beans steep, the stronger and richer the flavor.
Can I use dark roast coffee for making cold brew coffee?
Absolutely! Dark roast coffee beans often yield a robust and bold flavor, making them a popular choice for cold brew enthusiasts
What is a cold brew coffee blend?
A cold brew coffee blend is a combination of different coffee beans curated to enhance the cold brewed coffee flavor. These blends are crafted to provide a balanced and smooth taste when brewed cold.
How does the flavor of cold brewed coffee differ from regular coffee?
Cold brewed coffee tends to have a smoother, less acidic taste compared to its hot-brewed counterpart. The cold brewing process extracts different flavor compounds, often resulting in a sweeter and more mellow coffee.
Are there benefits to using dark roast coffee beans for cold brew?
Yes, dark roast coffee beans can provide a deeper, richer flavor profile, making your cold brew even more enjoyable.
---
Final Verdict
When it comes to cold brew coffee, there are a few things you should know in order to make the best cup of coffee possible.
First, let's start with the basics - what is cold brew coffee? Cold brew coffee is made by steeping coarsely ground beans in cold water for an extended period of time, typically 12 hours or more. This method of brewing results in a concentrate that can be diluted with water or milk and served over ice.
Now that we know how cold brew is made let's talk about the best beans for this type of coffee. While you can technically use any type of bean for cold brew, we recommend using a dark roast or a medium roast that has been freshly ground.
The reason for this is that the longer brewing time will extract more of the coffee's oils and flavors, and dark roasted beans tend to have more robust flavors that can stand up to this extraction process.
If you use pre-ground coffee, be sure to choose a coarse grind so that the beans don't end up over-extracted and bitter. Making cold brew at home is actually pretty simple - all you need is some good quality beans, a container to steep them in, and filtered water.
Once you've gathered your supplies, simply add your grounds to the container and top it with cold water. Steep for at least 12 hours, then strain the concentrate into another container using a fine mesh strainer or cheesecloth.
The most excellent coffee to drink cold is likely to be the one that tastes the most appealing to you. There's no doubt about that. You won't know which you should pick before having a clear understanding of what these best choices have to offer.
We selected the most popular five cold brews available on the market. Now, it's up to you to decide whether to try something new or keep your routine of drinking dark or light roasts.
We hope our article on the best coffee grounds for cold brew will help you decide which one is best for you.
---
Items Reviewed
Best Overall: Bizzy Organic Cold Brew Coffee
Handcrafted with 100% Arabica beans sourced from renowned regions, ensuring both quality and sustainability with its organic certification.
Check Price on Amazon
Further Reading
Cold Brew Coffee Grounds Chemistry: Extraction & Flavors: Delve into the scientific intricacies of cold brew coffee grounds and discover how different extraction techniques shape their taste.
Sustainability of Coffee Grounds: Beyond Brewing: Discover the environmental benefits of repurposed coffee grounds. From garden nourishment to the creation of sustainable goods, see how coffee remnants contribute to a greener world.
Explore the wonders of gardening with "7 Fun Facts About Using Coffee Grounds in the Garden," a must-read article by Crate and Basket.
Please note that the reviews on this page have been edited for readability and clarity while maintaining the essence of the original content.
---