Say goodbye to store-bought and hello to DIY! Whether you're a spice guru, a serious jerky maker, or a savory aficionado, making jerky at home puts YOU in the driver's seat—flavors, ingredients, crunch, you name it!
But here's the catch: you need the right dehydrator to make those jerky dreams come true. That's where we step in! We've sifted through all the options to bring you the ultimate list of the five best food dehydrators out there. From budget-friendly to high-end, we've got something for every jerky maker!
Ready to become the Jerky Master you were born to be? Let's get this snack party started!
🤝 As an Amazon Associate, we earn from qualifying purchases made through our links, at ZERO additional cost to you.
5 Best Dehydrators for Jerky
---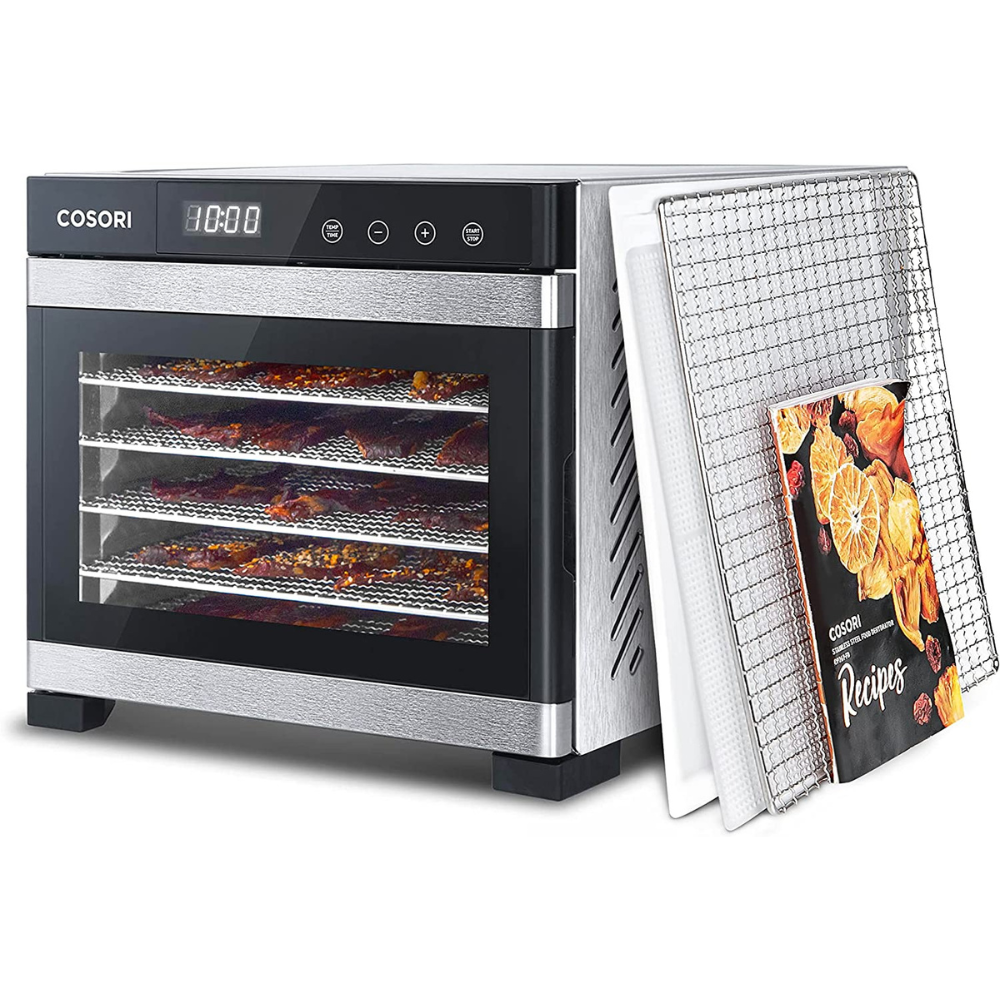 COSORI Food Dehydrator: 6 Trays
The Cosori Food Dehydrator offers a well-rounded set of features, making it ideal for users interested in a variety of dehydrated foods, from jerky to fruit leathers. With an emphasis on performance, ease of use, and space efficiency, it stands out as a reliable all-rounder.
Check Price on Amazon
What We Love
Even Drying: Consistently produces jerky with excellent texture and taste.
User-Friendly: Easy to operate and clean, ideal for dehydrating newbies.
Compact Design: Doesn't hog your counter space, fits well in smaller kitchens.
Fully Equipped: Comes with 6 stainless steel trays, a mesh screen, and a fruit roll sheet.
Quiet Operation: Works at less than 48dB noise level, allowing peaceful multitasking.
What to Keep in Mind
Limited Capacity: With 6.5 sq. ft, it's smaller than some other models, so plan your batches accordingly.
US & Canada Only: 120V, 600W voltage specific to USA and Canada.
Why It Might Be Right for You
You're a busy parent who values both health and convenience. You can see yourself setting the Cosori Food Dehydrator before bedtime, waking up to nutritious, homemade snacks for the family's lunchboxes. The compact size saves your precious counter space, and the easy operation means even your teenager can join the healthy snacking trend. This machine isn't just an appliance; it's a step toward a healthier lifestyle for your family.
Customer Review (source: Amazon)
I bought this as a gift for my mom but ended up using it myself for dehydrating Morels. It's incredibly user-friendly, easy to clean, and more quiet than other models I've tried. The size is a bit bulky, but it's a small price to pay for its efficiency. I'm so impressed, I'm planning to buy one for myself!
---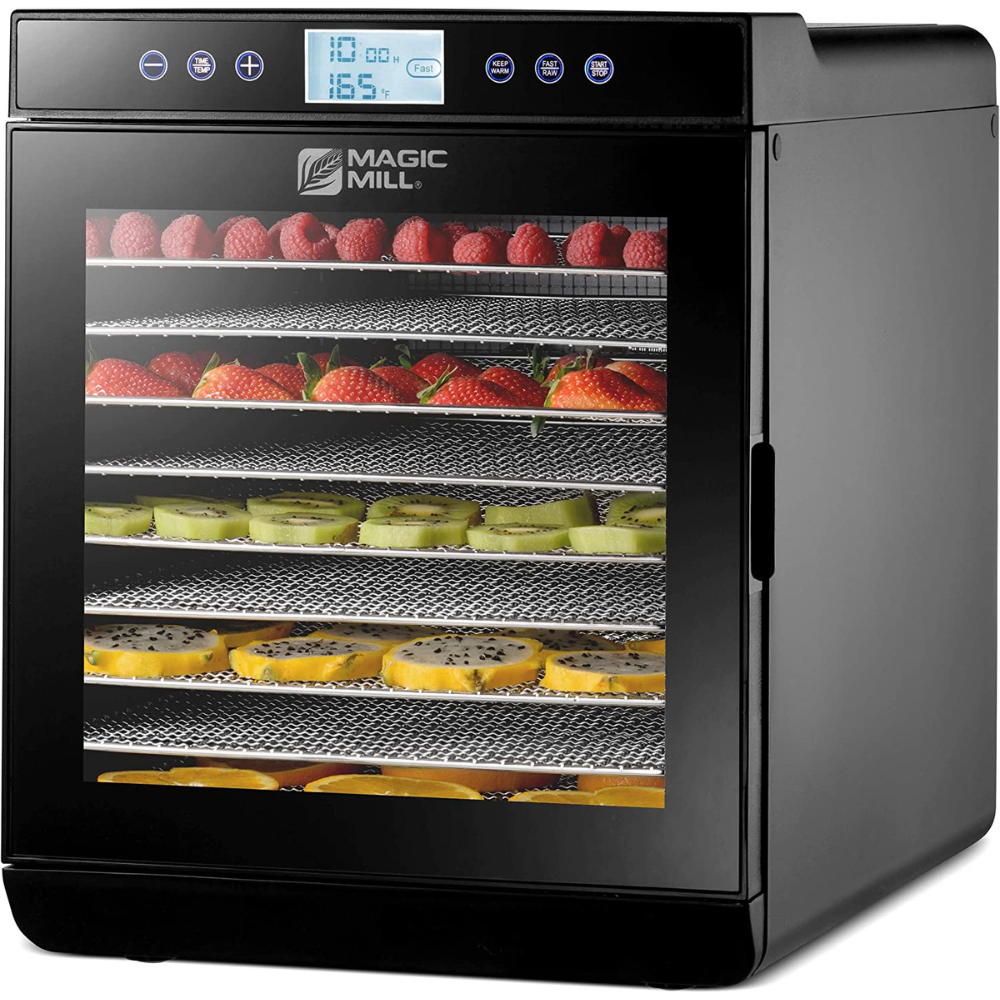 Magic Mill Food Dehydrator: 9 Trays
This unit is designed for those who are deeply committed to jerky making, be it for personal consumption or as a business venture. With nine adjustable trays and advanced features like a rear-mounted drying fan and precise temperature control, it provides an excellent experience for dedicated jerky makers.
Check Price on Amazon
What We Love
No Tray Rotation: Rear-mounted drying fan ensures even drying.
Whisper Quiet: Operates silently except for the end timer.
Big Batch Friendly: Suitable for large volumes, whether for personal or commercial use.
Versatile Temps: Adjustable temperature range between 97 to 167 degrees F.
Safety Features: Comes with overheat protection and BPA-free construction.
What to Keep in Mind
Large Footprint: Similar in size to a beverage refrigerator, requires ample space.
Why It Might Be Right for You
You're a jerky aficionado, not just a casual snacker. Every slice has to be just right, from seasoning to texture. Enter the Magic Mill Food Dehydrator. Its advanced features allow you to venture beyond the simple salt and pepper jerky, maybe into teriyaki or spicy chili realms. This isn't just an appliance; it's your culinary studio, where you craft not just food but experiences. Quiet enough not to disturb your thoughts but powerful enough to handle even your most ambitious projects.
Customer Review (source: Amazon)
I splurged on this 10-tray stainless steel dehydrator and it's worth every penny. It's a relief to move away from my old plastic trays that kept breaking. First run of fruits and jerky came out perfect, and it's surprisingly quiet! I was initially concerned about noise and potential damage during delivery, but those worries were unfounded. It's so quiet I can't even hear it over the TV. Still need to master the fruit roll-ups, but so far, I'm extremely satisfied.
---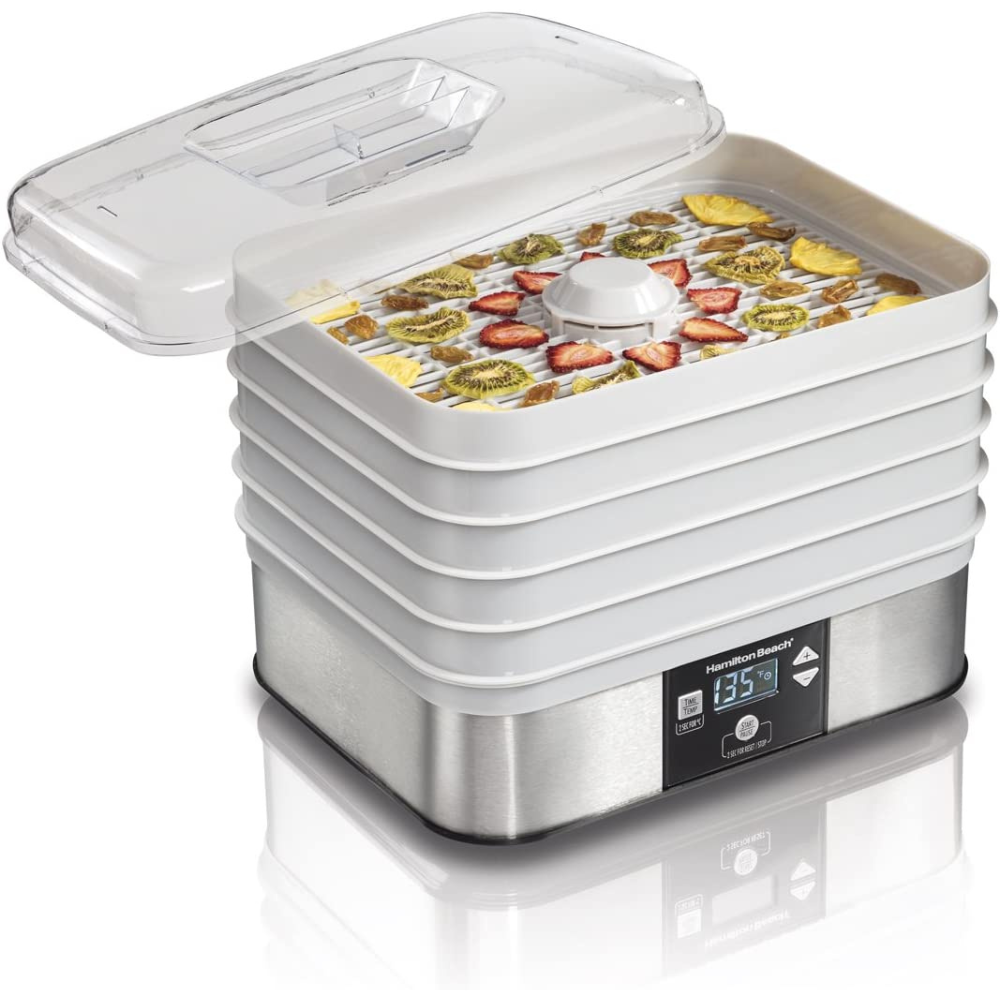 Hamilton Beach Digital Food Dehydrator
This is an excellent option for those new to the world of food dehydration or those who are not looking to break the bank. With essential features like adjustable temperature settings and a 48-hour timer, it offers good versatility without a hefty price tag.
Check Price on Amazon
What We Love
Extended Timer: Up to 48-hour timer with auto-shutoff gives you the freedom to set it and forget it.
Temperature Control: Choose between 100°F and 160°F for versatile food drying options.
Multi-Functional Sheets: Includes a fine-mesh sheet for herbs and a solid sheet for fruit rolls.
Even Drying: Continuous airflow guarantees uniformly dried food items.
What to Keep in Mind
Power Consumption: With a 500-watt motor, consider your energy usage.
Why It Might Be Right for You
If you're the type who loves a good piece of jerky but doesn't want to feel limited to just one type of snack, the Hamilton Beach Digital Food Dehydrator is worth considering. It's user-friendly, efficient, and equipped with modern features that make it a dependable choice for a variety of dried foods. Whether you want to indulge in a fruit leather treat, spice up some homemade jerky, or dry out herbs for cooking, this unit has got you covered.
Customer Review (source: Amazon)
Switched from an Excalibur to this Hamilton Beach dehydrator and I'm thrilled. It's compact, efficient, and the clear lid lets me easily check on my nuts as they dehydrate. Noise level is noticeable but not annoying. My only wish is for more mesh screens and a nut recipe in the manual. Overall, Hamilton Beach continues to impress me with their well-designed products.
---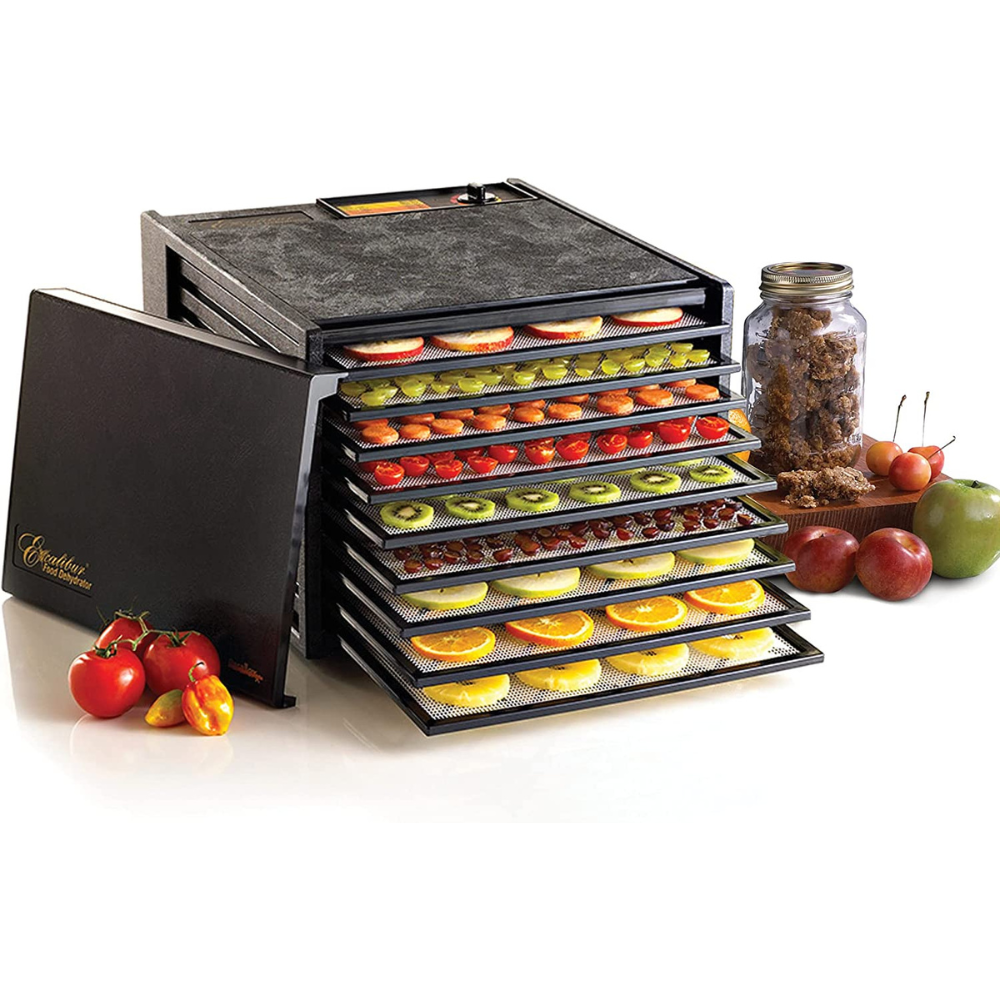 Excalibur Food Dehydrator: 9 Trays
For those willing to invest in a high-end experience, the Excalibur is the top choice. Known for its premium build quality and advanced features, this model offers superior performance and durability, justifying its higher price point.
Check Price on Amazon
What We Love
Large Capacity: Nine trays offering 15 sq. feet of drying space for all your dehydration needs.
Accurate Temp Control: Easily adjustable thermostat ranging from 105 to 165 degrees F, perfect for both fruits and meats.
Set and Forget: Built-in timer lets you multitask without worry.
Quiet Operation: The 7-inch fan is powerful yet surprisingly quiet, ideal for frequent use.
Non-Stick Trays: Poly-tray design prevents food from sticking, making it easier to clean.
What to Keep in Mind
Space: It's a sizable machine, so you'll need ample counter space.
Noise: One notable feature of this dehydrator is its loud operation.
Why It Might Be Right for You
Suppose you're the host who loves going the extra mile, transforming home-cooked meals into gourmet experiences. Picture your guests marveling at your homemade jerky and dried fruits, all thanks to the Excalibur 9-Tray Food Dehydrator. Its versatility will complement your culinary ambition, and its quiet operation ensures that your creative flow remains undisturbed.
Customer Review (source: Amazon)
The Excaliber dehydrator is the best I've used in 35 years, thanks to its efficient sideways airflow design. It's a workhorse that dries food quickly and evenly, although it's quite loud. If you're serious about dehydrating, this is the one to get.
---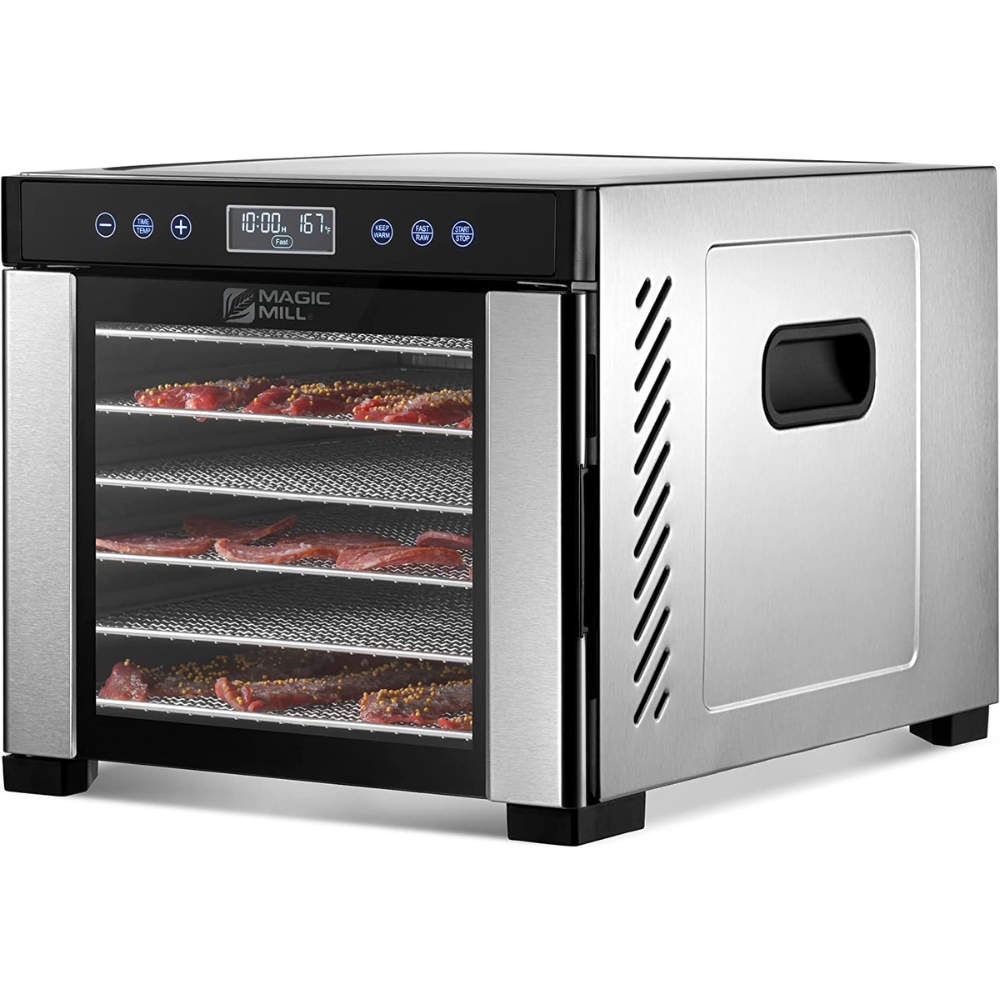 Magic Mill Food Dehydrator: 7 Trays
If you want a high-quality dehydrator without committing to a commercial-scale investment, this model is for you. It ranks well in user-friendliness and noise control, and it offers extra features like automatic shut-off and keep-warm functions, adding a level of convenience to your dehydration tasks.
Check Price on Amazon
What We Love
Ease of Use: Intuitive design that's easy to operate, ideal for beginners.
Affordable Efficiency: Dries food evenly without breaking the bank.
Auto Features: Comes with an automatic shut-off and timer for worry-free use.
Spacious Trays: 7 adjustable stainless steel trays offer flexibility in what you can dry.
Safety First: Built-in overheat protection and BPA-free materials.
What to Keep in Mind
Manual Monitoring: No built-in mechanism to alert you if the unit is overheating, although it does have overheat protection.
Why It Might Be Right for You
Picture a weekend crafter who has just ventured into herb gardening. Your Magic Mill Food Dehydrator becomes more than a kitchen appliance—it's your sidekick in sustainable living. Easily dry homegrown herbs or craft your own fruit leathers. With its automatic shut-off, you can engage in other weekend projects without worry. From the garden to the plate, this dehydrator adds that extra touch of homemade love to your life.
Customer Review (source: Amazon)
I was torn between this and an Excalibur, but I'm glad I chose this Magic Mill dehydrator. The stainless steel racks and timer are great features. It's easy to use, relatively quiet, and I've successfully dried a variety of foods. The preset temperatures took some getting used to, but they work well. No plastic smell, and it even makes the house smell good. I'm looking forward to using it more, especially for emergency prepping.
---
How We Chose The Best Options
If you're a fan of dehydrated foods, then you'll want to get the best dehydrator for jerky. There are many different models on the market, but not all of them are created equal. Features to consider in a top-tier dehydrator include dishwasher-safe trays, auto shut-off and timer functions, adjustable temperature settings, and a high-quality air flow system for even drying.
Dishwasher-safe trays simplify the cleaning process and are essential for those who plan to use the dehydrator frequently. The auto shut-off and timer functions add a layer of convenience and safety. Adjustable temperature settings allow you to perfectly dial in the drying conditions for different types of food, while an efficient air flow system ensures even drying and high-quality results.
Our team has rigorously researched each product to ensure it meets our high standards, which include not only the above features but also factors like build quality, brand reputation, and value for the money.
---
How do Dehydrators Work?
A food dehydrator consists of several common components regardless of their style. The first is an enclosure that houses the heating element as well as the fan. You've also been provided with trays to store the food items.
The entire apparatus is locked to keep the heat in to ensure that food items are rapidly dehydrated in a secure and clean setting.
Once you've finished making your dried snacks, just open the dehydrator, take out the trays, and then clean the dehydrator thoroughly.
You can then store it for the time to make use of it. This is the reason why it is so useful for making homemade jerky.
---
What to look for before buying a dehydrator
If you're looking for the best dehydrator for jerky making, then you've come to the right place. A food dehydrator is a great way to preserve food, and it's also perfect for making beef jerky. Jerky is a great snack that's high in protein and low in fat, and it's easy to make at home with a dehydrator.
There are a few things to consider when choosing a dehydrator for jerky making. First, consider the size of the unit. You'll want to choose a dehydrator that has enough space to accommodate the amount of jerky you want to make.
Second, think about the features you need. Some dehydrators have dishwasher-safe trays, while others have an automatic shut-off feature or temperature control.
Third, consider your budget. Dehydrators can range in price from around $30 to $200, so decide how much you're willing to spend on this kitchen appliance.
And fourth, read reviews from other customers before making your final decision.
This will help you get an idea of which dehydrators are the best on the market. So what is the best dehydrator for jerky? That depends on your individual needs and preferences. But we've compiled a list of our top picks to help you narrow down your choices.
The best dehydrators possess a few important features that you must be aware of when you shop.
Size
The size of your dehydrator is a major factor. Smaller units aren't capable of dehydrating enough jerky at the same time as larger units.
Dehydrating meat can take a long time, regardless of the type of dehydrator you choose to purchase. Therefore, it is likely that you'll be able to prepare large quantities of jerky in advance rather than making smaller portions when you're in the mood for a meaty snack comes up.
Consider the amount of jerky you'd like to consume in the future and work from there. Get a larger dehydrator even if it's costly if your preference is jerky as your primary everyday snack. Choose a smaller one for jerky that you use only occasionally.
You'll also want to keep in mind how much storage space you have. Choose a smaller option if you don't have the space for a large dehydrator.
Vertical/Horizontal Airflow
The two airflow variations are typical for dehydrators. They are not necessarily superior to one, but each one has its own advantages and disadvantages.
Vertical airflow dehydrators are equipped with fans that are mounted on the top or at the bottom. They are usually not excessively expensive.
They're smaller than horizontal dehydrators, which means they're a great option if you have an overcrowded kitchen counter.
They're not as efficient as horizontal dehydrators, but.
This is due to the fact that air that flows upwards or downwards through the dehydrator isn't flowing across the entire length of a particular portion of food. The process of drying and evaporation takes place slightly slower because of this.
You could try shifting the racks in your vertical airflow dehydrator in order to adapt to this.
Horizontal airflow dehydrators are equipped with fans that are located in the rear of the unit.
This placement of the fan allows each shelf in the dehydrator to receive the same amount of air circulation.
The air flows over the entire length of meat, enhancing the evaporation of moisture and ensuring that the entire strip is dried equally.
It's also simpler to inspect your meat racks by using a horizontal dehydrator. The trays typically can be removed like a rack or drawer. It's simple to move meat or vegetables by sliding them out this way.
Noise Level
Also, be sure to check the potential sound levels that a dehydrator can produce. They can be quite noisy due to the fact that they utilize moving air and fans to dry the strips of meat.
It is possible to determine the exact levels of noise of a particular dehydrator in the instruction manual or in the specifications for the product.
Usually, the more expensive dehydrators have quieter fans and soundproofing methods. These are designed to make them easier to operate for the course of a long time.
Less expensive units are likely to be quieter in general. It is advisable to get a dehydrator that is quieter if you intend to use it often.
Temperature Setting
Dehydrators that incorporate some form of temperature control built into their designs are worth a glance. Since temperature plays a huge amount when you make your own chewy, having the ability to regulate it is a huge benefit.
The temperature of the jerky must be at least 160 degrees, except for poultry, which must be 165 degrees F.
Temperature settings allow you to easily prepare your jerky to this safe temperature without the need to constantly check.
You should consider purchasing an instrument for temperature, particularly when you purchase an appliance that does not have a detailed temperature setting.
If your dehydrator isn't able to achieve temperatures of 160degF, you could cook the jerky in an oven before cooking it to the desired temperature. After that, you can put it in the dehydrator until it is completely dry.
But it takes longer than just being able to put the jerky into the dehydrator itself.
---
Frequently Asked Questions about Dehydrators for Jerky
Do I need a dehydrator for jerky making?
There are many methods to create jerky. The production of jerky began hundreds or even thousands of years prior to the introduction of refrigeration which means it's a very primitive method of preserving food. What a food dehydrator can do is make it simple to use, easy, and safe for you to dry meat (and vegetables and fruits).
Are dehydrators worth it?
A food dehydrator is an excellent kitchen appliance for those who like the taste of jerky, vegetable chips, and dried fruits, but even the regular kitchen cook will find plenty of benefits to having a dehydrator.
We've discussed a lot about cultivating the food you eat, harvesting from your meat, and discovering ways to increase the number of foods you have without going to the grocery store.
With prices for food rising, the need for a food dehydrator is even more sense as you'll pay less for foods in bulk and then use the dehydrator to keep any excess food items that you don't take in right away or store in your freezer.
What are the advantages of a dehydrator?
There is no method to make jerky more practical than using a dehydrator for food. The process is easy and quick. It is also completely enclosed.
You don't have to spend hours monitoring the progress, altering the temperature, or coping with having to use an appliance like an oven.
Cleaning the dehydrator also has a benefit over other methods as the majority of components are dishwasher safe or easy to clean and maintain clear.
Contrary to using an oven or smoker, which can be difficult to wash, cleaning a top-quality dehydrator is clean in a matter of only a few minutes.
It's easier to clean the dehydrator than an oven or a smoker, and all the time you'll save will make your life more enjoyable.
The operating costs of dehydrators are also less than nearly every other technique. Food dehydrators utilize electricity to generate heat and a fan to move air.
It doesn't wind with a lot of power. If your smoker is going to be among the most expensive methods, create homemade jerky; the dehydrator is among the most affordable.
Is it possible to dehydrate your meat for too long?
Based on the way you like the jerky you make, you don't have to make sure that you don't dehydrate the meat for too long.
The longer you cook it, the drier it gets, and it's all about what you intend to use for the jerky.
If you plan to store the jerky for a long time, you may prefer to let it dehydrate for longer. However, if you're making it to bring to camp for the weekend, then you (and your companions) may prefer a more flavorful and more convenient batch that doesn't need more drying time.
What is the ideal temperature at which I dehydrate my homemade jerky?
It is recommended to dehydrate your jerky at a temperature of 150-160 degrees. The secret to creating excellent jerky is to make it slow and slow.
Drying your meat to this degree over a long time will ensure that you get rid of the moisture and also any risk of the growth of bacteria.
Of course, the length of time it takes to dry your meat will vary based on the unit you choose to use and the number of batches that you prepare, but you should be prepared to be spending anywhere from 4 to 8 hours drying the meat.
Do you need curing salt for beef Jerky?
Although there are many opinions regarding whether you require curing salt for jerky or not but there are some benefits when using it. Curing salt (sodium Nitrite) aids in fighting certain bacteria that thrive in jerky-making conditions.
Although you may be sick from eating excessive amounts of curing salt, making sure you use the correct quantity is a good option to ensure you and your family members aren't ill with foodborne illnesses.
Do I need to rotate trays in the dehydrator while cooking?
No, you don't need to rotate the trays while cooking; however, it's a good idea to rotate them occasionally so that all the food gets evenly dehydrated.
---
Overall, Excalibur 9-Tray Electric Food Dehydrator is a fantastic option for those looking for an all-around good dehydrator.
There's plenty of room for temperature control, space, and even timers to allow you to customize your jerky exactly how you'd like it. No matter what you pick, make sure you have fun and enjoy your next meal!
We hope our article on the best food dehydrator for jerky has helped you find what you were looking for!
Items reviewed: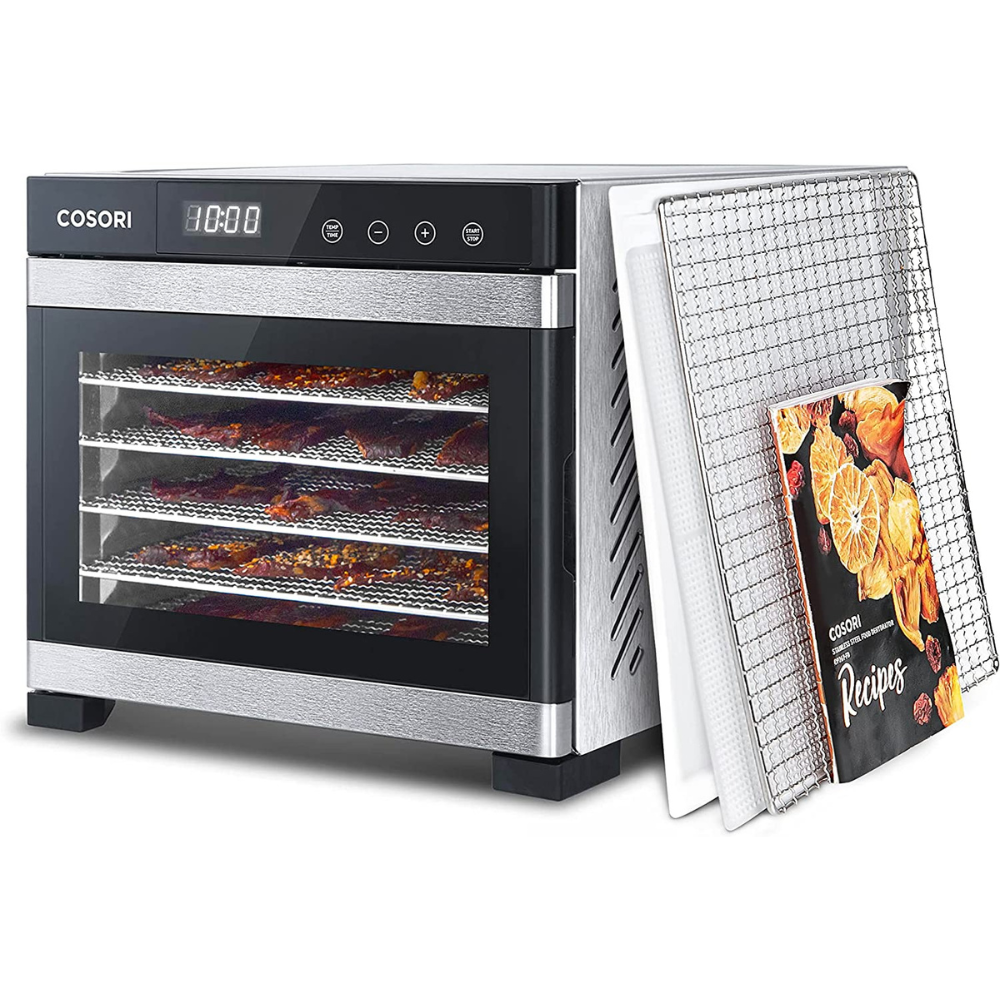 Best Overall: COSORI Food Dehydrator: 6 Trays
The Cosori Food Dehydrator offers a well-rounded set of features, making it ideal for users interested in a variety of dehydrated foods, from jerky to fruit leathers. With an emphasis on performance, ease of use, and space efficiency, it stands out as a reliable all-rounder.
Check Price on Amazon
Further Reading
If you're looking to master the art of making beef jerky, don't miss the article "How to Make Beef Jerky in a Dehydrator" by Jerkyholic.
---