Say hello to effortless slicing with the latest kitchen MVP: the electric knife. Gone are the days of squished bread and uneven cuts. In this quick guide, we're dishing out the top six electric knives that blend power, precision, and ease, making every slice as satisfying as the first. Ready to upgrade your carving game? Let's cut to the chase!
🤝As an Amazon Associate, we earn from qualifying purchases made through our links, at ZERO additional cost to you.
---
6 Best Electric Knives
---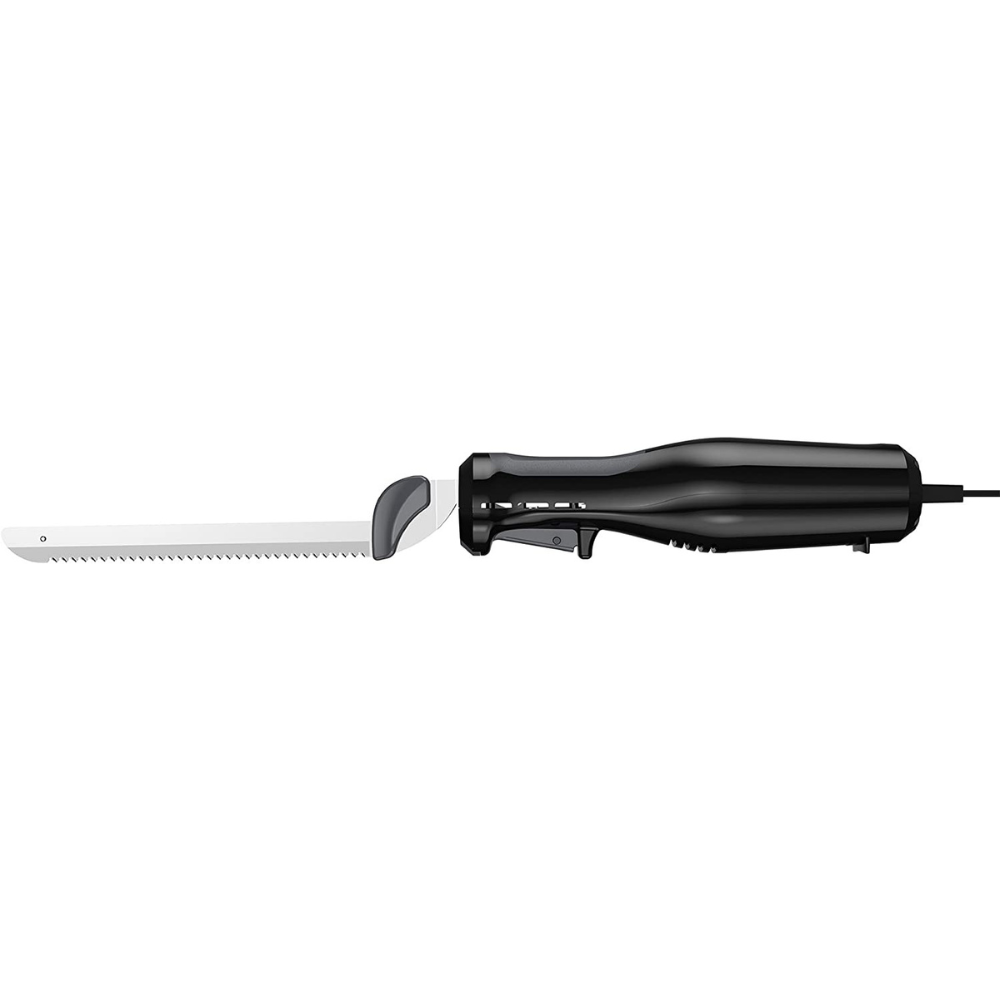 Black + Decker Electric Carving Knife
With its quiet operation, ergonomic handle, and safety features, the Black + Decker knife is a versatile and reliable choice that excels in a variety of tasks, making it the best option for most users.
Check Price on Amazon
What We Love:
Silent Efficiency: Cuts quietly through various foods with minimal vibration.
Ergonomic Excellence: Round handle design ensures a comfortable and secure grip.
Safety Assured: Features a safety lock button for secure operation.
What to Keep in Mind:
Vibration Control: While minimal, be mindful of any vibration during extended use.
Why It Might Be Right for You:
The Black + Decker Electric Carving Knife is for the culinary enthusiast who appreciates the sound of a quiet kitchen while working their magic on meats and breads. Its silent operation means you can focus on the texture and precision of each slice, feeling the comfort of the handle that just seems to understand the contours of your hand. Whether you're dishing out perfectly carved chicken or slicing through a crusty baguette, this knife is a testament to the quiet power that lies in a well-equipped kitchen. It's not just about cutting; it's about creating culinary masterpieces with confidence and calm.
Customer Review (source: Amazon)
I'm thrilled with my new slicer; it's a powerhouse for slicing everything from roast beef to turkey. The blades came razor-sharp right out of the box and have maintained their edge beautifully. The lower blade placement is a game-changer for ease of cutting, and while the ergonomic design is comfortable with its rubberized grip, I haven't seen much difference in wrist fatigue — the handle could be a tad smaller for my liking.
---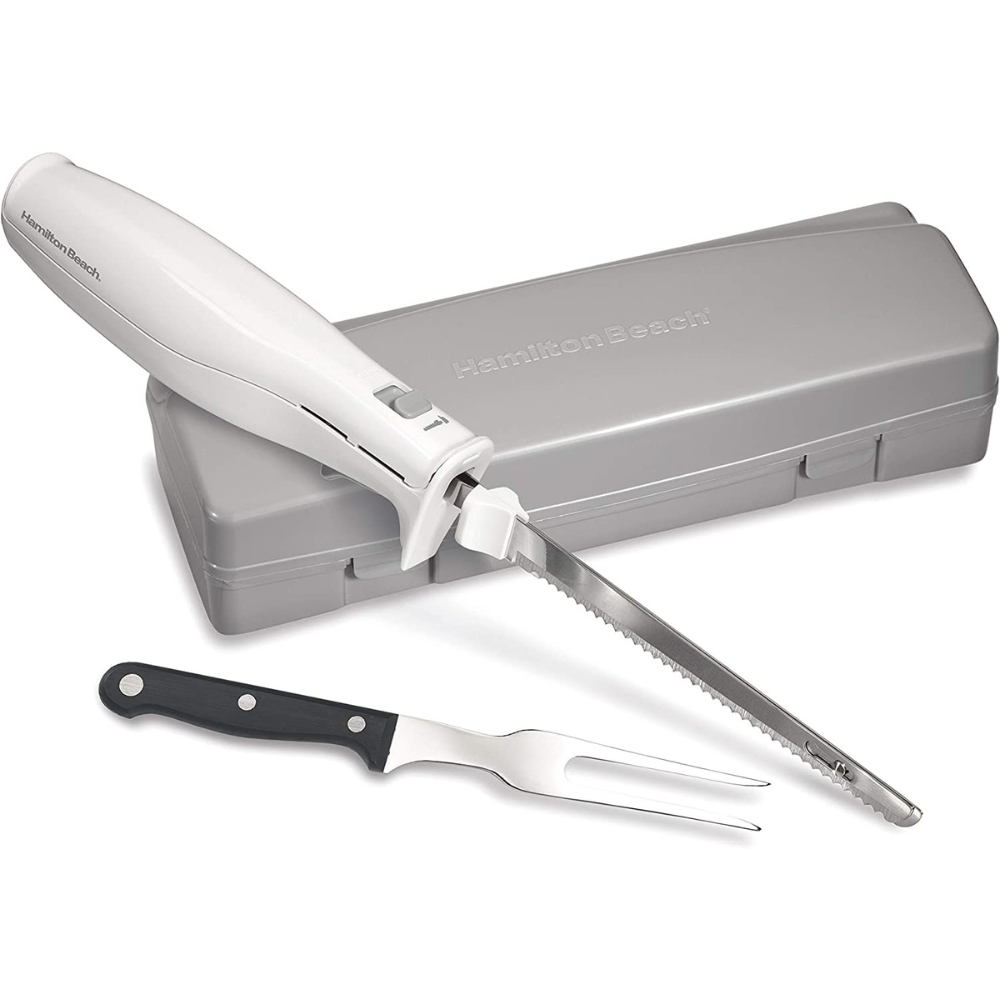 Hamilton Beach Electric Knife
The Hamilton Beach knife earns the Editor's Choice for its blend of performance, comfort, and versatility. It's a standout for its ability to create even slices and its ergonomic design, making it a top pick for both casual and serious cooks.
Check Price on Amazon
What We Love:
Poultry Pro: Excels in cutting chicken cleanly.
Tomato-Friendly: Handles tomatoes well, despite juice retention.
Value for Money: High performance with an affordable price tag.
Crafting Companion: Versatile enough to be used for crafting projects.
What to Keep in Mind:
Safety Feature: Lacks a child safety lock.
Why It Might Be Right for You:
The Hamilton Beach Electric Knife is a symphony of precision and comfort for those who take their kitchen craft seriously. Whether you're carving the Thanksgiving turkey or slicing homemade bread, this knife's ergonomic handle and efficient blades work in concert to create the perfect slice. It's the kind of tool that becomes an extension of your own hands, turning a daunting task into a simple joy. And when the meal is done, it tucks away neatly, ready for the next performance. This isn't just a knife; it's a key player in the culinary concerts of your kitchen.
Customer Review (source: Amazon)
I absolutely love this electric knife! It glides through bread like a dream and made my Thanksgiving turkey carving a breeze, giving me perfectly sliced pieces. It's a fantastic helper, especially since I'm not the best at carving. Just remember to let the knife do its job without pushing down too hard. A longer cord would make it perfect, but an extension cord does the trick. I highly recommend it!
---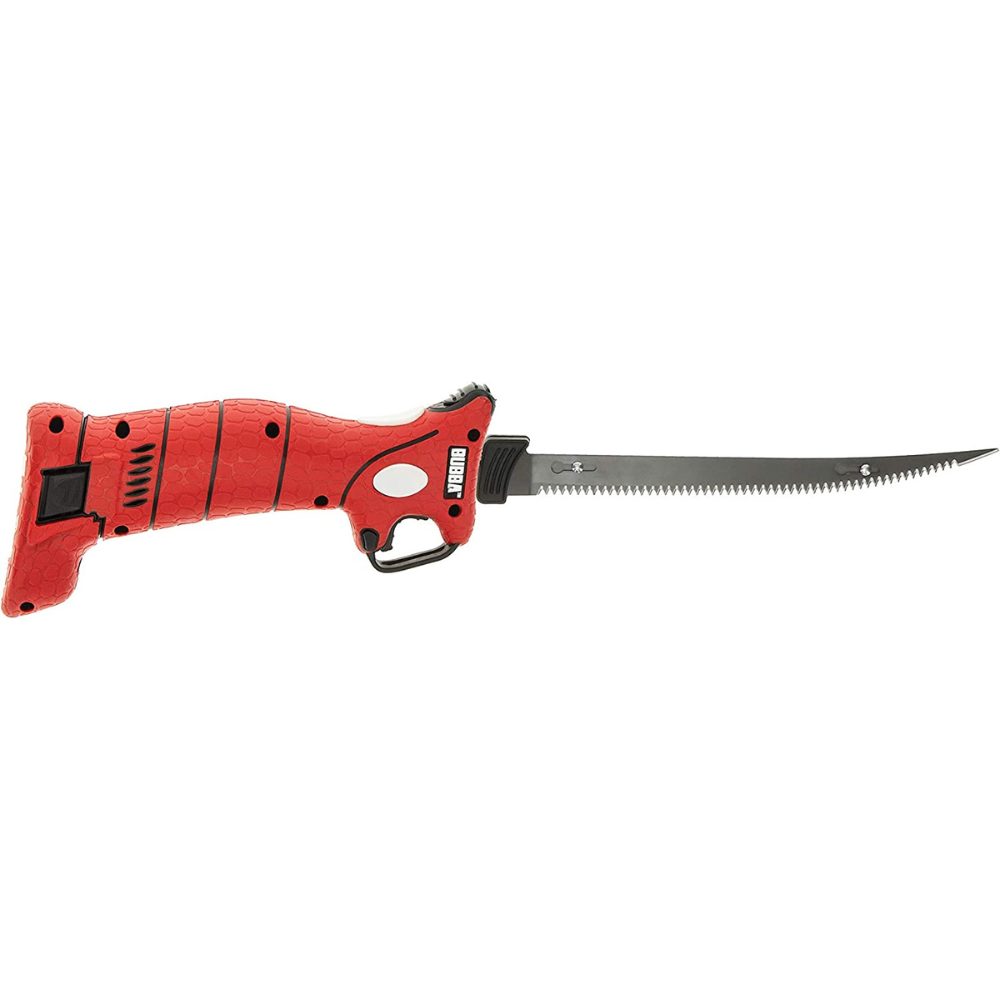 BUBBA Cordless Fillet Electric Knife
The BUBBA knife is the ideal splurge for those looking for a top-tier cordless option. Its specialized blades and ergonomic design cater to those who are serious about their filleting and slicing tasks.
Check Price on Amazon
What We Love:
Effortless Precision: Non-stick, TiN-coated blades for smooth filleting.
Versatile Blades: Four blade options to suit any filleting task.
Cordless Freedom: No cords to tangle, with a clear battery life indicator.
Safe Handling: Non-slip grip and trigger guard for secure use.
Easy Clean-Up: Blades detach for cleaning; storage case included.
What to Keep in Mind:
Battery Management: Watch the LED to ensure you're charged for the task.
Heft: At over a pound, consider if the weight suits your use.
Why It Might Be Right for You:
For the angler who sees fishing as an art, the BUBBA Cordless Fillet Electric Knife is more than a tool—it's a companion. With its suite of blades, you're ready to turn today's catch into a gourmet feast. The heft of the handle balances in your hand, the blades slice cleanly, and the fish nearly fillets itself. This isn't just about the catch; it's about the joy of creating something delicious with ease and expertise. Whether you're streamside or kitchen-bound, this knife is ready to transform your experience from catch to cuisine.
Customer Review (source: Amazon)
This knife exceeded my expectations with its ease of use and versatile blade selection. I put it to the test with a brisket right off the smoker, and even though it was tender and moist, the knife, especially the 12" stiff blade, made clean, precise cuts. It's also cordless, which is a huge plus for me, making it hassle-free to carve at the table. Although I initially thought it was a bit pricey, it's proven to be well worth the investment. Can't wait to use it on the whole fish I'll be grilling next!
---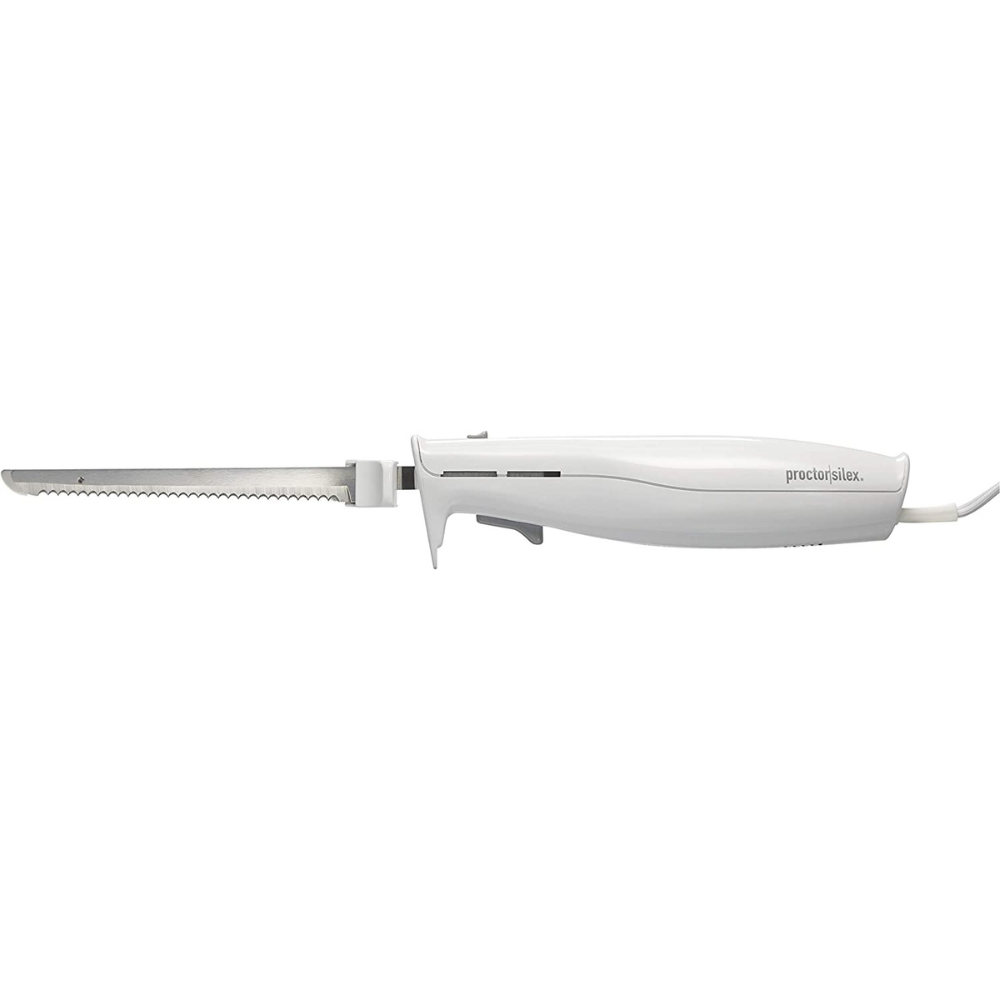 Proctor Silex Easy Slice Electric Knife
The Proctor Silex knife is an excellent choice for those who need an affordable yet effective electric knife. Its lightweight build and ease of use provide great value without compromising on quality.
Check Price on Amazon
What We Love:
Featherlight Design: Easy on the arms, even during extensive carving sessions.
Economical Choice: Offers quality slicing without the hefty price tag.
Multipurpose Mastery: Equally adept at food preparation and craft projects.
What to Keep in Mind:
Cord Length: While the long cord offers reach, ensure it doesn't get in the way.
Why It Might Be Right for You:
For those who find joy in the simple pleasures of a well-carved roast or the perfect slice of bread, the Proctor Silex Easy Slice Electric Knife is a match made in culinary heaven. Its lightweight design means your focus stays on the finesse of your food, not the fatigue in your forearm. As you guide the blades through a succulent ham or a tender turkey, the ease and efficiency of this knife make every slice feel like a celebration of your culinary skills. This knife is the unsung hero of holiday feasts and creative kitchen endeavors alike.
Customer Review (source: Amazon)
Ever since we started baking our own bread, this knife has become an essential tool in our kitchen. It slices through even the softest, freshest loaves with ease, allowing us to get those thin slices we love without compromising the bread's shape. Before this, we were stuck with thick slices to avoid tearing the bread, but this knife cuts so smoothly, it's like having a hundred little scissors doing the work without any pulling or tearing.
---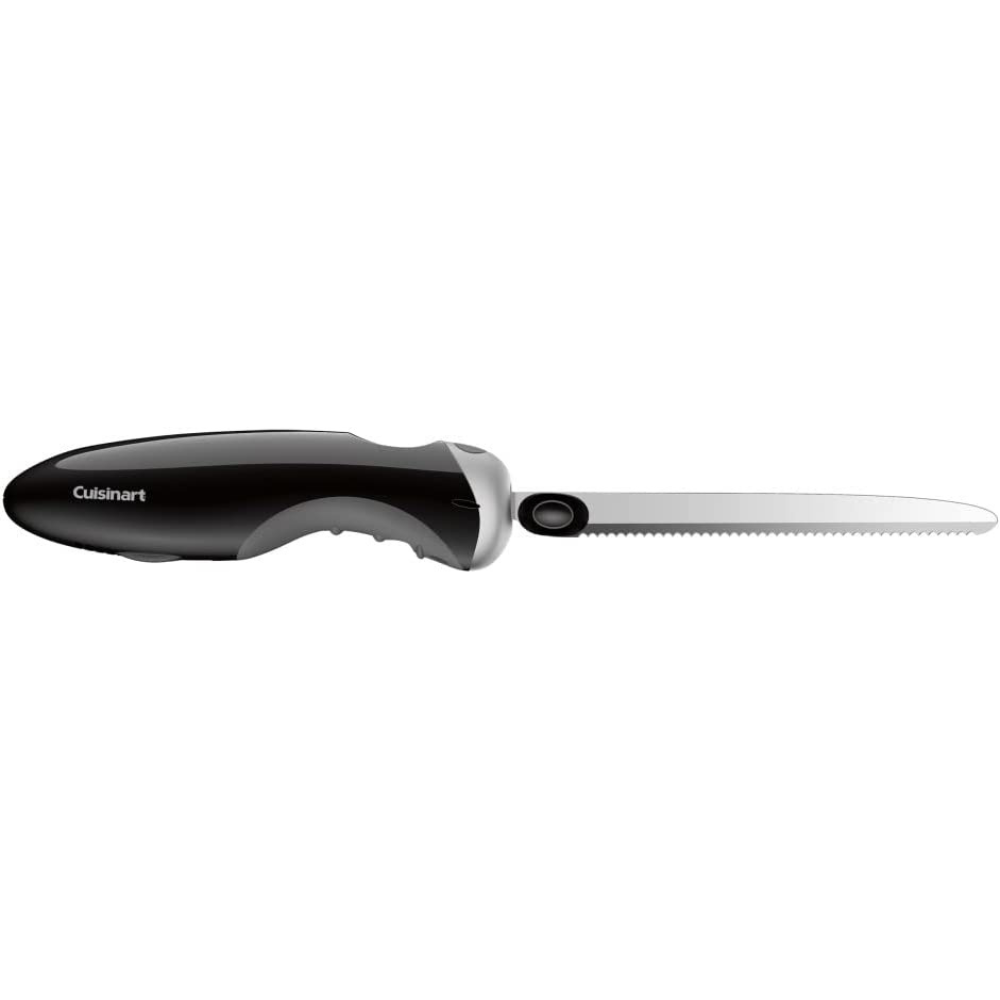 Cuisinart Electric Knife
The Cuisinart knife's straightforward operation and comfortable handling make it an excellent choice for those just starting out with electric knives.
Check Price on Amazon
What We Love:
Ergonomic Design: Curved handle with finger grooves for a comfortable grip.
Tomato Titan: Excels in slicing tomatoes flawlessly.
Budget-Friendly: High performance without the high price tag.
Inclusive Design: Suitable for both right- and left-handed users.
What to Keep in Mind:
Size Limitations: May not be long enough for larger bread types.
Why It Might Be Right for You:
In the dance of dinner preparation, the Cuisinart Electric Knife is your willing partner, gliding through tomatoes like a tango of precision. If your culinary repertoire often includes meats, vegetables, and the occasional loaf of soft bread, this knife could be the extension of your hand you never knew you needed. With a handle that feels tailored to your grip and a blade that responds to the slightest pressure, your kitchen tasks become less of a chore and more of a pleasure. This knife is a slice of kitchen happiness, especially for those who appreciate a tool that's as easy to use as it is on the wallet.
Customer Review (source: Amazon)
This electric knife has been a huge help for me. Dealing with wrist pain, I found it incredibly difficult to use a regular serrated knife for my homemade bread. After spotting this knife on YouTube, I didn't hesitate to order it, and it's been a perfect match with my bread guide. Baking has become even more enjoyable now! The knife initially felt heavy, but I've gotten used to the weight, and it significantly eases the strain on my wrist. A heartfelt thanks for this product!
---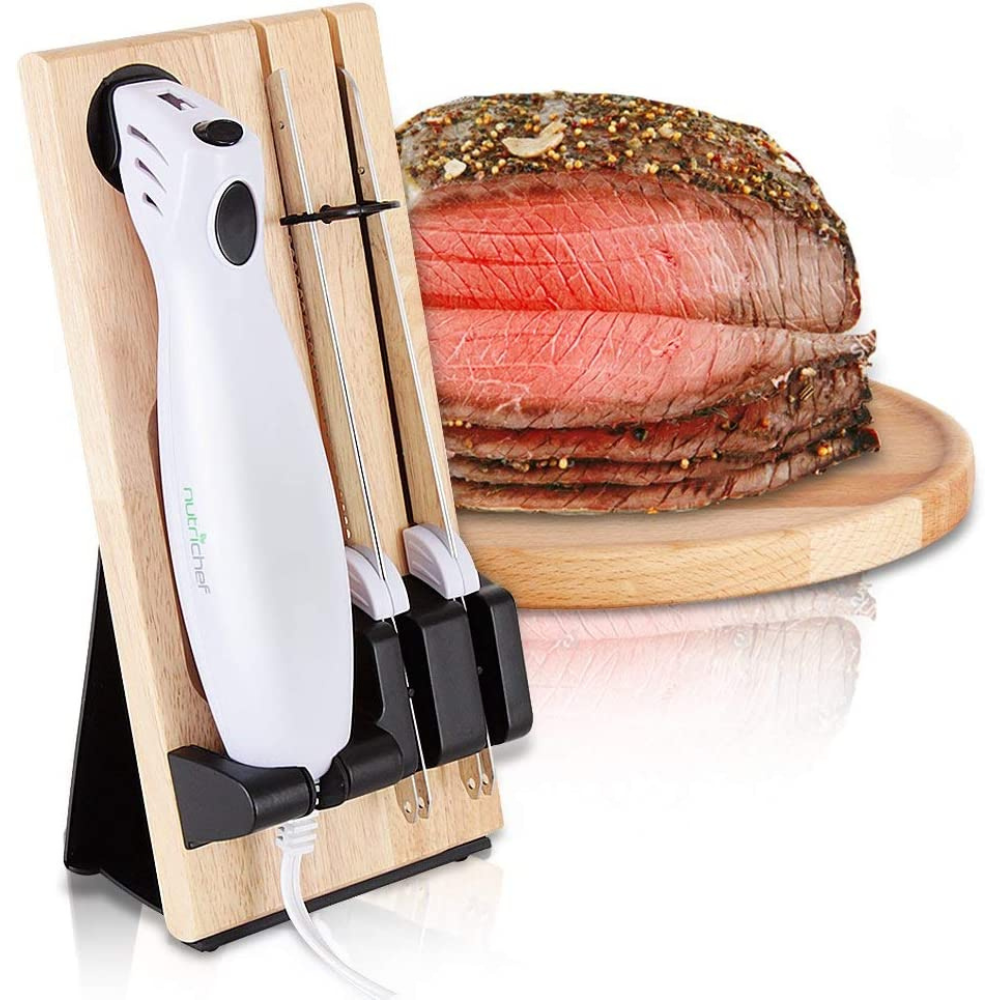 NutriChef Electric Knife
The NutriChef knife is perfect for those who need precise and consistent slicing, with safety features that make it suitable for detailed kitchen work or crafts.
Check Price on Amazon
What We Love:
Comfortable Control: Ergonomically designed handle for ease of use.
Safety First: Two-button security feature to prevent accidents.
Versatile Cutting: Includes specialized blades for bread and carving.
Durable Blades: Stainless steel construction for longevity.
What to Keep in Mind:
Safety Lock: Remember to engage the safety lock to ensure safe operation.
Why It Might Be Right for You:
The NutriChef Electric Knife is a testament to the joy of cooking without the struggle. It's for the home chef who revels in the preparation of a family feast, the slicing of a freshly baked loaf, or the carving of a holiday turkey. With the safety lock engaged and the perfect blade attached, you transform from a cook to a culinary artist. The wooden block not only stores your tool but stands as a monument to the craft of cooking. This knife is about making memories in a kitchen where frustration is replaced by flawless execution.
Customer Review (source: Amazon)
This knife is a blessing for someone with arthritic hands like mine; it's easy to grip and slice without any fuss. Inserting the blades is a breeze, and they're incredibly sharp. I appreciate the blade covers too — no worries about accidental cuts. However, the holder could use some improvement; it's unstable and topples over too easily.
---
How We Chose Our Top Picks
Our journey to uncover the electric knife that reigns supreme involved cutting through the hype to focus on what truly matters in slicing excellence. Our expertise stems from an exhaustive analysis of product details, a meticulous review of consumer experiences, and a critical comparison with market rivals. We've pored over customer feedback from reputable platforms like Amazon, identifying trends that signal enduring performance and potential drawbacks.
Our methodology is anchored in discerning the subtle yet critical aspects that separate a mediocre electric knife from a standout performer. We've evaluated key factors such as blade integrity, motor power, ergonomic design, and operational noise levels. Durability and user-friendliness are paramount in our assessment, ensuring that each knife we recommend is up to the challenge of frequent use.
By contrasting these knives with their counterparts, we've pinpointed those that not only meet the standard cutting tasks but also bring added value with their versatility and innovative features. Our aim is to equip you with the insights and understanding necessary to select an electric knife that seamlessly complements your culinary endeavors.
---
What to Consider When Buying an Electric Knife
Ergonomic Handles: The Grip That Fits
Comfort is king when it comes to electric knives. A shaky grip not only makes for a messy cut but can also lead to hand fatigue over time. Look for a model with an ergonomic handle that feels natural in your hand and promises a steady, non-vibratory experience even during extended use.
Corded vs. Cordless: The Power to Choose
While corded electric knives are prevalent due to their affordability and reliability, the allure of cordless models is undeniable. Cordless knives offer the freedom to carve anywhere, sans the tether of a power cord. However, they do introduce the concern of battery life. When opting for cordless, ensure the model boasts a battery life that won't leave you in the lurch during those critical culinary moments.
Blade Quality and Variety: The Cutting Edge
Typically, electric knives come with a single blade, often in the 8 to 10-inch range, which is sufficient for general use. Some models, however, offer additional blades for specialized tasks — a feature that may be overkill for the occasional user but invaluable for the avid chef. Removable and dishwasher-safe blades are a bonus for easy maintenance.
Accessories: The Added Touch
While accessories like a carving fork may not be essential, a storage case can be a game-changer. Electric knives, with their bulkier handles and cords, don't nestle as neatly in a drawer as traditional knives. A dedicated storage solution not only keeps your electric knife accessible and safe but also helps maintain its condition.
Ease of Use: The User Experience
Electric knives are typically activated by a trigger or button. It's worth testing the feel of the knife in your hand before purchasing, as personal preference can greatly influence satisfaction. Additionally, features like larger finger guards can enhance safety and ease when it comes to blade removal and cleaning.
---
Frequently asked questions
What are the benefits of stainless steel blades in an electric knife?
Stainless steel blades are known for their durability and resistance to rust and corrosion, making them a long-lasting option for electric knives. They are easy to clean and maintain, ensuring that your knife remains hygienic and efficient over time.
How do serrated blades improve the performance of an electric knife?
Serrated blades are designed with teeth-like edges that are ideal for cutting through tougher or more fibrous materials. This makes them perfect for tasks such as slicing bread or carving meats, as they grip the surface and reduce slippage for cleaner cuts.
Why might someone choose a cordless electric knife over a corded one?
A cordless electric knife offers greater mobility and convenience, allowing you to move freely without being tethered to a power outlet. This is particularly useful when working in larger kitchen spaces or when you need to carve or slice away from the countertop.
Is there a difference between a serrated stainless steel blade and a stainless steel serrated blade?
No, there is no difference between the two terms. Both refer to a stainless steel blade that has a serrated edge, combining the benefits of stainless steel with the cutting efficiency of a serrated design.
When would you use two stainless steel blades with an electric knife?
Many electric knives come with two stainless steel blades to provide versatility. One blade may be optimized for carving meats, while the other might be designed for slicing bread or other delicate foods. Having two blades allows you to switch between tasks with ease.
What items are typically included in a Cuisinart electric knife set?
A Cuisinart electric knife set usually includes the electric knife itself, a carving blade, and often a bread blade. Some sets may also come with additional accessories like a carving fork or a storage case.
What is the purpose of a carving blade on an electric knife?
A carving blade is specially designed to slice through meats smoothly, allowing you to create even, aesthetically pleasing slices. It's ideal for carving roasts, hams, turkeys, and other large cuts of meat.
Can electric knives with serrated stainless steel blades be used for slicing bread?
Yes, electric knives with serrated stainless steel blades are excellent for slicing bread. The serrated edge allows the knife to grip the crust and slice through the bread without crushing it, ensuring perfect slices every time.
---
Items reviewed: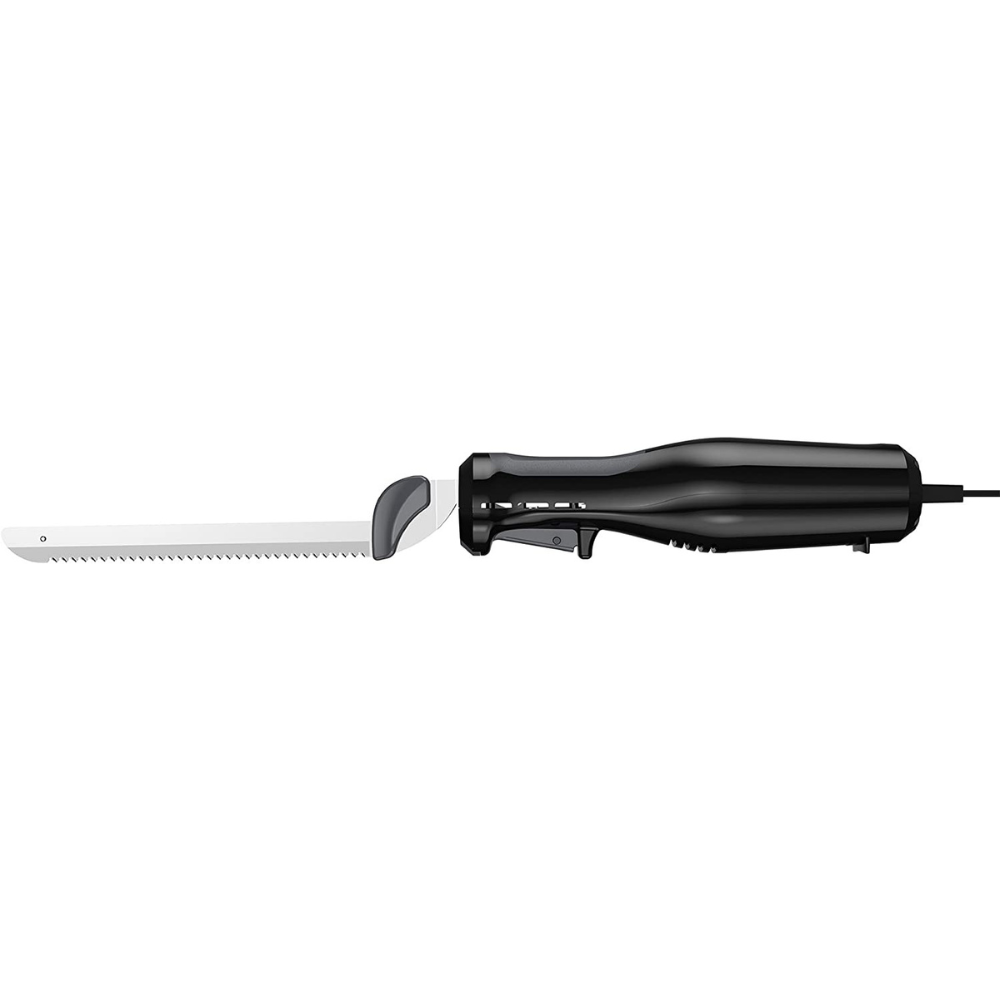 Black + Decker Electric Carving Knife
With its quiet operation, ergonomic handle, and safety features, the Black + Decker knife is a versatile and reliable choice that excels in a variety of tasks, making it the best option for most users.
Check Price on Amazon
Please note that the reviews on this page have been edited for readability and clarity while maintaining the essence of the original content.
Further Reading
For a step-by-step guide on creating the perfect turkey presentation, be sure to read our article, "How to Carve a Turkey with an Electric Knife," by Hamilton Beach.
---