Chop to it, kitchen heroes! Wave goodbye to those tearful onion battles and the endless veggie prep. It's time to welcome the best food choppers into your culinary corner. These electric marvels are set to be your new favorite countertop companions. Say farewell to the tedious chop-chop and embrace meals made at lightning speed. Are you ready to transform your recipes with just a button's push? Let's find the perfect electric food chopper to revolutionize your kitchen routine!
🤝As an Amazon Associate, we earn from qualifying purchases made through our links, at ZERO additional cost to you.
5 Best Electric Vegetable Choppers
---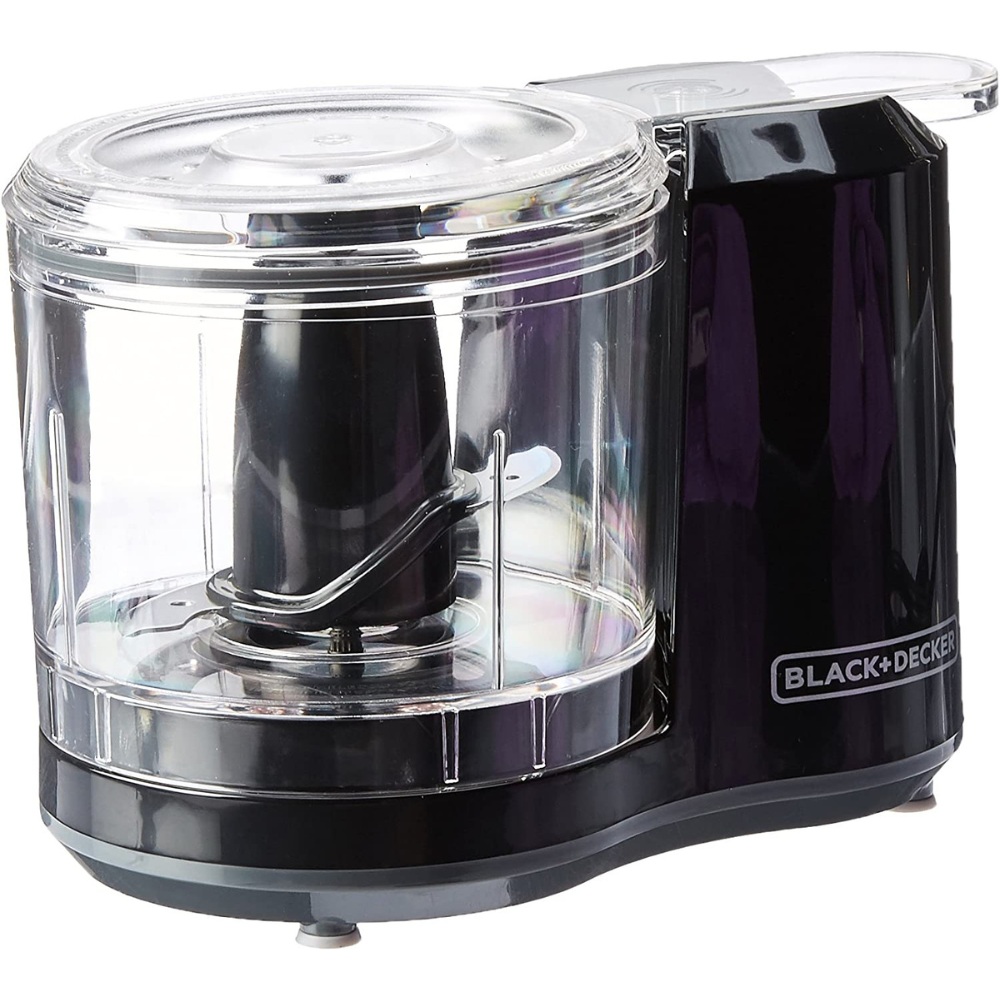 Black + Decker One Touch 1.5 Cup
For its superior compact design, ease of use with one-touch operation, and reliability backed by a two-year warranty, making it an excellent all-rounder for small to medium chopping tasks.
Check Latest Price
What We Love
Compact and Powerful: Ideal for small kitchens, this chopper doesn't skimp on power.
One-Touch Operation: Simple pulsing action for quick and easy use.
Convenient Design: Features like air holes for adding liquids are a plus for recipes like hummus.
Sharp Blades: Beveled blades ensure even chopping, suitable for a variety of foods.
What to Keep in Mind
Small Capacity: Best for individuals or small families, not for bulk prepping.
Dishwasher Safe: Removable parts make cleaning hassle-free.
Why It Might Be Right for You
This chopper is the quintessential kitchen companion for those who appreciate the art of simplicity. Whether you're living in an urban studio or a bustling family home, the Black + Decker One Touch offers just the right blend of compact size, straightforward functionality, and reliability. If you need a dependable chopper that promises to keep your meal prep swift and your kitchen clutter-free, this is the one for you.
Customer Review (source: Amazon)
I've tested others, but this B&D chopper takes the lead with its high-situated blade that powers through onions and celery with ease. It's a breeze to use: just push down on the lid, and voilà, it's chopping time! Plus, the price point is unbeatable – a truly nice little addition to my kitchen gadgets.
---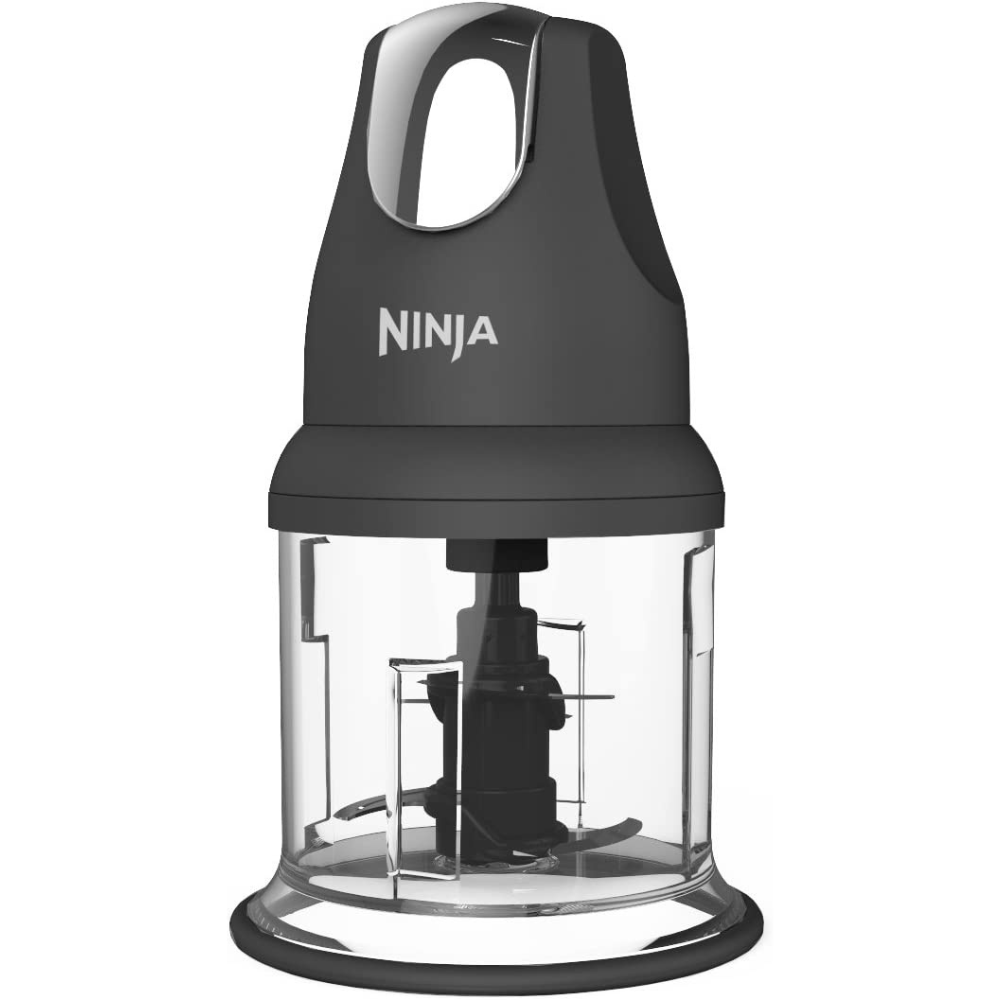 Ninja Food Chopper Express Chop
Due to its blend of power and versatility, with multiple blade options and a robust motor, it's a standout for those who need a chopper that can do more than just basic chopping.
Check Latest Price
What We Love
Robust Performance: The Ninja Food Chopper Express Chop stands out for its robust 200-watt motor and stainless steel blades, capable of slicing through any ingredient with ease.
Versatile Functionality: Whether it's dicing, grinding, or mincing, this chopper offers a sweet spot between a full-fledged food processor and a basic vegetable chopper.
Convenience and Safety: With dishwasher-safe, BPA-free plastic components and a no-slip base, the chopper prioritizes both convenience and safety.
User-Friendly Design: The ergonomic power head ensures comfortable handling during use.
What to Keep in Mind
Handling Soft Foods: Due to its design, extra care is needed when chopping soft foods to avoid over-processing.
Why It Might Be Right for You
Do you revel in culinary versatility and refuse to settle for less? The Ninja Food Chopper is your perfect match. From quickly diced veggies to finely minced herbs, this chopper is for the creative cook who values precision and power. It's like having a sous chef in your kitchen, ready to take on whatever recipe you have in store.
Customer Review (source: Amazon)
I adore this chopper, so much that I just replaced my old one after years of loyal service. It's my go-to for recipe prep, chopping everything just right. Cleaning the lid's grooves takes a bit of effort since it can't be submerged, but a small brush does the trick. It's worth that little extra step for the ease it brings to my cooking routine. I can't imagine my kitchen without it!
---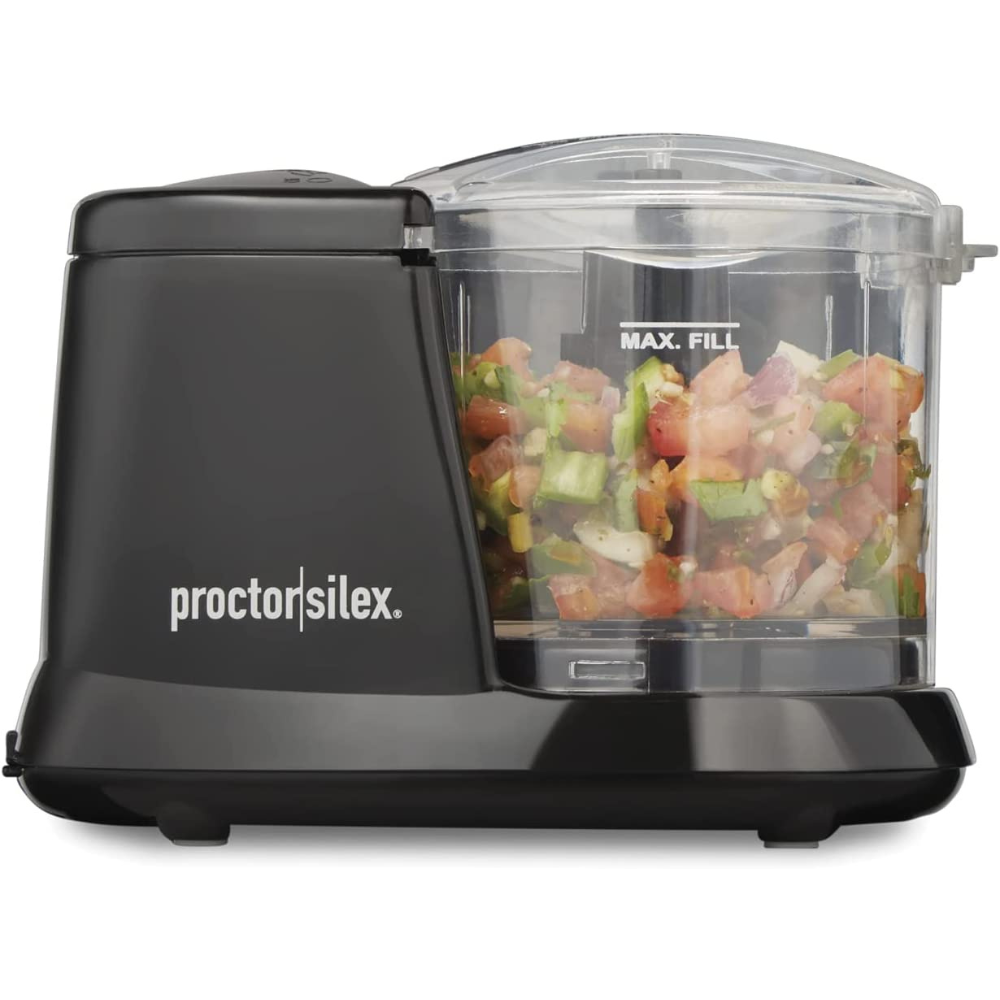 Affordability meets functionality with its powerful 300-watt motor and durable design, offering great value for those looking to save without sacrificing quality.
Check Latest Price

What We Love
Value for Money: Affordable with a robust 300-watt motor.
Durability: Known for longevity even with regular use.
BPA-Free: Offers safe, plastic containers without a high price tag.
Easy Clean-Up: Most parts are dishwasher safe, simplifying the cleaning process.
What to Keep in Mind
Capacity: The 1.5-cup size may not meet the needs of those with larger meal prep requirements.
Why It Might Be Right for You
For the savvy shopper who punches above their weight, the Proctor Silex chopper offers heavyweight performance without the price tag. It's a workhorse in a compact form, ideal for small households or the occasional chef who believes in efficiency and durability. If your kitchen is your castle but you're fiscally savvy, this chopper won't let you down.
Customer Review (source: Amazon)
Just got my third one of these choppers, and it's not because they break down – the electronics are solid. After a decade with each of my previous ones, it was only my knack for dropping the bowl that led to their replacement. I even browsed other options but ended up wanting the same trusty model. It's uncomplicated, cleans easily, and despite my drops, quite durable. I use it weekly, and it's a trooper, though for tiny tasks like a clove or two of garlic, you might consider something smaller. But for everything else, this is my go-to.
---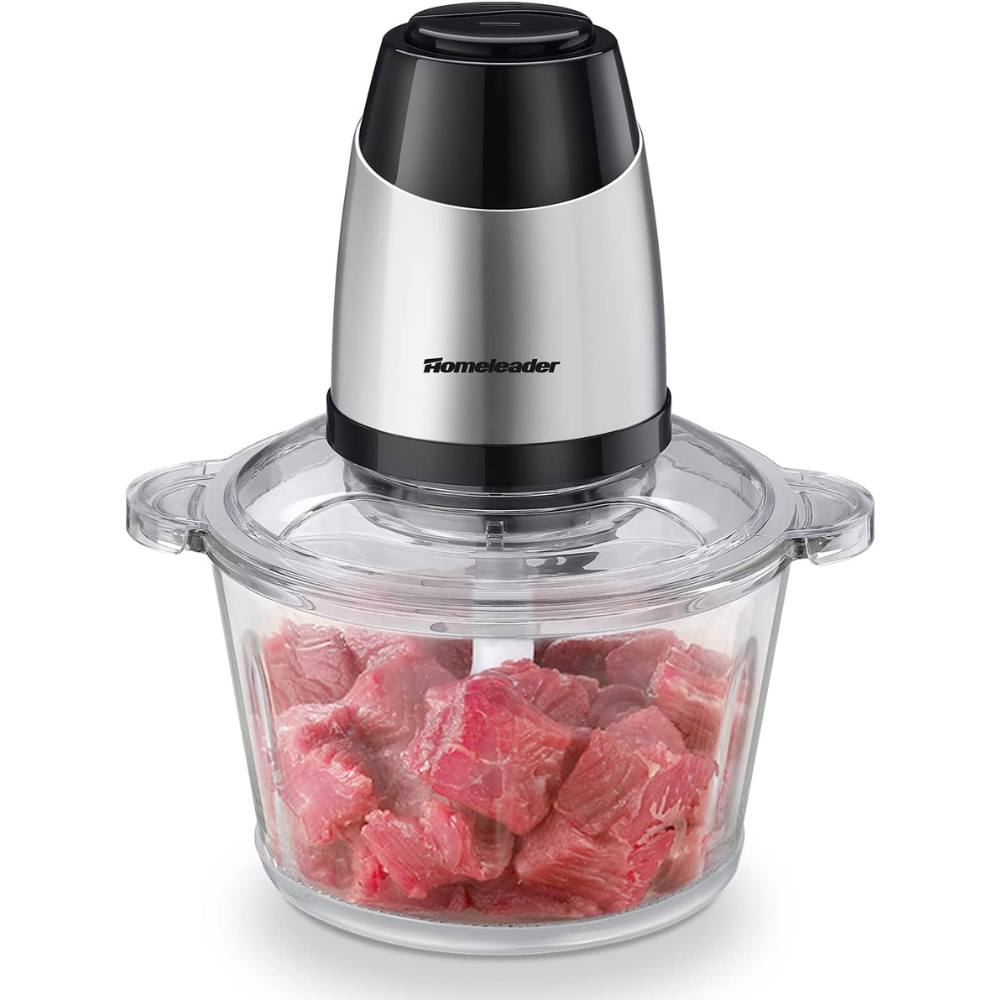 Homeleader Electric Food Chopper
With its high-powered motor and substantial 8-cup capacity, it's ideal for families or anyone who needs to process large amounts of food at once.
Check Latest Price

What We Love
Budget-Friendly: Offers great value without the high brand-name cost.
High Capacity: With an 8-cup capacity, it's suitable for larger tasks and families.
Powerful Motor: A 400-watt motor ensures efficient chopping and processing.
Warranty Assurance: Comes with a 12-month replacement and 30-day full refund warranty.
What to Keep in Mind
Soft Food Chopping: Its size and power might not be ideal for chopping delicate items.
Why It Might Be Right for You
If your kitchen is the heart of a large family or the hub of meal-prepping sessions, the Homeleader Electric Food Chopper is the powerhouse you need. It's designed for those who cook in batches and need a chopper that can keep up with the demand. With this in your kitchen arsenal, you can take on any voluminous task with ease and confidence.
Customer Review (source: Amazon)
This fantastic chopper has me actually wanting to cook! I'm not a fan of the messy and time-consuming prep work, but this device makes it a breeze, allowing me to chop ingredients in advance and just focus on the cooking. It's also a cinch to clean, with a removable blade that washes up quick, making the whole process a lot less daunting. If you're prep-averse like me, I highly recommend it.
---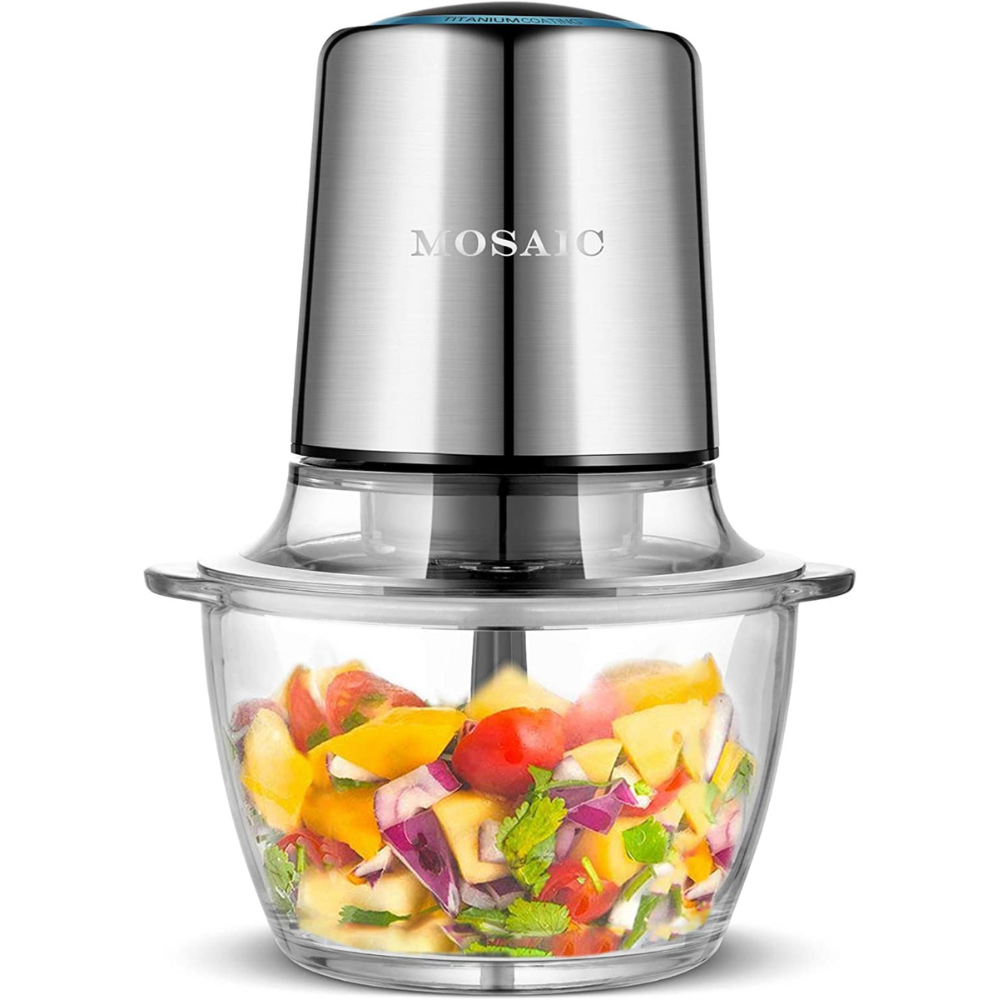 Mosaic Electric Food Chopper
Its design is perfect for those needing a chopper for short, fast bursts of chopping, with safety features that make it both quick and safe for everyday use.
Check Latest Price
What We Love
Convenience and Quality: Compact and easy to store, the Mosaic Electric Food Chopper shines in its simplicity and quality.
Ease of Use: Its push-down operation doubles as a safety feature, ensuring the motor engages only when properly assembled.
Efficient and Quick: Designed for short bursts, it's ideal for quick chopping tasks.
What to Keep in Mind
Usage Limitation: Not intended for continuous use; operates best in 15-second intervals.
Why It Might Be Right for You
For the efficiency expert with no time to waste, the Mosaic Electric Food Chopper fits the bill. It's made for the fast-paced individual who demands quick results. Whether you're a busy parent, a student in a rush, or simply someone who loves to cook but not the prep work, this chopper will have you in and out of the kitchen in no time.
Customer Review (source: Amazon)
This electric chopper is a time-saver – it zips through onions, garlic, and herbs in seconds, and I find myself using it daily. A sponge, some soap, a rinse, and it's ready to go again. Just a heads-up: the blades are super sharp, and while it's dishwasher-friendly, I learned the hard way that the non-slip pad might come off (easy fix, though). A little tip: handle with care since if you drop and break it, you'll be shopping for a new one – they don't sell parts separately.
---
How We Chose Our Top Picks
Our commitment is to offer expert insights into electric vegetable choppers, drawing upon a thorough investigation that extends beyond personal use. We've delved into extensive research, scrutinizing each product's performance, durability, and ease of use through the lens of consumer feedback, including detailed Amazon customer reviews. Our approach is methodical: we weigh brand reputation, capacity, type, maintenance ease, and value for money.
Our curated selection showcases only the most reliable electric choppers, as affirmed by those who use them most — everyday cooks like you. We've sifted through the market, comparing our choices against competitors to ensure you find not just any chopper, but the right chopper for your kitchen needs.
In our quest, we've prioritized electric vegetable choppers that demonstrate excellence, as evidenced by customer trust and a rating of 4 out of 5 or higher. We understand that the allure of electric choppers lies in their ability to simplify kitchen prep significantly, thus we've centered our selection on those models. Every chopper we recommend has been vetted for its quality and user satisfaction, ensuring you a selection that is both high-caliber and comprehensive.
---
Why Vegetable Choppers are Great
Vegetable choppers are great because they increase the speed of cooking and decrease the chef's efforts, especially electric food choppers. They are also great for those who do meal prep for the whole week in a single day.
Vegetable chopper makes cutting vegetables fast and safe. So, kids at home can also use it to contribute to cooking the meal.
Another added benefit of the vegetable chopper is that it makes it easy to prepare baby food. Just put any food in the chopper, and it will turn into baby food.
---
Electric vs. Manual Vegetable Choppers: Which One to Choose?
When it's time to pick a vegetable chopper, you've got two main options: electric food choppers and manual choppers. Let's break down the pros and cons of each to help you make the best choice for your kitchen.
Electric Vegetable Choppers
Pros:
Speed: They chop veggies super fast, saving you a lot of time.
Effortless: Great for people who don't want to put in much physical effort.
Consistency: They give you evenly chopped veggies, perfect for most recipes.
Cons:
Price: Usually more expensive than manual choppers.
Electricity Dependent: You need a power source to use them.
Noise: Can be louder than manual options.
Manual Vegetable Choppers
Pros:
Cost-Effective: Generally cheaper than electric models.
Portability: You can use them anywhere, no electricity needed.
Quiet Operation: They're much quieter than electric choppers.
Cons:
Physical Effort: Requires more hand strength and effort.
Time-Consuming: Takes longer to chop veggies compared to electric choppers.
Inconsistency: Might not always give you evenly chopped pieces.
---
Vegetable Chopper VS Food Processor
The word vegetable chopper and food processor are often used interchangeably. However, these two are different, and you should know the difference to make an informed decision.
The Main Difference Between Vegetable Choppers and Food Processors: In a nutshell, the main difference between these two is the amount of volume they can handle. Food processors can handle more volume of food as compared to food choppers. However, since getting the food chopper started is more manageable, it can quickly complete your task.
Cuts variety: A vegetable chopper is like mini food processor, usually with one blade, whereas food processors are large and have feed tubes and multiple blades. Processors can produce a variety of cuts, whereas cut options in vegetable choppers are minimal. Do note that some vegetable choppers may come with a whisk attachment. Vegetable choppers are suitable for making puree and making smaller batches.
When Should You Buy a Food Processor: If you have a large family, you might fare better with a processor. They have multiple blades or discs and a larger bowl than the vegetable chopper. They are great for slicing or shredding as food is pushed through the feed tube into the disc.
When Should You Buy a Vegetable Chopper: Vegetable choppers are great themselves. They are usually small and compact, which saves precious kitchen counter space. They are a great option if you mostly cook for two or three people and want the convenience of chopping vegetables quickly and easily during meal preparation.
---
What to Look For When Buying Vegetable Food Choppers
Now that you have decided to buy a vegetable chopper let's look at the things that can help your decision when purchasing one.
Type of Vegetable Chopper: Electric or Manual
Electric and manual food choppers both work very well. While we recommend using an electric vegetable or food chopper, you cannot go wrong with a manual food chopper.
Manual food choppers require additional labor by drag or push. They are easy to transport and do not require an electrical connection. So, you can take them if you have to do meal prep in places where you would not find an electric link (for example, picnics). However, they can be a little hard to use if you do not have the strength of hand. One of the benefits of manual vegetable choppers is that you save on electricity bills.
Electric vegetable choppers are great because you get all the work done with just the touch of your hand. They are easier to use than manual food choppers and will save you time preparing food.
The Capacity of the Food Chopper
A vegetable chopper usually has less capacity as compared to a processor. Yet this capacity is not fixed, and vegetable choppers come in several capacities. A mini food chopper has less volume but is easier to store and carry. A large food chopper has ample power, but it may take up precious kitchen counter space you don't have to spare. You should assess your needs and see what capacity works best for you.
Safety features
Food choppers can potentially be dangerous because they come with stainless steel blades attached. If these spinning blades expose in the open, they could be very harmful. Therefore, pay attention to the safety features.
Easy Cleaning
A vegetable chopper or food chopper of any kind will get dirty. Make sure that it is easy to clean. All good choppers come with a BPA-free plastic container attached to them. Ensure that it is easy to detach this container and clean it. Also, ensure that it is easy to clean the stainless steel blades attached to the food chopper.
---
Frequently Asked Questions
Can you chop onions in a chopper?
Yes, you can chop onions in a chopper. The chopper will chop the onions into small pieces. This will make it easier for you to cook the onions and add them to the dishes.
Can you chop tomatoes in a chopper?
Yes, you can chop tomatoes in a chopper. The chopper will help to chop the tomatoes, making them the perfect size for your recipe. The longer you chop, the smaller the tomatoes get. Be sure to clean the chopper after use so that it is ready for the next time you need it.
Can you put meat in a food chopper?
Yes, you can put meat in a food chopper. The chopper will chop the meat into small pieces. The smaller the pieces of meat are, the easier it will be to cook and chew.
Can a vegetable chopper with a stainless steel blade handle tougher vegetables like carrots and beets?
Yes, a vegetable chopper equipped with a high-quality stainless steel blade is typically robust enough to handle tougher vegetables like carrots and beets. It's designed to tackle a variety of textures, from soft tomatoes to dense root vegetables, making it a versatile tool for all your chopping needs.
How do I choose the right size of a vegetable chopper for my kitchen needs?
When selecting a vegetable chopper, consider your typical meal prep volume and kitchen storage space. A larger chopper is great for big families or batch cooking, while a smaller one suffices for individual meals and compact kitchens. It's all about finding a balance between capacity and convenience.
Are electric vegetable choppers safe to use, and what safety features should I look for?
Electric vegetable choppers are generally safe when used correctly. Look for features like a safety lock, non-slip base, and blades that only activate when the lid is securely in place. These features help prevent accidents and ensure a safe, user-friendly experience in the kitchen.
---
Which Option for an Electric Vegetable Chopper Is Best For You?
We hope this article has clarified and helped you understand the different factors to consider when purchasing an electric chopper. All the options we presented are great options for you and your home, which ultimately comes down to personal preference.
We hope you enjoy your bite-sized veggies with every meal!
---
Items reviewed: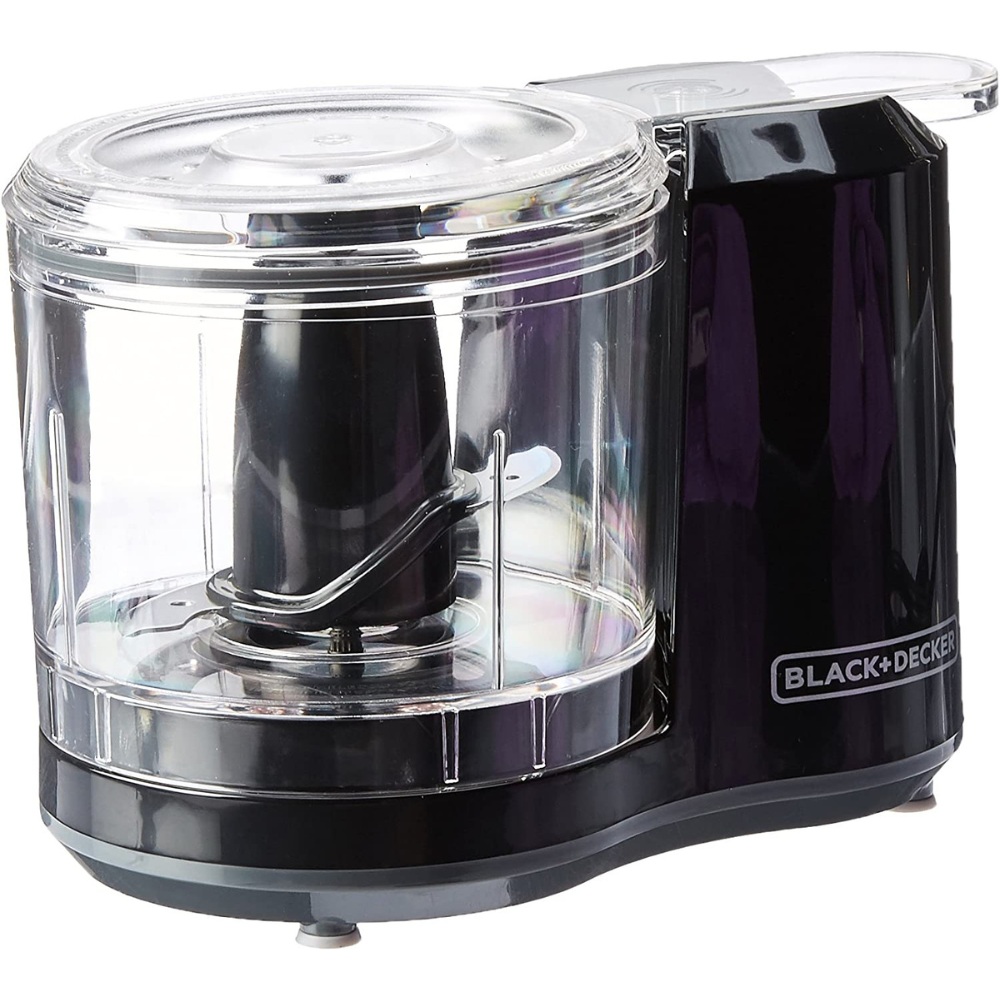 Best Overall: Black + Decker One Touch 1.5 Cup
For its superior compact design, ease of use with one-touch operation, and reliability backed by a two-year warranty, making it an excellent all-rounder for small to medium chopping tasks.
Check Latest Price
Please note that the reviews on this page have been edited for readability and clarity while maintaining the essence of the original content.
Further Reading
Discover maintenance and cleaning tips for your electric vegetable chopper in our article titled "Electric Vegetable Chopper: Maintenance and Cleaning Tips."
For a treasure trove of recipes that will put your new food chopper to good use, head on over to Taste of Home's collection where you'll find a variety of dishes designed for easy preparation and delicious dining.
---