If you look for enameled cast iron cookware, you will come across many choices that range from skillets to pots and Dutch ovens. Enameled cast iron has many advantages over traditional cast iron. It is more durable and long-lasting compared to traditional cast iron. One of the best things about enameled cast iron cookware is that it is easier to clean and cook with.
One of the most popular enameled cast iron cookware is the cast iron enameled skillet. If you are looking for one of these, we have compiled a list of the five best-enameled cast iron skillets.
🤝As an Amazon Associate, we earn from qualifying purchases made through our links, at ZERO additional cost to you.
5 Best Enameled Cast Iron Skillets
---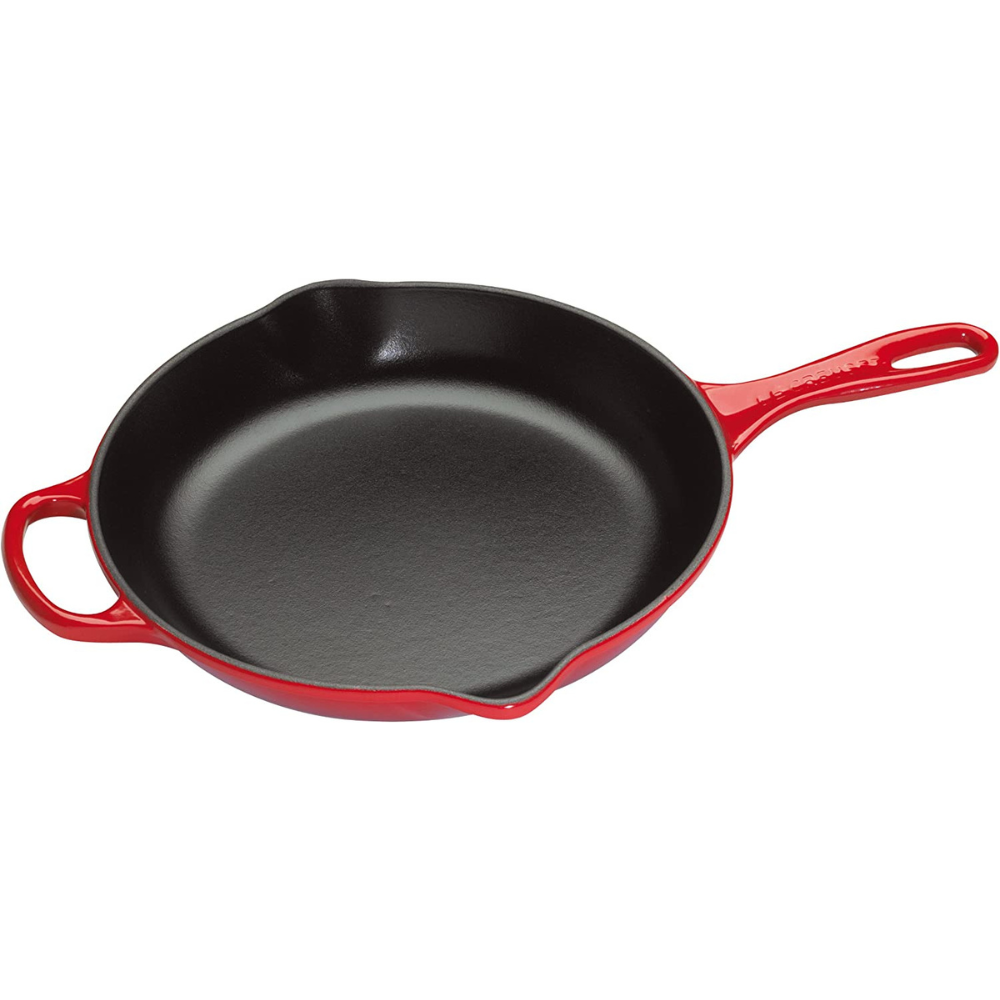 Le Creuset Enameled Cast Iron Skillet
Check Latest Price
Why We Love It
Lasts a Lifetime and Does Everything
Le Creuset is arguably the best cast iron enameled skillet on the market. Its enameled cast iron is of the highest quality. It is an attractive high-end skillet, and its performance and durability are a testament to its quality. This skillet will last a lifetime.
We looked at this skillet very critically and tried finding things it could not do. To our pleasure, we could not find a single thing it could not do. It can do anything you ask for, so it is one of the best investments you can make. It has a very intelligently thought design. The pan has spouts on the left and right sides for easy pouring. The sides of the pan are lower than your usual cast iron pan, but it has a large cooking surface area that we absolutely loved.
The skillet comes with a beautiful lid which makes it suitable for baking. We tried cooking a pizza using this skillet, which turned out great. Also, note that the low sides make it easier to take the pizza out of the skillet.
High-Quality Materials
The inside and outside of this pan are coated with high-quality enamel, which can withstand high heat. The inside may look like any other cast iron pan because it has a black enamel coating. It is not completely smooth, but its sturdy coating protects it from rust. The high-quality materials also ensure that it stays hot for a longer period of time.
What You Should Know
Heavier than Your Average Cast Iron Pan
Le Creuset Enameled Cast Iron Skillet is one of the best quality skillets out there. This also means that it is also heavier than the rest. If you are used to a lighter cast iron skillet, you might need some getting used to it. Also, note that the handle is shorter than we would have liked, which makes it harder to lift.
This skillet is safe for use in a dishwasher. However, its size and weight make it almost impossible to do so. The good news is that it can be easily washed by hand. It does not catch a lot of stains, and even when it does, they go away easily.
It May Take Longer than Usual to Get Heated
The Le Creuset Enameled Cast Iron skillet has a good heat capacity, and this enables it to stay hot for a long period of time. However, at the same time, it takes more time than your usual enamel cast iron skillets to get warm.
---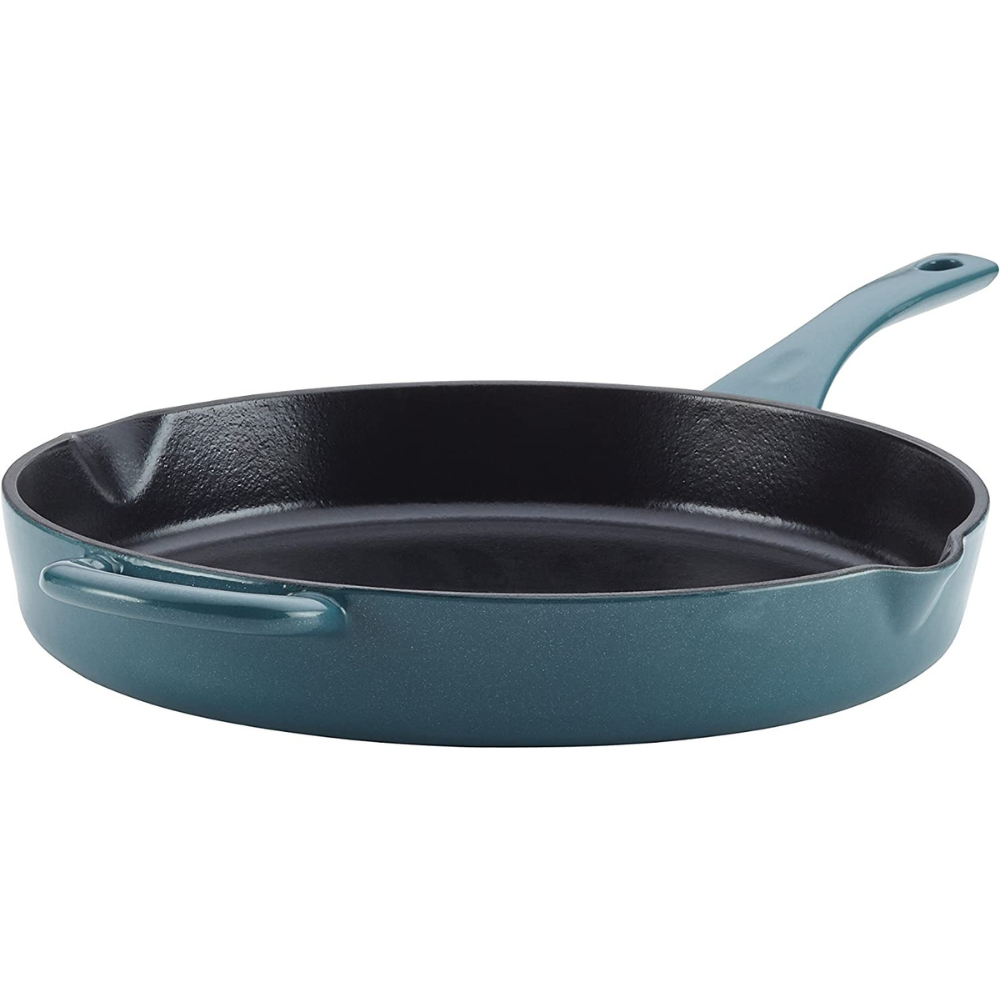 Ayesha Curry Home Collection Enameled Cast Iron Skillet
Check Latest Price
Why We Love It
Best Value for Money
Of all the Skillets we have reviewed, Ayesha Curry Skillet gives the most value for money. It is a good quality skillet with all the features we look for in a decent enameled cast iron skillet. We are surprised to find such superior quality enameled cast iron on a skillet at this price.
This skillet has good heat retention. So, it can keep your meal warm for longer. The cast iron used is of good quality and holds the heat for a long duration. It also distributes the heat evenly so that your meals cook perfectly.
Easy to Maintain
This skillet does not need any seasoning for maintenance. All you have to do is to wash it with warm water and soap. The material on the inside is black enamel which resembles bare cast iron pans. However, it is easy to clean, and stains wash away seamlessly. The outer covering is also superior quality enamel which does not catch a lot of stains. Any stain that it has can be cleaned without much effort.
Beautiful and Well Crafted
We know that it is important for your enameled cast iron skillet to look good. This skillet looks beautiful and much more premium than its price point.
What You Should Know
Temperature
This top-of-the-line cooking tool is perfect for those who love to cook. With a heat resistant surface that can handle temperatures up to 500 degrees Fahrenheit, this skillet is perfect for searing, sautéing, and baking. The large size is perfect for feeding a crowd, and the sleek design looks great in any kitchen. Plus, since it's oven safe, when you're finished cooking on the stove, simply move your skillet from the stovetop to the oven– it's that easy!
---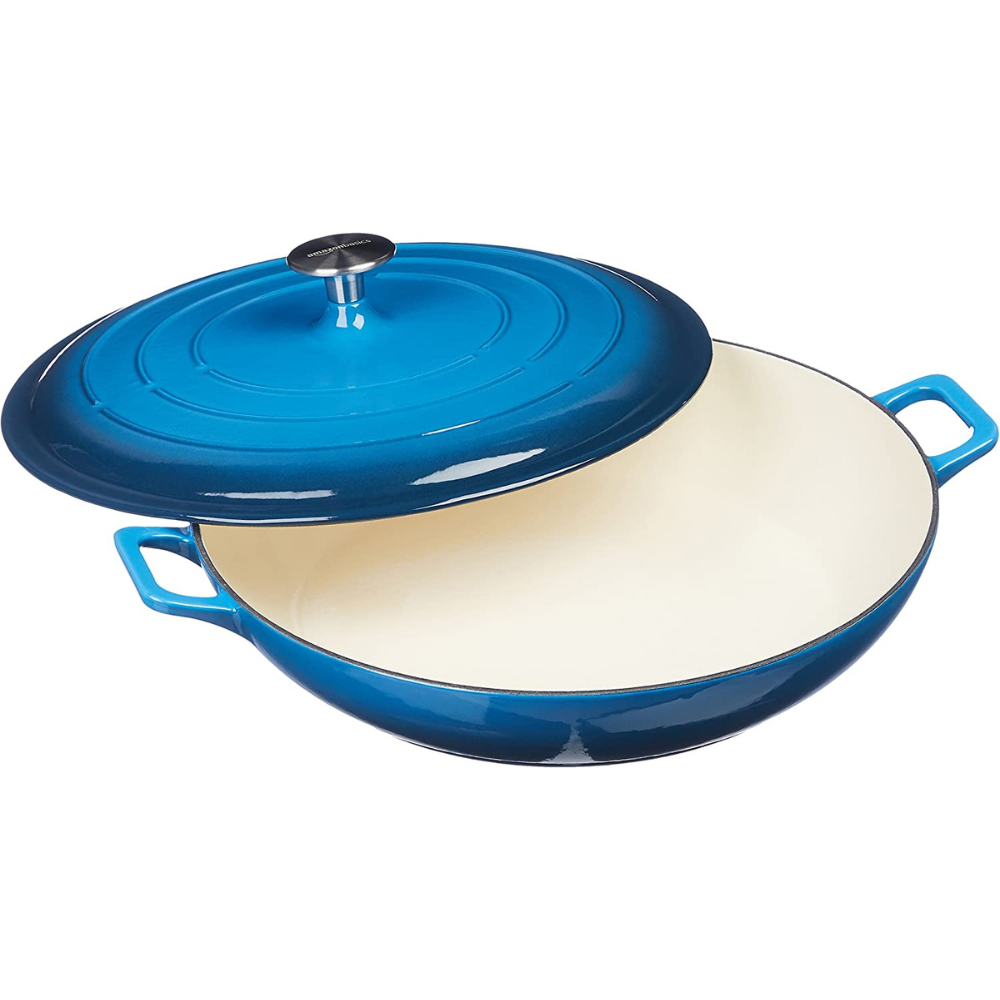 Amazon Basics Enameled Cast Iron Covered Casserole Skillet
Check Latest Price
Why We Love It
Good All-Rounder
The Amazon Basic Enameled Cast Iron Skillet is an all-rounder that could easily replace two or three of your cooking pots. It can even replace your frying pan for some tasks, such as frying pork chops. Yet, it is also perfect for making stuff like a casserole and slow cook meat. It is one of the most versatile porcelain enameled cast iron pans. Amazon Basics also has an enameled Dutch oven, which will be larger in size.
The lid design on this one offers less convenience but a good seal. We like it because it seals in steam and ensures that the flavor is locked into your recipe. Even after intense cooking, you should not have any hot spots during stove top use.
Easy to Clean and Maintain
It is easy to clean and maintain this skillet. It does not require any seasoning, and the stain washes away easily from its enamel. The porcelain enamel on the interior is also very easy to clean. All you need to do is to wash it with warm water and soap, and the stain will wear right off from it.
What You Should Know
Not Recommended for Oven Use
You should beware that it is not the most convenient pan to handle. The lid is designed to seal the pot entirely, so it is flat. It might be a problem if you want to fit more in the pot.
The Amazon Basic Cast Iron skillet has a low oven-safe temperature of 400 degrees Fahrenheit. This is lower than what most cast iron pans can handle and gives it a disadvantage against the plain old seasoned cast iron pan. We know many skillets that come in the lower price range but can handle high temperatures.
---
Bruntmoor Enameled Cast Iron Skillet
Check Price on Amazon
Why We Love It
Oven-Safe and Easy to Maintain
Bruntmoor is similar to a Dutch oven since it can handle up to 500 degrees Fahrenheit, so this skillet has one of the best oven-safe temperatures. This oven-safe temperature makes it as oven safe a traditional cast iron pan. We are pleasantly surprised that it can withstand such high temperatures. So, it is the best enameled cast iron skillet if you cook mostly in the oven.
The whole surface of the Bruntmoor cast iron enameled skillet is covered with porcelain enamel, so even its lip does not require any seasoning. It is also easy to clean its enamel since stains wear off easily. This skillet has a black enameled interior which is also fairly easy to clean and maintain.
What You Should Know
Sticky Pan
Independent user reviews show us that it tends to be a sticky pan. However, if you are buying it mostly for oven use, this should not be much of an issue. Yet, this does mean that if something gets stuck to its interior surface, you will have to make extra efforts to clean it.
---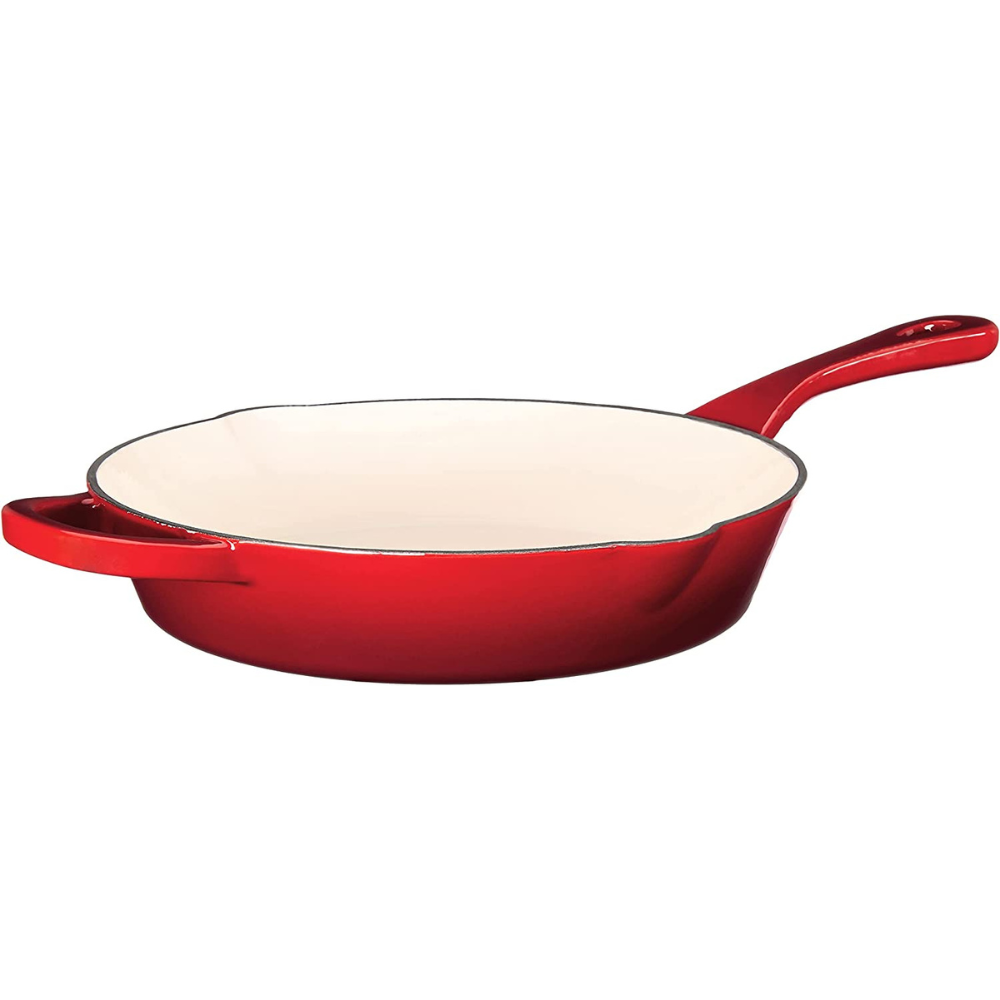 Crock Pot Artisan Enameled Cast Iron Round Skillet
Check Latest Price
Why We Love It
Best Budget Option
It is the most affordable enameled cast iron skillet you can get on the market. Despite being so budget-friendly, it works very well and can last for a while. We love that products like these make cooking in an enameled cast iron post accessible to everyone. This means that its quality will not be the best, but it does its job good. While it is not premium, it looks like one. It comes in 4 very pleasing color options.
It is very easy to maintain and clean this skillet. It requires no seasoning, so it will be ready to use out of the box. The enamel does not catch a lot of stains, and you can clean it with hot water and soap.
What You Should Know
Heavy and Not a Non-Stick
It is one of the heaviest pans we have seen. The weight of this skillet can even beat the highest quality skillets. This just means just be careful you handle it, especially when pouring something out.
It is perfect for searing, frying, roasting and stir frying, and can be used on gas, electric, ceramic and induction cooktops. Plus, it's oven safe up to 500 degrees, so you can go from stove top to oven with ease. Just remember to use pot holders when handling the pot! And be sure to only hand-wash the skillet to ensure long-lasting life.
---
How We've Made Our Selection
Lids
Not all cast iron enameled skillets come with a lid. In fact, among our top 5, only three come with one. However, it is still something that we keep in our priority because it makes the skillet so versatile. The lid also makes cleanup easier.
We ensured that if the skillet does not come with a lid, its price is not above $50. So, we can always buy one apart and justify the total cost. In this case, we suggest going for a see-through lid. This is because it is difficult to find any lid that matches the color of your skillet.
Dishwasher Safe
One of the most important considerations was that the skillet should be dishwasher safe. Not all cast iron enameled skillets are dishwasher safe because they may have an exposed cast iron rim. Always read the manual or manufacturer's instructions to see if the skillet is dishwasher safe.
We made sure that all our skillets were dishwasher safe which makes cleaning and maintaining them easy.
Seasoning
You might think that a cast iron enameled skillet may not require seasoning because the enamel protects the outside. However, it is not true for all enamel skillets. In some enamel pans, the lips and the edges need to be seasoned. This happens because the enamel on the outside and inside are different and may have an exposed cast iron edge between them. So, this exposed cast iron needs protection through seasoning. If you can live with some rust spots on the lips of your enamel cast iron skillet, it should not bother you.
While choosing our top picks, we gave weightage to the fact that no part of the cast iron is exposed. However, unfortunately, this was not possible in budget-friendly models. So, when the budget is not a concern, you should always look for a cast iron skillet with no exposed iron.
---
Evolution of Traditional Cast Iron to Enameled Cast Iron Cookware
Traditional cast Iron cookware was popular for centuries because they were durable. The material was a rigid single-forged piece of iron. The single-piece manufacturing increased heat retention, which made the pot perfect for stews and soups. Cast Iron also holds much more flavor, so its pots can cook hearty and unique meals. One of the best advantages of cast iron cookware is that it can be used in the kitchen, grill, and even camping.
A recent modification to the traditional cast iron cookware is the Enameled cast Iron cookware. It is similar to traditional cast iron cookware, but the exterior has a ceramic porcelain enamel coating that gives it a beautiful finish and protects it. It increases the durability and looks of traditional cast iron cookware.
---
Pros of Enameled Cast Iron Cookware
Durability
Because of the protective enamel coating, enameled cast iron cookware is more durable than traditional cast iron. So enameled cast iron cookware will last longer than traditional cast iron cookware.
Protects Your Kitchen Equipment
The exterior of traditional cast iron cookware is rough. However, the exterior of enameled cast iron cookware is smooth and protective. So, your kitchen appliances are less likely to get scratched by the cookware. This is especially true for the enameled cast iron pan because it gets thrown a lot in the kitchen.
Rust Proof
Compared to traditional cast iron, enameled cast iron is less prone to rust. The enamel coating offers protection against it.
Enhanced Looks
Cast iron enameled skillets look more beautiful than bare cast iron skillets. The enamel coating adds to the aesthetics and beauty of the cast iron cookware. It also helps to enhance the cooking experience.
Easy to Clean
Enamaled cookware is easier to clean as compared to traditional cast iron cookware. This is because the enamel coating instantly releases dirt and stain from itself.
Decreased Thermal Conductivity
Compared to traditional cast iron, enameled cookware will take a little bit longer to heat. The enamel surface also may not hold the heat for as long as the traditional cast iron.
Versatility
Explore the incredible versatility of cast iron skillets with our informative article. Discover the numerous possibilities and expand your culinary horizons as we delve into the various ways you can make the most of your cast iron skillet.
---
Enameled Cast Iron FAQs
Cast iron cookware is a popular and great choice for your kitchen, but there are some things you need to know before you make the purchase.
We've compiled the most frequently asked questions about enameled cast iron cookware so that you can make an informed decision before buying.
Which enameled cast iron is best?
There is no one "best" enameled cast iron, as different people have different preferences. Some people prefer brands that are more lightweight and easier to maneuver, while others prefer brands that heat more evenly or have a nicer finish.
All brands have unique strengths and weaknesses, so it's important to do your research before choosing one. Reviews can be a great way to get an idea of what other people think about a particular brand or model.
Which is better, cast iron or enameled cast iron?
Cast iron is a great material for cookware because it's durable, efficient, and versatile. Heat is distributed evenly, therefore, your food can cook evenly, and it can be used on the stovetop or in the oven. Enameled cast iron is even better because the enamel coating protects the cast iron from rust and helps to keep food from sticking, which also makes the cookware easier to clean.
Is enameled cast iron skillet worth it?
Yes, an enameled cast iron skillet is definitely worth the investment. It provides even heat distribution, prevents sticking, and it's also extremely durable and easy to clean. Plus, the beautiful enamel finish makes it a perfect addition to any kitchen décor.
Which is better, porcelain or enamel cast iron?
There is no definitive answer to this question, as it depends on individual preferences and needs. Enamel cast iron cookware is generally easier to clean and care for than porcelain cast iron, but porcelain cast iron may be considered to have a nicer appearance and can be used on induction cooktops. Your specific needs and preferences will determine what's best for you.
What can you not cook in enameled cast iron?
To avoid any damage to your enameled cast iron, there are a few things that you should avoid cooking in it:
1. Foods that are high in acidities - such as tomatoes, citrus fruits, and vinegar - can cause the enamel to chip or peel.
2. Foods that are high in fat or oil can cause the enamel to become stained.
3. Metal utensils can scratch the surface of the enamel coating. Use wooden, silicone, or plastic utensils instead.
4. A hot pan with water in it can produce steam which may damage the enamel coating over time. Allow pans to cool before cleaning them thoroughly to prevent this type of damage from occurring.
Is porcelain enamel better than ceramic?
Porcelain enamel is often thought of as being better than ceramic because it is non-porous and, therefore, less likely to stain.
Porcelain enamel is made from glass, which gives it its shiny appearance and makes it resistant to staining. However, it is also a brittle material and can chip or crack easily if not cared for properly.
Ceramic is made from clay, which makes it less brittle but also more susceptible to staining. It also typically has a matte finish rather than the shiny finish of porcelain enamel.
Can you scratch enameled cast iron?
You can scratch enameled cast iron if you use a sharp object and apply enough pressure.
The enamel on enameled cast iron is a thin, vitreous layer of glass that coats the cast iron. It's fairly durable and can withstand normal wear and tear, but it can be scratched with a sharp object if enough pressure is applied. So unless you're particularly rough with your cookware, you probably don't have to worry about scratching the enamel.
How do you revive enameled cast iron?
Enameled cast iron is great material-styled cookware because it heats evenly and retains heat well. However, over time the enamel can become scratched or chipped, and the underlying cast iron can begin to rust.
There are a few ways to revive enameled cast iron. One is to use a steel wool pad to buff away any damage, then clean the surface with a vinegar solution. Baking soda paste is another option to scrub away any rust or damage, then rinse and dry thoroughly. Finally, you can also purchase an enamel repair kit if necessary.
Can you ruin enameled cast iron?
Yes, if you don't care for it properly. Enameled cast iron has a porcelain enamel coating over a cast iron body. It's prized for its even heating, durability, and easy cleanup.
The biggest enemies of enameled cast iron are abrasion and acidic foods. Abrasion can be caused by metal utensils, rough scrubbing, or using an incorrect cleaner. Acidity can be caused by lemon juice, vinegar, tomato sauce, and other acidic foods. Both abrasion and acid can damage the porcelain enamel coating and leave the underlying cast iron exposed to rusting and pitting.
Can you use vinegar on enamel cast iron?
Yes, vinegar is safe to use on enameled cast iron. Vinegar is a mild acid and can be used to cleanse the surfaces of pots and pans. It is important to rinse the vinegar off after cleaning, as residue can cause corrosion over time.
---
Which best enameled cast iron skillet is Best For You?
Looking for the perfect knife to make that perfect cut? All of the options that we presented can be great options for you and your home. Now it comes down to personal preference.
If you decide to invest in an enameled cast iron skillet, we have a helpful article that provides a comprehensive guide on how to season and care for it. This guide will assist you in maintaining the skillet's performance and prolonging its lifespan.
We hope you have gotten some clarity on what enameled skillet you want in your home, and we hope you enjoy using it.
---
Items reviewed: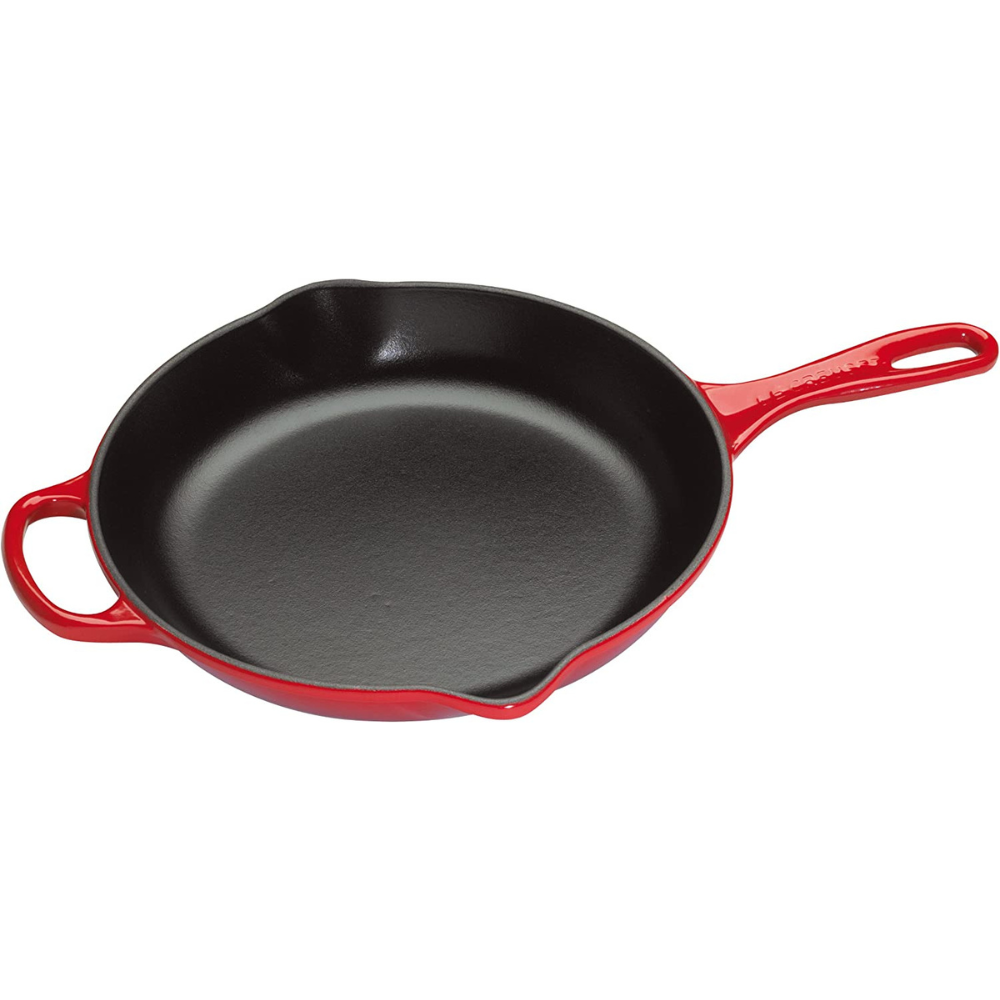 Best Overall
: Le Creuset Enameled Cast Iron Skillet
Check Latest Price
Further Reading
---