Ready to whip up a storm in your kitchen?
Let's talk about a kitchen superhero that's ready to take on any culinary challenge you throw at it - the mighty glass blender! This versatile dynamo can blend, crush, puree, and even heat, transforming your ingredients into delicious smoothies, sauces, soups, and more. It's like having your own personal sous-chef, ready to assist at the push of a button. Not only does a glass blender excel in functionality, but it also adds a touch of elegance to your kitchen with its sleek design. Plus, it's a healthier choice, as glass doesn't absorb odors or colors and is free from harmful chemicals like BPA.
Now, we could go on and on about the wonders of a glass blender (and we might just do that in a future article), but today, we're here to do something even more exciting. We're going to dive into the world of glass blenders and review the top five models on the market. So, buckle up and get ready for a culinary adventure!
🤝As an Amazon Associate, we earn from qualifying purchases made through our links, at ZERO additional cost to you.
---
5 Best Glass Blenders
---
What We Love
Premium Choice: A top-tier blender with an array of features.
Powerful Motor: 1400 watts of peak output for superior blending.
Heating Element: Can cook ingredients such as proteins and vegetables.
Versatile: Ideal for everything from frozen margaritas to hot soups.
Quality Glass Jar: BPA-free, durable, and dishwasher safe.
Intelligent Programs: 12 automated patterns for precision blending and heating.
What to Keep in Mind
Price: The most expensive item on this list, but worth the investment.
Why It Might Be Right for You
You're not just a cook, you're a culinary artist. You need a tool that matches your passion, a tool that can handle the basics and the complex. The Ninja HB Foodi Heat-iQ Blender is that tool. With its powerful motor and heating element, it can blend and cook your ingredients, expanding your culinary repertoire. Whether you're preparing a chilled smoothie for breakfast or a hot soup for dinner, this blender is up to the task. And with its intelligent programs, you can achieve the perfect texture and temperature every time. It's not just a blender, it's your partner in the kitchen.
Customer Review (source: Amazon)
This blender has been a game changer for me, massively cutting down ingredient prep for healthy veggie meals. It's so simple - measure, rinse, blend, and it can even sauté onions! Plus, it's easy to clean with the CLN program. I loved it so much, I bought a second one. I'm never going back to not having this blender.
---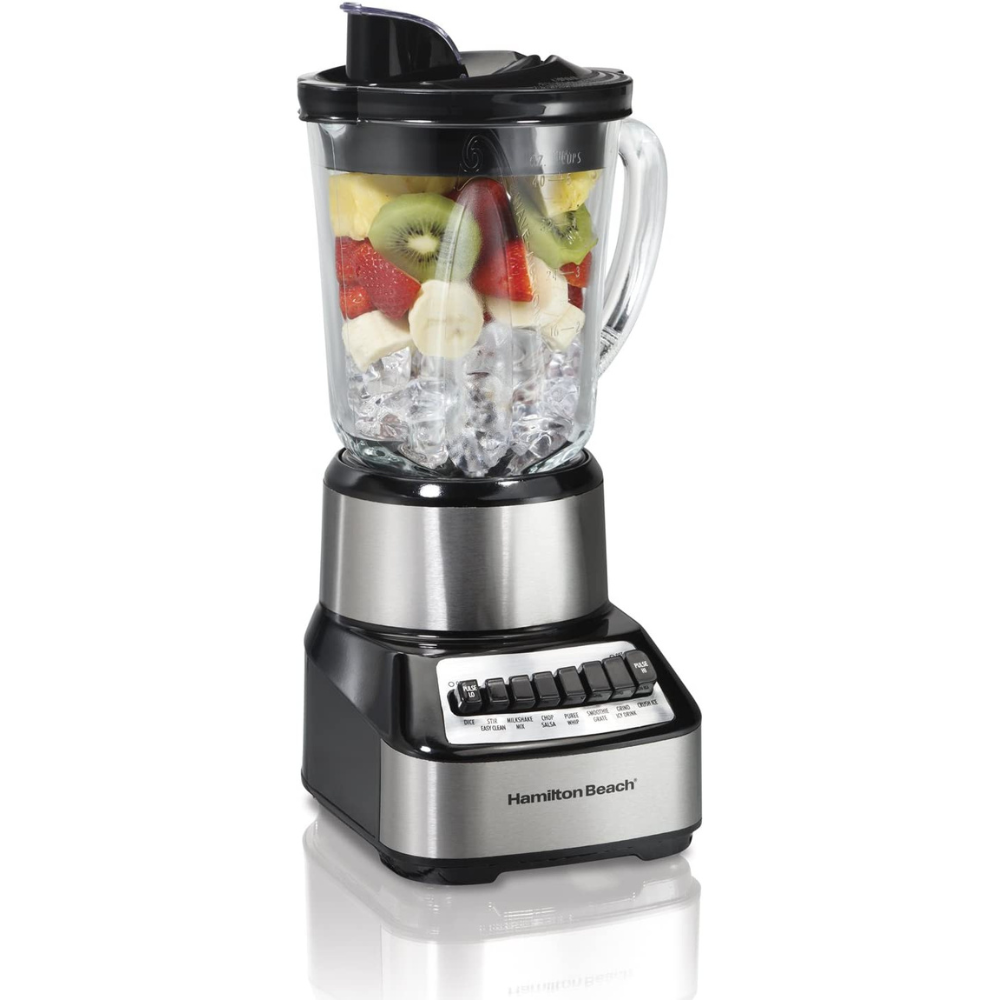 Hamilton Beach Wave Crusher Blender
Check Price on Amazon
What We Love
Best Under $50: Unbeatable performance at an affordable price.
Powerful Motor: 700 watts of peak output for effortless blending.
Patented Features: Ice Sabre blades and Wavecation system for smooth mixtures.
Heat-Resistant Glass Jar: Durable, dishwasher safe, and tested for thermal shock.
Generous Warranty: 3-year motor warranty for peace of mind.
What to Keep in Mind
Design Issues: Lid may be difficult to remove and button hard to press.
Why It Might Be Right for You
You're a smoothie enthusiast, but you're also on a budget. You need a blender that can handle your daily blending needs without costing a fortune. Enter the Hamilton Beach Wave Crusher Blender. With its powerful motor and patented features, it delivers smooth, icy drinks every time. It's not just about smoothies, though. Whether you're making a puree for dinner or blending ingredients for a baking recipe, this blender has got you covered. And with its heat-resistant glass jar, you can go from hot to cold ingredients without a worry. So, even on a budget, you can enjoy the luxury of a high-quality blender.
Customer Review (source: Amazon)
This blender is sturdy and the perfect size for my needs. I bought it used and it arrived in perfect condition, looking brand new. It functions wonderfully when assembled correctly and has a sleek, clean look. Just remember to press "off" before plugging it in and ensure the bottom part is screwed in tight before blending.
---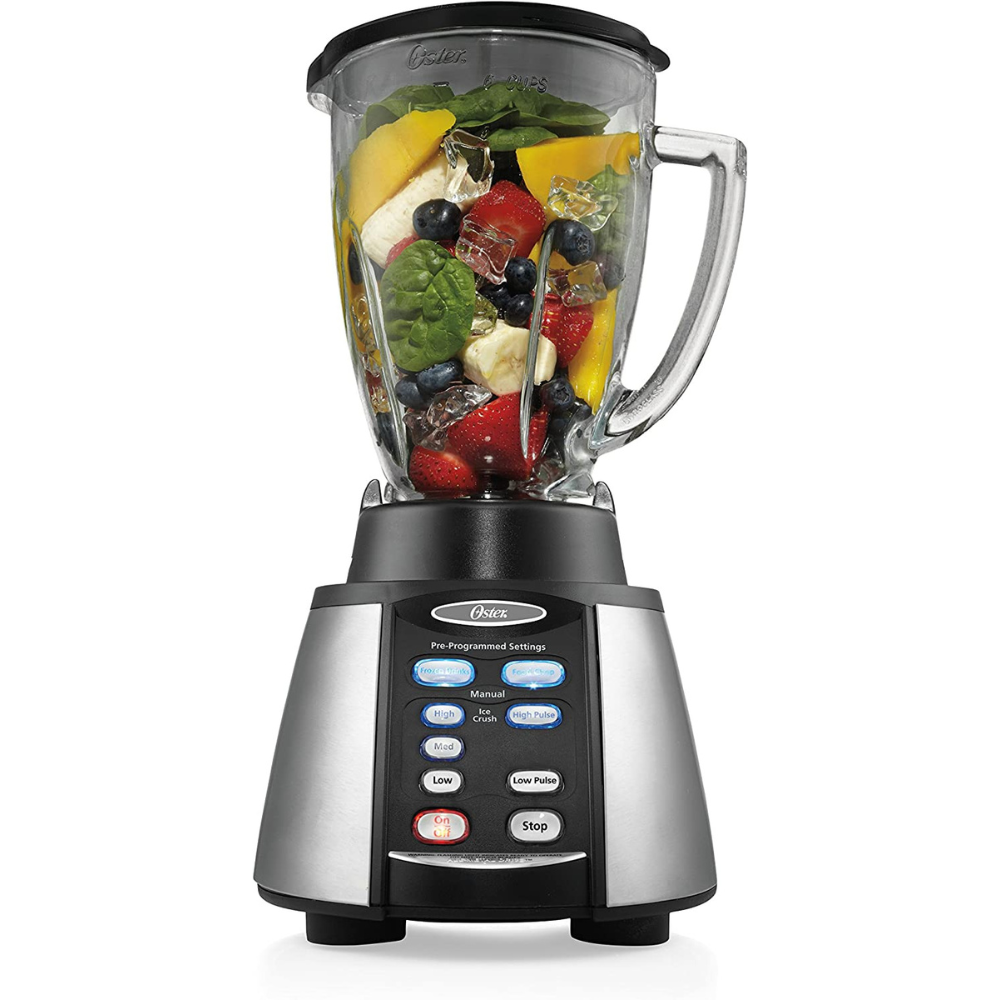 Check Price on Amazon
What We Love
Value for Money: Stellar performance at an affordable price.
Feature-Packed: User-friendly with smart settings and seven-speed options.
Quality Glass Jar: Large capacity, dishwasher safe.
Generous Warranty: Three-year satisfaction guarantee and a 10-year limited warranty.
What to Keep in Mind
Noise Level: Potentially louder than other models.
Why It Might Be Right for You
Picture yourself hosting a dinner party. You've got everything planned out, but you're short on time. You need a blender that can keep up with you, one that can effortlessly blend your ingredients without needing them to be cut into smaller pieces. That's where the Oster Blender comes in. With its powerful motor and dual-direction blade technology, it's ready to take on any challenge. And with its generous capacity, you can prepare your dishes in one go, saving you precious time. So, even in the midst of the hustle and bustle, you can still serve up a feast that will leave your guests in awe.
Customer Review (source: Amazon)
I got this blender mainly for making green smoothies and it's been fantastic. The "Frozen Drink" setting is perfect for smoothies, even reversing direction to pull all the ingredients into the blades. It's a reliable, powerful blender that feels substantial and comes with a glass jar. It's a fraction of the cost of some high-end models but does everything I need it to do.
---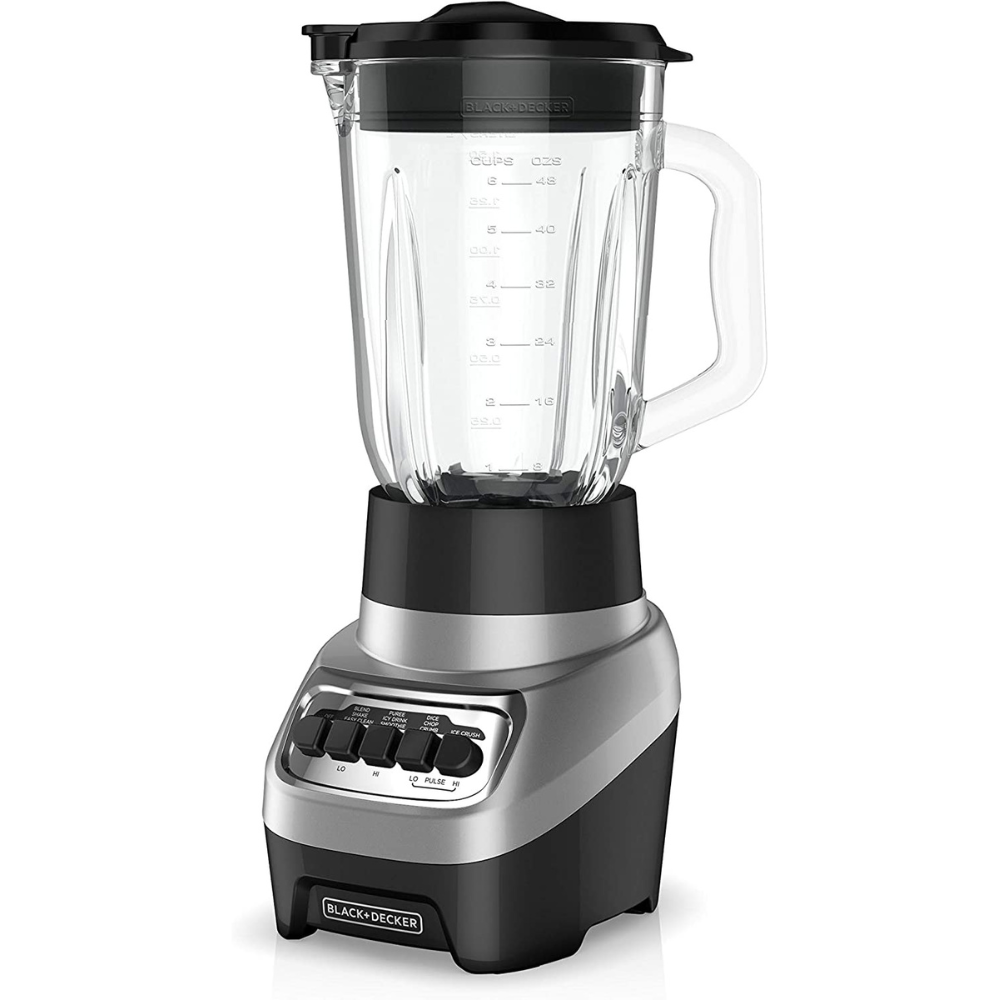 Black + Decker Power Crush
Check Price on Amazon
What We Love
Budget-Friendly: A quality blender that doesn't break the bank.
4 Tip Quad Pro Technology: Ensures efficient blending of all ingredients.
Quality Glass Jar: BPA-free, sturdy, dishwasher-safe, and easy to clean.
Powerful Motor: 700 watts for effortless blending and ice crushing.
Speed Settings: Four-speed settings for versatile blending.
What to Keep in Mind
Short Power Cord: May not be suitable if your power source is far from the blender.
Limited Settings: Lacks the fancy functionalities of more expensive models.
Why It Might Be Right for You
You're a practical person. You appreciate good quality, but you also value your hard-earned money. You need a blender that can handle your daily blending needs without costing a fortune. The Black Decker Power Crush is that blender. With its powerful motor and 4 Tip Quad Pro technology, it delivers efficient blending every time. Whether you're preparing a smoothie for breakfast or crushing ice for a refreshing drink, this blender is up to the task. And with its quality glass jar, cleanup is a breeze. It's a practical choice for a practical person like you.
Customer Review (source: Amazon)
I'm really loving the slim style and the thick glass blending jar of this blender. It's dishwasher safe, which is a big plus for me. I haven't used it yet, but I've seen videos of it handling ice really well. I've registered it on the company website for the 2-year warranty, so I feel confident about any potential issues. I trust Black & Decker as I've been happy with all their products I own. My only concern is that their motors can be quite loud, but I'll only be using this blender during the day, so it's not a big issue for me.
---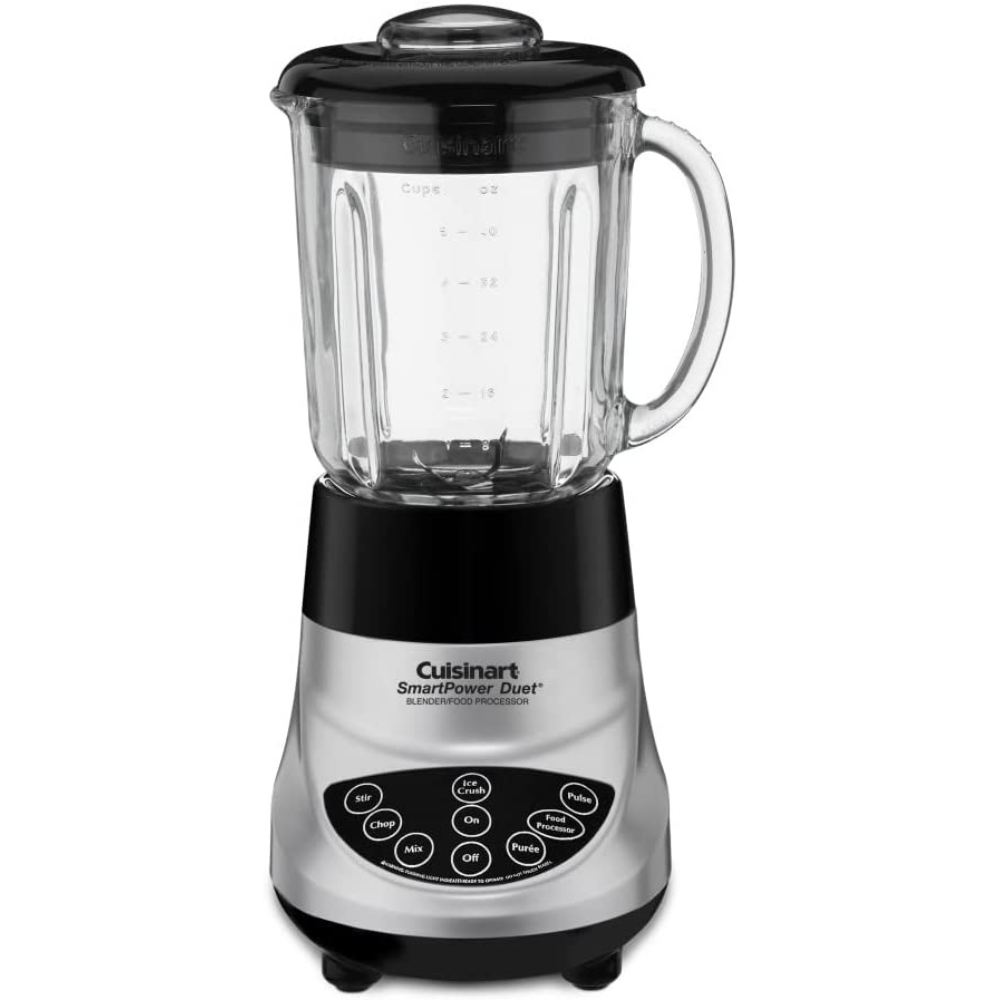 Cuisinart Smart Power Duet Blender
Check Price on Amazon
What We Love
Mid-Range Excellence: A top performer in its price range.
Seven-Speed Controls: Effortless touchpad controls with LED indicators.
Quality Glass Jar: BPA-free, sturdy, and dishwasher-safe.
Powerful Motor: 500 watts for efficient blending.
Ease of Operation: Intuitive controls for easy operation.
What to Keep in Mind
Small Capacity: Three-glass capacity may not be suitable for large families.
Motor Power: Less powerful compared to others in its price range.
Why It Might Be Right for You
You're a savvy shopper. You know that value doesn't always mean the cheapest or the most expensive. You need a blender that delivers performance without the hefty price tag. The Cuisinart Smart Power Duet Blender is that blender. With its seven-speed controls and powerful motor, it handles your blending tasks with ease. Its quality glass container is not only sturdy but also easy to clean. And with its intuitive controls, even the most complex recipes become a breeze. It's the smart choice for the savvy shopper.
Customer Review (source: Amazon)
I'm absolutely in love with this little machine! This is my second Cuisinart Duet. After over a decade of daily use, my previous one finally gave out. This blender and small processor is incredibly simple and easy to use. The same motor base fits both the glass blender jar and the processor bowl. It's perfect for smaller dishes with its 3-cup capacity. The processor blades are improved, with one reversible blade for both shredding and slicing. It's easy to clean, with most parts being dishwasher safe. The sleek design is a bonus, although I wish it came in white to match my kitchen.
---
How We Chose Our Top Picks
Our mission is to equip you with expert knowledge about these blenders, even if we haven't personally tested each one. Our insights are derived from comprehensive research and careful consideration of user feedback. Here's how we narrowed down our top picks:
Price Range: We began by focusing on blenders within the $40 to $180 price range. This range is known to encompass a wide variety of high-quality glass blenders.
Power Output: We then filtered out any blenders with a motor power output of less than 600 watts. Our expertise tells us that anything less than this might struggle with tougher blending tasks.
Budget Segmentation: We divided our selected price range into five segments to ensure we had top picks for different budgets.
Customer Reviews: We scoured independent customer reviews to gauge user satisfaction, focusing on durability, ease of use, and maintenance. We also ensured all our top picks were dishwasher-safe with stainless steel blades for longevity and performance.
Features: For the higher-end budget segment, we further narrowed our list based on advanced features, such as pre-programmed settings and heating elements.
Warranty: We examined customer feedback about warranty claims and the manufacturers' responsiveness. A good warranty often reflects a company's confidence in its product.
After this rigorous process, we were left with five outstanding blenders that we believe offer the best value, performance, and user satisfaction within their respective price segments. We've compared these blenders against their market competitors to help you identify the one that best aligns with your needs. Our goal is to empower you to make an informed decision, ensuring your ultimate satisfaction.
---
Features to Look for Before a Buying Glass Blender
Choosing the right blender can be a complex task given the multitude of options available in the market. However, understanding key features can significantly simplify your decision-making process.
Here are some crucial factors to consider when buying a glass blender:
Material
The material of the blender jar is a crucial factor. Opt for a blender with a glass jar that is BPA-free. BPA, or Bisphenol A, is a chemical found in some plastics that can cause health issues. Blenders agitate the food inside the pitcher, potentially increasing your exposure to BPA.
Glass jar blenders are generally more durable compared to their plastic counterparts. Plastic jars can chip and may not withstand demanding tasks such as crushing ice or handling hot soups.
In contrast, a glass jar can handle these tasks without breaking or chipping. Glass jars also offer the advantage of being odor-resistant and stain-resistant, unlike plastic jars that can absorb the colors and smells of the food processed in them.
Capacity
Blenders come in various sizes, ranging from personal blenders to larger models capable of making a jug full of smoothies. The size you need depends on your usage.
For a family of four to five, a large blender would be suitable. If you live alone and make fresh smoothies and sauces daily, a personal blender might be sufficient. Consider how often and for what purposes you'll be using the blender to determine the ideal size.
Also, remember that a larger capacity blender might take up more counter space, so consider your kitchen size as well.
Motor Power
Motor power is a straightforward factor: the higher the motor power, the better the performance. We recommend motors with a power output between 600 watts and 1800 watts.
Motors with less power may struggle with demanding tasks and heat up quickly. Conversely, motors with more than 1800 watts of power are typically more suited for commercial use and can significantly increase your electricity bill.
It's also worth noting that a more powerful motor can handle a wider range of ingredients, from hard nuts to fibrous vegetables, enhancing the versatility of your blender.
Ease of Cleaning
Since blenders can get dirty quickly, it's important to choose a model with dishwasher-safe parts for easy cleaning. The blender jar, in particular, can be tricky to clean due to the stainless steel blades.
Some blenders even come with a self-cleaning feature, where you just need to add some water and a drop of dish soap, and the blender does the rest.
Blades
The quality of the blades is crucial for the blender's performance. Opt for a blender with rust-resistant stainless steel blades to ensure they remain sharp even after years of use.
Some blenders also feature specially designed blades that can create a vortex for more efficient blending, or dual-direction blades that can unjam themselves.
Programmed Settings
While all blenders come with basic speed settings (low, medium, high), higher-quality models often feature preprogrammed settings designed for specific tasks, such as making smoothies, pureeing hot soups, or crushing ice cubes. These additional settings can make the blender more versatile and user-friendly.
Some blenders even offer smart programs that adjust speed and power automatically for optimal results.
Design and Appearance
While this factor is subjective, a visually appealing blender can enhance the aesthetics of your kitchen, especially if you plan to keep it on the countertop. Blenders come in a variety of designs and colors, so you can choose one that matches your kitchen decor.
Some high-end blenders also feature a sleek touchscreen interface instead of traditional buttons.
Price
Given the frequency of use, investing in a good-quality blender is worthwhile. Reliable blenders start from around $50, with high-end models costing up to $200. We generally advise against purchasing a blender that costs less than $40, as it may compromise on quality and durability.
Remember, a blender is a long-term investment, and spending a bit more upfront can save you from the cost and hassle of frequent replacements.
Additional Features
Some blenders come with extra features like a heating element for making soups or a self-cleaning function. While these features can add to the cost, they can also significantly enhance the versatility and convenience of the blender.
Other features to consider include a pulse function for better control, a tamper for pushing down ingredients, and a lid with a removable cap that allows you to add ingredients while blending.
By considering these factors, you can find a blender that best suits your needs and preferences, ensuring a worthwhile investment.
The Importance of a Glass Jar
When it comes to blenders, the jar's material plays a significant role in the appliance's overall performance and longevity.
Glass jars are often preferred over plastic ones due to their durability and non-reactive nature. They do not absorb odors or colors from the food, ensuring your blends remain fresh and pure.
Also, glass is more resistant to scratching and can handle hot ingredients, unlike plastic.
Blending Frozen Ingredients
A common use for blenders is to blend frozen fruits for smoothies. When choosing a blender for this purpose, consider the power of the motor and the quality of the blades. A powerful motor and sharp, sturdy blades are essential for effectively blending frozen ingredients.
Some blenders are specifically designed for this purpose and may even have a "frozen" setting.
Blenders with Glass Jars vs. Plastic Jars
While plastic jars are lighter and less prone to breaking if dropped, they have several disadvantages compared to glass jars. Plastic can absorb odors and colors from foods and may become stained over time. It can also scratch easily, which can create grooves where bacteria can grow.
On the other hand, blenders with glass jar are generally more durable and can handle hot ingredients, making them a better choice for many people.
Choosing the Right Blades
The blades are one of the most critical components of a blender. They are responsible for breaking down the ingredients and creating a smooth blend. When choosing a blender, look for one with high-quality, rust-resistant stainless steel blades.
Some blenders also feature patented ice sabre blades, which are specifically designed to crush ice effectively.
In Conclusion
Choosing the right blender involves considering many factors, including the material, capacity, motor power, ease of cleaning, blade quality, programmed settings, design, price, and additional features.
By understanding these factors, you can make an informed decision and choose a blender that best suits your needs and preferences.
---
Frequently Asked Questions
Choosing the perfect glass blender can be a daunting task due to the wide variety of brands and models available. To help you make an informed decision, we've compiled and answered some of the most frequently asked questions about the best blenders with glass jars.
Which glass jar blender is the best?
The best blender with glass jar depends on your specific needs and preferences. Factors such as power, blade type, pitcher size, and additional features should be nsidered. For instance, the Ninja blender is a popular choice due to its powerful motor, diverse blade options, and large glass pitcher capacity.
Which is better: a glass or plastic jar blender?
While plastic jar blenders are generally cheaper, glass jar blenders tend to be more durable and health-friendly as they don't release any plastic toxins into your food. However, if you avoid overheating your plastic blender, it can still be a safe option.
Can blenders with glass jars handle hot liquids?
Yes, glass blender jars can handle hot liquids, making them perfect for blending hot soups. However, it's crucial to handle the hot glass jar with care to avoid potential injuries.
Which blender lasts the longest?
The lifespan of a blender depends on various factors, including its make, model, and frequency of use. Generally, blenders with more powerful motors and those used less frequently tend to last longer.
Are expensive blenders worth it?
The value of an expensive blender depends on your usage. If you plan to use your blender for more challenging tasks like making nut butter or crushing frozen fruit, investing in a high-quality, more expensive model might be worthwhile. These models usually offer higher durability and performance.
What blender is better than Ninja?
While Ninja blenders offer excellent performance and value, brands like Vitamix are known for their superior quality and durability, albeit at a higher price point. Vitamix blenders are designed for heavy use and can handle a wide range of tasks with ease.
How long does a blender last?
With proper care and maintenance, most blenders can last between 3 to 5 years. However, some high-quality blenders can last even longer, up to 10 years or more.
What is important when buying a blender?
Key factors to consider when buying a blender include its power, features, material, capacity, ease of cleaning, blade quality, programmed settings, design, and price. Your specific needs and preferences will determine the importance of each factor.
Can blenders with glass jars crush ice?
Yes, many blenders with glass jars can crush ice. However, it's important to ensure that the blender has a powerful motor and sturdy blades designed for this purpose. Some blenders, like those with patented Ice Sabre blades, even come with a specific ice-crushing setting.
Are glass jar blenders easy to clean?
Most glass jar blenders are relatively easy to clean, especially those with dishwasher-safe parts. Some high-end models even feature a self-cleaning function, adding to their convenience.
---
Which Option of Our Glass Blenders Is Best For You?
That said, the best glass blender for you is ultimately the one that suits your needs and preferences the most. Consider what functions are important to you and what design speaks to you. Once you've checked those boxes, it's time to take a closer look at reviews before making your final decision.
All of the options we presented today can be great blenders for your home — it comes down to personal preference.
Thanks for reading, and good luck finding the perfect glass blender for your kitchen!
---
Items Reviewed
Further Reading
Please note that the reviews on this page have been edited for readability and clarity while maintaining the essence of the original content.
---