In the culinary world, the knife is a chef's best friend, and the Gyuto knife is the samurai of the kitchen! With its Japanese heritage, it's not just a knife; it's a precision instrument that dances through vegetables, meats, and anything else you dare to put under its blade.
Whether you're a seasoned chef or a home cook looking to elevate your cooking game, a Gyuto knife is your go-to tool. Sleek, sharp, and versatile, it's the culinary partner you never knew you needed.
Join us on a journey through the world of Gyuto knives, as we slice through the options and carve out the best picks for every budget. From the best overall to the editor's choice, we've got the perfect blade waiting to find a home in your kitchen. Let's cut to the chase!
🤝As an Amazon Associate, we earn from qualifying purchases made through our links, at ZERO additional cost to you.
5 Best Gyuto Knives
---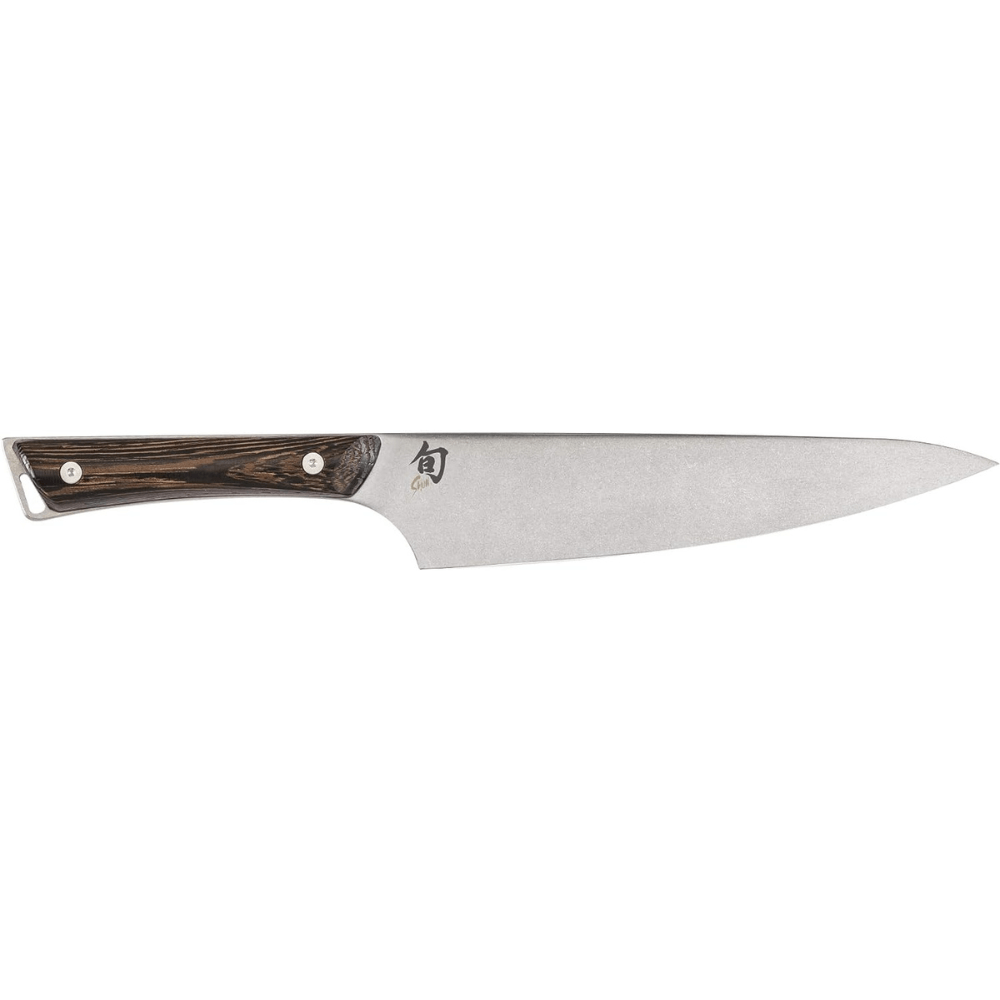 Shun Cutlery Kanso Chef's Knife
The Shun knife is a versatile all-rounder with a high-quality construction from AUS10A high-carbon stainless steel. Its handle made of Tagayasan, known as "iron sword wood," ensures durability and precision balance, making it suitable for a wide range of kitchen tasks.
Check Price on Amazon
What We Love:
Gyuto-style design for push cuts.
AUS10A high-carbon stainless steel with Vanadium.
Razor-sharp and corrosion-resistant.
Durable tagayasan handle.
Full-tang handle for balance.
Comes with a sheath.
Handcrafted reflecting Japanese traditions.
What to Keep in Mind:
Needs proper care for maintenance.
Unique handle feel.
Why It Might Be Right for You:
In the rhythm of your culinary creations, the Shun Kanso Chef's Knife shines as a beacon of precision. Its contoured tagayasan handle feels like an extension of your hand, guiding you through each cut with grace. The blade, a masterpiece of high-carbon stainless steel, effortlessly glides through ingredients. Whether you're finely chopping herbs or slicing through a succulent roast, this knife transforms every task into an art form, echoing the age-old traditions of Japanese craftsmanship.
Customer Review (source: Amazon)
As a chef and restaurateur who's tried many knives, this is the best one yet. It feels like an extension of my hand, perfectly balanced, and suits my larger hands. No irritation, stays sharp even with hours of daily use, and has a great rustic look. I'd buy it again in a heartbeat, even if it cost more.
Blade Material: High Carbon Stainless Steel | Handle Material: Tagayasan (Wenge) Blade length: 8 inches
---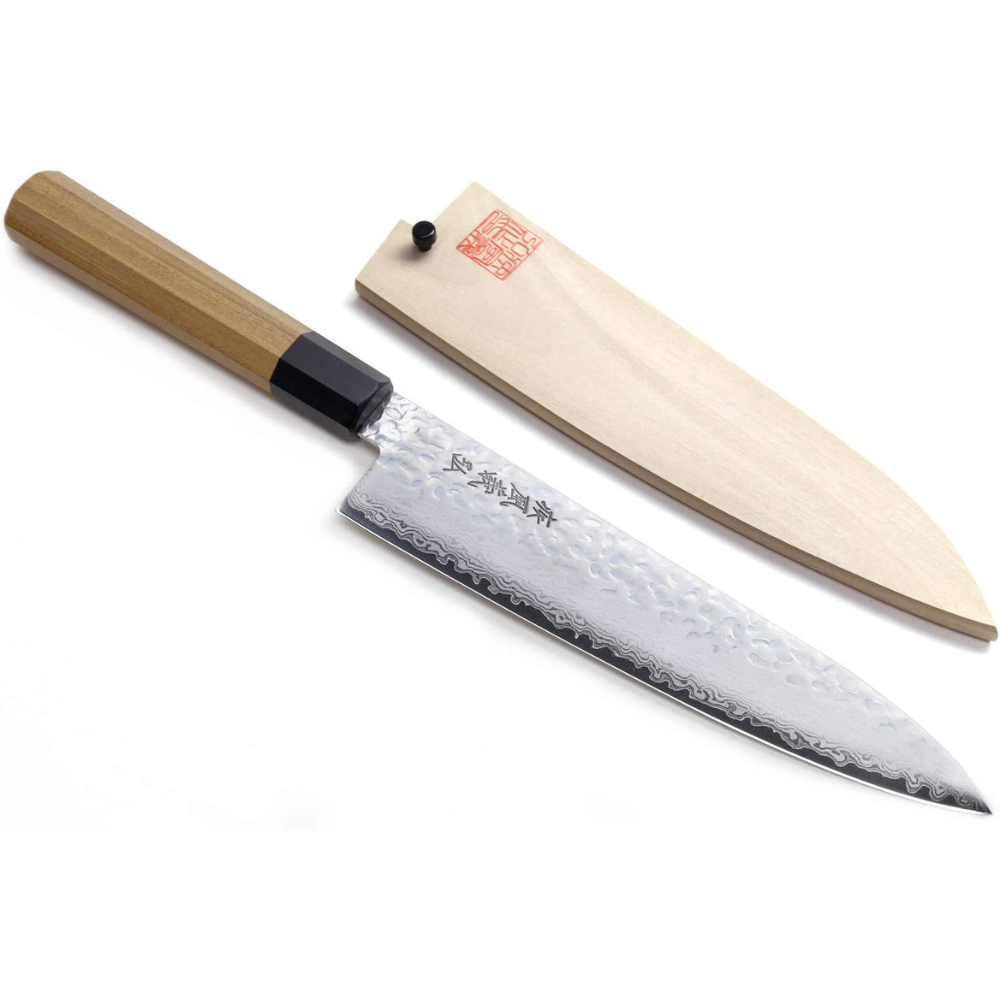 Yoshihiro Damascus Gyuto Knife
This knife offers a perfect blend of traditional craftsmanship and modern utility. The three-layer structure with VG-10 stainless steel and the ergonomic mahogany wood handle make it a top choice for both professionals and home chefs.
Check Price on Amazon
What We Love:
Perfect for chopping, slicing, dicing, and carving.
Ergonomic mahogany wood handle for a balanced grip.
Three-layer structure for durability and sharpness.
VG-10 stainless steel core ensures edge retention.
Fashionable design with 16 layers of hammered steel.
Rough exterior reduces friction and prevents food stickiness.
Easy to sharpen blade.
What to Keep in Mind:
Requires care: sharpening and honing should be done with water whetstones, hand wash and dry only.
Not suitable for cutting hard objects such as bones, nutshells, and frozen foods.
Why It Might Be Right for You:
Every culinary journey begins with the right tools. As you explore the world of flavors, the Yoshihiro Gyuto knife becomes your trusted companion. With each slice, dice, and chop, you appreciate its precision and craftsmanship. The mahogany handle fits snugly in your hand, and the blade's beauty is matched only by its performance. From fresh farmer's market produce to a roast chicken, every meal turns into a culinary masterpiece with this knife by your side.

Customer Review (source: Amazon)
A must-have for anyone serious about cooking. I adore this knife, use it constantly, and it holds a proud spot in my kitchen. Easily a 5-star choice.
Blade Material: VG-10 Stainless Steel | Handle Material: Mahogany wood | Blade length: 7, 8.25, 9.5 inches
---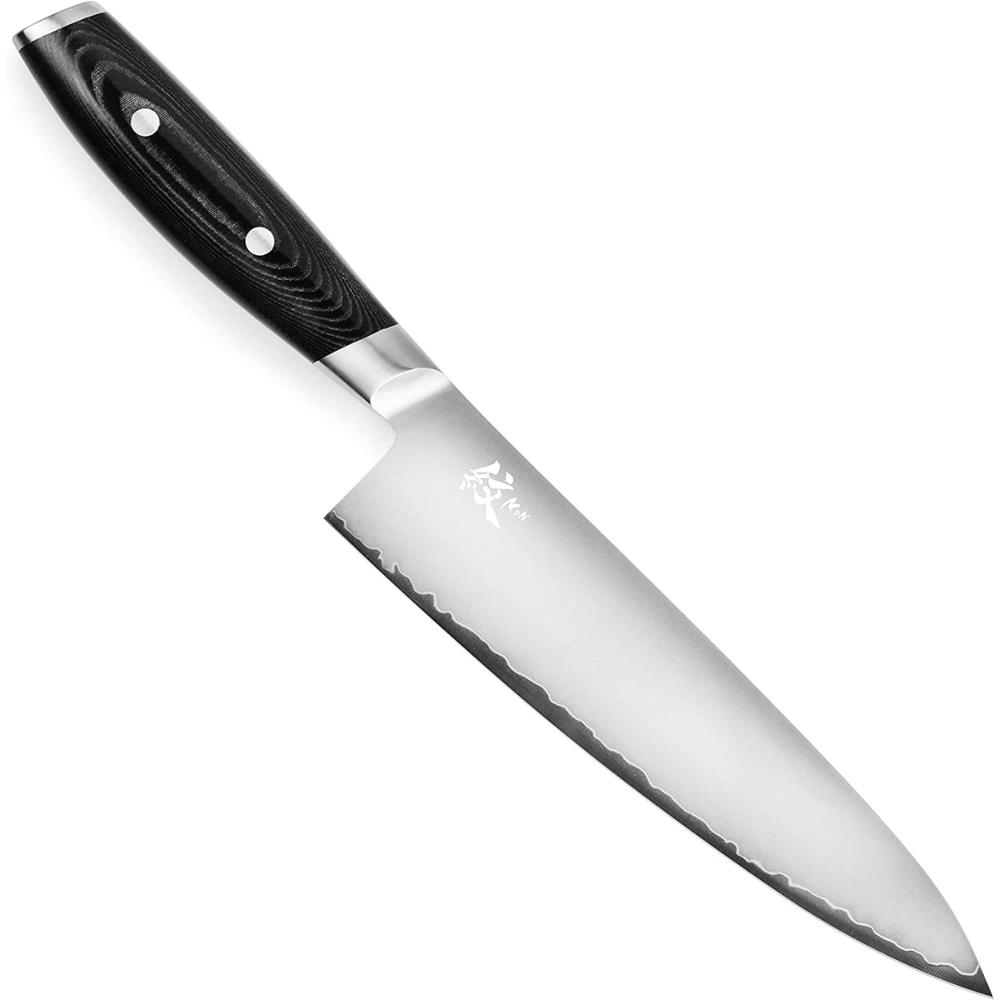 With its sand-blast finish reminiscent of the Katana blade wave line and a blade core made from 3-layer Japanese Cobalt Molybdenum Vanadium VG10 superior stainless steel, this knife is designed for tasks that require meticulous precision.
Check Price on Amazon
What We Love:
Classy appearance with sand-blast finish.
Wave line reminiscent of a Katana blade.
VG10 stainless steel: strong and durable.
Maintains edge well.
Even weight distribution and comfortable grip.
Full tang design for stability.
What to Keep in Mind:
Blade may scrape easily.
Transition between handle and blade isn't smooth.
Why It Might Be Right for You:
The Yaxell Gyuto Knife is a testament to craftsmanship and precision. Born in the heart of Japan, this knife is a fusion of tradition and modernity. Its VG10 stainless steel blade ensures each cut is clean and precise, while the Micarta handle offers a comfortable and secure grip. The sand-blast finish, reminiscent of the iconic Katana blade wave line, adds a touch of elegance. This knife isn't just about cutting; it's about enhancing the entire cooking experience, making each meal preparation a moment to savor.
Customer Review (source: Amazon)
This is the best knife I've owned, outclassing my collection from various countries. Its design, handle, lightness, and edge retention are unmatched. Handcrafted at Yaxell, it feels like a product from a former samurai sword shop. Surprised by its affordability given its quality. It's a testament to the craftsmanship that hand-made tools can still outshine machine-made ones. Highly recommend supporting such craftsmanship.
Blade Material: 3-layer Japanese VG10 Stainless Steel | Handle Material: Black resin and linen canvas Micarta Blade length: 8 inches
---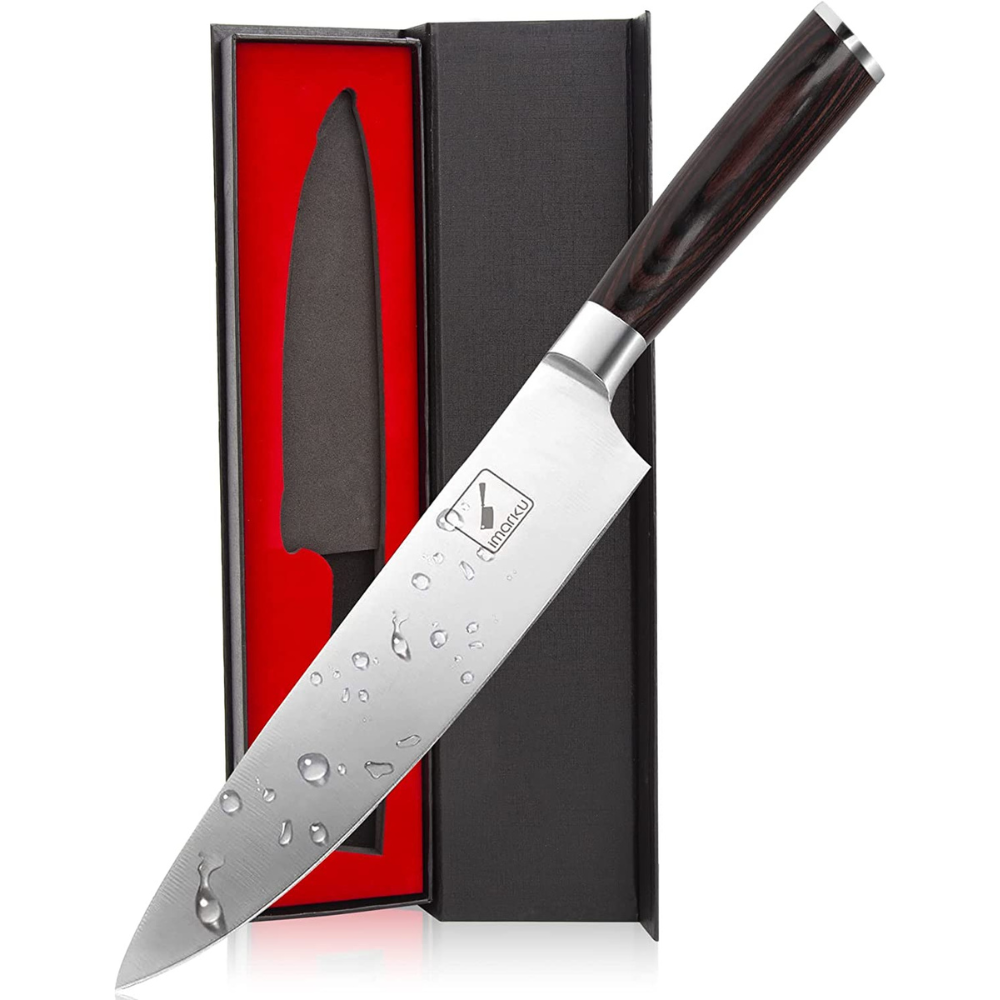 Imarku Chef's Knife: 8-inch
The Imarku knife offers a high-carbon stainless steel blade at a more affordable price point. Its ergonomic Pakkawood handle and hand-polished edge make it a great value for its cost.
Check Price on Amazon
What We Love:
Made of professional-grade German HC stainless steel.
Resistant to corrosion, rust, and discoloration.
Ergonomic Pakkawood handle for comfort.
Reduced grip pressure for prolonged use.
Hand-polished edge of 15 to 18 degrees on both sides.
Hollow oval-edge design for a high-end experience.
Full reinforcement between handle and blade for balance.
What to Keep in Mind:
May not be suitable for heavy-duty tasks given its delicate design.
Why It Might Be Right for You:
Embrace the art of precision with the Imarku Gyuto Knife. Its German HC stainless steel blade ensures not just durability but also a sharpness that remains unmatched, turning intricate cuts into effortless motions. The ergonomic Pakkawood handle is designed for those who value comfort during prolonged culinary sessions. If you seek a blend of tradition, design, and performance in your kitchen, this knife is your perfect companion.
Customer Review (source: Amazon)
This knife is a game-changer. Just placing it atop an onion or tomato, and it glides through effortlessly due to its perfect weight balance. The best I've used so far!
Blade Material: High Carbon Stainless Steel | Handle Material: Pakkawood | Blade length: 8 inches
---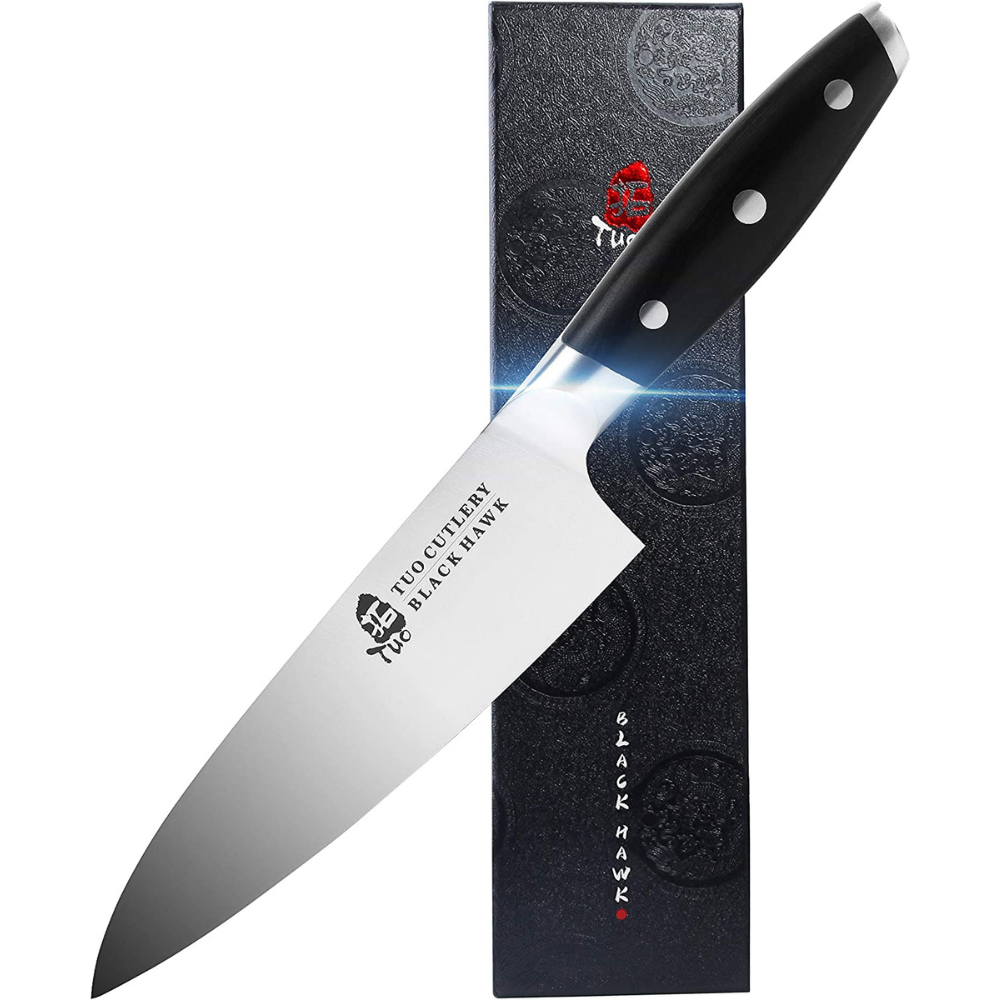 The TUO knife stands out with its integrated design that ensures a perfect balance between the handle and the blade. The G10 handle not only offers a comfortable grip but also boasts enhanced anti-skid qualities. This design promotes safety and efficiently reduces wrist fatigue, making it ideal for extended use in the kitchen.
Check Price on Amazon
What We Love:
Integrated design balances handle and blade.
G10 handle offers a comfortable grip.
Enhanced anti-skid qualities for safety.
Reduces wrist fatigue during prolonged use.
What to Keep in Mind:
The knife has an inclination of 8 to 12 degrees on each side.
Designed for both left- and right-handed use.
Why It Might Be Right for You:
The TUO Gyuto Knife is a fusion of craftsmanship and innovation. Its 7-inch blade is tailored for those intricate cuts, while the G10 handle ensures a firm yet comfortable grip. With its unique balance and design, this knife promises precision, whether you're dicing vegetables or slicing through meat. The Black Hawk design not only speaks of its efficiency but also adds a touch of elegance to your kitchen ensemble.
Customer Review (source: Amazon)
As a retired chef with years of experience using Henkel knives, I can say this knife rivals those high-end German ones but at a fraction of the cost. It's crucial to have a reliable knife for quality cooking, and this one's balance and handle design make cutting a breeze. The blade stays sharp and is easily maintained. Perfect for budding chefs on a budget or seasoned pros like me wanting to add another gem to their collection.
Blade Material: Stainless Steel | Handle Material: Black Pakkawood Blade length: 6, 7, 8, 10 inches
---
How We Chose Our Top Picks
In the vast world of kitchen knives, the Gyuto stands out as a symbol of precision and versatility. But how do you pick the best from a sea of options? Our approach is rooted in expertise and thorough research.
Expertise and Research: Our team comprises culinary enthusiasts and professionals who understand the nuances of a good knife. Our goal is to provide you with expert insights into these Gyuto knives, even if we don't have personal experiences with each product. We've conducted extensive research, delving deep into the craftsmanship, materials, and design philosophies of renowned Japanese knife makers.
User Feedback and Reviews: We've considered user feedback from various platforms, including customer reviews from Amazon, to evaluate performance, durability, and ease of use. Real-world experiences provide invaluable insights, helping us gauge how each knife performs in everyday kitchen scenarios.
Comparison and Analysis: We don't just look at individual knives in isolation. We compare them against their competitors, analyzing their strengths and weaknesses. This comparative approach ensures that our recommendations stand out in the crowded market.
Our Selection Criteria: We have carefully selected the top five Gyuto knives that blend value, effectiveness, use, and durability. Each knife we've chosen excels in one or more areas while making minimal compromises in others. Consistent with the essence of Gyuto knives, our selections are versatile and apt for general use.
As we delve into our reviews, you'll discover some of the most well-liked and dependable Gyuto knives available at competitive prices. We'll highlight the distinctive features of each knife, ensuring you have all the information you need to make an informed decision. So, without further ado, let's embark on our journey through the world of Gyuto knives!
---
What is a Gyuto Knife?
Gyuto, which translates to "cow sword" in Japanese, is the name of the kitchen knife we're using. The versatile knife you must have in your collection is the gyuto knife, initially designed for slicing meat.
Gyuto knife is the kitchen's equivalent of swords; they can be used to slaughter, slice, and chop just about anything. The Japanese equivalent of a chef's knife is called a Gyuto. This Japanese cooking tool- the best Japanese chef knife- can cut various foods, including vegetables, garlic, and meat.
They typically have a pointed tip and an incredibly sharp edge, making them ideal for the rocking back-and-forth mincing style. If you want a knife that looks incredibly stylish and can accomplish just about anything, they are a cutting board's best friend and an absolute kitchen requirement.
---
Types Of Japanese Chef Knives
Chef knife made in Japan is thinner, tougher, and sharper. Japanese Gyuto knife producers also specialize and create designs for particular jobs. Japanese knives are popular among many professional cooks as a result. Japanese knives come in a variety of varieties, including:
Gyuto
The gyuto is a versatile kitchen knife with various uses, such as: cutting the vast majority of meats, fish, vegetables, and fruits.
Santoku
The lightweight santoku, a popular Japanese kitchen knife, is perfect for mincing, dicing, and slicing.
Yanagi
The Yanagi is excellent for creating sushi because its long blade allows it to cut larger fish into perfect slices.
Sujihiki
The Sujihiki features a sharp angle that makes it perfect for cutting poultry and other types of meat and filleting fish.
Deba
The Deba is a butcher's knife because it has a thick blade and spine with a nice bend.
Pankiri
The Pankiri is excellent for slicing bread and has serrated edges.
Usuba
This knife has a single edge and is sufficiently sharp to cut various vegetables.
---
What distinguishes a Gyuto knife from a regular Western chef knife?
Gyuto knife may maintain its edge for a very long period despite being shorter and thinner than a chef knife or other ordinary western knife. The blade's reduced weight allows for greater cutting agility and speed.
---
Things to consider before buying Best Gyuto Knife
The knife market is saturated, and it's hard to know which is best for you.
With so many different types of knives on the market, it can be tough to figure out which one is right for you. Do you need a chef's knife or a paring knife? A serrated blade or a straight edge?
We're here to help. Our guide will walk you through what to look for when searching for a Gyuto knife and help you choose the best one for your needs. We've also selected some of the best gyuto knives on the market based on quality, durability, and price.
Price
Since the Gyuto knife is of professional grade, you can anticipate paying somewhat more per knife than you would for regular kitchen cutlery.
This does not imply that the best gyuto knives are the most expensive ones. You should contrast the knife's characteristics, the type of handle it has, e.g., wooden handle, and the steel used to construct it.
Blade Composition
Most of the best Gyuto knives sold today are made of stainless steel. And whichever one you choose, they are strong and long-lasting.
This is one of the factors contributing to its exceptional edge retention and low maintenance requirements. SG2 and VG10 are the types of stainless steel that are commonly used.
The SG2 has high carbon content and is a high stainless steel alloy.
VG-10 is a cutlery-grade stainless steel produced in Japan.
Handle
The handle ranks as the knife's second most crucial component. The Gyuto knife often has one of two different types of handles. "Wa" and "Yo."
Traditional Japanese handles like the Wa are thinner than most blades. This improves the balance and makes it simpler to manage. Glue is used to affix this handle to the gyuto blade on both sides.
Yo chef knives have heavier handles than their blades, which are more frequently found in Western chef's knives. Chefs that favor a heavier knife should choose this style of handle.
Sharpness and Edge Retention
The greatest Gyuto knives have a thin cutting edge and are razor sharp. A 9.5 to 16 degrees cutting angle is ideal since it can cut through practically everything.
Be aware that a thin edge will make the knife more delicate. The knife will maintain its sharpness for a long time if it is made of top-quality steel, though, because of its large amount of hardness.
Honing
The edge may flex when a soft-steel knife strikes a hard object or the cutting board. A knife's edge is realigned via honing.
Your soft steeled knife should only be sharpened when necessary. Gyuto knives made of strong steel, on the other hand, don't bend and don't need to be honed.
Make
Consider reputation while investing in a high-quality knife. Make sure the company selling you the knife is reputable for creating high-quality goods. A review of the top Gyuto knives can be found here.
---
Frequently Asked Questions
What is a Gyuto knife good for?
A Gyuto knife is good for slicing meat, fish, and vegetables. It's a versatile all-purpose kitchen knife that most people find easy to use.
Vegetables that are tougher than usual are sliced with it. To cut these tough ingredients, you utilize a rocking-chopping action.
It can also cut meat in both the push and pull directions. Additionally, the tip's sharpness allows for creating small, delicate incisions.
Can you cut meat with a Gyuto?
The Gyuto is a Japanese chef's knife that is designed for just about anything, including cutting meat. It has a fairly wide blade that is well-suited for slicing and chopping meat, and the long handle allows the user to apply plenty of force to the cut.
If you're looking for a chef's knife that can be used for both meat and vegetables, I would recommend the Chef's Knife. The Chef's Knife has a narrower blade than the Gyuto, which makes it better suited for slicing vegetables. But it can still be used to chop and slice meat if needed.
Can you use Gyuto to fillet fish?
You could, but it's not a good knife to fillet fish. The Gyuto is a Japanese Chef's Knife that is designed for slicing meat, not fish. A fillet knife is the better option for filleting fish. A deba knife is good to use if you want to cut fish with bones.
Yes, you can rock a Gyuto! A Gyuto is a Japanese-style chef's knife that can be used for a variety of tasks in the kitchen, including chopping, slicing, and dicing. It's a versatile knife that is perfect for preparing meals.
Yes, gyuto is a good choice for sushi. It has a thin blade that is easy to cut through delicate fish, and the curved shape helps to keep the slices in place. The best knife for sushi is Yanagiba.
Yanagiba is a type of Japanese chef's knife. It is a long, thin blade that is ideally suited for slicing raw fish. The curve of the blade allows the user to make a single continuous slicing motion, which results in cleaner cuts with less damage to the flesh of the fish.
Who are the most renowned Japanese knife makers for Gyuto chef knives?
Japanese knife makers are world-famous for their craftsmanship and precision. When it comes to Gyuto chef knives, brands like Yoshihiro, Shun, and Yaxell stand out as some of the top manufacturers, with each offering a unique blend of tradition and modern innovation in their blades.
What sets a Gyuto chef knife apart from other knives in Japanese knife makers' collections?
The Gyuto chef knife, often referred to as the Japanese equivalent of the Western chef knife, is known for its versatility. Crafted meticulously by Japanese knife makers, it boasts a thinner blade and sharper edge, making it perfect for precision tasks like slicing, dicing, and chopping. Its unique design combines the best of both Japanese and Western knife characteristics.
---
Final Thoughts
It is a sensible decision to expand your cutlery collection with a Gyuto knife. These knives are of the highest quality and performance.
The performance of each genuine Japanese Gyuto knife demonstrates the attention that was put into making it. A single piece of high-carbon steel knives is the starting point for the protracted and difficult process of forging a genuine Gyuto knife.
To create a fine cutlery, professionals painstakingly hammer, kiln, polish, and sharpen the blade. The blade may be sharpened to astonishingly thin and sharp edges due to how hard it is.
A Gyuto is practically the only culinary tool most cooks require due to its versatility. We sincerely hope this information has aided you in your hunt for the Gyuto Knife.
---
Items Reviewed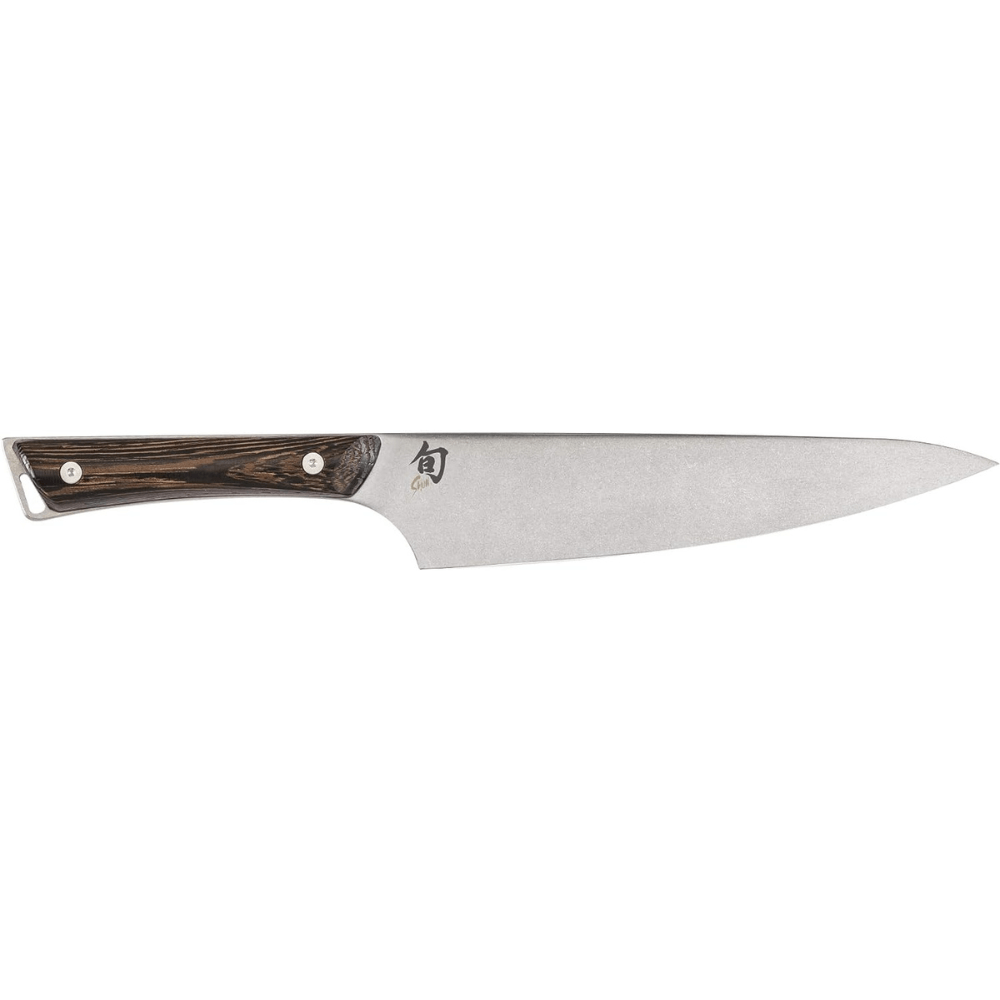 Best Overall: Shun Cutlery Kanso Chef's Knife
The Shun knife is a versatile all-rounder with a high-quality construction from AUS10A high-carbon stainless steel. Its handle made of Tagayasan, known as "iron sword wood," ensures durability and precision balance, making it suitable for a wide range of kitchen tasks.
Check Price on Amazon
Further Reading
Please note that the reviews on this page have been edited for readability and clarity while maintaining the essence of the original content.
---