Imagine transforming your everyday drinks into a cool experience with awesome ice balls! Choosing the best ice ball maker might seem like a puzzle, but don't sweat it. We're here to guide you through the icy maze. In this fun journey, we'll explore five amazing ice ball makers, helping you find the perfect one to make your beverages the coolest part of your day!
🤝As an Amazon Associate, we earn from qualifying purchases made through our links, at ZERO additional cost to you.
5 Best Ice Ball Makers
---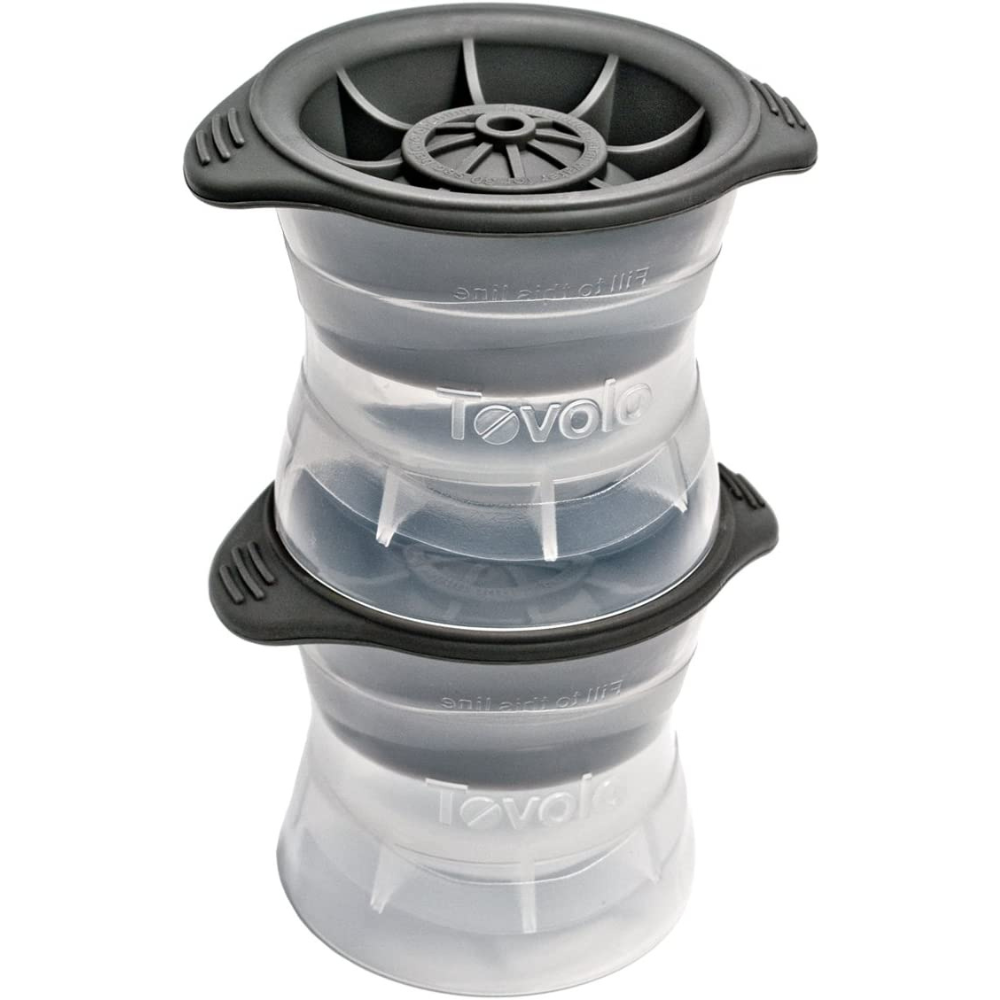 Tovolo Sphere Ice Mold
The Tovolo Sphere Ice Mold excels in both functionality and design. It's perfect for creating large, slow-melting ice spheres that are ideal for a variety of cocktails. Its durability, ease of use, and stackable feature make it a top choice for both casual and sophisticated drink settings.
Check Price on Amazon
What We Love
Ease of Use: Simple to fill and freeze.
Quick Cooling: Chills drinks rapidly.
Ideal for Cocktails: Enhances the drinking experience.
Durability: Made from sturdy, long-lasting plastic.
Stackable Design: Saves space in the freezer.
Large Size: 2.5" spheres perfect for various glasses.
What to Keep in Mind
Limited Capacity: Only two spheres per mold.
Why It Might Be Right for You
If you're seeking the pinnacle of ice ball molds, the Tovolo Sphere Ice Mold is your answer. As the best overall choice, it's perfect for those who appreciate both the art and science of a perfectly chilled drink. Whether you're crafting elegant cocktails or enjoying a simple iced coffee, these molds offer the ideal combination of size, ease of use, and aesthetic appeal.
Customer Review (source: Amazon)
I found these ice ball molds perfect for making round ice balls. They're easy to fill and clean, definitely the best ones I've ever used.
---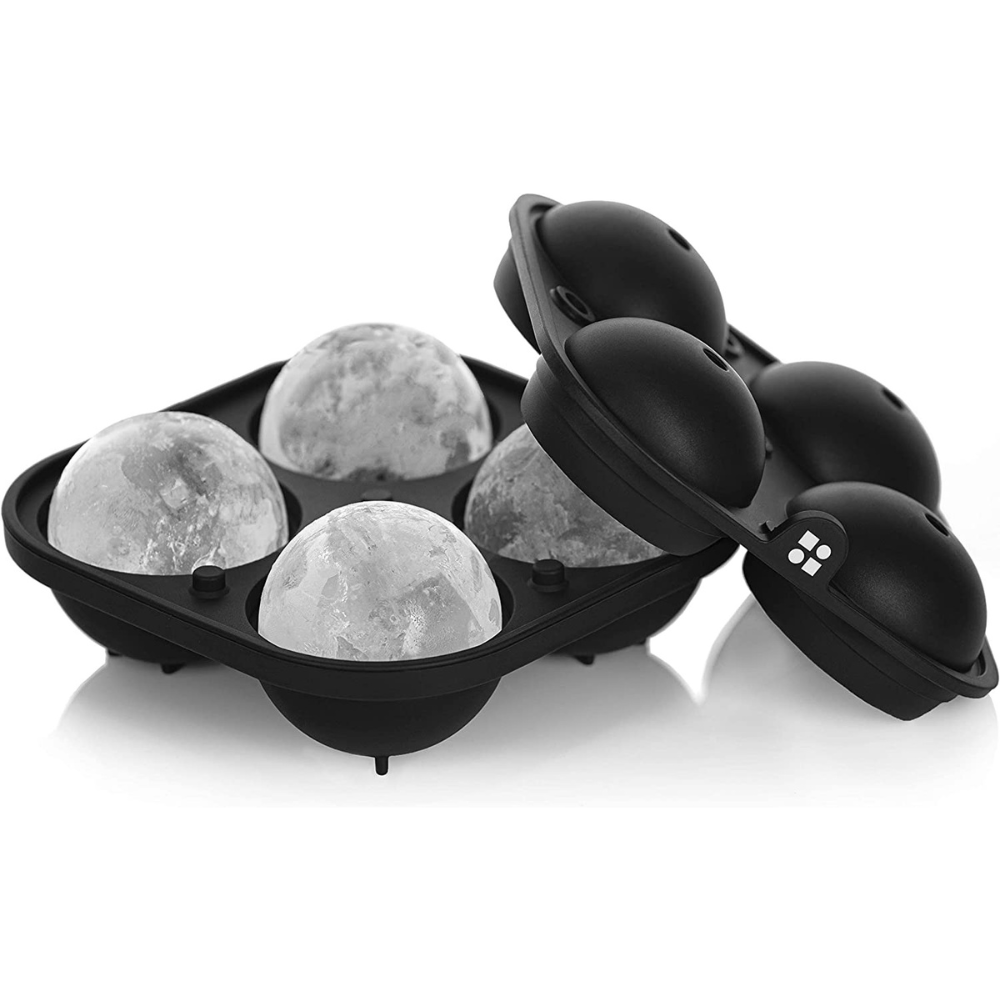 Glacio Ice Ball Maker Tray
The Glacio Tray is chosen for its innovative design and eco-friendly materials. It's particularly favored for whiskey enthusiasts, offering oversized ice spheres that chill drinks effectively without dilution. Its versatility and quality construction make it a standout choice.
Check Price on Amazon
What We Love
Affordability: High value at a low cost.
Health-Safe Material: Constructed with BPA-free silicone.
Perfectly Round Ice: Creates aesthetically pleasing ice balls.
Versatile Use: Suitable for a variety of liquids, not just water.
Large Capacity: Makes four 2.5-inch spheres at a time.
What to Keep in Mind
Size Consideration: May require significant freezer space.
Why It Might Be Right for You
Selected as the Editor's Choice, the Glacio Ice Ball Maker Tray is a dream for enthusiasts who value precision in their drink preparation. Its oversized spheres are meticulously designed to chill your drink to perfection. If you're a whiskey aficionado or a cocktail connoisseur who refuses to compromise on quality, this tray is tailored for you.
Customer Review (source: Amazon)
I absolutely love my ice cube container! The thick, sturdy rubber material is fantastic and so easy to clean. The large sphere cube really makes my drinks look attractive. Plus, the care instructions were super helpful.
---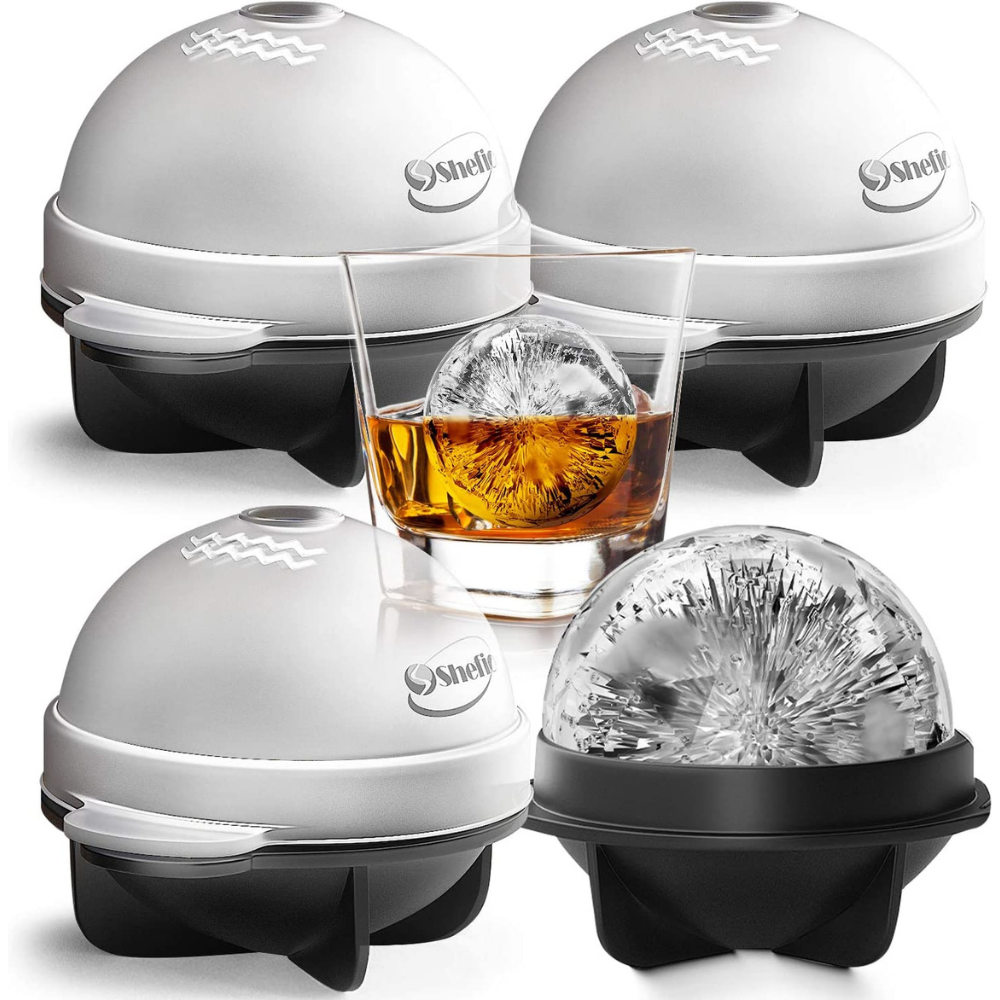 Shefio Big Sphere Ice Ball Maker
The Shefio Maker is perfect for those who enjoy a slow sip of whiskey, scotch, or bourbon. Its design ensures a slow melt, preserving the integrity and flavor of fine spirits. The leak-proof and easy-release features add to its appeal for spirit connoisseurs.
Check Price on Amazon
What We Love
American Made: Crafted in the USA, ensuring quality.
Perfect Size: Each set makes four 2.5-inch ice balls.
Durability: Built to last with strong materials.
Ideal Ice Cubes: Creates large, slow-melting spheres.
What to Keep in Mind
Space Requirement: Needs adequate freezer space for multiple molds.
Why It Might Be Right for You
For whiskey lovers who savor every sip, the Shefio Big Sphere Ice Ball Maker is a must-have. Its slow-melting spheres ensure that your drink maintains its full flavor profile for longer. This maker is ideal for those who appreciate the subtleties of a fine spirit and seek to enhance their drinking experience without dilution.
Customer Review (source: Amazon)
---
Bella Amazing Ice Ball Maker
With its ability to make six large ice spheres at once, the Bella Amazing Ice Ball Maker is ideal for entertaining. It's great for gatherings where multiple drinks need to be chilled simultaneously, making it a hit for party hosts.
Check Price on Amazon
What We Love
Health Conscious: BPA-free for safe usage.
Bulk Pack: Comes in a convenient 6-pack.
Large Ice Balls: Creates 2.5-inch crystal clear spheres.
Long-Lasting Chill: Ideal for keeping drinks cold longer.
Versatile: Suitable for whiskey, bourbon, vodka, scotch, rum, and more.
What to Keep in Mind
Freezer Space: Requires enough space for multiple molds.
Why It Might Be Right for You
The Bella Amazing Ice Ball Maker is the ultimate choice for party hosts. Capable of making six large ice spheres at once, it's perfect for keeping a variety of drinks chilled throughout any gathering. If you love entertaining and want to impress your guests with both style and substance, this ice ball maker is your go-to.
Customer Review (source: Amazon)
I was initially doubtful after trying two other designs for making spherical ice, but these ice molds changed my mind. They require a bit of practice, but they're easy to use and produce ice spheres that are almost perfectly round. I'm glad I decided to give them a try!
---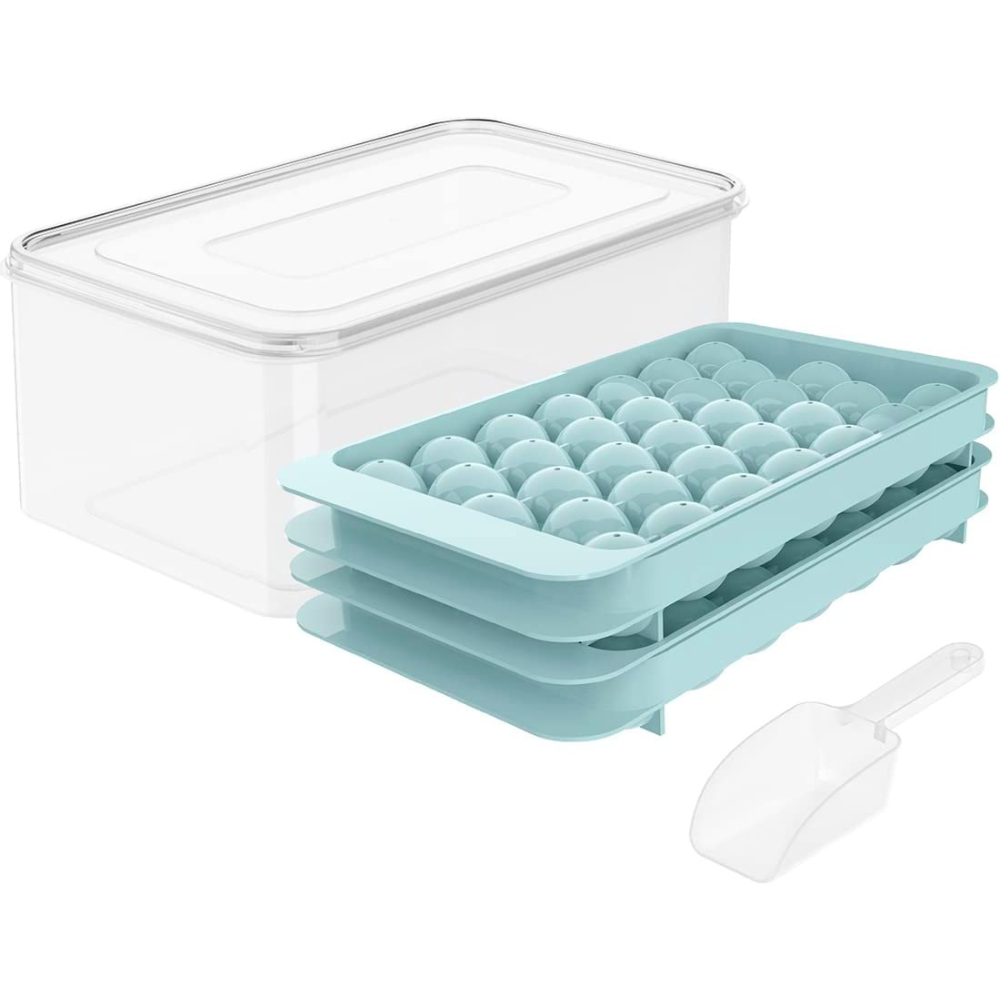 Wibimen Round Ice Cube Tray
The Wibimen Tray stands out for its high capacity and multiple uses. It's perfect for those who enjoy experimenting with different drinks, from cocktails to iced coffees, and appreciate having a large number of mini ice balls ready for any occasion.
Check Price on Amazon
What We Love
Ease of Use: Simple and user-friendly design.
Safe Materials: Non-toxic, no smell, BPA-free, food-grade plastic.
High Capacity: Makes 66 mini ice balls in total.
Complete Kit: Includes two trays, a container, and a mini scoop.
What to Keep in Mind
Mini Size: Produces smaller ice balls than some may prefer.
Why It Might Be Right for You
The Wibimen Round Ice Cube Tray is the epitome of versatility. With its capacity to create a large number of mini ice balls, it's ideal for those who love to experiment with different types of drinks. Whether it's adding a playful touch to cocktails or a refreshing element to non-alcoholic beverages, this tray caters to all your creative chilling needs.
Customer Review (source: Amazon)
I absolutely love this ice mold! Without an ice maker in our fridge, dealing with open trays was always tricky. But this mold, with its round ball shape and a cover to keep the ice fresh, has made things so much easier. I'd definitely recommend it – it's become one of my new favorite purchases!
---
How We Chose Our Top Picks
Our commitment is to offer you expert insights into these ice ball molds, ensuring you make an informed decision. While we may not have personal experience with each product, our approach is thorough and meticulous. We've delved deep into extensive research, scrutinizing every aspect of these products. This includes analyzing customer feedback and reviews from Amazon, which are invaluable for understanding real-world performance, durability, and user-friendliness.
We didn't stop there. To give you the best recommendations, we've also compared these ice ball molds against their competitors. This comparative analysis focuses on key factors like design innovation, material quality, and the efficiency of the ice-making process. Our goal is to identify products that stand out in their ability to meet your needs, whether it's for crafting the perfect cocktail or simply enjoying a chilled beverage.
By considering a wide range of user experiences and product specifications, we ensure that our top picks are not just popular choices, but also reliable and effective solutions for your ice-making needs. Our selection process is designed to help you find the perfect ice ball mold that aligns with your specific requirements, be it for casual home use or more professional settings
---
What to Consider Before Buying the Best Ice Ball Mold
When searching for the ideal ice ball mold, several key factors should guide your decision. Understanding these aspects will help you find a mold that perfectly suits your needs. Here's an insightful guide to assist you in making an informed choice.
Volume and Size: Balancing Space and Efficiency
Space constraints in your freezer are a common concern. Ice ball molds come in various formats, from individual molds to tray-based designs. If you're limited on space, consider stackable molds that optimize vertical storage without sacrificing quality.
The capacity of the mold is crucial. Larger molds may take longer to freeze but offer bigger ice balls, ideal for slow-melting applications. Conversely, smaller molds freeze faster but produce smaller ice, which may melt quicker. Consider your typical usage – do you entertain often, or are you more of a casual user? This will influence your choice between size and freezing time.
Material Matters: Durability and Practicality
Ice ball molds are typically made from stainless steel, plastic, or silicone, each with its own set of advantages:
Stainless Steel: Known for its durability, but it may not always yield a perfect spherical shape. Removing ice can be challenging due to the rigidity of the material.
Silicone: Offers flexibility, making ice removal a breeze. However, it can retain odors, especially when used with flavored liquids. Prompt washing is recommended to maintain freshness.
Plastic: A balance between durability and ease of use, though it may be prone to wear over time. Some plastic molds may retain odors less than silicone but can be trickier for ice removal.
Most top-tier ice ball makers use a combination of silicone and plastic, ensuring BPA-free and dishwasher-safe usage for safety and convenience.
Design and Additional Features: Beyond the Basics
Leakproof Design: Essential for a mess-free experience. Opt for molds with secure locking mechanisms, such as twist-on or snap-on lids, to ensure a tight seal.
Stability: Silicone molds with flat bottoms offer more stability than rounded ones. Some molds come with additional stabilizing features like feet or flat lids, allowing for easier handling and storage.
Shape and Funnel Inclusions: While most molds are spherical, there are unique designs like skull shapes for themed events. Molds with built-in funnels can reduce spillage and ensure precise filling.
Tray Versus Individual Molds: Tray-style molds can produce multiple ice balls simultaneously, ideal for entertaining or bulk preparation. Individual molds, while requiring more effort to fill and stack, offer flexibility in usage and storage.
Storage Considerations: Stackable molds are great for saving space. However, remember that silicone molds might require careful handling to avoid deformation. Hard plastic molds are more robust for stacking but may take up more space.
---
Frequently Asked Questions
What are the benefits of using stackable ice ball molds?
Stackable ice ball molds are ideal for those with limited freezer space. They allow for vertical storage, enabling you to create a significant number of ice balls without taking up too much room.
How do most ice ball molds differ from traditional ice cube trays?
Most ice ball molds are designed to create spherical ice, which melts more slowly than the cubes from traditional ice cube trays. This design helps in chilling drinks for longer periods without diluting them as quickly.
Can ice molds create crystal clear ice balls?
Yes, some high-quality ice molds are designed to produce crystal clear ice balls. These molds typically use a slower freezing process that allows impurities to be removed, resulting in clear ice.
What should I look for in an ice cube maker for making ice balls?
When choosing an ice cube maker for ice balls, consider factors like the material (silicone or plastic), the size of the ice balls, ease of release, and whether the molds are leakproof and dishwasher-safe.
How many ice balls can I make at once with these molds?
The number of ice balls you can make at once depends on the mold. Some are designed for one large ice ball, while others can make multiple smaller balls. Tray-style molds usually produce more ice balls per batch.
Can I replace regular ice cubes with ice balls in any drink?
Absolutely! Ice balls can be used in place of regular ice cubes in almost any drink. They are especially popular in cocktails, whiskey, and other spirits, as they melt slower and dilute the drink less over time.
---
Final Thoughts
We hope this article has clarified which ice ball maker you want in your home. All of the options we presented can be great; it just comes down to personal preference.
Thank you for reading, and we wish you the best in finding the perfect ice ball maker for your needs!
---
Items reviewed: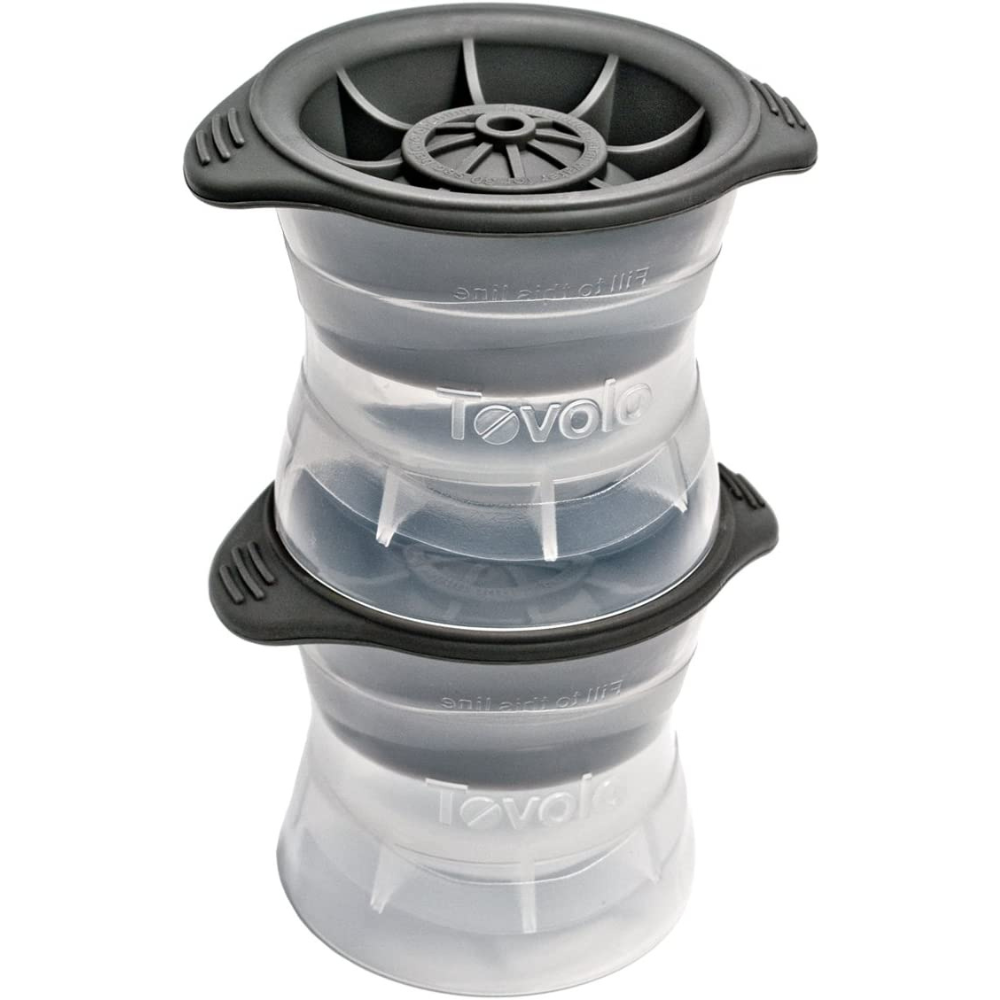 Best Overall: Tovolo Sphere Ice Mold
The Tovolo Sphere Ice Mold excels in both functionality and design. It's perfect for creating large, slow-melting ice spheres that are ideal for a variety of cocktails. Its durability, ease of use, and stackable feature make it a top choice for both casual and sophisticated drink settings.
Check Price on Amazon
Please note that the reviews on this page have been edited for readability and clarity while maintaining the essence of the original content.
Further Reading
For more inspiration on how to elevate your cocktail experience with clear ice balls, check out this insightful article at Spirits on Ice.
---