Dive into the world of Ninja blenders, where top-notch durability meets the ease of a samurai's sword swipe. These kitchen champions are ready to blend, crush, and whisk your ingredients into culinary masterpieces. And they do it all without demanding a king's ransom or a chunk of your time.
Whether you're a smoothie enthusiast or a sauce savant, these blenders are the trusty sidekicks you didn't know you needed. So, let's find the Ninja that's going to make your countertop the coolest spot in the house!
🤝As an Amazon Associate, we earn from qualifying purchases made through our links, at ZERO additional cost to you.
5 Best Ninja Blenders
---
Ninja Professional Plus Kitchen System
The Ninja Professional Plus Kitchen System stands out for its versatility and power. With 1400 peak watts, it not only blends but also processes food, making it a comprehensive tool for any kitchen. The inclusion of a 72 oz pitcher and two 24 oz cups caters to both large batches and personal servings, while the Auto-iQ technology provides smart, preset programs for a variety of tasks. It's the jack of all trades in the Ninja lineup.
Check Price on Amazon
What We Love:
Versatile Programs: Five Auto-iQ preset options for convenience.
Multiple Speeds: Includes three speeds plus pulse control.
Generous Size: Accommodates large servings with a 72 oz pitcher.
Personalization: Comes with two 24 oz single-serve cups.
Multifunctional: Features a food processor attachment.
Powerful: 1400 peak watts for total crushing power.
Ice Crushing: Capable of turning ice into snow.
Safe Usage: All parts are BPA-free.
What to Keep in Mind:
Heating Limitation: Cannot heat blend for hot mixtures.
Nut Butter Challenge: May struggle with creating smooth almond butter.
Why It Might Be Right for You:
If you're looking for a versatile kitchen companion, the Ninja Professional Plus Kitchen System is your go-to. With its array of attachments and preset programs, it's ideal for culinary enthusiasts who love to experiment with recipes. Whether you're kneading dough or crafting personalized smoothies with the single-serve cups, this system is designed to cater to a variety of needs, making it the best overall choice for versatility and functionality.
Customer Review (source: Amazon)
I've recently upgraded to the Ninja BN701 Professional Plus Blender, and it's completely transformed my blending game. It's a powerhouse with 1400 peak watts, making quick work of everything from ice to frozen fruit. The preset functions for smoothies, frozen drinks, and ice cream are incredibly convenient, and the build quality is top-notch. It's versatile enough for soups and nut butters, and cleaning is a breeze. For anyone who values a high-quality, versatile blender, this one's a gem in the kitchen.
---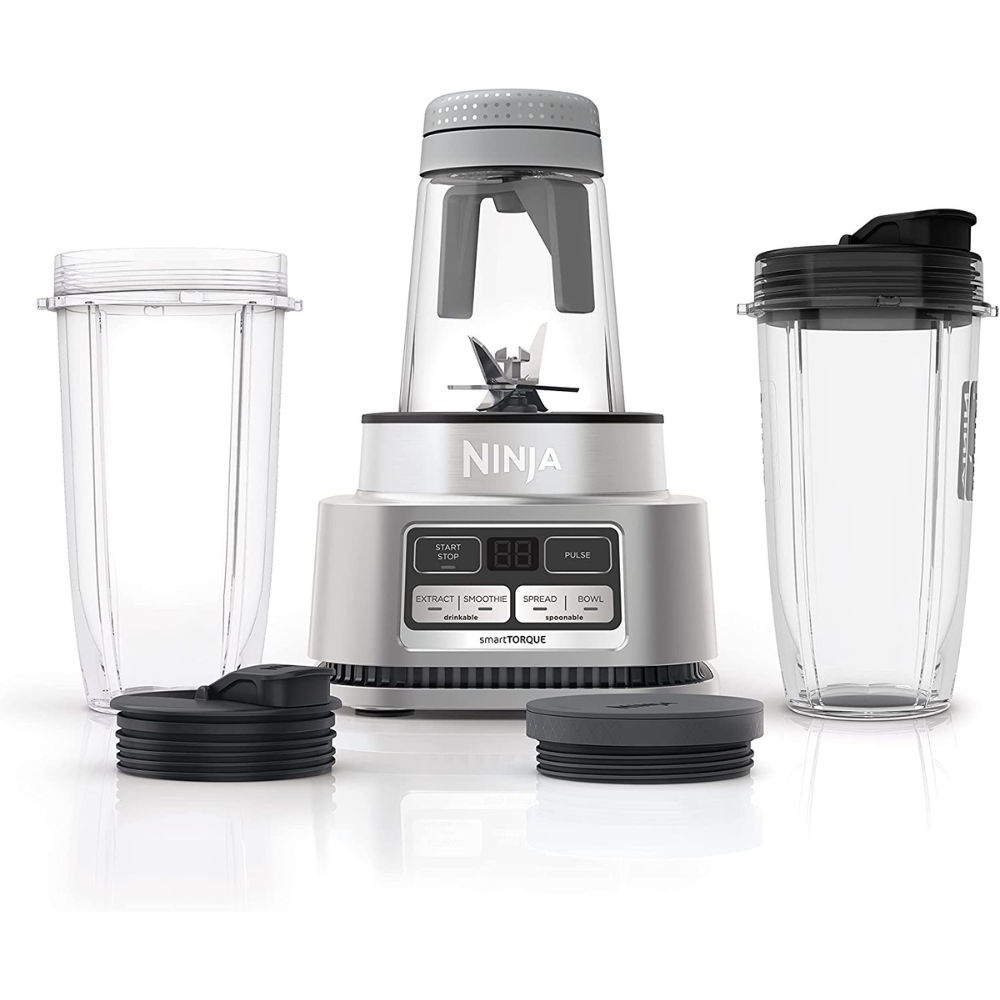 Ninja Foodi Smoothie Maker
The Ninja Foodi Smoothie Maker earns the Editor's Choice for its innovative SmartTORQUE technology and Auto-iQ features, which make it exceptionally good at creating thick smoothie bowls and nutrient extractions. Its compact design and one-touch intelligence make it a standout for those who prioritize convenience and specialized blending like nut butters and thick mixtures.
Check Price on Amazon
What We Love:
Efficiency in a Compact Size: Takes up minimal counter space.
Powerful Performance: 1200 peak watts for robust blending.
Consistent Textures: SmartTORQUE technology avoids stalling.
Blend Versatility: Offers 6 functions for various preparations.
Intuitive Operation: Auto-iQ Technology simplifies the process.
Maintenance Simplicity: Components are dishwasher safe.
What to Keep in Mind:
Torque Requirements: Ideal for those who don't mind a bit more power for creamier textures.
Why It Might Be Right for You:
The Ninja BN701 stands out for those who need a powerful, straightforward blender without extra frills. Its Auto-iQ technology and potent crushing power make it perfect for smoothie lovers and frozen drink aficionados. If you're after a no-nonsense blender that delivers consistent results with the press of a button, this could be your best pick.
Customer Review (source: Amazon)
I've just added the Ninja SS101 Foodi Smoothie Maker & Nutrient Extractor to my kitchen lineup, and it's nothing short of a game-changer. Cleaning is a snap, and it's versatile enough to handle everything from smoothies to nut butter with its smartTORQUE technology. The speed is impressive, whipping up drinks in seconds with a powerful 1200-watt motor, and the to-go cups are perfect for my busy lifestyle. I'm thrilled with this purchase – it's a top recommendation from me!
---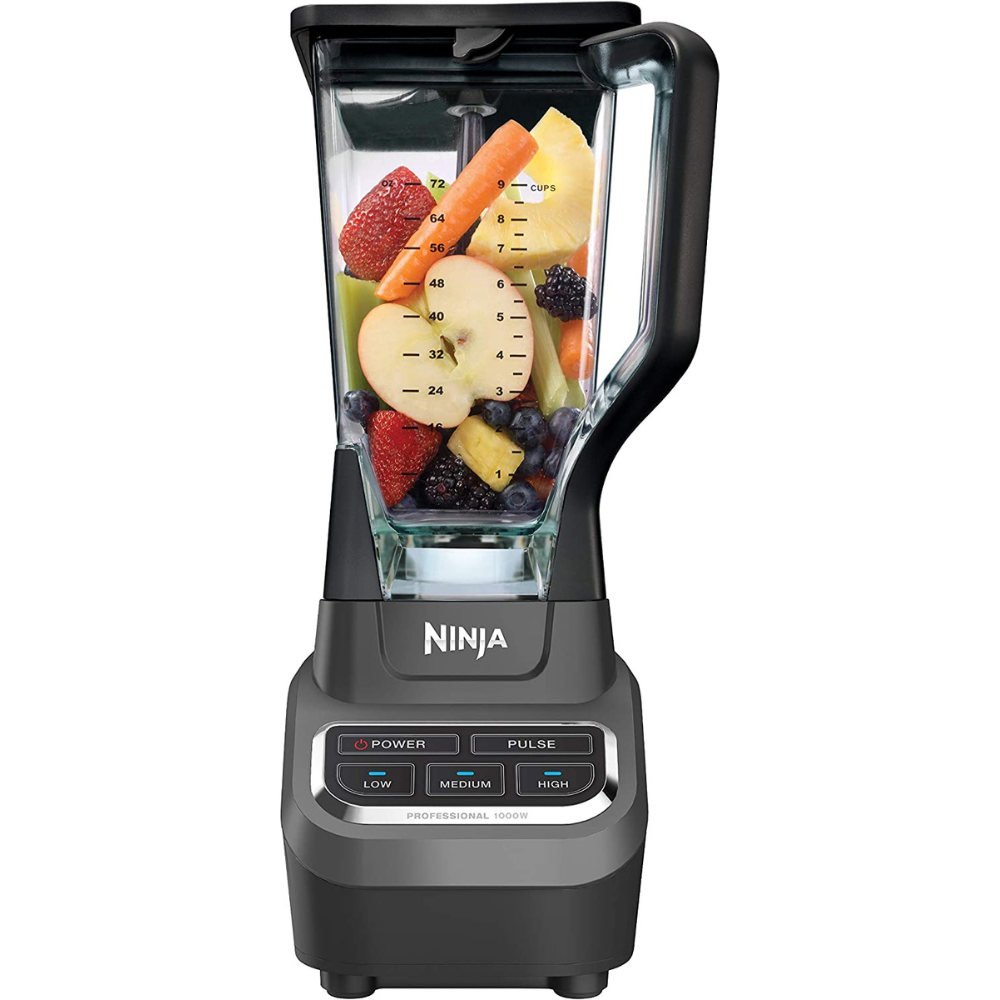 Ninja Professional Countertop Blender
The Ninja BL610, with its straightforward design, powerful 1000-watt motor, and large capacity, is ideal for those who want a no-frills, reliable blender that does the job well without any complicated settings.
Check Price on Amazon
What We Love:
Affordable Excellence: Priced under $100 for value.
Powerful Motor: 1000 watts for high-efficiency blending.
Large Volume: 72 oz pitcher for serving multiple drinks.
Ice Crushing: Turns ice to snow instantly for frozen beverages.
What to Keep in Mind:
Simplicity: Lacks the advanced features of higher-end models.
Noise Level: Can be loud due to the powerful motor.
Why It Might Be Right for You:
For those who prioritize budget without compromising on power, the Ninja BL610 is an excellent choice. It offers professional blending capabilities at a more accessible price point, making it the best option for budget-conscious consumers who still want to enjoy high-quality smoothies and crushed ice treats.
Customer Review (source: Amazon)
I've been on a quest for the perfect smoothie, and the Ninja BL610 Professional 72 Oz Countertop Blender has been my knight in shining armor. With a 1000-watt base and Total Crushing Technology, it's a powerhouse that turns everything from ice to kale into silky smooth delights. The generous pitcher and easy cleanup are huge pluses. Despite an amusing mishap with too much ice, this blender's consistent performance makes it a must-have for any smoothie lover or kitchen adventurer. It's a solid 5 out of 5 stars from me!
---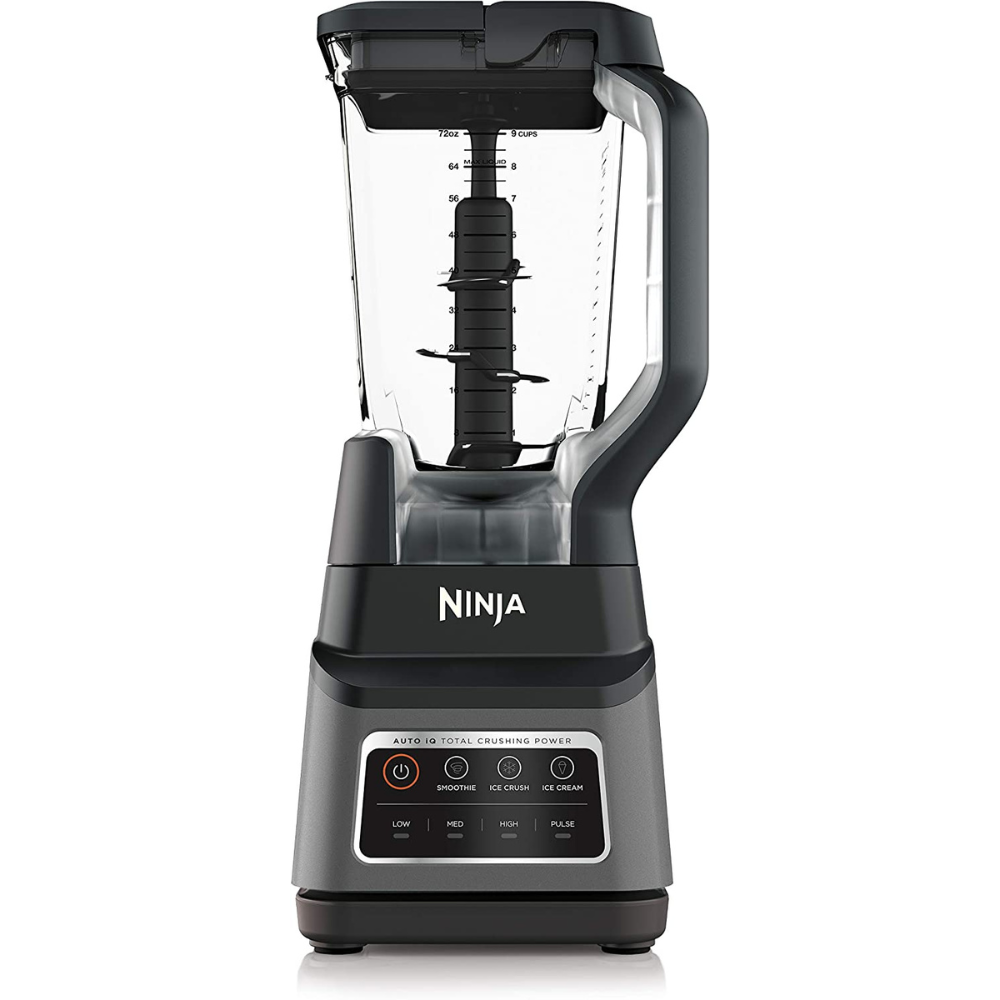 Ninja Professional Plus Blender
With its 72 oz capacity, the Ninja Professional Plus Blender is ideal for those who often find themselves making large batches of beverages. The powerful 1400-watt motor and Total Crushing Blades make it a breeze to crush ice and blend to perfection, suitable for entertaining or family use.
Check Price on Amazon
What We Love:
Efficient Cleaning: Dishwasher safe components for easy cleanup.
Sturdy Construction: Well-built for durability.
Powerful Blending: 1400 peak watts for crushing ice and blending fibrous ingredients.
Simple Operation: User-friendly presets for convenience.
Large Capacity: 72 oz pitcher for big batches.
What to Keep in Mind:
Limited Attachments: Fewer accessories than other models.
Height: Tall design may not fit under all cabinets.
Why It Might Be Right for You:
If your focus is on nutrient-rich smoothies and creative bowl recipes, the Ninja professional blender with its smartTORQUE is designed to handle the thickest of mixtures without stalling. It's the best for health enthusiasts and smoothie bowl creators looking for a blend that's both nutritious and delicious.
Customer Review (source: Amazon)
The Ninja BN701 Blender has been a revelation in my kitchen, a true culinary powerhouse for everything from smoothies to homemade ice cream. Its robust build and modern design fit perfectly on my countertop, and the powerful motor paired with precision blades means it can handle anything I throw at it. The range of speed settings and pulse function give me complete control over texture, whether I'm blending soft fruits or tough ice. Cleaning is a breeze with dishwasher-safe parts, and the included recipe book has opened up a world of culinary possibilities. This blender isn't just a tool; it's a gateway to culinary creativity.
---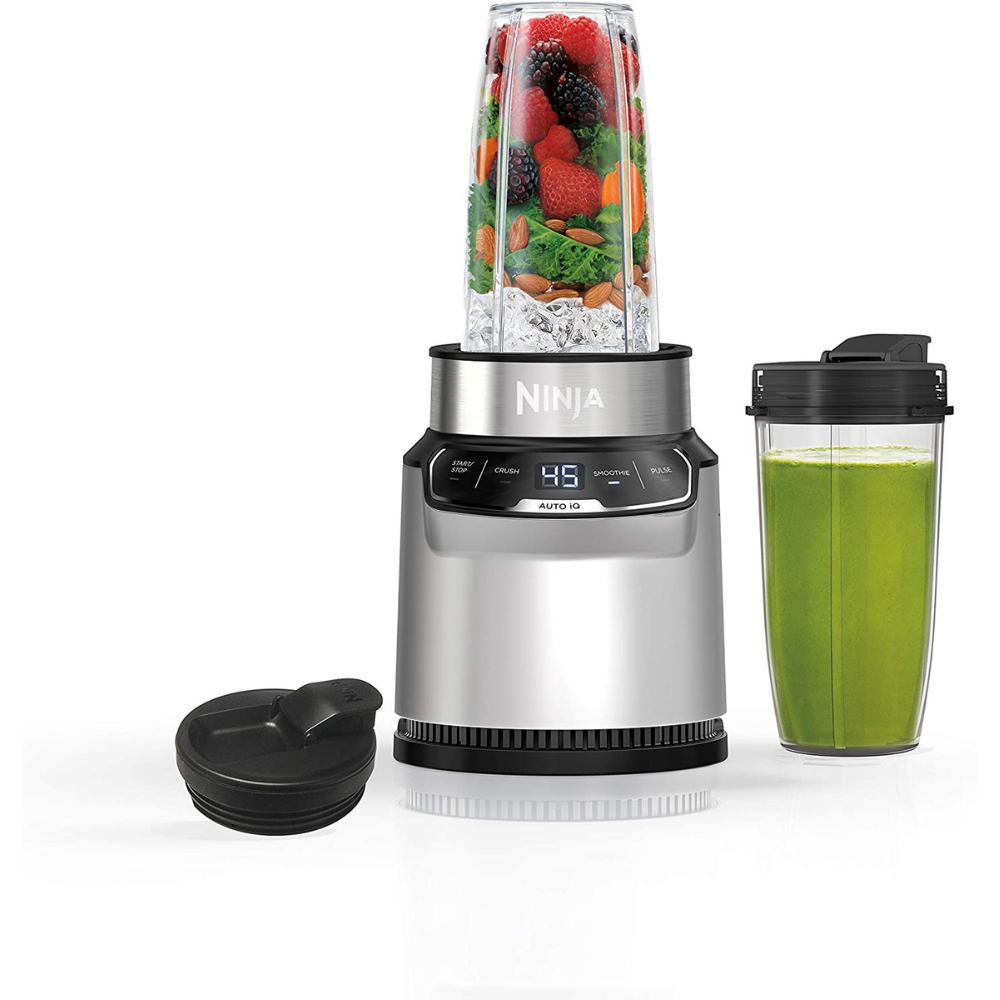 Ninja Nutri Pro Compact Personal Blender
For individuals always on the move, the Ninja Nutri Pro Compact Personal Blender is the best pick. It's affordable, easy to use with Auto-iQ technology, and comes with two 24 oz cups with lids, making it perfect for taking smoothies and shakes on the go.
Check Price on Amazon

What We Love:
Affordable Quality: Priced under $100.
User-Friendly: Straightforward and simple to operate.
Smart Technology: Auto-IQ for one-touch convenience.
Efficient Controls: Digital panel for precise operation.
Generous Capacity: Includes two 24 oz Nutri Ninja cups.
Safe Materials: BPA-free components.
Strong Motor: 1100 peak watts for powerful blending.
Assured Service: Comes with a 1-year warranty.
What to Keep in Mind:
Noise Level: Can be quite loud during operation.
Build Quality: Mostly plastic, may not feel premium.
Why It Might Be Right for You:
This model is perfect for those who are always on the move. It combines the power of a full-sized blender with the convenience of personal Nutri Ninja cups. It's the best for individuals or small families who need quick, personalized smoothies on the go.
Customer Review (source: Amazon)
I've had this 1100-watt Ninja blender for over a year, using it regularly for smoothies and protein shakes, and it's been fantastic. Sure, it's a bit noisy, but no more than any other blender I've used. It powers through everything I throw at it without a hitch. The 24 oz cup size is just perfect, especially after my old 16 oz one felt too small. I'm really pleased and would definitely recommend it!
---
How We Chose Our Top Picks
When it comes to selecting the ideal Ninja blender for your culinary adventures, the sheer number of options can be overwhelming. Our mission is to cut through the clutter and provide you with expert insights into these appliances, drawing upon a wealth of knowledge even if we haven't personally handled each product. We've delved deep into extensive research, scrutinizing every detail from performance and durability to ease of use. Our evaluation process includes sifting through a multitude of customer reviews on platforms like Amazon, considering professional opinions, and analyzing product specifications.
We understand that while many blenders may look similar at a glance, the nuances in their functionality and design can make a world of difference in your blending experience. To ensure you make an informed decision, we've compared these Ninja blenders not only amongst themselves but also against their competitors. This comprehensive approach allows us to highlight the unique selling points of each model, ensuring that whether you're a smoothie aficionado or a meal prep enthusiast, you'll find the perfect match for your kitchen needs.
---
What to Look for Before Buying a Ninja Blender
Motor Power and Speeds
In general, Ninja blenders with higher-wattage motors run faster, giving more reliable results in a matter of minutes. They are kitchen appliances typically designed to run indefinitely without exceeding the motor's temperature as rapidly as a less expensive machine could. This typically means they are heavier and costlier.
Blenders with powerful motors, with a minimum of 1000 watts, excel in heavy-duty tasks such as mixing frozen fruits or chopping vegetables. They can crush ice cubes into snow and combine nuts and spreadable butter without overloading the motor.
Blenders with smaller motors -- between 600 and 800 watts -- are called individual blenders. They are for light tasks such as making smoothies or shakes with protein.
Because the power generated through their motors are low, they shouldn't be continuously running for more than a minute. This means that they aren't able to process hard food, which requires longer running times. They're not made for hot or dry blending also. Doing so could cause damage to motors and increase the chance of personal injury.
Tamper
Certain models include a tamper, and others include them as an optional accessory sold separately. If you are mixing smoothies or smooth soups, it is an essential accessory that allows you to push the tough ingredient pieces toward the blade without lifting the lid off or stopping the mixing process.
Capacity
Ninja blenders come with a primary pitcher, usually between 64 and 72 ounces. Certain models also come with other containers that can be used for smoothie bowls, individual cups, chop bowls, or even grating and slicing. These containers and cups are available from 12-24 pounds.
If you prefer to carry your drinks with you on the go, choose one that comes with smaller blender cups with lids. If you're making large batches at one time, 72-ounce containers are an ideal option.
Many Ninja cup and container models can be used with different models. However, you'll need to verify.
Glass and Plastic
Only a handful of Ninja models have glass pitchers, whereas all of the other models feature BPA-free plastic pitchers. The pros and cons for both types of materials So, which one is the most suitable based on your requirements and personal preferences. Glass pitchers are heavier; however, they are less likely to hold staining and odors than other plastics. In time, mixing hard objects (like nuts or ice) at high speeds may scratch the inside of a plastic container, making it cloudy however this shouldn't hinder performance.
Price
The more expensive Ninja blenders are typically better built and have stronger motors. If the price increases, you can also expect greater power, more accessories, and additional features.
The most expensive Ninja blenders are countertop models, typically found at $150 to $200. Also known as multi-purpose blenders, they're only great at purifying or blending hot food items as well as grinding tough foods like meat, nuts, beans, and many more.
Single-serve blenders are among the most expensive Ninja choices, with prices that can still cost well over $100. Small and yet powerful, their one-touch operation makes them simple to use.
Despite buying a more affordable Ninja blender, Ninja blenders are all very sturdy. The model you choose will determine whether the blender may have only one grinder attachment, one food processor, or even multiple mixing cups (usually at least two).
Size of the Pitcher
Begin by determining the amount of food you'll need to create using your blender. Remember that a larger blender usually comes with bigger dimensions, which requires additional storage space. They're also generally more costly. Making the wrong choice in blender size could be a hassle, and you'll pay more to clutter your kitchen counter, but if it is too small, you'll never achieve the results you want.
Every person's Goldilocks zone is different. If you're making it just for your own use, personal blenders with smaller pitchers (between 16 to 24 oz) are most likely to fit the requirements. Since they are single-serve, these blenders are great for preparing one portion at a time. Additionally, their plastic cups are as compact as travel mugs and easily fit into most car cup holders. You can drink your favorite drinks while on the move without having to make a mess.
Suppose you're planning to prepare meals for a large family or for commercial purposes. In that case, you should consider an appliance like a countertop Ninja blender with at least 64 oz capacity. These stand-alone blenders have more power and volume; however, they take up larger space and won't fit inside your cabinet. You will likely need to remove some space from the counter or in a huge cabinet to house the units.
Special Features
The main function of a blender is to grind food to an even consistency. But, certain characteristics and equipment can provide the flavor of enthusiasm, ease of use, and efficiency in the kitchen.
Smoothie bowls are an excellent healthy breakfast or snack. However, they are difficult to master. Fortunately, blender attachments for smoothie bowls are a great option. If you use a standard blender, it is common to add lots of liquid to allow the ingredients to mix to alter the texture of the bowl. The attachment for a smoothie bowl can help create the perfect consistency since it doesn't require more liquid to achieve the perfect blend. If you frequently make smoothies, it's a feature that is worth a look at.
Other options to think about include controlling the speed with variable speeds and the Pulse button, preset controls, and shredding or slicing capabilities. These options give you greater flexibility and control that are useful in making anything, including salad dressings, frozen treats, and even desserts.
---
Frequently Asked Questions
What is considered the best Ninja blender on the market right now?
The best Ninja blender is often a model that balances versatility, power, and ease of use. The Ninja Professional Plus Kitchen System (BN801) frequently earns high marks for its multifunctional capabilities and the inclusion of Ninja Foodi features, making it a popular choice among consumers.
Can most Ninja blenders handle hot liquids or soups?
Most Ninja blenders are primarily designed for cold or room-temperature ingredients. It's crucial to refer to the user manual of your specific model for guidance on blending hot liquids. Models within the Ninja Foodi range may be equipped to safely process hot ingredients due to their advanced cooking functions.
Are Ninja blender cups interchangeable between different models?
Ninja blender cups are typically made to fit multiple models for convenience. However, compatibility should be confirmed for each specific blender model to ensure safe and effective operation. Ninja strives for a degree of standardization, but secure fitting to the blender base is key.
Are Ninja blenders dishwasher safe?
Many parts of Ninja blenders, such as the pitcher, lids, and cups, are dishwasher safe and can be placed on the top rack for easy cleaning. The blades should generally be hand-washed to keep them sharp. Always check the care instructions provided with your model for precise dishwasher-safe components.
Is the Ninja Foodi series different from regular Ninja blenders?
The Ninja Foodi series is distinct from regular Ninja blenders, offering a broader range of cooking functions, including pressure cooking and air frying, in addition to blending. These appliances are ideal for those seeking an all-in-one kitchen appliance to cover various cooking and blending needs.
---
Conclusion
Ninja is among the first to innovate in the field of small appliances and is well-known for making highly functional blenders. Any of the Ninja blender models are a great option. The Canadian brand offers the perfect countertop blender for anyone with a limited budget to those looking for the best model for commercial uses.
Whatever you're looking to spend or the type of blender you're looking for, our guide to the best Ninja blenders should assist you in making the best one for you.
---
Items reviewed:
Best Overall: Ninja Professional Plus Kitchen System
The Ninja Professional Plus Kitchen System stands out for its versatility and power. With 1400 peak watts, it not only blends but also processes food, making it a comprehensive tool for any kitchen. The inclusion of a 72 oz pitcher and two 24 oz cups caters to both large batches and personal servings, while the Auto-iQ technology provides smart, preset programs for a variety of tasks. It's the jack of all trades in the Ninja lineup.
Check Price on Amazon
Please note that the reviews on this page have been edited for readability and clarity while maintaining the essence of the original content.
Further Reading
---