Picture a coastal sunset, the rhythmic sound of waves, and a plate of fresh oysters glistening in front of you.
But hold on! Before you indulge in that briny treat, you need the perfect tool to unlock those tightly sealed shells.
The right oyster knife can transform the experience from a challenging task to a seamless ritual. It's not just about the grip or the blade; it's the harmony between them.
Journey with us through this guide and discover the ideal companion for your oyster escapades!
🤝As an Amazon Associate, we earn from qualifying purchases made through our links, at ZERO additional cost to you.
5 Best Oyster Knives
---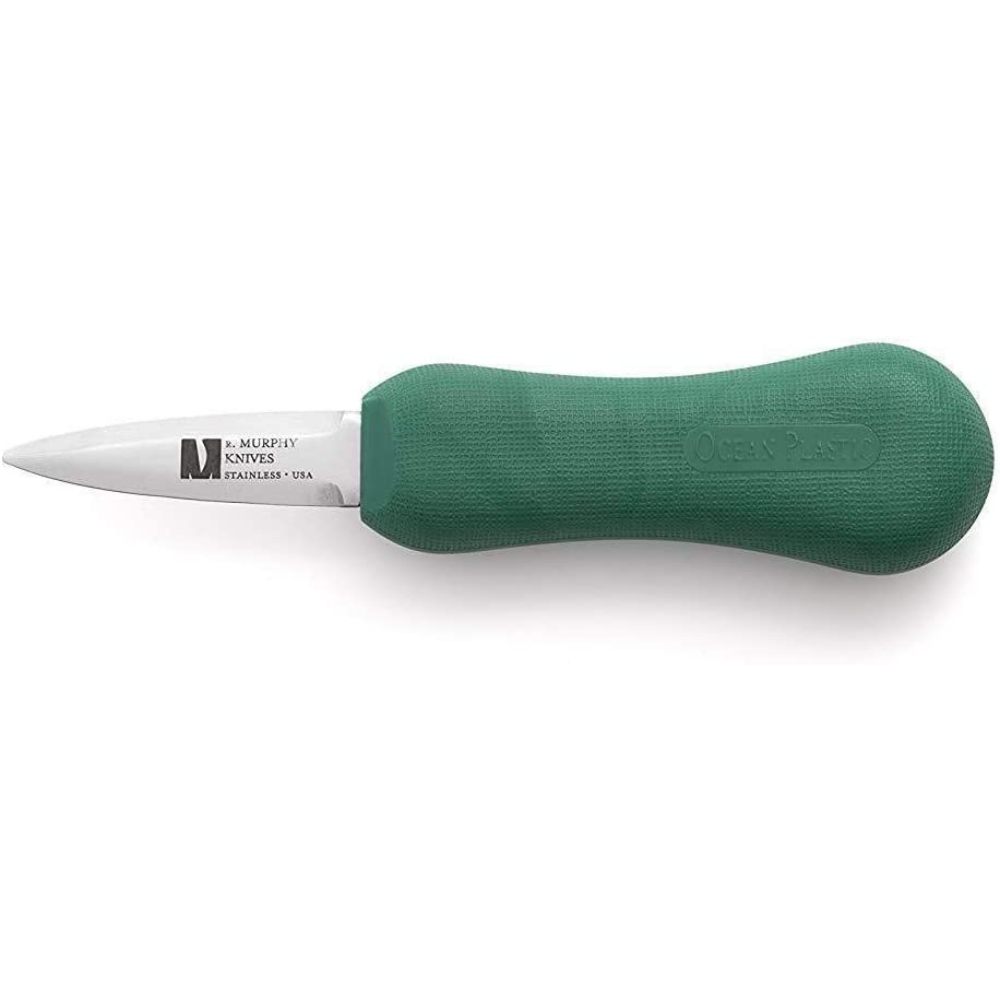 R. Murphy/Ramelson Duxbury Oyster Knife
Designed in collaboration with oystermen from Island Creek Oysters, this knife stands out due to its practicality and expertise blend. Its ergonomic handle, precision-focused short blade, and high-quality materials make it the top choice for a wide range of users.
Check Price on Amazon
What We Love:
Preferred by chefs and oyster farmers.
Efficient 2-inch stainless steel blade.
Sharp tip for easy hinge access.
Comfortable "Murphy Green" handle.
Co-designed with Island Creek Oyster farmers.
Lightweight and balanced design.
What to Keep in Mind:
Ideal for small to medium oysters.
Some users might prefer a longer handle for better grip.
Why It Might Be Right for You:
The Duxbury Oyster Knife is the epitome of craftsmanship and functionality. With its ergonomic handle designed for comfort and a sharp blade for precision, oyster shucking becomes a seamless experience. If you're in search of a tool that promises ease, especially with smaller oysters, and resonates with the recommendations of professionals, the Duxbury Oyster Knife stands out as a top choice.
Customer Review (source: Amazon)
I work at a restaurant serving various oysters, and this knife excels with smaller ones that are tough to open. It's perfect for P.E.I, RI, MA, VA, and CT oysters. Not ideal for gulf oysters, but I'd recommend it to any shucker.
Blade Material: Stainless Steel | Handle Material: Polypropylene | Blade Length: 5.4 Centimeters | Care: Hand Wash Only
---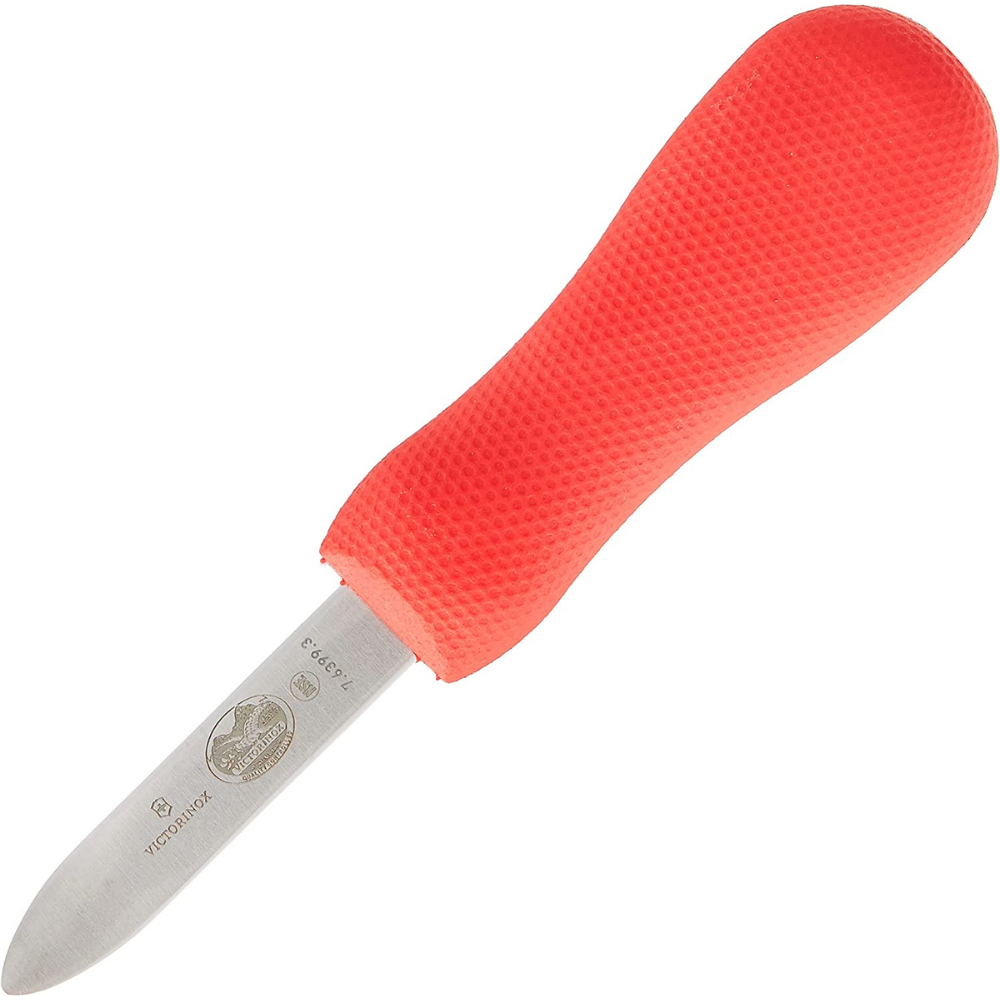 Victorinox's renowned Swiss craftsmanship shines through in this knife. Its ergonomic design, combined with a high-carbon steel blade and dishwasher-safe feature, makes it a top pick for those seeking quality and functionality. Its price point is perfectly suited for hobbyists looking to invest in a reliable tool without breaking the bank.
Check Price on Amazon
What We Love:
Swiss quality and Victorinox craftsmanship ensure durability.
Ergonomic, super grip handle that remains slip-resistant even when wet.
High-carbon steel blade designed for longevity and easy sharpening.
Dishwasher safe for convenient cleaning.
NSF-approved, ensuring high standards for food equipment.
What to Keep in Mind:
The hooked tip might require some practice for those new to the New Haven style.
While dishwasher safe, hand washing might extend the knife's lifespan.
Red handle color might not be to everyone's aesthetic preference.
Why It Might Be Right for You:
Embracing the renowned Swiss craftsmanship, the Victorinox New Haven style knife is a blend of style and efficiency. Its distinct bent tip ensures precision with every shuck, and the vibrant red handle not only ensures a firm grip but also adds a touch of elegance to your kitchen ensemble. For those who appreciate a tool that combines aesthetic appeal with top-notch functionality, this knife is a culinary gem.
Customer Review (source: Amazon)
I'm no professional, but I've shucked many oysters and this Victorinox knife is my go-to. Its strong blade and slightly hooked tip make it great for prying open stubborn shells. If you only own one oyster knife, this should be it. Pair it with Kevlar gloves for safety, and you're all set!
Blade Material: Stainless Steel | Handle Material: Polypropylene | Blade Length: Different sizes available | Care: Hand Wash Only (though it's noted as dishwasher safe, hand washing might extend its lifespan)
---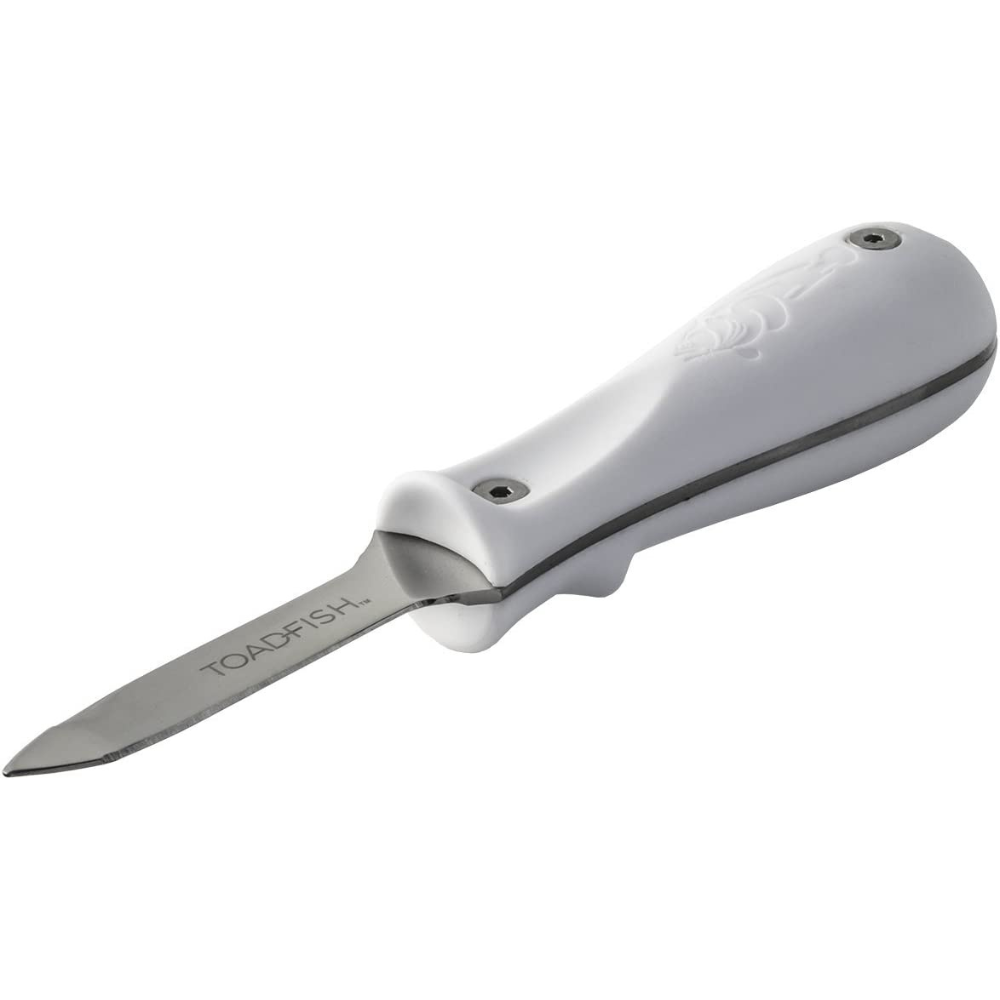 Toadfish Oyster Shucking Knife
Beyond its top-tier functionality, this knife's commitment to sustainability and its higher price point make it a luxury choice. Suitable for both novices and professionals, its design caters to various oyster types. The added benefit of the company's dedication to restoring oyster habitats gives it an eco-friendly edge.
Check Price on Amazon
What We Love:
Professional design tailored for thicker shelled oysters.
High-quality stainless steel blade: stain-free and rust-resistant.
Dual-edged sharpness for efficient shucking.
Ergonomic design with a unique thumb print grip for safety and comfort.
Eco-friendly handle made from 100% post-consumer recycled plastic.
A commitment to the environment: every purchase supports oyster habitat restoration.
What to Keep in Mind:
Requires hand washing for care.
Blade size might be more suitable for small to medium oysters.
Why It Might Be Right for You:
The Toadfish knife is a symbol of luxury combined with sustainability. Every time you use this knife, you're not just enjoying the art of shucking; you're also contributing to oyster habitat restoration. For the environmentally conscious gourmet who doesn't mind splurging for quality and a cause, the Toadfish knife is a perfect blend of luxury and responsibility.
Customer Review (source: Amazon)
This is the best oyster knife I've ever used. My wife loves oysters, so I shuck them often. The knife's design lets me open even the toughest oysters without damaging the shell. It's way more durable than any other tool I've tried.
Blade Material: Stainless Steel | Handle Material: Recycled Plastic | Blade Length: 3.5 Inches Care: Hand Wash Only
---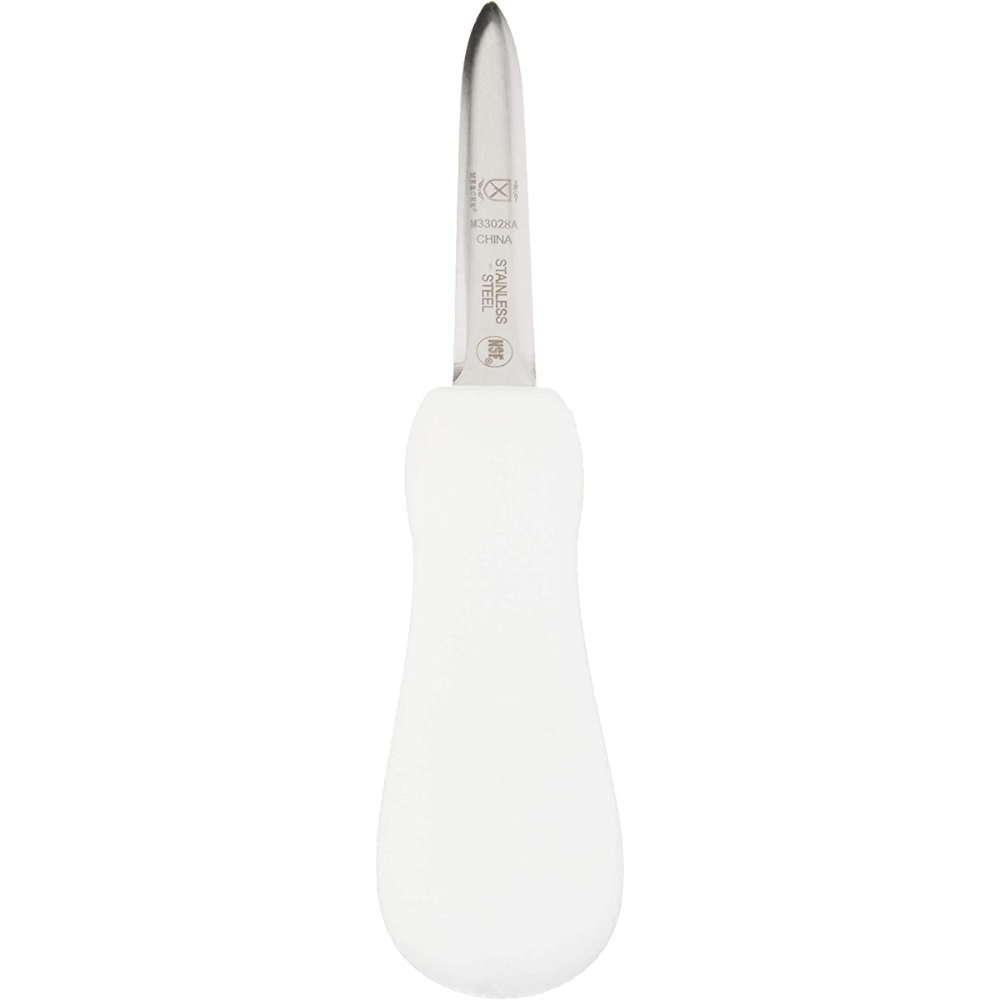 Mercer Culinary Oyster Knife
Offering a balance between cost and performance, this knife is ideal for those new to oyster shucking. Its efficient blade and sturdy construction provide excellent value for those seeking a reliable yet affordable option.
Check Price on Amazon
What We Love:
Durable high-carbon steel blade.
Stain-resistant for longevity.
Designed for safety with a rounded blade tip.
Comfortable rounded handle back.
Suitable for both beginners and seasoned shuckers.
3-inch stainless steel blade.
High-carbon, stain-resistant steel.
Perfect for beginners.
What to Keep in Mind:
Some users desire a sharper blade.
Hand wash only for optimal care.
Why It Might Be Right for You:
The Mercer Culinary Boston Style Oyster Knife is a testament to the fact that quality doesn't always come with a hefty price tag. Its design prioritizes user comfort with its rounded handle, while the blade ensures safety and efficiency. If you're venturing into the world of oysters and are looking for a reliable tool that won't break the bank, this knife offers exceptional value.
Customer Review (source: Amazon)
I enjoy oysters every week and have tried various knives. After losing my previous one during a move, I got this budget-friendly option. The plastic handle is more comfortable and grippier than my old wooden one. I'd pick this over pricier models any day.
Blade Material: Stainless Steel | Handle Material: Polypropylene | Blade Length: 3 Inches | Care: Hand Wash Only
---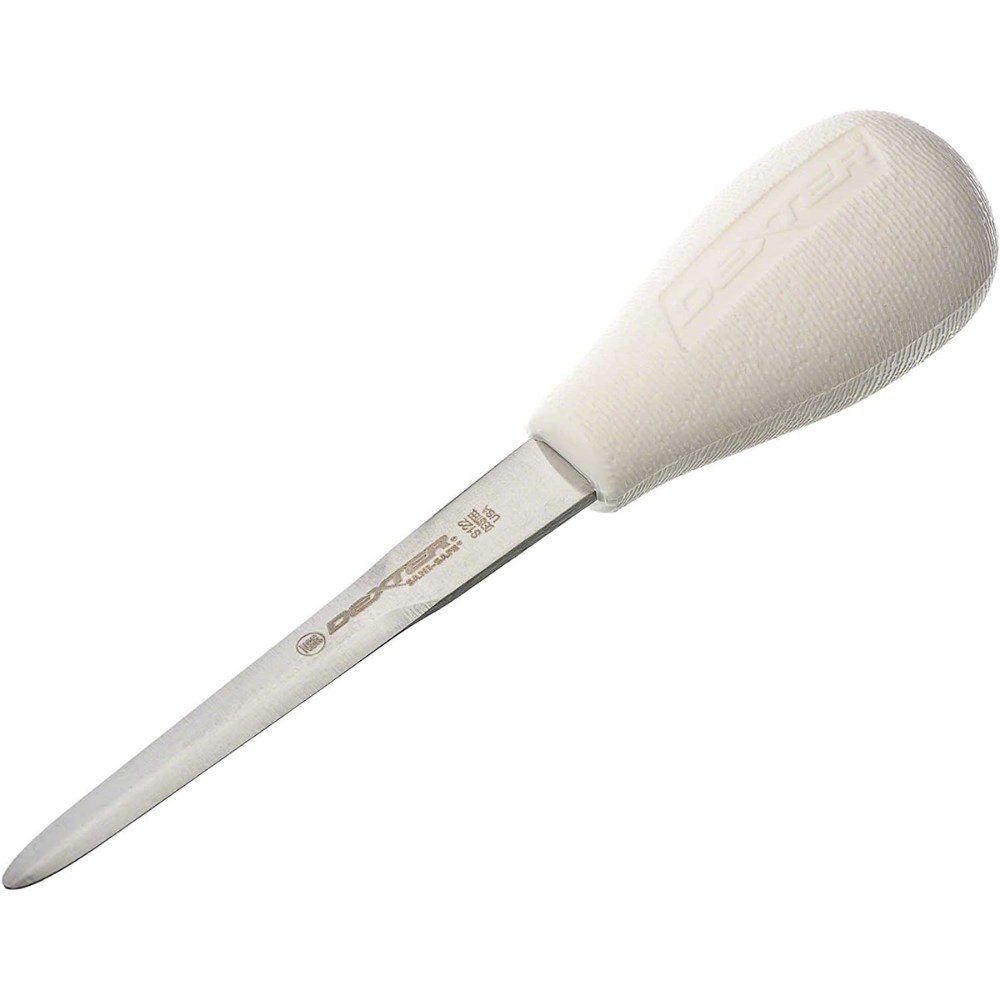 Dexter-Russell Oyster Knife
Tailored for those who handle oysters regularly, especially in large quantities. Its longer blade, designed for bigger oysters, and its reputation for durability make it a top pick for commercial kitchens and seasoned shuckers.
Check Price on Amazon
What We Love:
Precision cutting with a durable stainless steel blade.
Non-slip, contoured handle for comfortable and safe use.
Long-lasting quality from a trusted brand, Dexter-Russell.
Efficient design, allowing for quick shucking of numerous oysters.
4" blade length, ideal for handling larger oysters.
Grip-Tex handle ensures slip-free usage.
What to Keep in Mind:
Specifically designed for larger oysters.
The 4" blade might be too long for some users, especially beginners.
Why It Might Be Right for You:
For those who often find themselves in the company of larger oysters, the Dexter-Russell Boston Style knife is tailored for professional precision. Its extended blade combined with a non-slip grip ensures that each oyster shell, big or small, is shucked to perfection. If you're a professional or an enthusiast who often handles a variety of oysters and seeks a tool that promises unmatched efficiency, this knife is a worthy addition to your toolkit.
Customer Review (source: Amazon)
At our recent annual oyster bar bake, friends brought various knives, but this one remains unbeatable. I've tested numerous knives, even other Dexter-Russel models, but this one excels for in-hand shucking. Its magic lies in two features: the dull, small, rounded tip and the slim yet sturdy blade. When shucking by hand, you don't want a sharp tip. This knife's tip is perfect for small oysters like Kumamoto or Sweetwater and won't hurt if it slips. The blade's design ensures easy insertion into the oyster hinge without breaking the shell, especially for smaller oysters I love. Hog Island Oyster Company once sold this knife, which speaks volumes about its quality, even though they've now switched to another model.
Blade Material: Stainless Steel | Handle Material: Plastic | Blade Length: 4 Inches | Care: Hand Wash Only
---
How We Chose Our Top Picks
Choosing the perfect oyster knife can be a daunting task, especially with the myriad of options available in the market. But fret not, we're here to simplify the process for you.
Our goal is to provide you with expert insights into these oyster knives, even if we don't have personal experiences with each product. We've conducted extensive research and considered user feedback, including customer reviews from Amazon, to evaluate their performance, durability, and ease of use. Additionally, we'll compare these knives against their competitors to help you find the perfect match for your culinary needs.
Our editors have delved deep into the details of each product and its company to ensure we provide you with the most accurate information possible. We've also sifted through customer feedback to recommend only the highest-quality knives. By combining our expertise with real-world user experiences, we aim to guide you to an oyster knife that not only meets but exceeds your expectations.
---
What to Look for When Buying Oyster Knives
Quality
The primary element of quality is the blade, followed by a securely attached handle or long tang that runs the entire length of the hand. If the blade appears fragile and tends to loosen or warp in hand, it'll be more likely for your knife to slip when you're using it, thereby increasing the risk of injury.
Handle
Most people are familiar with the standard plastic or wooden handle options for oyster knives, but did you know that various materials can be used for handles? Metal, stone, and even shell are all common choices for at-home cooks. Each material has its unique benefits and drawbacks.
For example, wooden handles are classic and elegant but require more care and maintenance than other options. Stone handles are extremely durable, but they can be quite heavy. Shell handles offer a beautiful natural look, but they can be delicate and difficult to clean.
Ultimately, the best material for a handle is the one that best suits your individual needs and preferences. So if you're looking for something different, don't be afraid to experiment with some other options. You might just find your new favorite kitchen tool.
Blade
Oyster knives are one the most important tools for a chef who loves fresh oysters. They come in various shapes and sizes, each designed for a specific type of oyster.
The most common materials for oyster knife blades are stainless steel and carbon steel. Stainless steel is less likely to rust, but it can be difficult to sharpen. Carbon steel is easier to sharpen but more susceptible to rusting. No matter what material you choose, ensure your oyster knife is sharp before you use it.
A dull knife can be dangerous and will not get the job done properly. You can easily open even the toughest oysters with a sharp knife without damaging the delicate flesh. So, if you want to add an oyster knife to your kitchen collection, do your research and choose the right blade.
---
Different Types Of Oyster Knives
Oyster knives are also called shucking knives and are available in various sizes, shapes, and styles. Below is a selection of different oyster knives and which oysters are better suitable for these knives. They all have the same components and functions but have distinct appearances or dimensions.
Galveston
This style typically comes with a robust, wide 4-inch blade with a slightly sharp edge. These Galveston knives are typically used for commercial purposes, especially for oysters with larger sizes like large, medium, or European, as well as larger Atlantic oysters.
New Haven
This model features a 2-1/2 "straight blade with an upturned round edge. It's well-suited to the hinge-type standard opening. It is well-adapted to standard hinges. A New Haven style oyster knife opens from small to medium Atlantic and Pacific oysters, notably half-shell oysters.
They can also open Olympia and Kumamoto; however, they are quite challenging to install in the hinge.
Boston
A standard oyster knife with a long, narrow blade, usually 3''-4". and an ergonomic handle that is effortless to carry. The Boston tool can handle all the available oysters, including bigger Pacific or Atlantic oysters, as well as any other sizes of oysters.
The best oyster knives will be able to handle the toughest oyster shells. The wrong choice could harm your food and cause injury while using it.
Providence
A short, broad blade also characterizes the design of Providence with an easy sharp edge. This oyster knife suggests shucking medium and small-sized Pacific, Olympia, and small Atlantic oysters with an open hinge.
---
Frequently Asked Questions
What's the difference between a clam knife and an oyster knife?
Oyster knives have shorter blades with sharper edges than clam knives, which typically have round tips. However, while we discovered that a strong, well-made oyster knife could open different shells, a clam knife may be too heavy for most oysters.
Do oyster knives have to be razor-sharp?
Most of the time, yes, but occasionally it's not always. This is because of how you shuck an oyster - by holding it in your palm using cloth. Professional shuckers such as Phan are drawn to sharp edges to slice through the inductor muscle precisely; those who are just beginning to shuck oysters could be hesitant about the combination that includes slippery shells by hand as sharp knives extremely hazardous. But for both professionals and amateurs, sharp knife tips are vital to get across the hinge.
Do I need to wash oysters before shucking them?
It's a good idea, especially with a steady stream of water. Oysters are found in mud, and while mud is good for making oysters of the world happy, it does not provide the same pleasure to your taste buds. In addition, it's not hygienic. Get rid of oysters that have opened. Then, spread the rest of them in a single layer. Spray off to ensure the oyster knives are clean before taking out.
What is the best way to hold an oyster knife?
Opening an oyster can be a bit of a process, but once you shuck a few oysters and get the hang of it, you will find that it is easy. First, you'll want to find a sharp knife - an oyster knife works best for this. Hold the oyster in your non-dominant hand, with the oyster's edge facing towards your palm. Take the knife in your dominant hand and place the edge of the blade at the hinge of the oyster. You'll want to hold the knife so that the blade is pointing at an angle toward the edge of the oyster. Gently apply pressure to the oyster with the knife until you feel it start to give way. Once you've pried open the oyster, you can then remove the top shell and enjoy your delicious treat!
Why is a shucking knife essential for shucking oysters?
A shucking knife is specifically designed to safely and efficiently open oyster shells. Its unique shape and sturdy construction allow for precise leverage, ensuring you can enjoy the oyster's meat without any shell fragments.
How do stainless steel blades enhance the performance of a shucking knife?
Stainless steel blades are rust-resistant and maintain their sharpness over time, making them ideal for shucking oysters. Their durability ensures a clean cut, preserving the integrity of the oyster meat and providing a smooth shucking experience.
---
Which Best Oyster Knife is Best for You?
If you're looking for the best oyster knife, any of our options can be great. The ultimate decision comes down to your preference for the shape and blade length.
A great oyster knife will open oyster shells all day long or be reliable for your Saturday night get-together. Just remember, if you take care of your oyster knife, it will take care of you.
Whether you're a hobbyist or a professional shucker, we hope this list has helped you find your next oyster knife.
---
Items Reviewed: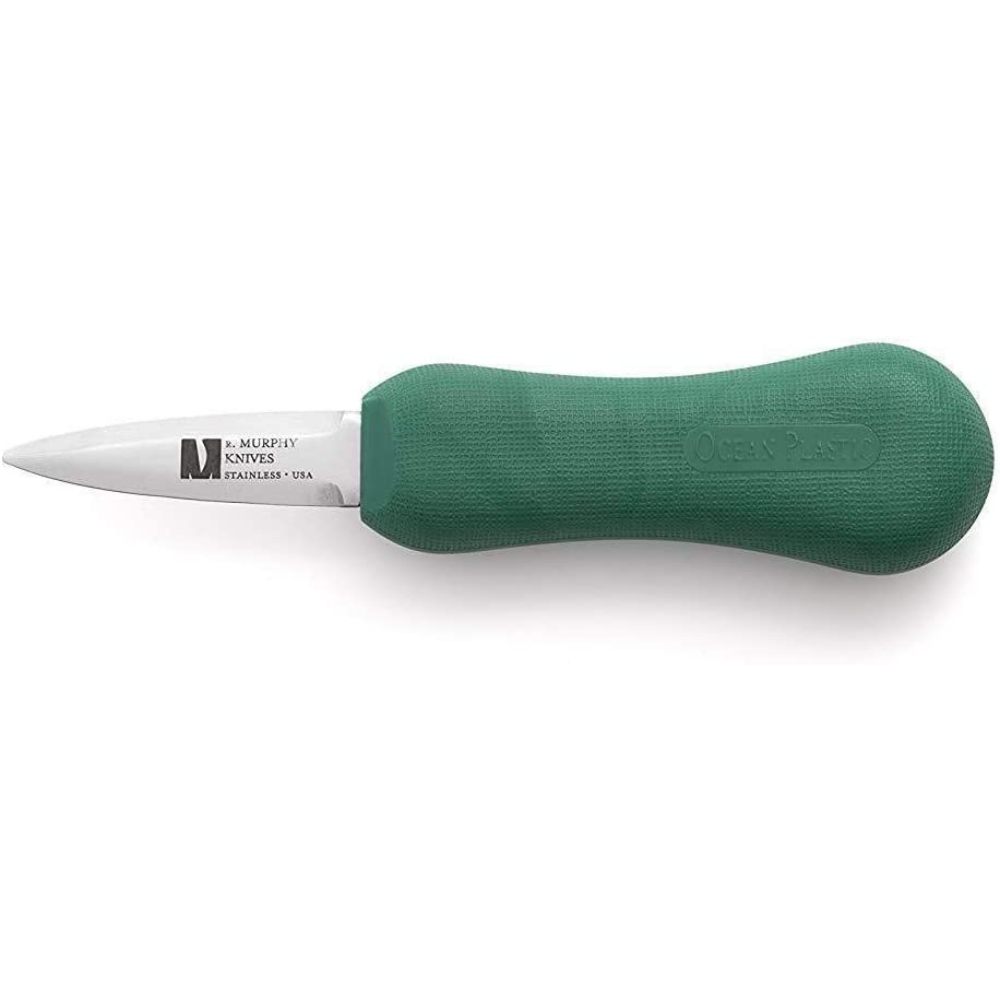 Best Overall: R. Murphy/Ramelson Duxbury Oyster Knife
Designed in collaboration with oystermen from Island Creek Oysters, this knife stands out due to its practicality and expertise blend. Its ergonomic handle, precision-focused short blade, and high-quality materials make it the top choice for a wide range of users.
Check Price on Amazon
Further Reading
Oyster Knife Design: Delving into Its Unique Anatomy: Ever wondered about the distinct features of an oyster knife? Delve into the detailed structure of this unique tool and uncover its shucking prowess.
Oyster Knife Care: Tips for Longevity and Performance: With insights into the oyster knife's design, it's time to master its upkeep. Discover professional advice to keep your knife in prime condition, ensuring flawless shucking every time.
Unearth the story of the 'Oyster Shucking Knife,' an emblem of Crisfield's watermen community and the intricate art of oyster shucking, curated by National Museum of American History.
Please note that the reviews on this page have been edited for readability and clarity while maintaining the essence of the original content.
---