Picture this: You're whipping up your favorite dish, and as you reach for the rice, the bag topples over, sending grains scattering across your freshly cleaned kitchen floor. We've all been there, right?
While the kitchen is the heart of the home, it can also be a magnet for messes, especially when things aren't organized. And let's be honest, rice deserves better than a flimsy bag that's prone to accidents. It's a staple in many cuisines and deserves a storage solution as stellar as the dishes it graces.
Dive in as we unveil the best rice storage containers that not only keep your grains fresh but also add a touch of order to your culinary haven. Let's turn that kitchen chaos into a harmonious haven, one grain at a time!
🤝As an Amazon Associate, we earn from qualifying purchases made through our links, at ZERO additional cost to you.
5 Best Rice Storage Containers
---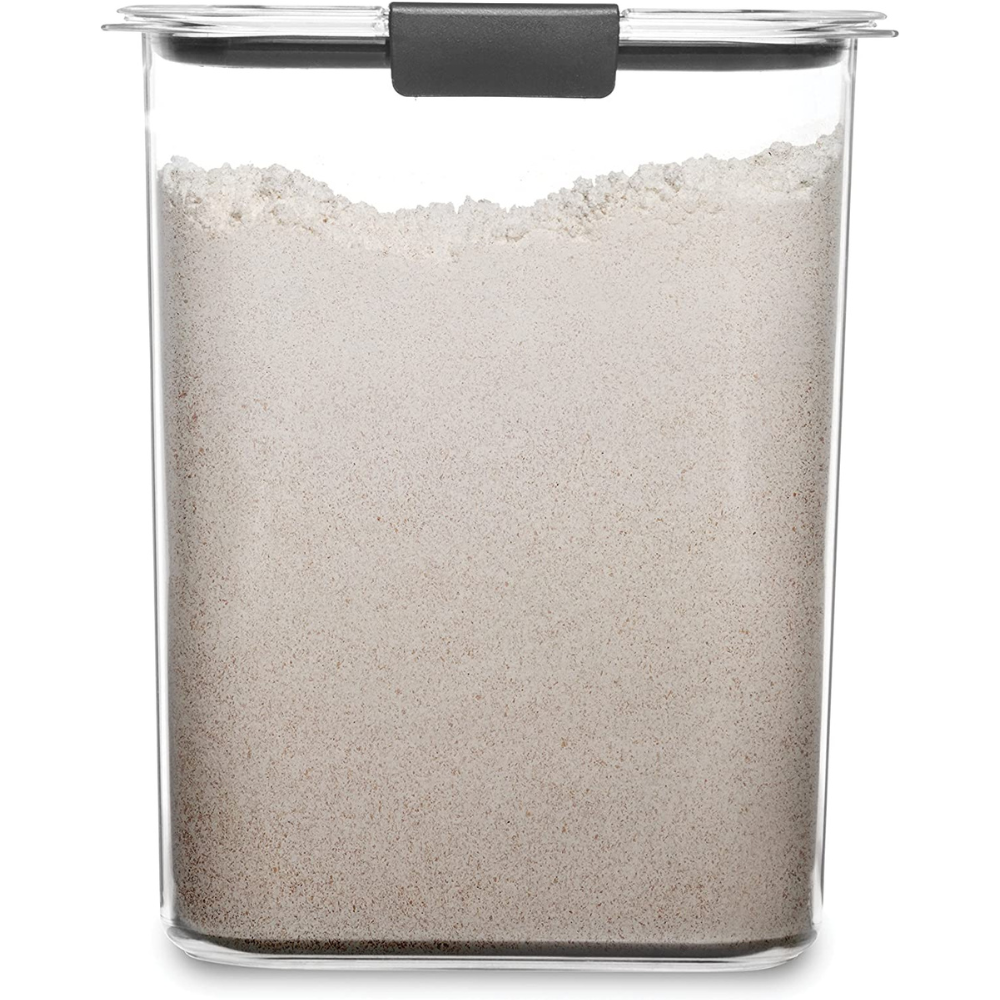 Rubbermaid Brilliance Airtight Storage Container
This container offers a blend of design, functionality, and brand reputation. Its clear plastic mimics the look of glass, and its modular design ensures stability. The container is versatile, suitable for various foods, and its airtight feature ensures freshness. The trusted Rubbermaid brand further solidifies its position as the best overall pick.
Check Price on Amazon
What We Love:
Tall & Sleek: Perfect for countertops.
BPA-Free: Safe and durable material.
Glass-Like Look: Elevates kitchen aesthetics.
Secure Seal: Latches ensure freshness.
Versatile: Great for grains, cookies, and pet food.
Easy Maintenance: Dishwasher safe.
Freezer Friendly: Suitable for long-term storage.
What to Keep in Mind:
Opening: Requires two hands due to side latches.
Tight Latches: Might be challenging for some.
Why It Might Be Right for You:
Imagine a bustling kitchen where every item has its place. The Rubbermaid Brilliance container, with its crystal-clear appearance, not only stores but showcases your grains. Its tall design means more storage without taking up extra space. If you're seeking a blend of form and function, and value clarity in organization, this container might just be your kitchen's new centerpiece.
Customer Review (source: Amazon)
Finally, a solution to my pantry bug problem! This 16-cup container is airtight and keeps those pests out, perfectly storing a five-pound bag of rice. I'll be getting more and highly recommend it.
---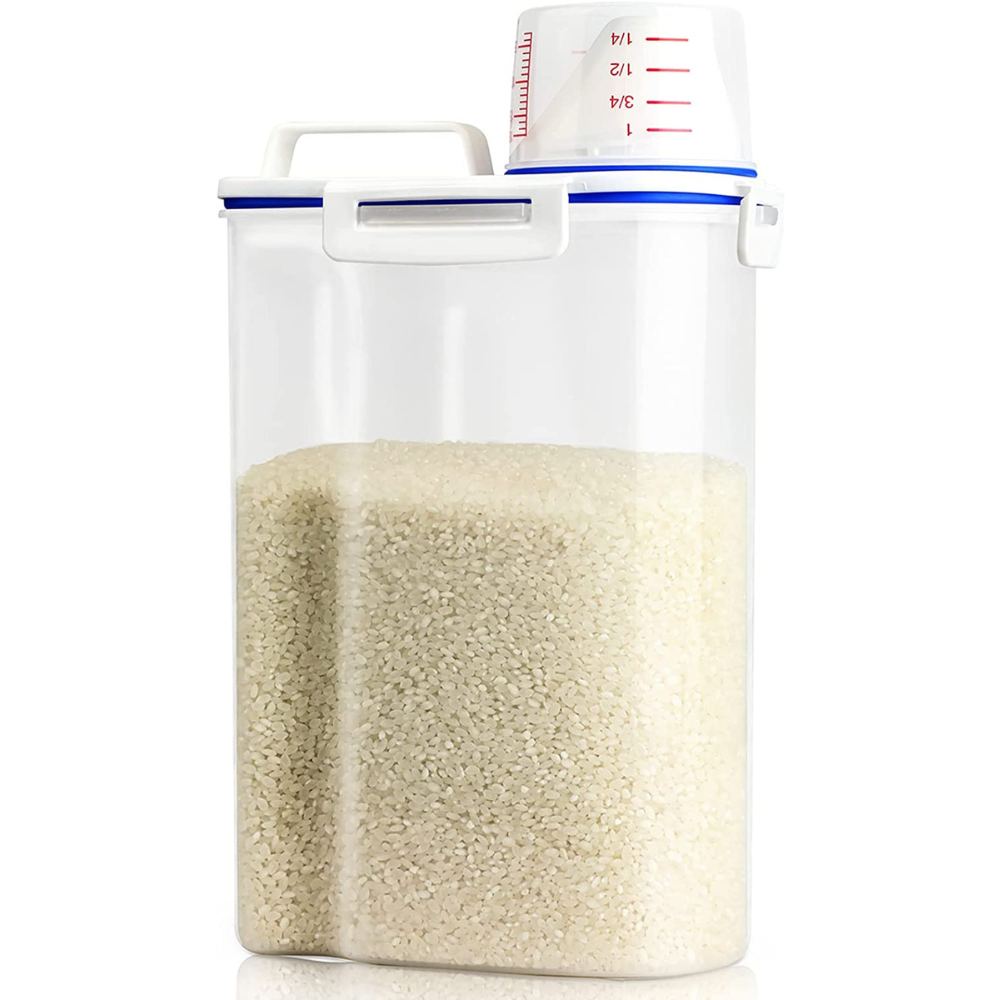 Viretec Rice Storage Container
The Viretec container stands out for its feature-rich design at an affordable price point. With a rice dispenser, standard scale, and measuring cup, it offers convenience and precision. Its compact design ensures it doesn't occupy excessive counter space, and its durable BPA-free plastic ensures longevity.
Check Price on Amazon
What We Love:
Feature-Packed: Comes with a rice dispenser and measuring tools.
BPA-Free: Safe, food-grade plastic.
Durable: Heat-resistant and long-lasting.
Space-Efficient: Tall design maximizes storage while minimizing counter space.
Airtight Seal: Four buckles ensure freshness.
Clear Design: Easily view contents without opening.
What to Keep in Mind:
Aesthetics: More functional than fashionable.
Handle with Care: Ensure buckles are securely fastened to maintain airtightness.
Why It Might Be Right for You:
Think of those busy evenings when you're in a rush to prepare meals. The Viretec container, with its rice dispenser, ensures you get the right amount every time without any mess. Its compact stature is a boon for kitchens where space is at a premium. If efficiency and smart features top your list, this container promises to streamline your cooking routine.
Customer Review (source: Amazon)
What a fantastic find! This white container is perfect for storing anything, especially rice. With its upright size, tight lid that snaps securely, and even a measuring cup, it's a 100% happy surprise. Unlike many online purchases, this one is absolutely worth the money.
---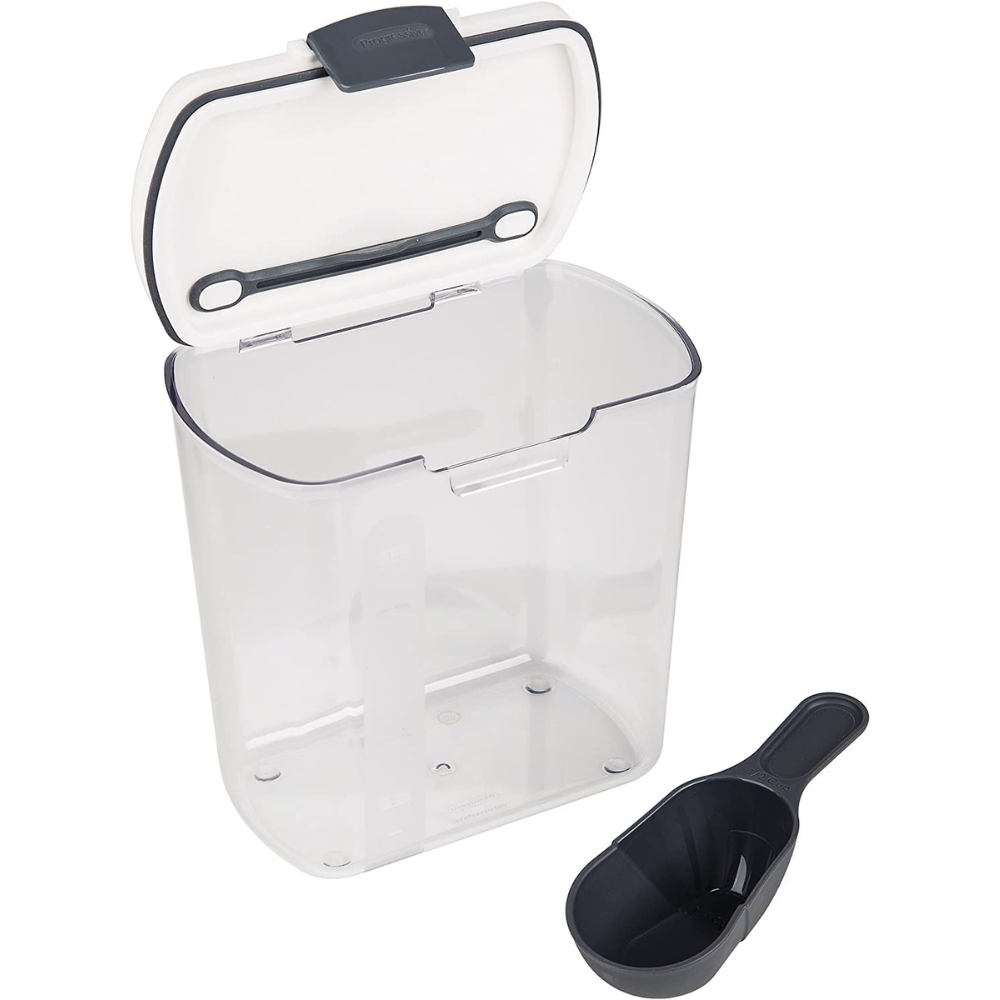 PrepWorks Storage Container
Its compact design makes it ideal for smaller kitchens or limited storage areas. The container's manageable dimensions allow it to fit comfortably on countertops or inside cabinets. The added measurement markings provide an added layer of convenience.
Check Price on Amazon
What We Love:
Compact Design: Easily fits on countertops or in cabinets.
Dishwasher-Safe: Effortless cleaning.
Measurement Markings: Track your rice quantity.
BPA-Free Material: Safe and durable.
Airtight Lid: Ensures freshness.
Trusted Brand: Made by Progressive International.
Included Scoop: For accurate portions.
What to Keep in Mind:
Hinge Design: Can complicate hand-cleaning.
Non-Detachable Lid: Might be a concern for some.
Why It Might Be Right for You:
Picture yourself in a compact kitchen, every inch of space is precious. The PrepWorks container, with its slim design, becomes your countertop companion. Its measurement markings are a boon for those who value precision. If you're someone who appreciates easy maintenance, its dishwasher-safe feature ensures a hassle-free cleanup. A perfect fit for those who seek convenience in a compact form.
Customer Review (source: Amazon)
I recently got this grain container and it's perfect for my basmati rice - it holds exactly five pounds. The airtight seal is super strong, which might be challenging for some, but it ensures no pests get in. Its size is just right, easy to handle, and the see-through design is a plus. I also appreciate the recipe holder on top. It's a quality product at a fair price. If anything changes, I'll be sure to update.
---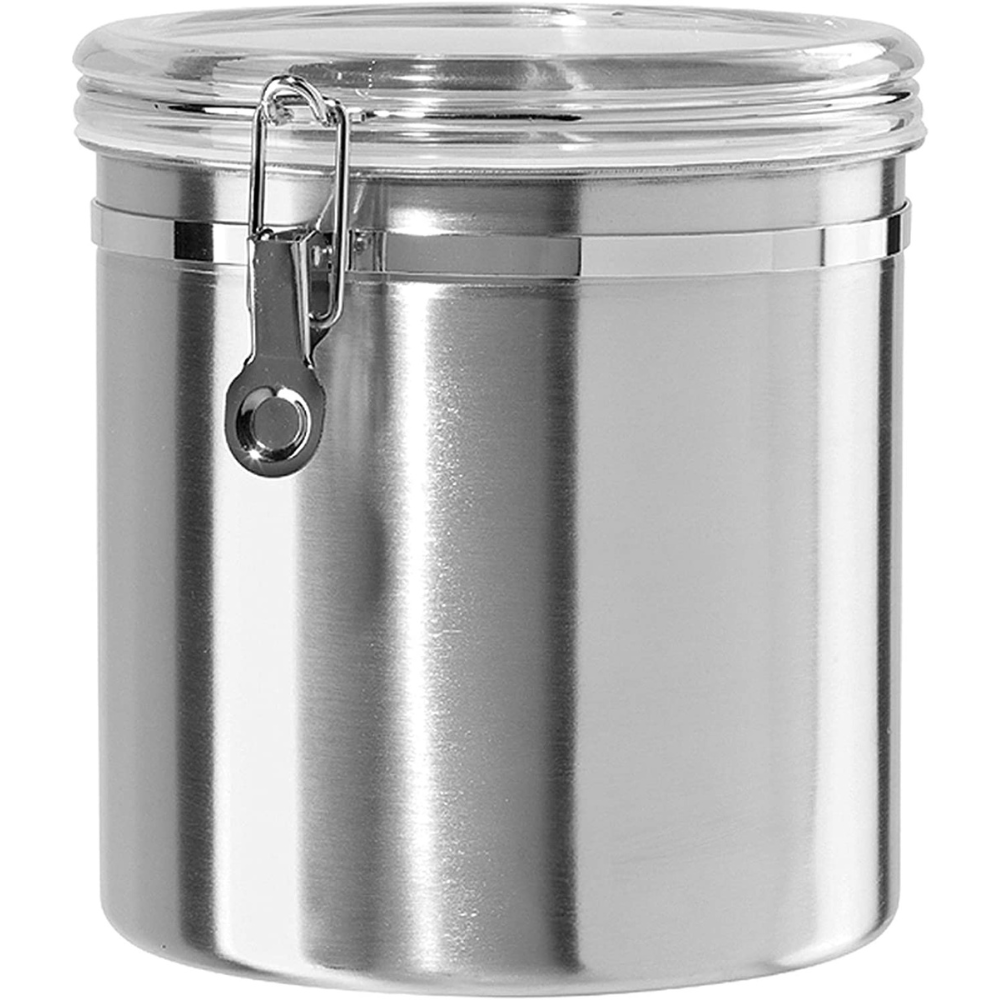 Oggi Stainless Steel Airtight Canister
Crafted from stainless steel, this canister offers durability and a premium feel. Its clear lid allows for easy visibility, and the silicone gasket ensures an airtight seal. While it comes at a higher price point than its plastic counterparts, its longevity and aesthetic appeal make it worth the investment.
Check Price on Amazon
What We Love:
Durable Stainless Steel: Built to last.
Multiple Sizes: Including the recommended 150-ounce.
See-Through Lid: Check contents without opening.
Airtight Seal: Silicone gasket ensures freshness.
Lightweight: Easier to handle than glass.
Stylish Design: Fits modern and traditional decor.
Value for Money: Long-lasting investment.
What to Keep in Mind:
Lid Difficulty: Can be tough to open and close due to the airtight seal.
Why It Might Be Right for You:
Envision your kitchen gleaming with modern appliances and decor. The Oggi canister, with its sleek stainless steel finish, seamlessly blends in, adding a touch of elegance. Its clear lid lets you take a quick inventory without the need to open it. If you're someone who values longevity and aesthetics in equal measure, this canister promises to be both a functional and visual delight.
Customer Review (source: Amazon)
After my old Tupperware became ant-friendly, I turned to these canisters. They're sleek on the counter and the latch is sturdy. The jumbo size even holds five pounds of flour with some space left. Ants, you've met your match! As a bachelor, I'm planning to replace all my containers with these.
---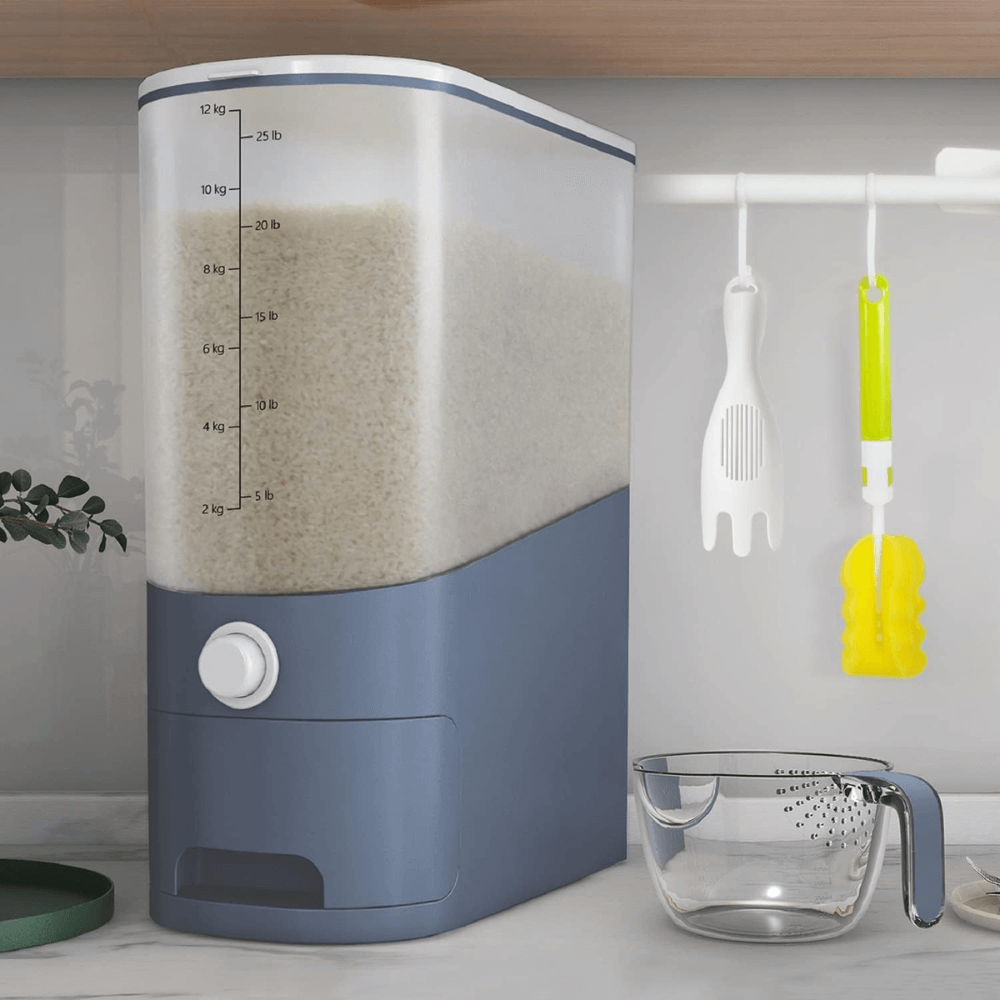 With its large capacity and advanced sealing, this dispenser excels in preserving freshness and offering convenience. The transparent, user-friendly design justifies its position as the top choice for efficient and stylish kitchens.
Check Price on Amazon
What We Love:
Generous Storage: Holds up to 26.5lbs of rice, grains, or beans.
Freshness Ensured: Equipped with a 360° silicone seal for prolonged storage.
See-Through Design: Easily monitor your supply without messy spills.
Effortless Dispensing: One-touch operation to measure the perfect amount.
What to Keep in Mind:
Size: May require considerable space due to large capacity.
Why It Might Be Right for You:
If you're someone who values convenience in the kitchen, this grain dispenser could streamline your cooking routine. Picture yourself effortlessly pressing a button to dispense the exact amount of rice you need, no more measuring cups and no spillage. It's not just about saving time; it's about transforming your kitchen into a space where convenience meets modern design. With this dispenser, your grains stay fresh, your counters stay clean, and your meals start off just right.
Customer Review (source: Amazon)
I'm a big rice eater — my family goes through 50lb sacks like nobody's business, so I was thrilled to find a dispenser that can actually keep up with us. I bought two of these to fit our latest haul, and they look great on the counter. They're super easy to use; just press a button to dispense, and refilling is a breeze. Cleaning is just as simple, which was a huge plus for me. I did have a bit of a hiccup with one unit being slightly warped, but after a quick fix with a heat gun, it was as good as new. Plus, the customer service assured me that my warranty was still valid, which was reassuring.
---
How We Chose Our Top Picks
Expertise in Product Review:
Our goal is to provide you with expert insights into these rice storage containers, even if we don't have personal experiences with each product. We've conducted extensive research and considered user feedback, including customer reviews from Amazon, to evaluate their performance, durability, and ease of use. Additionally, we'll compare these containers against their competitors to help you find the perfect match for your storage needs.
Best Value for Money: In our selection process, we prioritized value for money. While plastic rice storage containers generally offer more value, we ensured that all the plastic options in our top picks are BPA-free, ensuring safety and quality.
Decent Capacity: Storage capacity is crucial. Recognizing that most individuals store rice for at least a month, we ensured that our top picks could accommodate such quantities.
Good Longevity: Through independent customer reviews, we gauged the longevity of the containers. All our top selections promise durability, with proper maintenance ensuring several years of use. Airtightness was a non-negotiable feature, ensuring no leakage and optimal freshness.
Mastery of Basics: While the market offers rice storage containers with various features, including rice dispensers, we focused on the essentials. We believe in delivering products that excel in their primary function without unnecessary frills.
Dishwasher Safe: Ease of cleaning is vital. All our top picks are dishwasher safe. While their dimensions might pose a challenge in some dishwashers, it's reassuring to know they can withstand such cleaning methods without damage.
---
How To Choose the Best Rice Storage Container
You might think that choosing kitchen storage containers may be easy. Yet, it may not be as simple as you think. The purpose of a rice container is to keep your food dry and free from humidity. So, it is extremely important to buy an airtight rice storage container, as it would aid in eliminating the risk of infection.
Most rice containers are made up of plastic because they are cost-effective. However, plastic containers degrade over time and can absorb the smell. Consuming food out of plastic containers can also be detrimental to your health because of the high levels of synthetic BPA. So, you should ensure that any plastic container you choose for your rice storage should be BPA-free.
The safer options are glass and metal rice storage containers. However, while we love glass containers, we do not recommend them because they can break easily. Get one if you believe you are not clumsy enough to break your glass storage container!
We are a fan of the steel storage containers. They last longer and are safe to use. Most steel rice storage containers are airtight, so you do not have to worry about that.
Stainless steel rice storage containers are durable, non-toxic, and non-leaching. However, they are also more expensive than plastic rice storage containers. If you are on a budget, using a plastic rice storage container is still a good choice. Ensure that it is a BPA-free food container, and you are good to go.
We recommend cleaning your rice storage containers once at least a month. However, this can become difficult if done by hand. The solution is to look for containers that are safe to use in the dishwasher. Many containers may be dishwasher safe, but their dimensions might make it difficult to do so. So, keep that in mind as well.
---
How To Take Care of Rice Storage Containers
It is important to take proper care of the rice storage container to ensure its longevity and enhance the shelf life of the rice. We will share a few tips to help you maintain rice storage containers.
Put the container in a deep freezer before storage
Before storing rice in your rice storage container, you must prepare it for long-term use. One of the ways you can do so is by deep-freezing the container, as it can help eliminate infestation. One of the culprits of infestation is pantry moths because they lay their eggs in grainy foods such as rice. Fortunately, these eggs do not survive low temperatures. So, putting your rice storage containers in a deep freezer will help eliminate any preexisting eggs. This tip is not required when filling the rice storage container for the first time. However, you should follow it when refilling your rice storage container.
Store in a cool, dry place
Humidity is your enemy when it comes to food storage. Ensure that the place you have chosen for your rice storage container is cool and free from humidity. You should follow this even when you are not using the container. Most people store their containers near the stove because it is convenient. However, the heat from the stove can wreak havoc and affect the moisture levels of your storage container.
Use vinegar to disinfect
Vinegar is an excellent cleaning agent. It is also safe to consume, so you do not have to worry about its traces in your food. We recommend that you disinfect your rice storage containers with vinegar. It will also help prevent unwanted odors or stains that accumulate over time.
---
Frequently Asked Questions
You've just bought a big bag of rice; now what?
Store your rice in a rice storage container! Not sure why purchasing a rice storage container is a good idea?
We've compiled this list of the most frequently asked questions about rice storage to help make your decision easier.
Yes, dry rice can go bad over time. The length of time rice will last depends on a few factors, including the type of rice, how it's stored, and how humid the environment is. Generally speaking, white rice will last for about 6-12 months when stored in a cool, dry place, while brown rice will last for about 4-6 months. If you live in a humid environment, keeping your rice in the fridge or freezer is best to help extend its shelf life.
How can you tell when dry rice goes bad?
The easiest way to tell if dry rice goes bad is to smell it. If it smells musty or mildewed, it has gone bad and should not be eaten. Another way to tell is by looking at the rice. If there are bugs or discoloration, it has spoiled. Also, if it feels oily, it's gone bad.
What is the best type of rice to store for the long term?
The best type of rice to store for the long term is brown rice.
White rice has been milled and polished to remove the bran and germ, which means it has a much shorter shelf life than brown rice. Brown rice contains bran and germ, which makes it a whole-grain food and helps to preserve its nutrients and flavor. Brown rice will also last longer than white rice when stored in a cool, dry place inside an airtight container.
Does rice need oxygen absorbers?
You don't need oxygen absorbers, but they will definitely help store your rice. Oxygen absorbers work by removing the oxygen from the air inside the packaging. This creates an anaerobic (oxygen-free) environment where the rice can decompose without rotting. The oxygen absorber packets can be found in most stores that sell food packaging supplies.
How long will vacuum-sealed rice last?
It will last for years. Rice is a grain that is high in starch and low in moisture. These characteristics make it an excellent food to store in a sealed container because it does not easily spoil. The vacuum-sealed packaging also helps to protect the rice from insect damage and rodents.
Does all rice have Bacillus cereus?
No, not all rice has Bacillus cereus. However, it's important to remember that any uncooked or improperly cooked rice can contain bacteria. This is because Bacillus cereus is a spore-forming bacterium, which means it can form resistant endospores that allow it to survive in difficult environmental conditions. So, it's very important to cook rice properly and to avoid eating uncooked rice if you're concerned about avoiding food poisoning.
Why is it important to use airtight food storage containers for rice?
Airtight containers are essential for keeping your rice and other grains in pristine condition. They ensure that your food remains fresh by preventing moisture, pests, and contaminants from entering, thus preserving the quality and flavor of the rice.
I buy rice in bulk. What type of container should I consider?
For those who purchase rice in large quantities, bulk rice storage containers are the ideal choice. These containers are designed to hold significant amounts of rice, ensuring that you have a steady supply on hand without the need for frequent refills.
How does container storage capacity vary among different models?
Container storage capacity varies based on the design and purpose of the container. For instance, tall plastic food containers might be more space-efficient, taking up less counter space while storing a good amount of rice vertically. It's essential to check the capacity of a container before purchasing to ensure it meets your storage needs.
How can I ensure my rice remains fresh for an extended period?
To keep your food fresh, always opt for airtight containers. These containers are designed to seal out air and moisture, two primary factors that can degrade the quality of rice. By using airtight food storage containers, you can ensure that your rice remains dry, fresh, and ready to cook whenever you need it.
---
What Option of Rice Storage Containers Is Best For You?
In conclusion, the ideal rice storage container for you hinges on your specific needs and preferences. Whether you prioritize aesthetics, functionality, or capacity, there's a perfect container out there tailored to your requirements.
If you frequently buy rice in large quantities, bulk rice storage containers might be your best bet. For those keen on space efficiency, tall plastic food containers offer a great solution. Remember, the key is to ensure that your chosen container keeps your rice fresh, dry, and free from contaminants.
By carefully considering your storage needs and the features of each container, you can make an informed decision that ensures your rice remains in optimal condition until it's time to cook.
---
Items Reviewed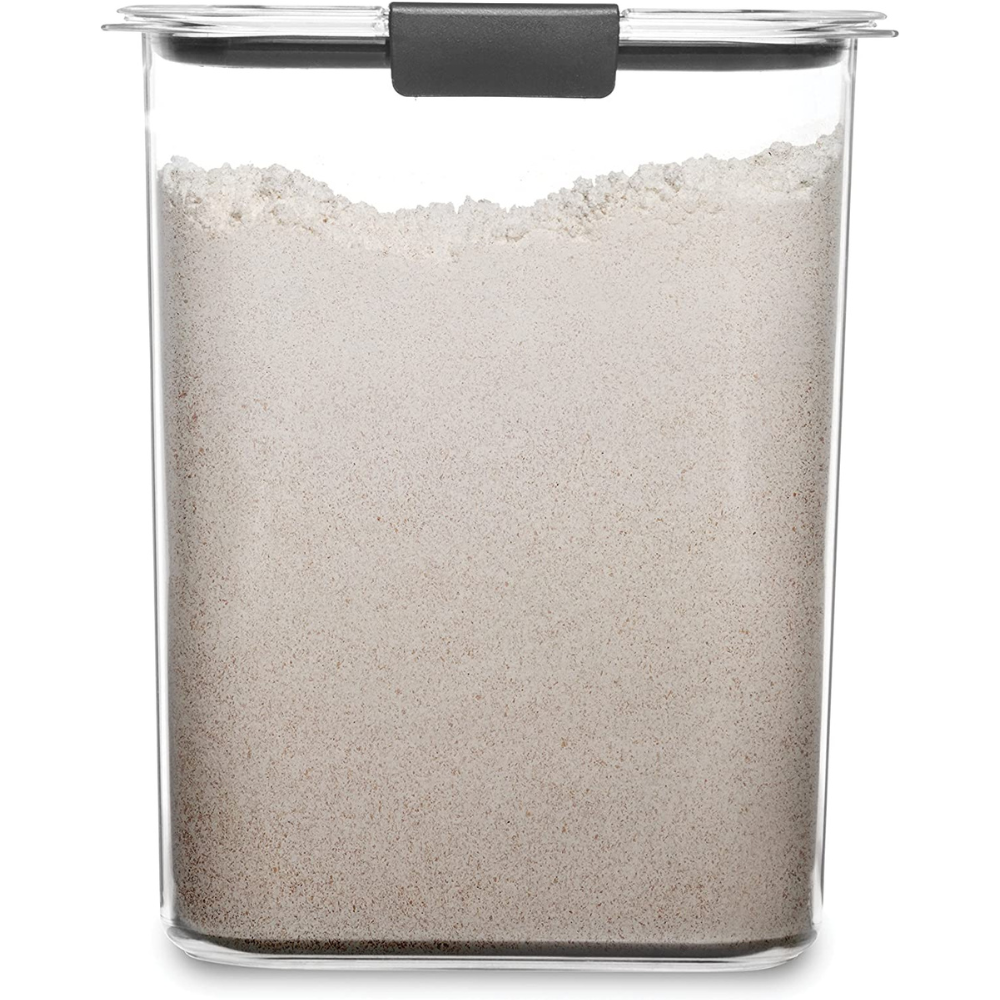 Best Overall: Rubbermaid Brilliance Airtight Storage Container
This container offers a blend of design, functionality, and brand reputation. Its clear plastic mimics the look of glass, and its modular design ensures stability. The container is versatile, suitable for various foods, and its airtight feature ensures freshness. The trusted Rubbermaid brand further solidifies its position as the best overall pick.
Check Price on Amazon
Further Reading
Eco-Friendly Containers: Green Solutions for Storing Rice: Delve into green methods for preserving your rice. Unearth container solutions that prioritize both functionality and Earth's well-being.
Preventing Rice Contamination: Safe Storage & Pest Control Tips: Grasp vital strategies to shield your rice from unwanted pests and impurities. Recognize the significance of proper storage techniques in preserving rice's integrity.
Navigate to the article 'Keep Your Kitchen Safe From Pests,' advice from Orkin Canada to arm yourself with knowledge and keep those pesky invaders at bay.
Please note that the reviews on this page have been edited for readability and clarity while maintaining the essence of the original content.
---