Who does not like a waffle for breakfast?
If you are like most people, you probably love the sweet smell of waffles in the morning. We love all kinds of waffles, but the good old classic thin waffle has a special place in our hearts. While we have nothing against the Belgian waffle, we think that sometimes it is too much for a breakfast meal. It is sometimes more food than we would like to consume in one setting.
Who would not like a thin waffle for breakfast every day? If you are reading this article, you are probably looking for a thin waffle maker. You have come to the right place as we will review the five best thin waffle makers.
We have independently researched thin waffle makers on the market, so we bring you the best waffle makers that will not break the bank. Along the way, we will also tell you how we selected our top picks. You can use this guide to find a waffle maker that fits your budget, preference, and requirements. If you do not want to do the hard work, you can rely on one of our top picks.
🤝As an Amazon Associate, we earn from qualifying purchases made through our links, at ZERO additional cost to you.
5 Best Thin Waffle Makers
---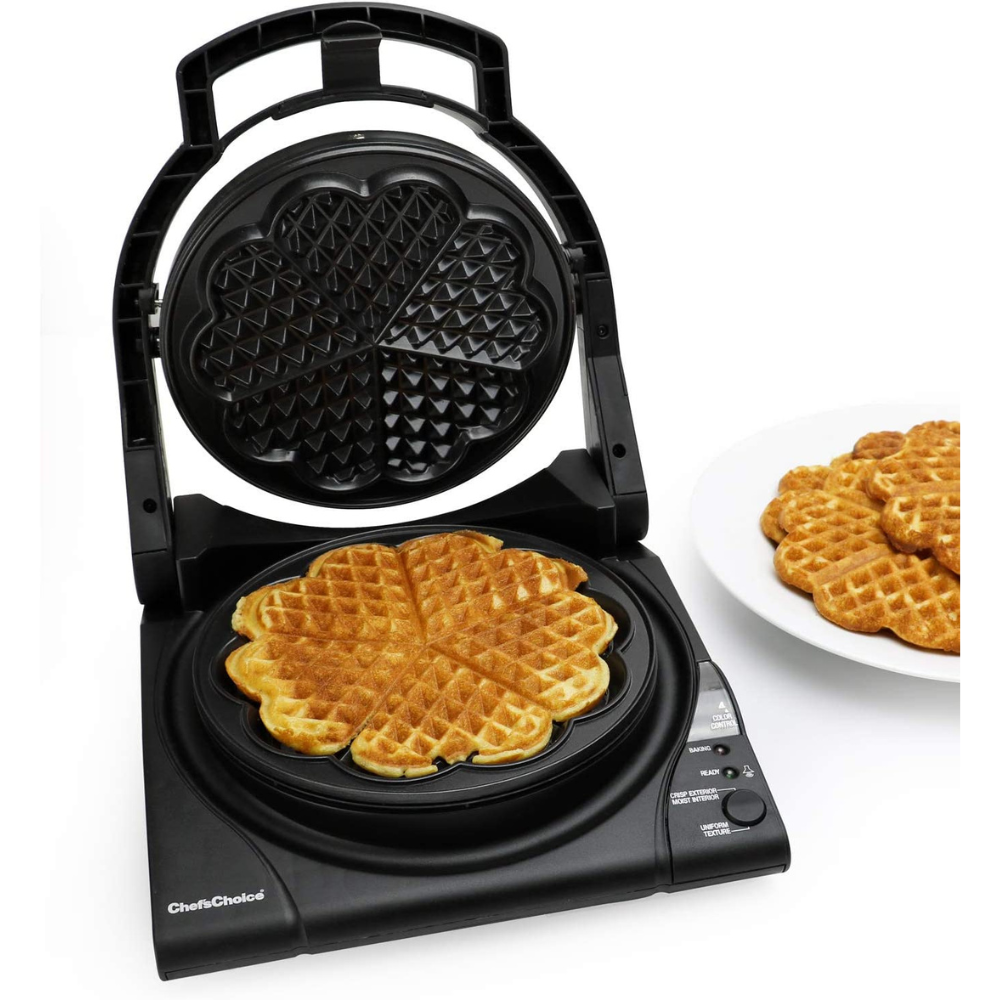 Chef's Choice 840 WafflePro Taste
Check Latest Price
What We Love
Best Waffle Maker Overall
The Chef's Choice 840 Waffle maker is known as one of the best waffle makers. It delivers perfect-looking and even colored waffles that are as much a treat for your eyes as your tongue. It is one of the best quality thin waffle makers, which is also easy to use and clean.
Highly Customizable
Chef's Choice 840 WafflePro Taste is also highly customizable. It allows you to choose six different brownness settings, which are difficult to come by in its price range. Since it is highly customizable, you can customize the waffles according to the preferences of everyone.
These customizations enable users to customize the flavor, texture, and color. It also comes with a uniform floating top, which ensures the consistency of the texture of your waffles.
Fast Cooking Time
One of the best things about this thin waffle maker is that it is fast. Expect a cooking time of three to four minutes for most waffles. One of its added features is that when waffles get done, it gives a beep as well as a light. So even if you are away, you will know that the waffles are ready.
What You Should Know
Small Sized waffles
One of the things that you should note is that this waffle maker makes small-sized waffles. While this might be what you are looking for, most people prefer large waffles.
At about 15 cm, the diameter of the waffles made by Chef's Choice 840 is too small for most people who would want to eat at least two of those. So it might just take longer for you to finish making waffles. If this is something you can live with, Chef's Choice 840 WafflePro Taste is an excellent choice.
---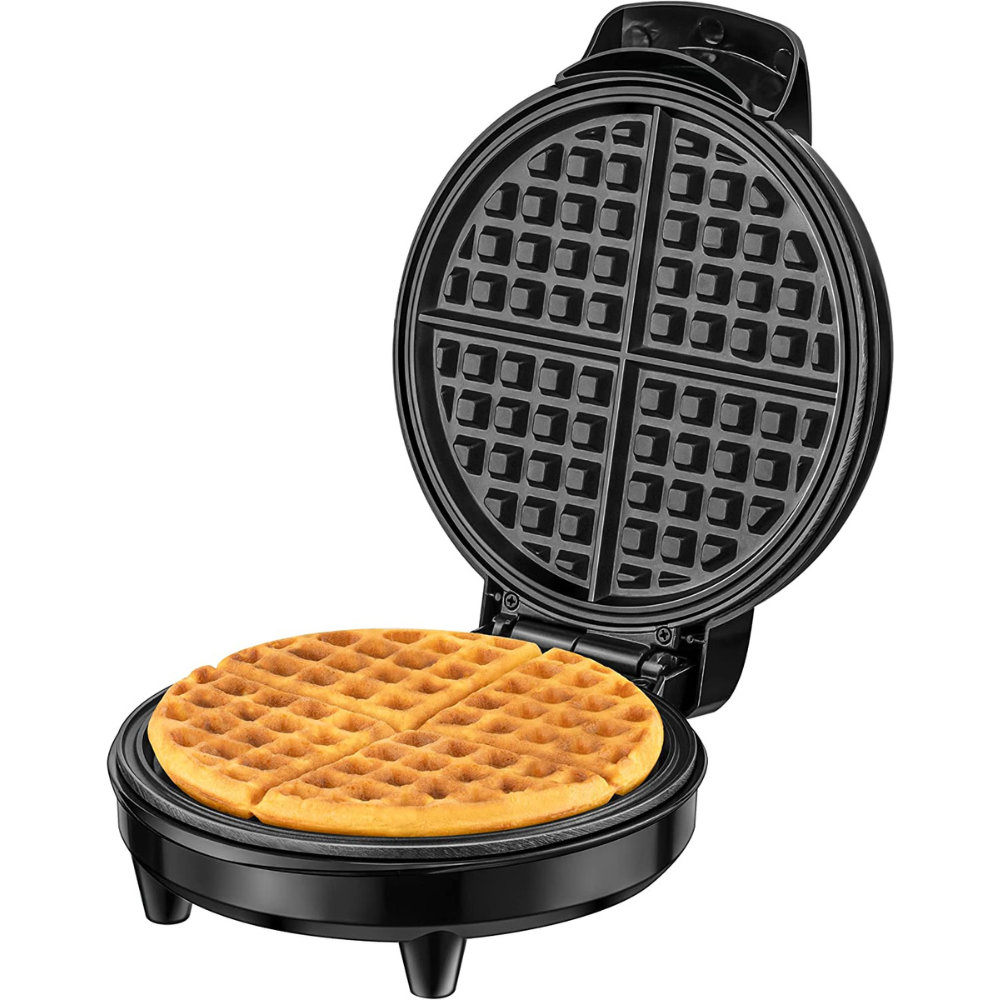 VCJ 8 inches Waffle Maker
Check Latest Price
What We Love
Quick and Easy to Use
The VCJ waffle maker is one of the easiest-to-use waffle makers. We all like options, but sometimes they can get overwhelming when you need a plain thin waffle. We love the fact that VCJ has stayed at the basics and nailed them.
The VCJ 8 inches waffle maker has adjustable temperature control. It does not have fancy browning and aroma options, but the temperature option essentially lets you do all of it. You can get tender or crispy waffles through this control. The indicator lights indicate when your waffles are ready.
Convenient to use and clean
The VCJ 8 Inches Waffle Maker is highly convenient to use and clean. It has a compact body that takes very little of the precious counter space in your kitchen. This makes it a perfect option for dorms, apartments, and RVs.
Most traditional waffle makers do not come with nonstick-coated plates. However, this is not the case with VCJ 8 inches Waffle Maker. These plates ensure that the cleanup afterward is a breeze. At its price point, it is simply a wonder that it comes with non-stick-coated plates.
What You Should Know
It May take a while to warm up
Some users complain that the waffle iron takes too long to warm up. Its usual warmup time is four to five minutes which is on the higher side but acceptable. So, if you want the fastest thin waffle maker on the market, then this might not be the best for you. If you can live with waiting for five minutes for every waffle, then the VCJ 18 is a perfect device for you.
---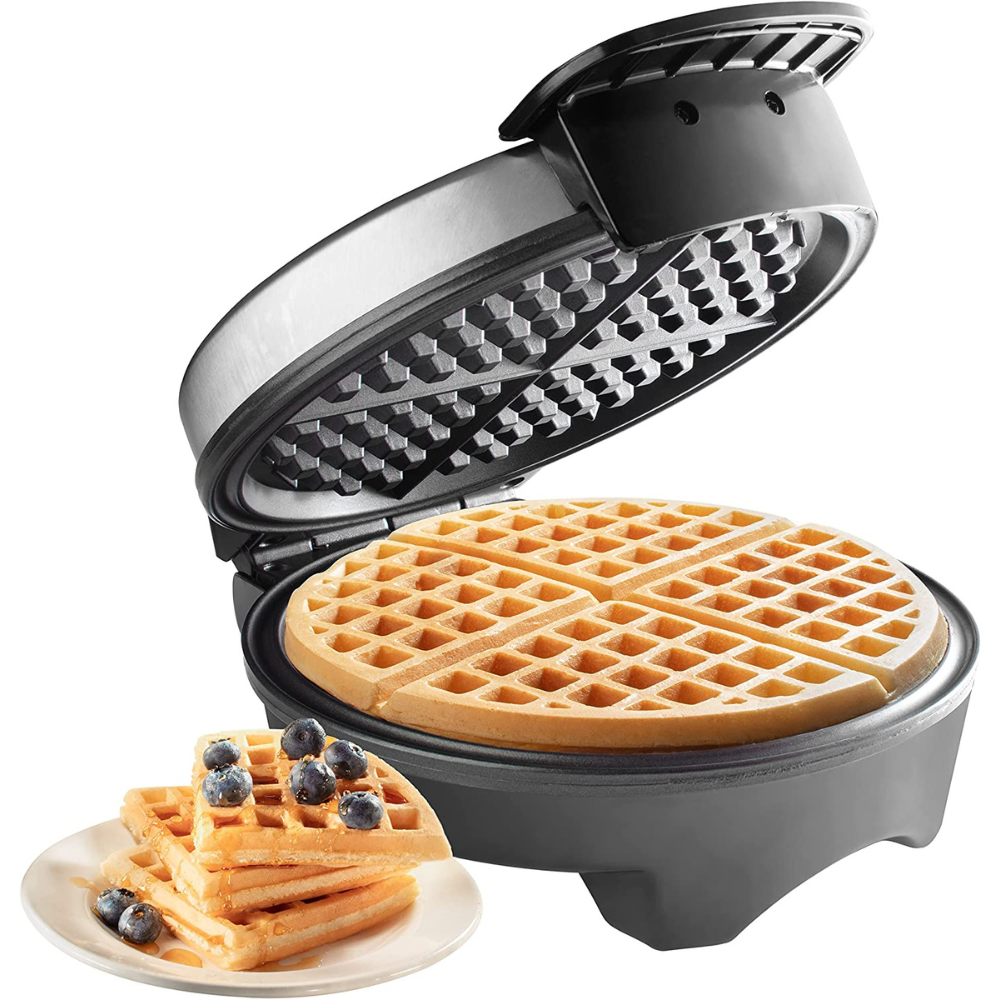 Thin Waffle Maker by Cucina Pro
Check Latest Price
What We Love
Value for money
This thin waffle maker by Cucina Pro gives good value for money as it is one of the best thin waffle makers in the market. It turns any waffle batter recipe into a magical and crispy thin waffle. It is built with the best quality materials and lasts a long time and others in this price range do not come close to its quality.
More than just a standard waffle iron
Are you looking for more for less in a traditional waffle maker? Look no further than the Cucina Pro. This Waffler maker is the perfect way to get you what you need.
The waffle maker comes with simple heat settings, but they are perfect for any thin-waffle texture you need. It features non-stick-coated plates that are super easy to clean after making the waffles. Most traditional waffle makers in this price range do not even come close to Cucina Pro's accuracy. It makes waffle-making fun and easy for everyone. It is decent in holding heat, so you will never get soggy waffles out of it.
What You Should Know
Takes Awhile to Heat
The only caveat you should know is that this thin waffle maker takes a while to heat up. We found out that the first waffle takes almost 8 minutes, and the rest will take around six minutes. While six minutes is acceptable cooking time, most would not like the eight minutes it takes to make the first waffle.
If cooking time is something you can ignore, then this waffle maker is definitely a good choice. The quality of materials used ensures that it lasts for a while. It is a good value for money for those who do not mind waiting a little longer for their classic thin waffles.
---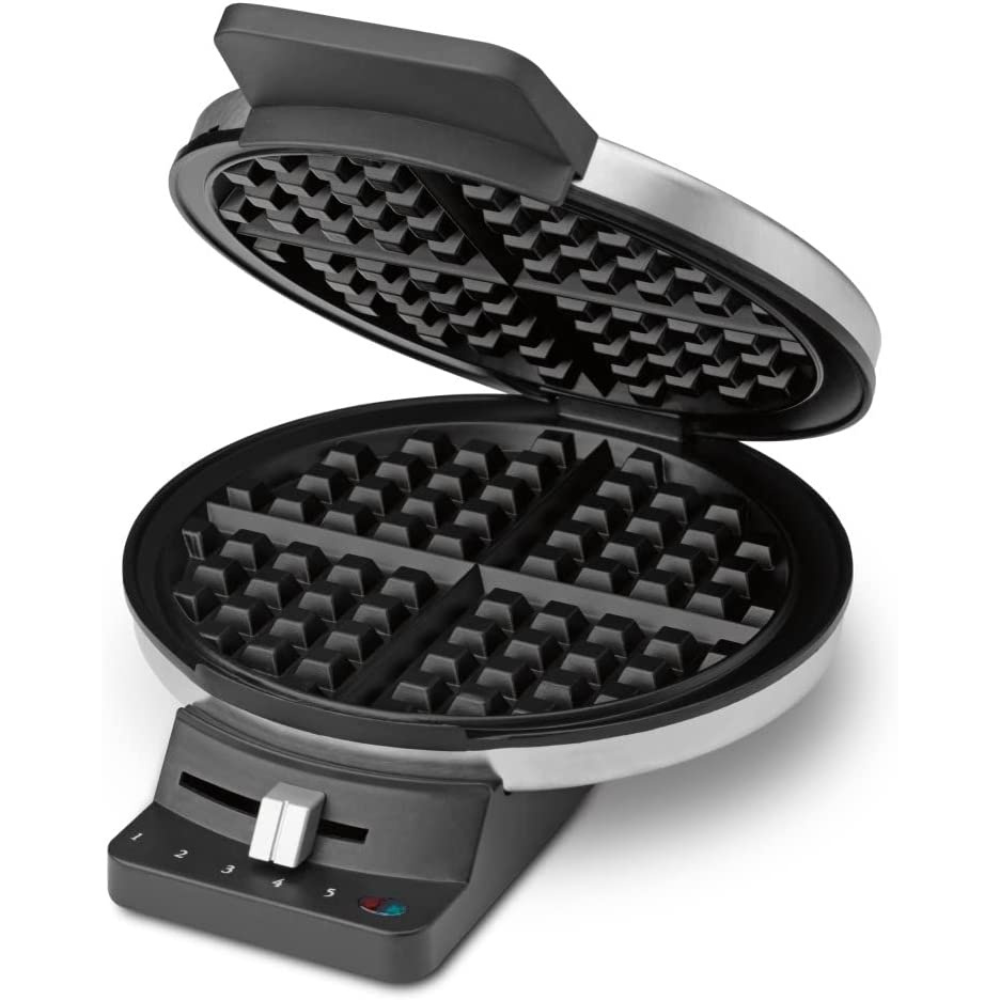 Cuisinart Classic Waffle Maker
Check Latest Price
What We Love
Best Thin Waffle Maker with Temperature Control
Very few waffle irons under the $30 range can compete with the Cuisinart Classic waffle maker. It is popular because it offers so much for so little. It has five step browning control that allows you to make waffles according to your preference. Whether you want light golden waffles or dark crispy waffles, the Cuisinart Classic waffle maker can do it all.
It comes with nonstick plates, and cleaning it is super easy. Just wipe its plates with a warm, damp paper towel, and the waffle maker will be as clean as new.
It is super compact and easy to store. So, it is also the perfect waffle maker for dorms, apartments, and RVs.
One of the Fastest Thin Waffle Makers
It is one of the fastest waffle makers. While most waffle makers take four to five minutes, Cuisinart can cook simple waffle batter within two to three minutes. It is perfect for those who do not have the time to wait long for the waffles.
What You Should Know
Lacks Audible Indicators
It is easy to overdo your waffles with this waffle maker. It is fast and lacks an audible indicator. All of its indications are done through light. The red light indicates that the waffle maker is plugged in.
When the waffle reaches the right temperature, the red light turns off, and the green light turns on. It takes some time to get used to the lights, and you may end up burning some of the waffles. If this is something that you can live with, then this is one of the best thin waffle makers you can get for under $30. At this price point, we are pleased that a good quality thin-waffle maker even exists.
---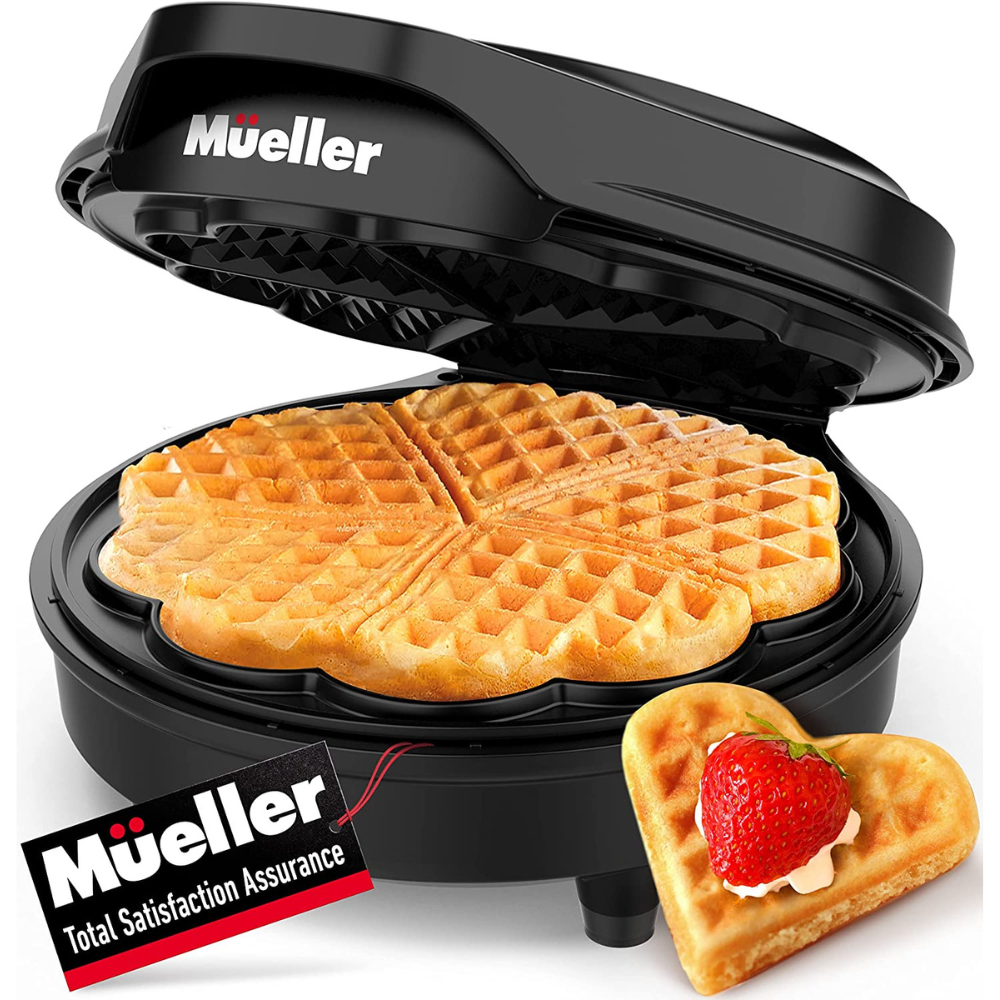 Mueller WaffleWiz Waffle Maker
Check Latest Price
What We Love
The Thinnest Waffles You Can Get
The Mueller WaffleWiz Waffle Maker makes the thinnest waffles we have seen, and we loved it. After all, We are in the market for thin waffles. However, if you do not like extremely thin waffles, just set the lid down without purposefully applying pressure.
Decent Cooking Time
This waffle maker has a decent cooking time. If you want your waffles crispy and brown, expect it to take five minutes. If you want golden waffles, it will take around 3 minutes.
Easy to Clean and Store
It is a compact waffle maker which can be stored in most kitchen cabinets and takes minimal counter space. So, it is perfect for those who live in small homes such as RVs, dorms, and apartments.
It is easy to clean as the nonstick plates do not stick to any batter. All you need is a towel cloth dipped in hot water to wipe it clean. For a deep clean, you can also use a sponge every once in a while.
What You Should Know
Sometimes the Batter May Overflow
One of the caveats of this waffle maker is that sometimes its batter may overflow. It is very easy to overdo the batter, given its small and compact size, and the batter may come out while cooking. The only way around this is that you should use less batter than usual while using this waffle iron. This also means that your waffles are going to be less fulfilling. If you are okay with less fulfilling waffles, then this waffle maker is a good choice.
---
How We Chose Our Top Picks
Given the popularity of Belgian Waffle makers, it could be a little difficult to find a good thin waffle maker. However, we looked at certain factors that helped us arrive at our top picks.
You should note that not all waffle makers are good at all the factors that we will mention. We just looked for the best deal we could get with all the factors combined.
You should also note that while flip waffle makers are good to have, this option is rarely available in thin waffle makers. So, we did not worry too much about them.
Cooking Time
Waffle is a convenient breakfast meal. Most people do not have much time on their hands during the morning breakfast time. So, the waffle maker should be quick and easy to use.
Any waffle maker that produces evenly browned waffles within two to five minutes is acceptable. You should avoid waffle makers that take longer than five minutes to make waffles. Also note that if you want the faster the waffle maker, the costlier it is.
Temperature Controls and Settings
It is vital to have some temperature control and setting. It allows you to control your waffle maker to some extent. All good models will allow you to control how crisp and brown your waffle will come out.
This temperature setting is also sometimes known as the browning setting. Some high-end models may even come with up to seven browning settings, while most do not have more than three.
We believe that three browning configurations should be more than enough for most. While it is good to have the variety, the premium you pay for them is not worth the extra money.
Budget
When looking for the best thin waffle maker, we ensured that the budget is suitable for average home consumers because the expensive models are suitable for restaurants. We knew that we had to make certain compromises within a budget, but we ensured that these were not the major ones.
Regardless of the budget, quality is important. So we made no compromises when it came to the quality. Many feature-rich budget waffle makers are of subpar quality. We steered clear of these thin waffle makers.
Cleaning
You would want to clean your waffle maker. It is a good idea to look for a nonstick waffle maker because it makes cleanup easier. Sometimes, the plates of a waffle maker are removable, which makes cleaning it super easy. This feature is difficult to come by in the budget category, so we did not worry too much about it.

If you're interested in learning more about maintaining your waffle maker for long-lasting performance, we invite you to explore our article for helpful tips and advice.
---
Belgian Waffle Makers VS Thin Waffle Makers
We have already mentioned that we have nothing against Belgian Waffles. However, we know that most people would not want to eat them every day. However, a recurring debate is 'which waffle maker is better?'. We believe that both are good in their own right and they cannot compete with each other. So, let's see some of the differences between the two waffle makers
Belgian Waffle makers typically have round plates. They produce thick and fluffy waffles. Belgian waffles are known for being soft with a slightly crispy exterior because of the large deep pockets of Belgian waffle makers. These pockets trap more butter and syrup than the pockets of a Thin Waffle Maker.
Thin Waffle Makers have thin squared plates. These make thin, crispy waffles. Classic waffles do not have the fluff that Belgian waffles are known for. The number of plates per square inch in a Thin waffle maker is high which results in even more crunch.
---
Can You Make Thin Waffles in a Belgian Waffle Maker?
Yes, you can make thin waffles in the Belgian waffle maker. However, it would not be the best. The deep pockets of Belgian waffle makers are meant for more fluffy waffles full of batter. However, if you are set on making thin waffles on a Belgian waffle maker, you can do that.
Belgian Waffle makers take longer than regular waffle makers to become hot. Before pouring in your batter, ensure that it is hot, as this is crucial for getting a good crispy texture.
Ensure that you do not rush the cooking. The pockets are deep, and it will take some time for them to do their work.
Also, ensure that you do not underfill the pockets. When making thin waffles on Belgian waffle makers, it might be instinctive to think that you can compensate for the long pockets by filling less batter. However, a Belgian Waffle Maker works differently than a Classic waffle maker. So, it is not the right thing to do.
We recommend experimenting with the batter unless you get the right amount suitable for your waffle maker. Remember, that a Belgian Waffle Maker is not made to replace the classic waffle maker. So you would need to experiment a little to see what works better when making thin waffles on a Belgian waffle maker.
---
Frequently Asked Questions
Buying a thin waffle maker is a big investment, and you want to be sure that you're making the right choice. There are a lot of different thin waffle makers on the market, and it can be hard to figure out which one is right for you. We've answered the most frequently asked questions about thin waffle makers so that you can make an informed decision before buying.
Can I make thin waffles on a Belgian waffle maker?
You can make waffles crispy in a waffle maker by using a higher level of heat and cooking them for a longer period of time. Also, make sure to pre-heat your waffle maker before adding the batter.
Most waffle makers come with a pre-set temperature that cooks the waffles at a medium-level heat. This will produce waffles that are fluffy and light in texture. To achieve crispy waffles, you need to cook them at a higher temperature for a longer period of time.
Some people also like to add oil or butter to their batter mix in order to give the waffles an extra crispy texture. You can also put them in your oven afterwards.
What is the difference between a waffle maker and a Belgian waffle maker?
A Belgian waffle maker makes thicker, more fluffy waffles. Belgian-style waffles also tend to be slightly sweeter and have a more complex flavor than regular-style waffles. They are also deeper, so they can hold more toppings.
Waffle makers make thinner, crisper waffles. They come in different shapes - square or round - but they are not as deep as Belgian waffle makers. This means that they are not as good for holding lots of toppings.
How do you make waffle batter thinner?
If you find your waffle batter too thick, you can add more liquid until it reaches the desired consistency. Just be sure to follow the recipe instructions carefully, as too much liquid will make the waffles soggy.
If you're experiencing problems getting your waffles to come out properly, it might be due to your waffle maker. Some machines are better at making thicker or thinner batters. Be sure to read the manufacturer's instructions for your specific machine to get the best results.
Are pancake batter and waffle batter the same?
Not exactly, but they are close. The main difference is that waffle batter typically has more leavening (like baking powder) to give it more rise, while pancake batter is a little thicker so that the pancakes can hold a shape when cooked.
Both batters start with the same base ingredients: flour, eggs, butter or oil, milk or water, and salt. However, you can add other ingredients like sugar, spices, or berries to either one to give it extra flavor. And of course, you can also top your pancakes or waffles with all sorts of delicious toppings like maple syrup, whipped cream, nuts, or fruit.
Why do Belgian waffles need to be flipped?
Belgian waffles consist of a yeast-based batter, which means that they need time to rise. That's why they're flipped – so that both sides of the waffle can cook evenly and get that nice, crispy texture.
Is it better to let waffle batter sit?
There is no harm in letting the batter sit. However, it will not rise any more than if you start cooking it immediately. The baking soda and baking powder will start working as soon as they come into contact with moisture, so there's no need to let the batter rest.
Is Belgian waffle batter thin?
Yes, Belgian waffle batter is thin. This helps the waffles to cook evenly and create a light and crispy texture. Some recipes call for a little bit of baking powder to help them rise, but most batters are very simple and only contain flour, eggs, butter, sugar, and salt.
Should waffle batter be thinner than pancake batter?
The thickness of waffle and pancake batter will vary depending on the recipe. However, in general, waffle batter should be thicker than pancake batter, as waffles are meant to be fluffy and light. Pancakes are generally denser and more cake-like in texture.
What is the most popular waffle?
The most popular waffle is the Liege waffle. The Liege waffle was created in the early 1800s by a Belgian cook named Jean-Joseph de Winkelman. It's made with a yeast-risen dough that's richer and denser than American-style waffles, and it's often served with pearl sugar crystals that give it a characteristic crunchy sweetness.
Should waffles be thick or thin?
There is no right or wrong answer to this question, as it is simply a matter of personal preference. Some people prefer thin waffles that are crispy and light, while others prefer thick waffles that are dense and fluffy. Ultimately, it is up to each person to decide what thickness they prefer.
Can you make grilled cheese sandwiches with a waffle maker?
Yes, you can make grilled cheese sandwiches with a waffle maker. It's best to butter the bread instead of cooking spray lightly. Or, you can use a cooking spray or non-stick butter spray to prevent the bread from sticking to the plates.
---
What Option of the Thin Waffle Makers Is Best For You?
Looking for the perfect knife to make that perfect cut? All of the options that we presented can be great options for you and your home. Now it comes down to personal preference.
We hope this article has provided you some clarity on what thin waffle maker you want in your home, and we hope you enjoy every bite.
Don't stop at only waffles! Discover exciting and innovative ways to utilize your thin waffle maker in our article, where we share creative ways to think beyond traditional waffle-making.
---
Items Reviewed: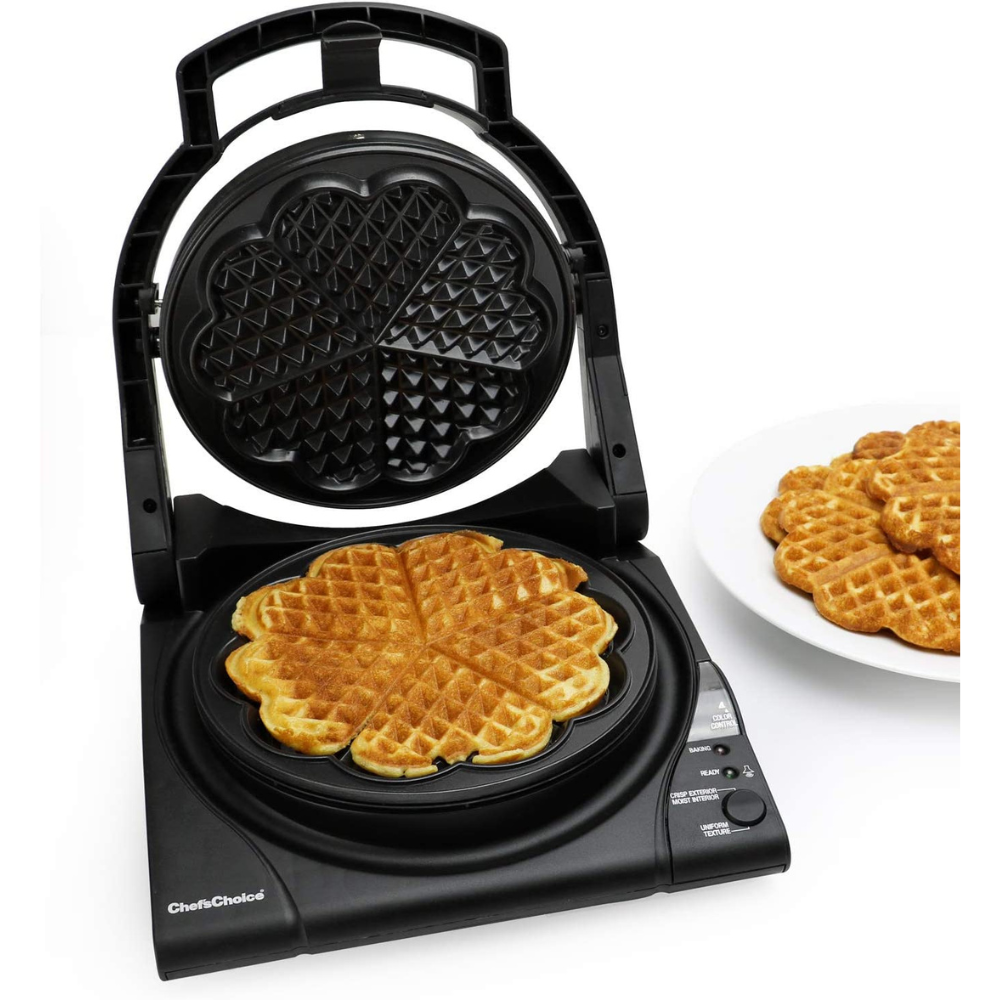 Best Overall:
Chef's Choice 840 WafflePro Taste
Check Latest Price
Further Reading
---